This post may contain affiliate links meaning that, I may make commission if you purchase through my links. Learn More. 
Use these positive Tuesday affirmations for some encouragement, motivation, and a post-Monday mood boost.
You did it. You survived Monday. That alone is an accomplishment.
But we're not quite on the downward slope of the week yet…
Some weeks, Tuesday feels even more challenging than Monday!
Sure, you made it through the first day… but you still have 4 days left in the work week and are already feeling exhausted. How will you ever make it through?!
Not to worry.
If you are feeling stuck in a Tuesday rut or are battling a case of the Tuesday blues, these positive affirmations for Tuesdays will help pull you out of it.
With the right mindset, you can make it through your Tuesday and soar through the rest of the week.
Get motivated, inspired, uplifted, and encouraged by these 100 positive Tuesday affirmations.
Benefits of Tuesday Affirmations
Why might you want to look into some positive affirmations to add to your Tuesday routine?
Well, there are actually a few key benefits of positive affirmations that make them the perfect solution to that post-Monday slump.
1. Increased Motivation
Tuesdays can be hard.
Waking up on a Tuesday, still exhausted from Monday, knowing you still have over half the week to go… This can leave you wanting to crawl under the covers and never emerge from your bed.
This is where positive, motivating affirmations come in.
Positive affirmations have been linked to improved motivation, achievement, and energy levels.
Next time you need that little extra push to get out of bed on a Tuesday morning, try these short positive mantras to help.
2. Improved Productivity
Did you know that some studies have shown that Monday and Tuesday are the most productive days of the work week?
That is… as long as we can get ourselves in the right headspace. (Hello, affirmations!)
Stay on top of your to-do list and crush your Tuesday goals by using positive affirmations to boost your productivity and inspire a great worth ethic.
(Just as with motivation, positive affirmations have been linked to improved academic performance, work performance, and overall productivity.)
3. Positive Mindset
Your mindset is the root of everything you do. Your thoughts, beliefs, and inner dialogue directly impact how you act and engage with the world around you.
It is absolutely crucial to tend to your mental health and mindset if you want to see positive results in your external world.
Positive affirmations are one of the most powerful tools for mindset work. This is one of the many reasons they make for such a great part of your Tuesday routine.
Keep your mindset up and your thoughts positive – there's still lots of week left!
4. Self-Confidence
Again – mindset is everything!
Improve your self-confidence, boost your self-esteem, and remind yourself just how amazing, capable, and powerful you are with positive affirmations.
When you feel better about yourself, you show up better in your life, too.
5. A Better Week Overall
On Tuesday, the week is still young! You still have the opportunity to set the tone for an incredible week.
Move through your Tuesday with a positive attitude, motivation, confidence, and inspiration. You are laying the foundation for Wednesday, Thursday, Friday, and so on.
You control your mindset and your outlook. Having a great week is up to you!
Start by making your Tuesday better and watch the rest of your week fall into place, too.
100 Positive Tuesday Affirmations
Let's dive right into these 100 positive affirmations for a great Tuesday!
Tuesday Morning Affirmations
Kickstart your Tuesday with some positive affirmations first thing in the morning!
A new morning is a fresh start.
I can make today anything I want it to be.
I release the stress of Monday and look forward to a new day today.
This Tuesday will be filled with joy.
I am capable of creating the day I want for myself.
I will make time for things I love this Tuesday.
A fresh day is a gift.
I let go of any stress from yesterday.
I can balance work and play, productivity and rest this Tuesday.
Today is a clean slate.
The week is young – I can make it anything I want.
I can tell that today will be a great day.
Good things come to me naturally.
I am grateful to wake up this morning.
I attract positivity to me.
My energy and motivation are refreshed.
I am starting my Tuesday with good vibes and high energy.
My week is filled with positivity and wins.
I will make the best of all that comes my way today.
I am in control of my life.
This Tuesday is filled with peace and calm.
I will make time for work and time for rest this Tuesday.
It's a great day to be great.
I can seize the opportunities of this Tuesday with confidence.
Today is a great day to have a great day.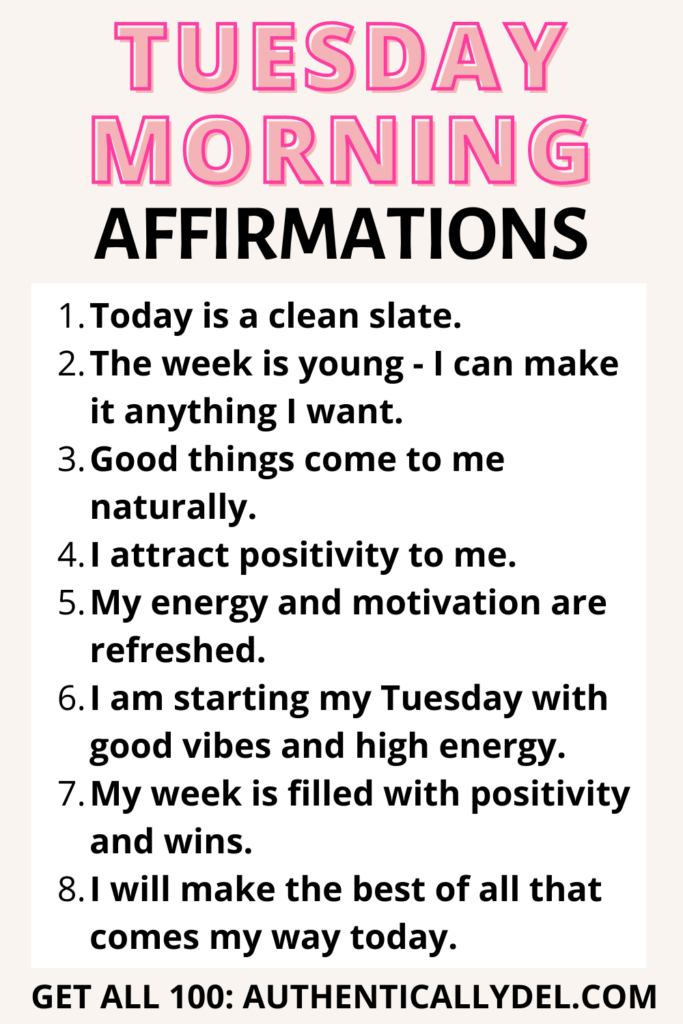 Tuesday Afternoon Affirmations
Get through that midday slump with these motivating and uplifting Tuesday afternoon affirmations!
I am taking today one step at a time.
I have reached the halfway point in my Tuesday. It's all a downward slope from here.
I have the power to turn my day around at any time.
Productivity is not my only purpose.
I can honor my mind, body, and soul.
Rest is my birthright.
I am doing great.
My day is only getting better from here.
I can do hard things.
It is never too late to have a great day.
I will honor my body with rest when needed.
I can take breaks without quitting.
I release myself from the fears of failure.
Perfectionism does not control me.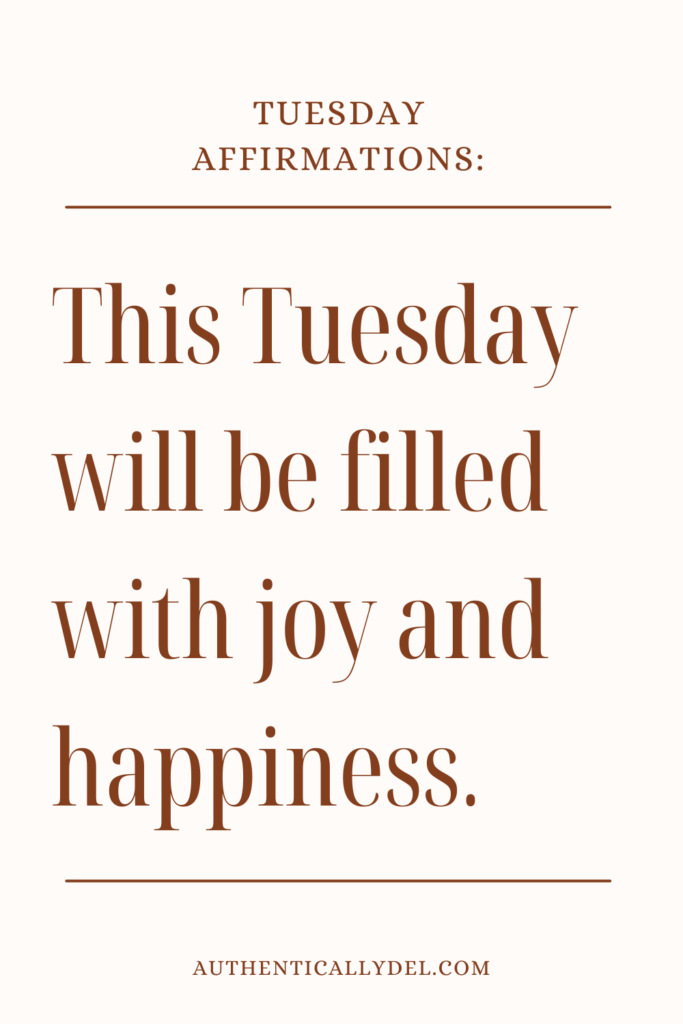 Tuesday Affirmations for Work
Need some extra motivation to boost your productivity at work or school? These are the affirmations for you!
I can accomplish big things today.
I am confident in my abilities.
My work does not have to be perfect to be great.
I can be successful without perfection.
My work is valuable.
I am talented at what I do.
I create work that I am proud of.
My work does not dictate my worth.
I can make time for work and time for rest.
My work environment is healthy, happy, and productive.
My happiness is not dependent on my accomplishments.
I am good at what I do.
My skills are valuable to those around me.
I believe in myself.
Motivation and energy come naturally to me this Tuesday.
I can do hard things.
My passion for my work shows in its quality.
I am grateful to be able to work.
I am focused and driven.
My actions are in alignment with my goals.
I can achieve the goals I set for myself.
I will take today one step at a time.
This Tuesday will be filled with success.
I can create a work environment I love.
I love the work I do.
Happy Tuesday Affirmations
Want to focus on boosting your mood and cultivating a happy headspace? These happy Tuesday affirmations are perfect for you.
I am grateful.
I am happy with who I am.
My life is filled with gifts.
I am free of stress and worry.
I am thriving.
My day is full of opportunities for joy.
I am able to create happiness everywhere I go.
I radiate joy and light.
The people around me match my high vibes and positive energy.
I trust the universe.
Happiness surrounds me.
My dreams are coming true.
I choose to focus on the positive this Tuesday.
This Tuesday will be filled with joy.
I hold the ability to create joy in any situation.
The people around me love me for my light and joyful energy.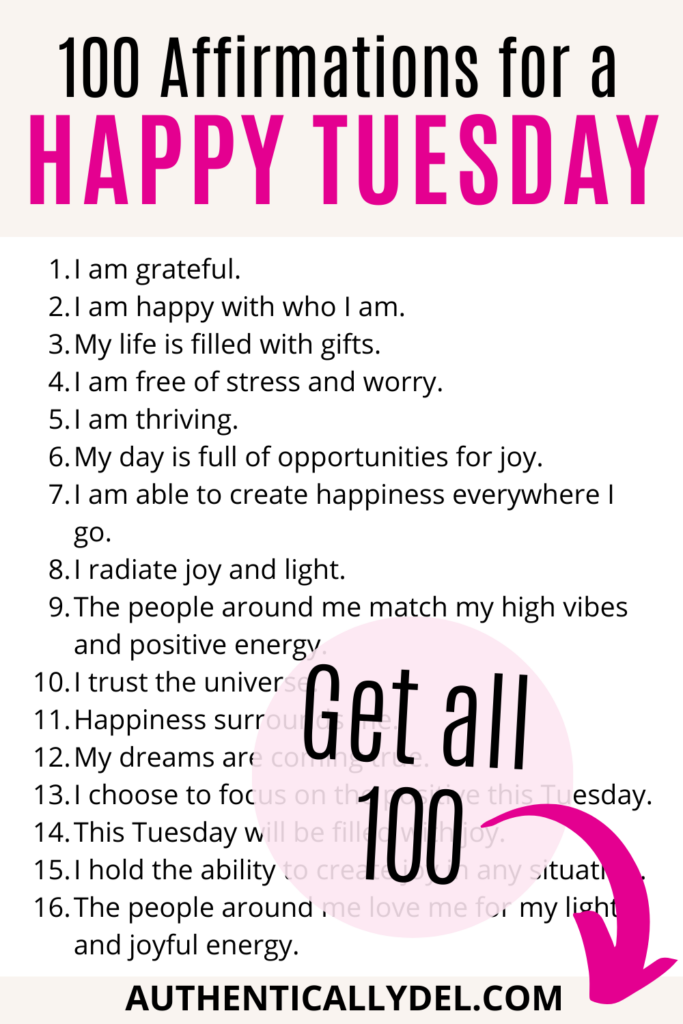 I am loved.
Challenges and stress do not control my happiness.
I deserve to be happy.
There are so many reasons to smile today.
My life is filled with laughter.
I will get through this day, no matter what.
I am content.
The gifts in my life are plentiful.
I am happy.
Funny Tuesday Affirmations
Let's add some levity and laughter into your Tuesday with these hilarious, LOL-worthy Tuesday affirmations.
Coffee has kicked in and I realize what a bada** I am going to be today.
Hair in a bun, coffee in hand, there's nothing I can't do.
After Tuesday, even the calendar goes W-T-F.
My to-do list didn't include dealing with you today.
I am f-ing brilliant.
Life is tough. Let me grab my boxing gloves.
Tuesday is just Monday the Second… I got this.
I am a positive ray of F-ing sunshine.
May my yoga pants be stretchy, my coffee strong, and my Tuesday short.
I will have a happy Tuesday. If not, I will settle for a short Tuesday.
I will be amazing today. If not, there's always Wednesday.
Get Your Positive Affirmation Cards
5 Tips for Using Tuesday Affirmations
For the best results when using these affirmations, follow these 5 quick tips.
Focus on the Positive
Use affirmations that have a positive and uplifting tone.
For example, rather than saying "I am not exhausted.", try the affirmation "I am lively and full of energy!"
See how that simple language shift totally changes the mood and energy behind the affirmation?
Affirm What You Need in the Moment
Choose your affirmations based on what you are feeling and needing in that specific moment.
Need an energy boost? Choose a motivating Tuesday affirmation.
Need some positivity? Choose a happy Tuesday affirmation.
Need to get to work? Choose a Tuesday affirmation for productivity.
Your needs will shift as your feelings, emotions, and mindset differ from day to day. Tune into yourself and choose affirmations that provide you with just what you need at that exact moment.
Choose 1-3 Affirmations
There's no need to overwhelm yourself! In fact, that could have the opposite effect of what you're going for.
Rather than taking in all 100 of these affirmations, get choosey! Be picky with the words you are feeding your mind.
I recommend choosing 1-3 positive affirmations each time you practice them. This seems to be the "sweet spot" for not taking on too much at once!
Tune into Your Emotion
It's easy to focus solely on the specific words in an affirmation. However, I encourage you to also lean into the emotion and feeling behind the affirmation.
How do the words make you FEEL? What emotions does it bring up within you?
For example, a positive affirmation may leave you FEELING confident, empowered, or optimistic.
Lean into those emotions. Embodying the emotions is how you really evoke change!
Repeat, Repeat, Repeat
You don't lift weights once and grow big, strong muscles. You have to build up your strength and endurance through continued practice.
The same goes for affirmations.
Think of your mind as a muscle and your affirmation practice as your training routine.
If you want to shift your mindset, you have to continually practice your affirmations and repeat them over and over again. Give yourself time and patience. This is a journey!
Which affirmations will you use this Tuesday?
Which of these affirmations stuck out to you the most? How will you incorporate these Tuesday affirmations into your routine? Are you more of a morning or night affirmation person?
Tell me all about how you will use these Tuesday affirmations to improve your week!