This post may contain affiliate links meaning that, I may make commission if you purchase through my links. Learn More. 
To help you get started growing your blog, I have put together a free blogger toolkit filled with all my must-have blogging resources. This is jam-packed with everything you need to grow a successful, money-making blog in 2023!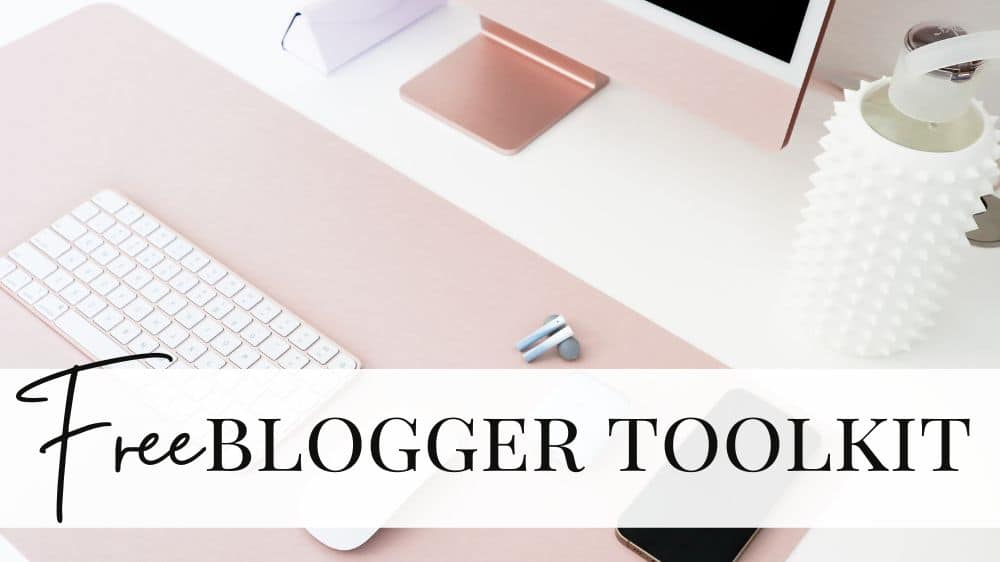 Starting a blog can feel super overwhelming. Trust me, I've been there.
What the heck is a domain? Who's my hosting company? Caching? Plugins? Coding? Widgets?
Blogging can feel like a whole other language when you're just getting started.
When I first started my blog years ago, I spent hours and hours searching Google and YouTube for any information I could possibly get.
Not to mention, I was on a pretty tight budget. As much as I wished I could just hire someone to get Authentically Del up and running, I didn't have that kind of money.
I had to do the bulk of this learning on my own (and on a budget!).
That's exactly why I wanted to put together this free blogger toolkit as a resource for you. Whether you're a new blogger or an existing blogger looking to learn and grow, this resource has all the blogging tools you'll need.
What's in the Blogger Toolkit?
This blogger toolkit walks you through the 5 main phases of starting a blog:
Technical Setup
Learning to Blog
WordPress Setup
Tools to Actually Get Started Blogging
Money-Making Blogging Tools
Within each of these categories, this toolkit outlines exactly what tools and resources I have used/currently use for every single blogging task.
In this free blogger toolkit, you also get a description of every tool. The description includes what it does, how it helps, how I use it, my experience with it, and the price point.
There are a lot of not-so-great blogging tools out there, let's just be real.
I've had a lot of experience with trial and error, figuring out what services are worth it and which ones are just fluff.
In true Authentically Del fashion, I give my honest opinion on all the blogging tools. There's no beating around the bush here. I'm here to help you get set up as quickly and painlessly as possible!
The Process of Starting a Blog
So you're looking into how to start a blog…
First of all, I want to say CONGRATS!
Making the choice to start a blog (or grow an existing blog) is a MAJOR decision that can totally change your life.
I am not being dramatic when I say that MY BLOG HAS CHANGED MY LIFE – not only in terms of finances, but my happiness & mental health too. It's been one of the best decisions I've ever made.
That said, I know learning how to start a blog can be intimidating.
That's why I wanted to put together this free resource toolkit to help walk you through all the phases of starting a successful blog.
6 Steps in the Free Blogging Toolkit
I broke down the complex and detailed process of how to start a blog into 6 main steps to kick off this blogging toolkit.
(Spoiler Alert: You've already completed Step 1 ✅ )
1. Make the Choice to Start a Blog
Making the choice to start a blog is a MAJOR decision. This is such an exciting time!
Deciding that you want to get serious about starting a blog is a huge first step.
If you're here, I'm willing to bet you've already made this decision. (Look at you… flying through this process already!)
2. Find Your Web Host
Registering your domain name and finding a good web host (don't worry, I walk you through this!) is an inevitable first step in starting your blog.
In order to grow your blog, you have to have a blog to work on! This is the foundation of everything.
3. Meet WordPress
You are going to want a self-hosted WordPress site to really get the most opportunity for growing your blog. Free blogging sites are fun, but your potential for growth and/or income is more limited.
WordPress is the software that will hold everything for your blog.
This is like your blogging home base. You will add posts, photos, themes, etc. all via WordPress.
4. Design Your Theme
Whether you opt for a free or paid theme, you are going to need one to get your blog looking beautiful and reader-ready.
Later I will walk you through my exact theme recommendations for starting a money-making blog.
5. Learn It All
As I'm sure you know by now. There is a LOT to learn if you want to successfully start and grow your blog.
Blogging courses are a must on your blogging journey.
Whether you choose to pay for the best courses or search around for free info yourself, you NEED to invest time into gaining blogger knowledge. It's a whole new world.
6. Work & Grow
Getting set up is only the beginning of your blogging journey. Now the fun (and the WORK) really begins.
After getting your blog set up and started, it's time for you to put in the work. Remain consistent and passionate, working on your blog in creative and strategic ways.
There is always a way to grow, improve, or build upon your blog. It's an ever-evolving journey. (Don't worry – I have resources in the blogger toolkit for this more advanced phase too!)
2023 Free Blogger Toolkit | 25+ Best Blogging Resources
What do you say we jump right into these blogging resources? Don't forget to download the PDF file of all this information at the end of this post!
Technical Blog Setup Resources
All the tech stuff…
For me, this was the most overwhelming part of starting my blog. I am NOT techy at all. These resources are the only way I got my blog up and running (even as a total tech dummy).
This is probably the most popular web host for new bloggers simply because of their great prices!
Bluehost is who I first started with. (It was one of the only hosts that had great services at a price I could afford!)
They are convenient, affordable, and perfect for getting started. As your traffic grows in the coming years, you may consider a different host, but this is a great option for your first year or two!
NameCheap is another super common host for starting a blog.
They have cheap pricing, 24/7 support, and easy setup.
Definitely 3 major must-haves for beginners looking to start a blog.
As I mentioned earlier, WordPress.org is the software where you are going to do pretty much everything on your blog.
Design, edit, update, post… it's all through WordPress. You'll download this software onto your self-hosted domain and get to building!
In my personal opinion, building a pre-made theme is WORTH the (relatively low) cost.
When I first started my blog, I spent over two weeks trying to build my own site through a free theme on WordPress. I failed miserably and got SO frustrated.
I ended up buying a WordPress theme on Etsy and it was the best decision ever.
My site is through StudioMommy, although she no longer makes WordPress themes.
I highly recommend 17th Avenue Designs' themes. I use this for my other business' website and I LOVE it.
The legal part of blogging… it's not very fun, but it is ESSENTIAL.
You absolutely need to protect yourself and your blog with professionally written legal pages (yes, like from a lawyer…).
I purchased the Legally Blogs bundle for my own legal pages. No matter where you get your legal pages, DO NOT SKIP THIS STEP.
Blogging Courses
Now it's time to start LEARNING. While Google searches and YouTube tutorials are great, they can only get you so far. Sometimes buying a blogging course that has ALL the info in one place is the best decision.
Here are the best blogging courses I've personally taken.
My #1 favorite, holy grail, must-have blogging course.
Perfecting Blogging is the very first blogging course I ever purchased and, to this day, is my favorite one I've taken.
READ MY ENTIRE PERFECTING BLOGGING COURSE REVIEW HERE
This course is from BySophiaLee, a blog that has grown to make millions… yes, millions. Read my entire Perfecting Blogging course review for more info.
This is the second course I'd recommend buying. After you've got your blog up and running, you are going to want to start monetizing it to make MONEY.
READ MY MAKING SENSE OF AFFILIATE MARKETING COURSE REVIEW HERE
Making Sense of Affiliate Marketing has given me my current affiliate marketing strategy which makes me hundreds-thousands every month.
I LOVE the Blogging for New Bloggers courses for many reasons.
First and foremost, they are PACKED with information, tips, and resources. Secondly, they offer FREE courses that give amazing information for literally $0.
I just love people that make knowledge more accessible for all price points!
I say this is optional because not EVERY blogging niche is super successful on Pinterest. There are other strategies to grow a blog that are just as (if not more) successful.
However, Perfecting Pinterest is a GREAT Pinterest marketing course that has helped me grow my blog traffic substantially.
If you are interested, I recommend the Perfecting Blogging + Perfecting Pinterest Discounted Bundle.
WordPress Plugins
A well-functioning site needs to have the proper plugins supporting it.
This is something that has taken me a lot of trial and error to figure out, which is exactly why it deserved its own section in this free blogger toolkit. (This can be confusing to figure out on your own – there are just so many options!)
Akismet Anti-Spam is a free, lightweight plugin that blocks spam comments on your blog posts. This is an absolute must-have to keep your blog from getting bombarded with bot comments. (AGH!)
I use WP Tasty Pins personally on my blog.
This plugin allows me to add hidden images into blog posts that can be shared to Pinterest when a reader chooses to pin the post. This also allows me to write Pin titles and descriptions so these pins perform well on Pinterest.
WP Tasty also has recipe card plugins and other features that make it an absolute MUST for food bloggers.
This is a backup plugin that is free and a must-have… I learned this the hard way.
When I was a fairly new blogger, my website got HACKED. It was absolutely terrible. I ended up recovering it after about a week of stress (and lots of tears).
Now, I run routine backups of my site using Updraft Plus so I can restore my site if anything bad happens again. (Fingers crossed it doesn't, but at least I'm prepared.)
WPAutoTerms is a plugin for legal pages.
I do NOT recommend using the auto templates on here. (Remember, you need those professional legal pages!)
However, this plugin allows you to easily place legal pages in the footer of your site and edit the legal pages linked there.
SEO is the backbone of blogging. SEO (Search Engine Optimization) is essentially how you get yourself found online (via Google, Pinterest, and other search engines).
Yoast offers a free plugin that checks your blog posts for the SEO basics and tells you how you can improve your SEO.
(Note – this is not all you need for good SEO. You must have a good understanding of SEO on your own. Highly recommend Perfecting Blogging for learning the SEO basics.)
Site speed is KEY – for user experience, for SEO, for ad income, for everything.
WP Rocket is a caching plugin that allows sites to load fast and easily. This is recognized as the best caching plugin by many WordPress professionals and experts.
Absolute Must-Have Blogging Tools
This is my favorite section of this blogging toolkit. These blog tools are my little babes. They are the resources that I ABSOLUTELY could not blog without.
Just finished using Canva to make this free blogger toolkit PDF for you right now.
I use Canva for nearly everything I do for my blog.
All my blog graphics, printables, freebies, Pinterest pins, etc. have been made on Canva.
I highly recommend Canva Pro for the extra photos, templates, features, and elements it offers, but even free Canva is a must-have resource that you need for your blog.
Unsplash and Pexels are my two favorite sites for free stock images. They have a great selection of free photos for all blogging niches!
Proofreading and editing is exhausting, let's be honest.
You spend so much time writing blog posts that you don't always have the energy to reread them with the closest eye.
Grammarly is a lifesaver for this. You can use their website/app or add their Chrome extension to your browser. It's like your own personal proofreader (for free too!).
Tailwind is an automated Pinterest (or social media post) scheduler.
In the Perfecting Pinterest course I recommended earlier, Sophia walks you through exactly how Tailwind helps with a successful Pinterest strategy.
I use Tailwind to schedule out my pins in 2-week batches. This takes me about 1 hour every two weeks instead of spending hours scheduling multiple pins throughout the day. (I have other things to do!)
Keywords Everywhere is a Chrome extension that is SO helpful for finding the right keywords to target for SEO.
It shows you search volume, CPC, and competition rating for any search phrase or keyword.
Targeting the right keywords is the most important thing for the foundation of SEO success. (This is the tool used and taught in Perfecting Blogging.) It's only $10 for 10,000 searches, which lasted me about 9 months!
Having a mailing list is essential for growing a money-making blog. You want to start growing this from the start… you'll be so glad you did later!
ConvertKit is one of the most popular email services in the blogging world. It has ALL the features. Truly an amazing service.
I made the switch from ConvertKit to MailerLite recently when I outgrew the plan I was on with ConvertKit. So far, I LOVE it.
MailerLite is a way more affordable email service when you start to really grow a large number of subscribers.
ConvertKit is amazing, but it gets pricey. You really can't go wrong with either service… it's more about your ideal price point.
Posting your blog posts at the ideal TIME is really important, especially for seasonal blog content.
Google Trends is a completely free resource that gives you the peak times of a keyword so you can schedule your post to go live with plenty of time to rank before the keyword peaks in popularity. Helllllo, traffic! 😍
Advanced Money-Making Blog Tools
This final section of the free blogger toolkit is dedicated to the services that have really helped my blog grow in terms of making money!
It's totally okay if you're not at this phase yet. You will be. (Be sure you keep this downloadable PDF blogging toolkit for that day!)
When you reach a place in your blogging journey where you are ready to offer products (digital or physical), I highly recommend using Shopify to host your store.
There are cheaper/free WordPress plugins for this, but they can really harm your site's speed and quality.
I've found that a separate hosting platform for my store has been a way better option. Definitely worth the cost. See how this looks here.
If you are going to sell a course or coaching services, Teachable is a MUST.
I use this platform for my second business and could not be more impressed with it. It is so user-friendly and has great features – even on the FREE plan.
All these skills you're learning through blogging… yeah, they're freaking valuable! Market yourself. Sell your skills. Offer your services.
Freelancing is a major way for bloggers to make money.
Whether it be through content writing, logo creation, Pinterest scheduling, or something else, offering your skills is one of the quickest ways to make money as a blogger.
You don't need a ton of traffic to your own site to land freelance deals.
Upwork is the best for finding freelance work. I highly recommend checking it out if you are wanting to make some money quicker than the long game of blogging allows.
Get Your Free Blogger Toolkit PDF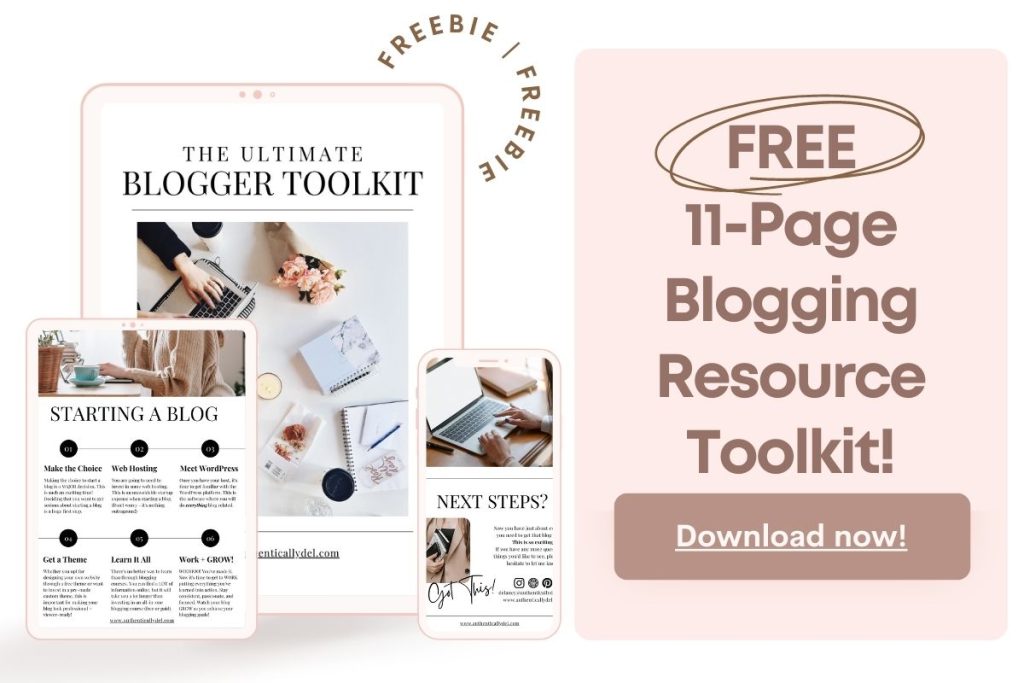 Claim your free blogger toolkit above.
This downloadable blogging resource guide gives you access to everything I mentioned in this post, saved right on your own computer.
Don't ever hesitate to reach out with any blogging questions, topics, or to give me an update on your own blogging success!
I am here to help and celebrate your wins with you!
Go get 'em, blogger. Growing your blog is such an exciting, rewarding journey. I'm here rooting for you!
Get 1:1 Blog Coaching From Me