This post may contain affiliate links meaning that, I may make commission if you purchase through my links. Learn More. 
Use these positive summer affirmations to cultivate a happy sunshine state of mind during the summer months!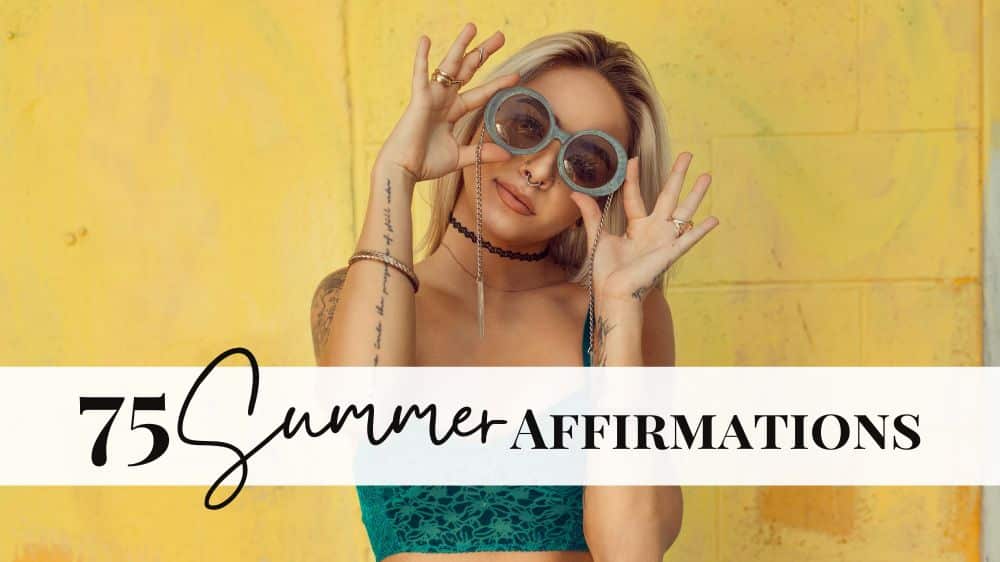 Woohoo! It's summertime!
The summer season is filled with opportunities for happiness, laughter, adventure, and joy.
Sun is shining, birds are chirping, flowers are blooming, loved ones are near… life is good in the summer.
With all these beautiful things happening around me, I always feel a refreshed motivation to work on my mental health and mindset in the summer months.
This is where positive summer affirmations come in.
There's so much hope and opportunity in the air during the summer months. However, it is up to you to take advantage of this and fully immerse yourself in the joyful summer experiences around you.
With the right mindset, summertime can have you feeling on top of the world.
These affirmations for summer are here to help you create a positive headspace which, in turn, will help you have the most fun-filled and happiest summer possible!
Let's dive into these seasonal summer affirmations! (Swimming pool pun intended…)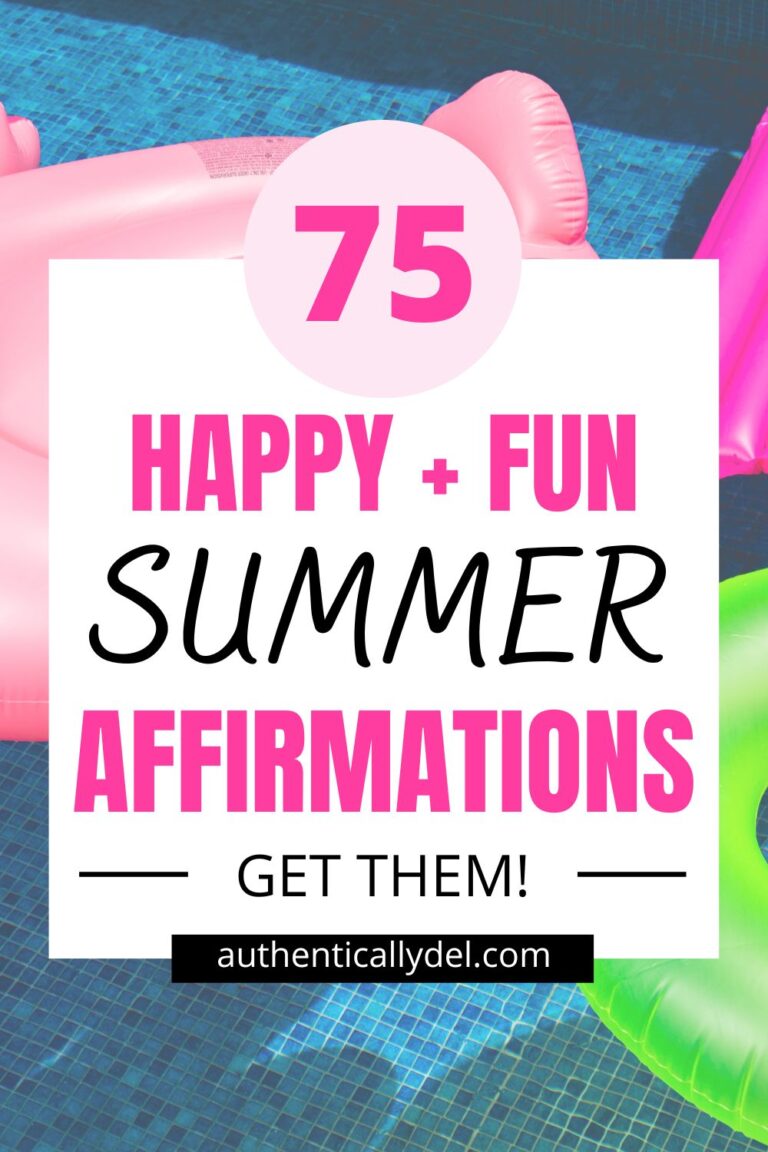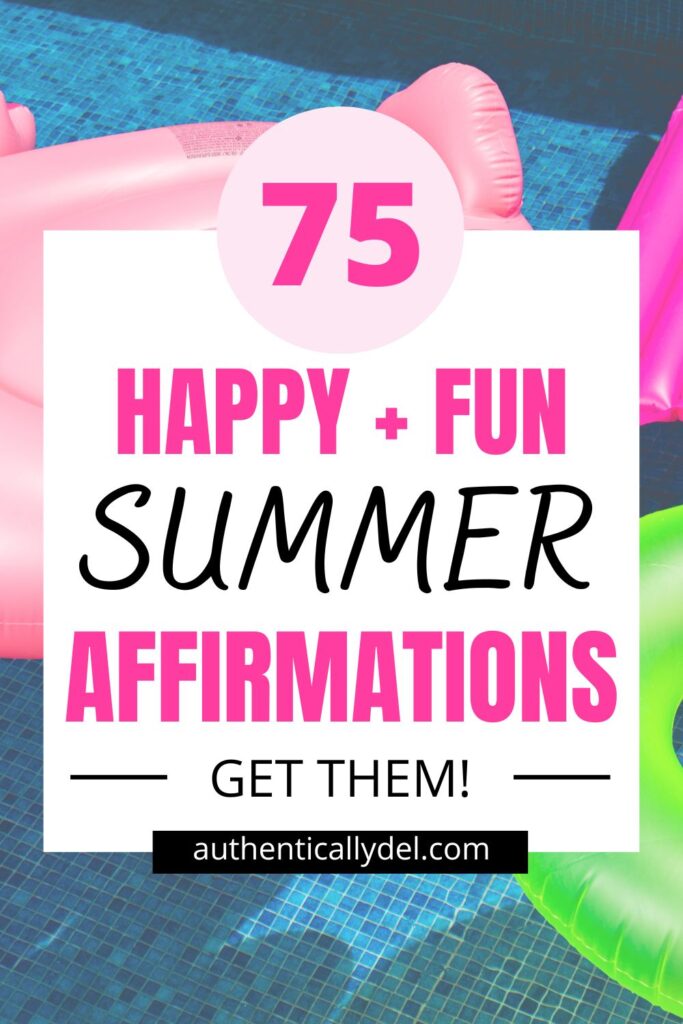 75 Happy Summer Affirmations
Use these positive affirmations for the summer to get in the right headspace for your best summer yet!
I am going to have a great summer.
This season is full of laughter and joy.
I am ready to embrace new opportunities.
Fun experiences fill my days.
I will say 'yes!' to exciting new adventures.
I can push myself out of my comfort zone and try new things this summer.
New connections and relationships are waiting for me.
I am allowed to prioritize fun in my life.
Time off does not have to be earned.
I am ready for a great season.
Good luck flows naturally to me this summer season.
I am confident in my body this summer.
Body image will not hold me back this summer.
I am taking care of my mind, body, and soul.
I am prioritizing balance in all areas of life this summer.
My energy is warm and bright, like sunshine.
Positive experiences are rejuvenating my soul this summer.
I trust the universe to place blessings into my life.
I am looking forward to a season of personal growth and abundance.
My desires are coming to me in divine timing.
I am prioritizing rest, relaxation, and refreshment.
I am becoming the best version of myself this summer.
My summer is full of all my favorite summertime activities.
I am entering the summer with a light and carefree energy.
I release the stress clouding my mind.
My dreams and desires are worth pursuing.
I can slow down and enjoy each moment of this season.
I am finding joy in the simple things in life.
This is going to be the best summer of my life.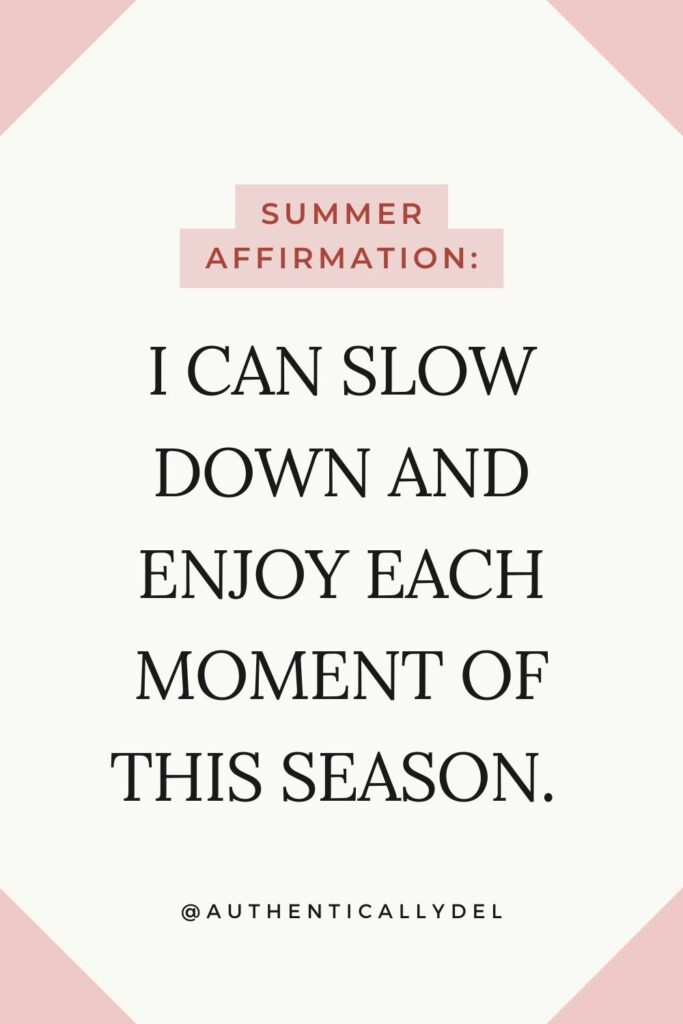 I am ready to try new things.
Every day is an opportunity for me to be happy.
I am learning to make the most of every moment.
I get to control the energy I allow in my life.
Positive people, things, and moments flow naturally to me.
I radiate positive, sunshine energy.
I will intentionally slow down this season.
Productivity and work do not consume my days.
I am working towards true, deep contentment.
I am living my best life.
Happiness is my birthright.
I am making memories.
There is beauty in doing nothing.
I commit to living in the moment and being fully present.
I am a human being, not a human doing.
The sunshine is healing to me.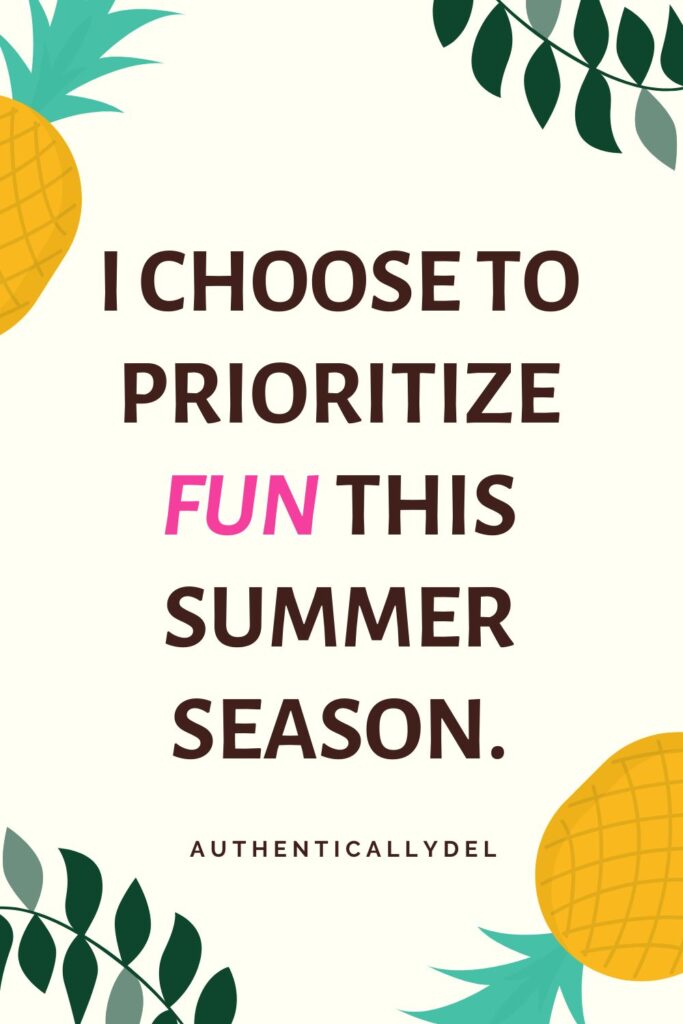 I allow myself the freedom to do what I want this summer.
I release the pressure of "should"s and make room for my true desires.
Nothing will hold me back from the summer I want.
I am committed to finding the positive in all things.
Just like the flowers, my life is in bloom this summer.
I light up the room with my positive energy.
I am powerful and strong.
This summer is going to be one I will remember forever.
I can listen to and honor my heart.
No one will stop me from having the season I want.
I have great expectations for this summer.
I am prioritizing myself above all else this summer.
Self-love is my main priority.
I am learning to love myself and my life every day.
This summer will be lighthearted and carefree.
I can allow my inner child to play this summer.
I am a ray of sunshine.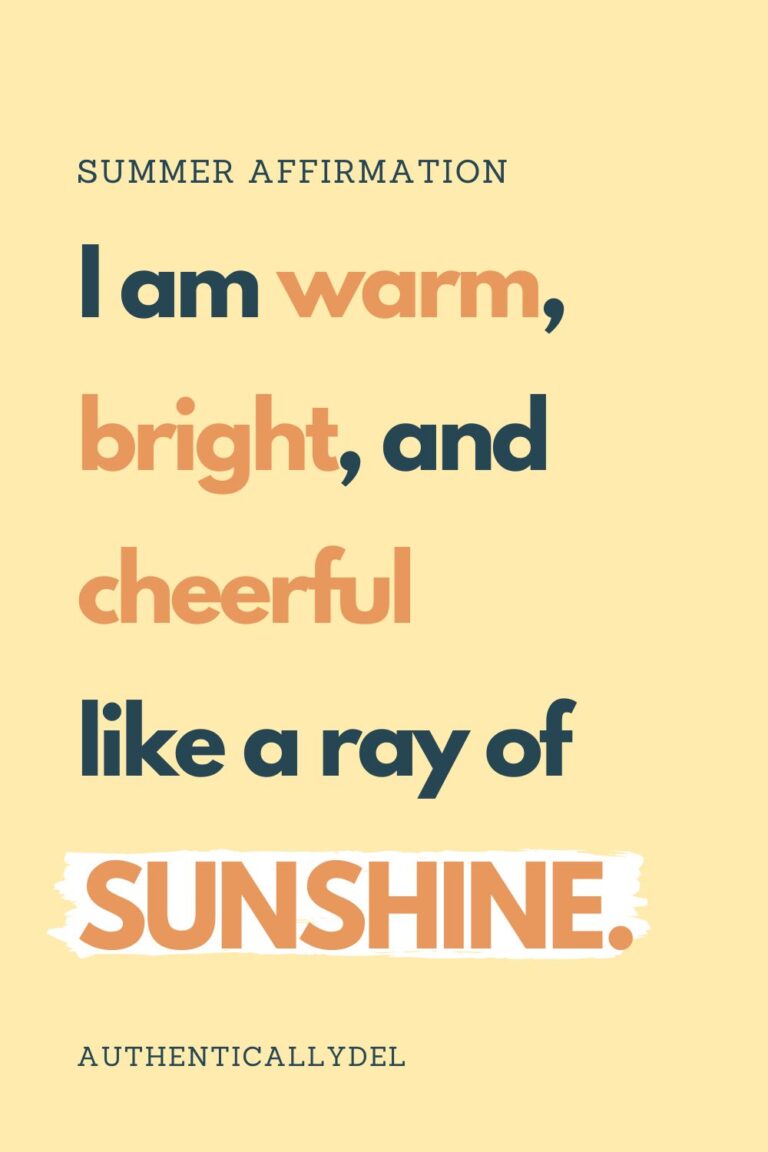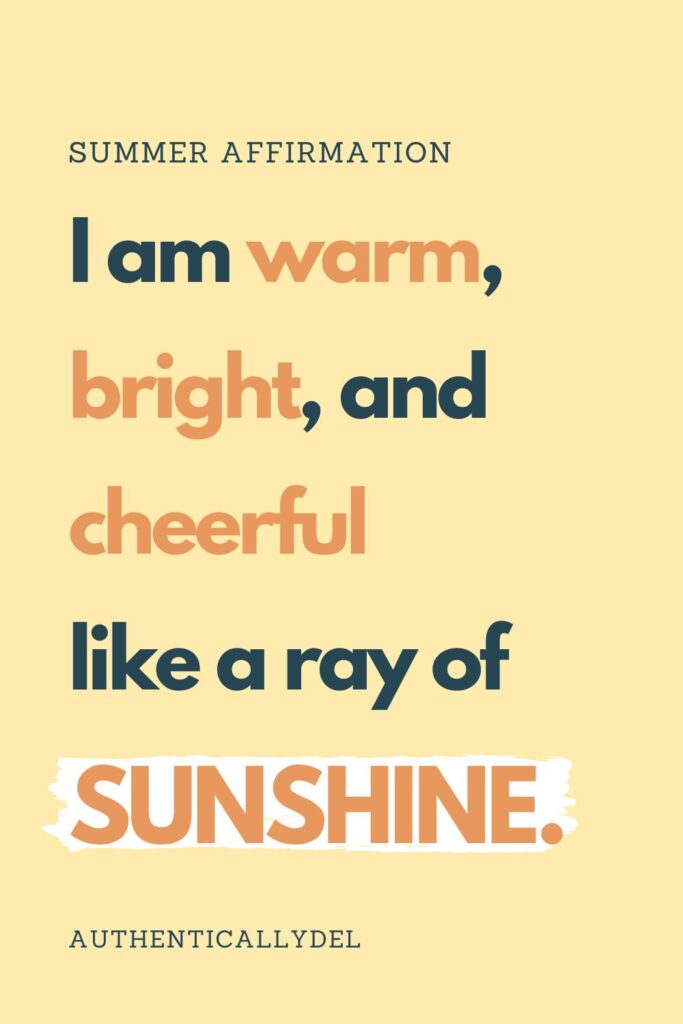 Each day is an opportunity for joy.
I am confident in my mind, body, and who I am as a person.
I am in control of my energy.
This summer I will live my best life.
I am making time for fun every single day.
The summer sunshine energizes me.
I deserve to relax and enjoy my summer.
I let go of work stress and lean into a carefree summer.
My energy is high and my mood is boosted.
I am surrounded by good people.
My summer is mine to do what I want.
I am making memories and enjoying every moment.
This will be my best summer yet.
How to Use Summer Affirmations
Want to utilize these positive affirmations for summer but are unsure how? Not to worry.
Here are some of my top tips and tricks for implementing positive affirmations into your daily life.
1. Use Positive Langauge
Rather than using your affirmations to express what you don't want, try to reframe your language to affirm what you DO want.
For example, instead of saying 'I will not be stressed this summer', try 'I am calm and carefree this summer'.
See the total shift in energy between those two phrases, even though they are affirming the same thing?
Stick to positive language and positive energy when reciting your summer affirmations.
2. Keep It Simple
Don't overwhelm yourself. Positive affirmations do not need to be long, complex, and in-depth. In fact, sometimes short and sweet affirmations are best.
When in doubt, rely on super simple "I am" affirmations.
They're quick, clear, concise, and to the point. You can't go wrong!
3. Visualize Your Affirmations
Vocalizing affirmations is great, of course. But to fully immerse yourself in the affirmation takes it to a whole other level.
Affirmations are a message to your subconscious and to the universe telling it what you desire. In order to fully and wholeheartedly believe your affirmations, I highly recommend a visualization practice.
Try this: Sit down in a quiet space when you have some time to focus on your affirmations. Choose 2-5 affirmations that you really want to prioritize. Close your eyes and say them out loud 3 times. Each time you recite the words, visualize exactly how you picture the affirmation appearing in your own life. Get as specific as possible!
There you have it; you just successfully completed visualization.
You will notice more success with your positive summer affirmations the more you can give attention, energy, and focus to them.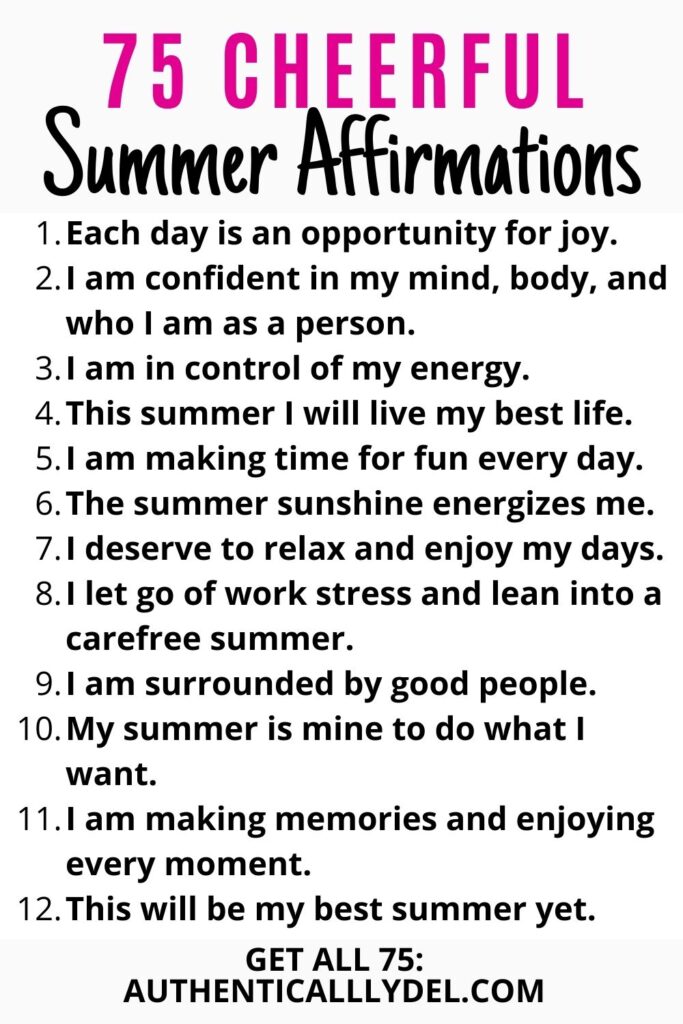 Which Summertime Affirmations Will You Try Out?
Which of these 100 affirmations for the summer stand out most to you?
Leave a comment below telling me how you plan to incorporate positive affirmations into your summer season.
Wishing you a summer full of sunshine, fun, laughter, love, and great memories!
Free Printable Affirmation Cards