This post contains affiliate links meaning that, at no additional cost to you, I make a small commission if you purchase through my links. For additional information, visit my affiliate disclosure. 
Summer is finally here! If you are looking for ways to have a fun and exciting season, this list of over 150 summer activities for adults is just for you!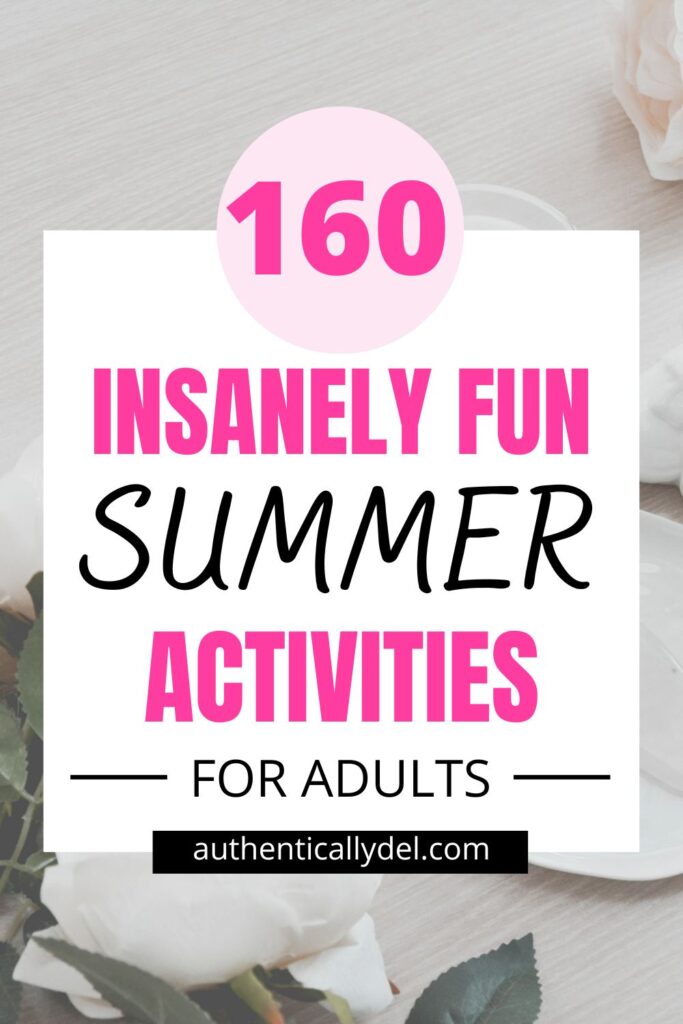 Creating an adult summer bucket list? On the hunt for a fun summer activity to do with friends or family? Or simply hoping to get inspiration for some seasonal fun in the sun?
I got you covered.
Those carefree summer vacation vibes don't only have to be for the kiddos. No matter how old you get, you deserve to have a great summer season!
Whether you like to stay indoors, get outside, socialize, or take it solo… this list of summer activities for adults has plenty of ideas for you!
Let's dive into it… (Swimming pool pun intended.)
150+ Fun & Exciting Summer Activities for Adults
Get ready to have the summer of a lifetime! Bust out some pen and paper, because we are about to create a dream-worthy summer bucket list.
Outdoor Summer Activities for Adults
For when you want to get out and enjoy the sunshine!
Visit a new park.
Take a walk.
Have a picnic.
Go to a local body of water.
Explore a new city.
Collect seashells.
Start a vegetable garden. (Get all the seeds here!)
Go camping.
Attend an outdoor concert.
Dine outside.
Host a barbecue for the neighborhood.
Set up an above-ground swimming pool and relax in it.
Go on an outdoor scavenger hunt.
Swim in the lake/ocean.
Go kayaking.
Go to a theme park.
Visit the farmer's market.
Go golfing.
Play backyard croquet.
See a drive-in movie.
Play tennis.
Go for a run.
Get a tan.
Set up backyard games.
Read a book in the sun.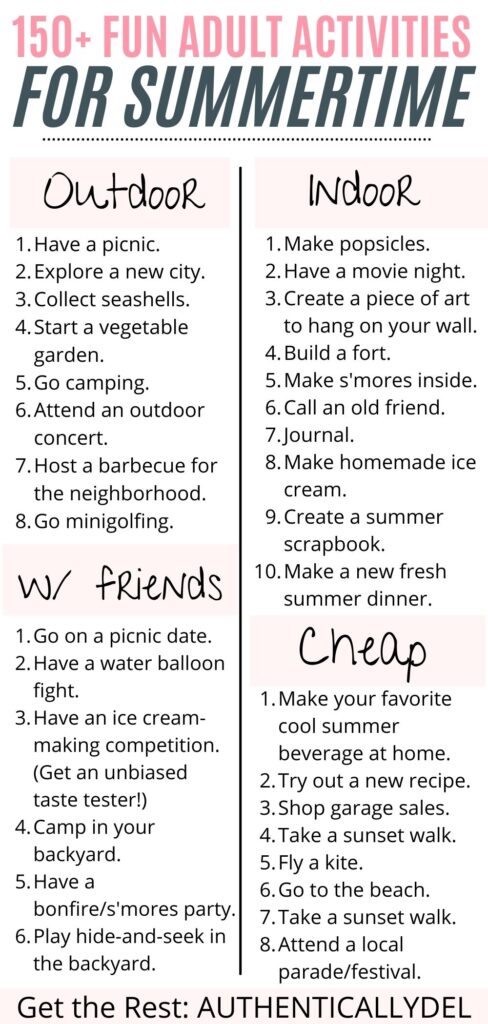 Go for a drive with all the windows down.
Buy a Slip n' Slide. (So much fun!)
Do yoga outside.
Throw the ball for your dog.
Host an outdoor party. (With yard games, of course.)
Learn to skateboard/rollerblade/longboard.
Visit the beach at night.
Swing on the swings at a playground!
Decorate your backyard for the summer. (String lights make a huge difference.)
Go to a local movie in the park.
Have a bonfire.
Run through the sprinkler.
Make s'mores.
Take a hike.
Get ice cream and enjoy it in a park.
Tackle some yard work.
Put together a bouquet of fresh flowers.
Wash your car.
Go fishing!
Make a sand castle.
Pick wildflowers.
Visit a street fair.
Ride a bike.
Blow bubbles – like a kid again!
Visit a hometown tourist attraction.
Indoor Summer Activities for Adults
Need a break from the sun? Stay indoors and still have fun with these indoor summertime activities.
Make popsicles.
Have a movie night.
Create a piece of art to hang on your wall.
Build a fort.
Make s'mores inside. (Using the microwave, burner, or fireplace!)
Make homemade popcorn. (This air-popper is a dream.)
Deep clean your house.
Clean out your closet. List old clothes on Poshmark.
Call an old friend.
Journal.
Make homemade ice cream. (My Ninja Creami is my favorite thing ever!)
Read a book.
Cool off in front of the air conditioner.
Take on a home improvement project.
Make DIY candles.
FaceTime a family member.
Pick up a new hobby. (Get 100+ hobby ideas.)
Spend an entire day in your PJs.
Give yourself a fresh summer haircut.
Make a summery dinner with lots of fresh food!
Take an online class.
Online shop for some new summer clothes.
Rearrange your bedroom.
Paint, draw, or create art!
Write a short story.
Make a big, refreshing smoothie.
Make a cobbler with fresh, seasonal fruit.
Write a letter to a loved one. (See this post for 50 handwritten letter ideas.)
Paint your nails for the summer.
Start a YouTube channel.
Rearrange your bookshelves.
Have an all-day read-a-thon.
Learn how to sew and create something.
Do an adult science project.
Summer Activities with Friends
Grab a friend, family member, partner, or loved one, and have some summer fun together!
Go on a picnic date.
Have a water balloon fight.
Have an ice cream-making competition. (Get an unbiased taste tester!)
Camp in your backyard.
Host an outdoor board game night.
Have a bonfire/s'mores party.
Play hide-and-seek in the backyard.
Have a pool party!
Take a road trip with a loved one.
Play a deep question/answer game around the campfire. (We're Not Really Strangers is my favorite game!)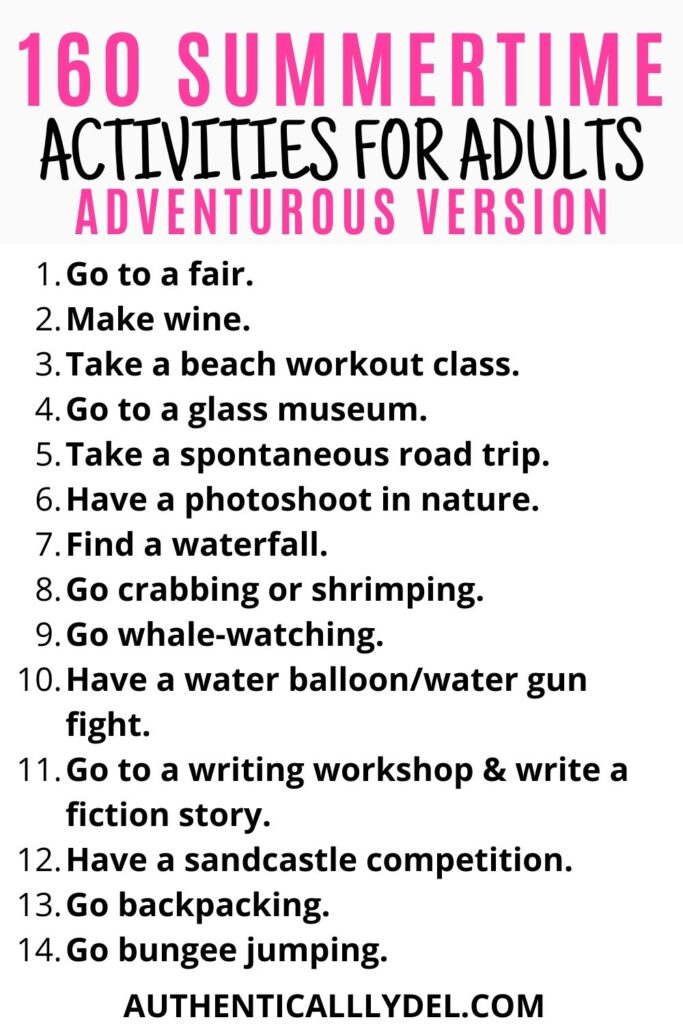 Visit a museum with friends.
Have a mani/pedi day at home with your bestie.
Have a movie in the yard party. (This projector screen is what I use!)
Stargaze with your partner.
Host a friends and family talent show.
Make sand creations and have a competition.
Go to a local trivia night.
Karaoke bar night.
Tackle a DIY project together.
Pick berries!
Take a backpacking trip.
Ride a mechanical bull.
Visit a carnival/fair and ride all the rides.
Make a photo album/collage of your memories with a loved one.
Play a "who-knows-who-better" trivia game.
Cheap & Free Summer Activities for Adults
On a budget? No problem. These are cheap or free summer activities that won't break the bank.
Play with chalk.
Lay in your backyard and get a tan.
Visit the library and pick out some new books!
Wander local mom-and-pop shops. (You can just browse!)
Take photos of beautiful summer sights. Flowers, sunsets, water, etc.
Visit a secondhand bookstore.
Make a scrapbook of your favorite memories.
Call your parents/grandparents.
Watch YouTube to learn something new online.
Meditate outdoors.
Have a phone-free day.
READ: 250 THINGS TO DO INSTEAD OF SCROLLING YOUR PHONE
Watch the fireworks on the 4th of July (for all you Americans!).
Find shapes in the clouds and name them.
Play pickleball!
Go to open house listings in the area just to explore!
Make a big fruit salad.
Wake up early and watch the sunrise.
Attend a parade or local festival.
Have a full self-care day.
Go thrift shopping.
Learn about different types of plants.
Sell old things you no longer use online. (See my guide to selling on Poshmark.)
Make your favorite cool summer beverage at home.
Try out a new recipe.
Start a hobby blog. (Read how to start a blog for cheap here.)
Shop garage sales.
Take a sunset walk.
Fly a kite.
Play in the sand.
Go fruit picking.
Adventurous & Exciting Summer Activities
Go to a fair.
Make wine.
Take a beach workout class.
Go to a glass museum.
Take a spontaneous road trip with no plans.
Have a photoshoot in nature.
Find a waterfall.
Go crabbing or shrimping.
Go whale-watching.
Have a water balloon/water gun fight.
Go to a writing workshop and write a fiction story.
Have a sandcastle competition.
Try to break a world record.
Go to a waterpark and slide down the biggest slide.
Throw a dart at a map and go where it lands.
Go skydiving.
Go bungee jumping.
Do a night of bar hopping.
Ride a mechanical bull.
Attend a wedding.
How to Create a Summer Bucket List
When creating a summer bucket list, it can be hard to know where to start. Here are some of my top tips for creating your perfect bucket list for summer.
Set aside time to plan! Be intentional with your bucket list. Make time to truly sit and brainstorm what you want to do.
Use a fun bucket list design. Don't just use any old boring piece of scratch paper. Use a fun, colorful, exciting bucket list! This is going to keep you motivated and more excited about it – even if it's subconsciously. (Plus, you can display cute bucket lists in a place you'll see them daily!)
Personalize your list. No two people have the same life, so no two people should have the exact same bucket list. That's why I wanted to offer a huge variety of fun summer activities to choose from. Customize your list to your life and what you truly want.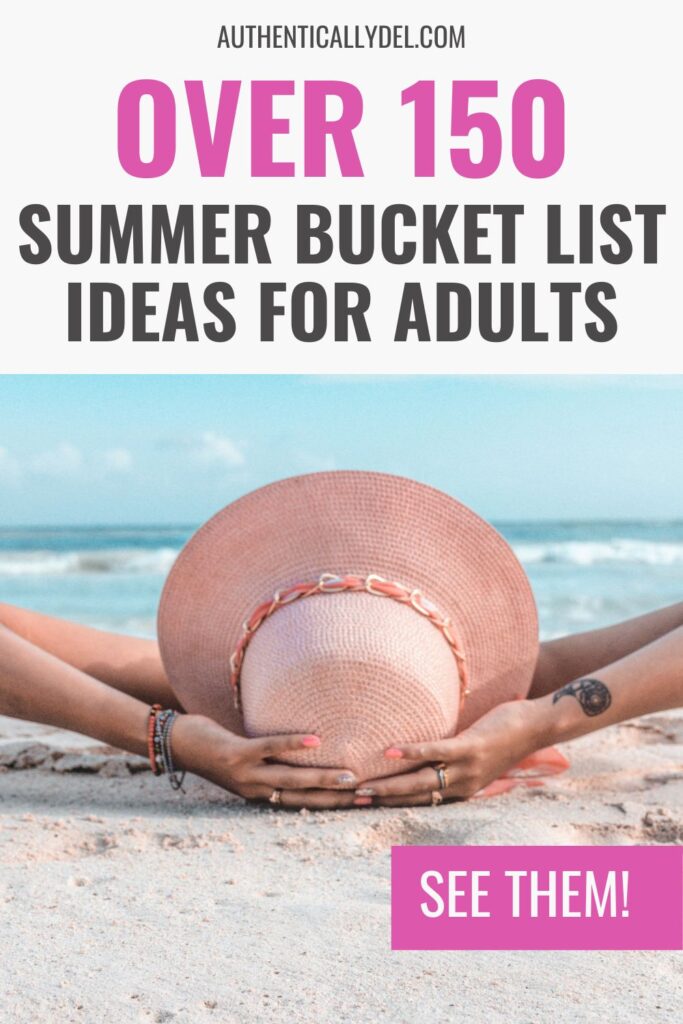 Types of Bucket Lists for Summer
There are a few different ways to go about creating your lists. Here are some ideas.
Month-by-Month
One way you can create a bucket list is to categorize the activities by month! For example, you could create shorter lists for June, July, August, etc., and put month-specific activities on each!
(ie. If your community puts on a specific fair/carnival in August, that activity would obviously go on the August list!)
This is a great way to break it up and get more specific about spacing out your fun summer activities.
Organizing it this way also helps to prevent overwhelm from feeling like you "have" to do so much at once to have a great summer. One thing at a time!
Holiday Based
If your summer activities are centered around holidays/birthdays/events, you can organize your list that way too!
(ie. Firework-watching and hosting a BBQ could both go on the list for Independence Day!)
This is a great option if you have lots of birthdays, events, or schedules during the summer months!
By Price
For many of us (myself included) price matters.
Break down your bucket list into categories depending on the financial cost of the activity.
I often will label my lists "free!", "$", "$$", "$$$" to divide up the different price brackets. That way, I can choose the perfect activity for my current budgeting needs.
By Category
There are endless categories you could sort your bucket lists into. This is up to you and what feels most helpful/functional for your specific bucket list activities.
Bucket List Category Ideas:
Indoor/Outdoor
Solo/Social
At Home/Public
Weather Condition
Morning/Night
Active/Relaxing
These are some of the best categories I've found to sort activities into to help me find the perfect activity for any mood.