This post contains affiliate links meaning that, at no additional cost to you, I make a small commission if you purchase through my links. For additional information, visit my affiliate disclosure. 
Running short on time? Feel like you never have enough time for some self-care? Think again. These 5-minute self-care activities will have you feeling refreshed in five minutes or less!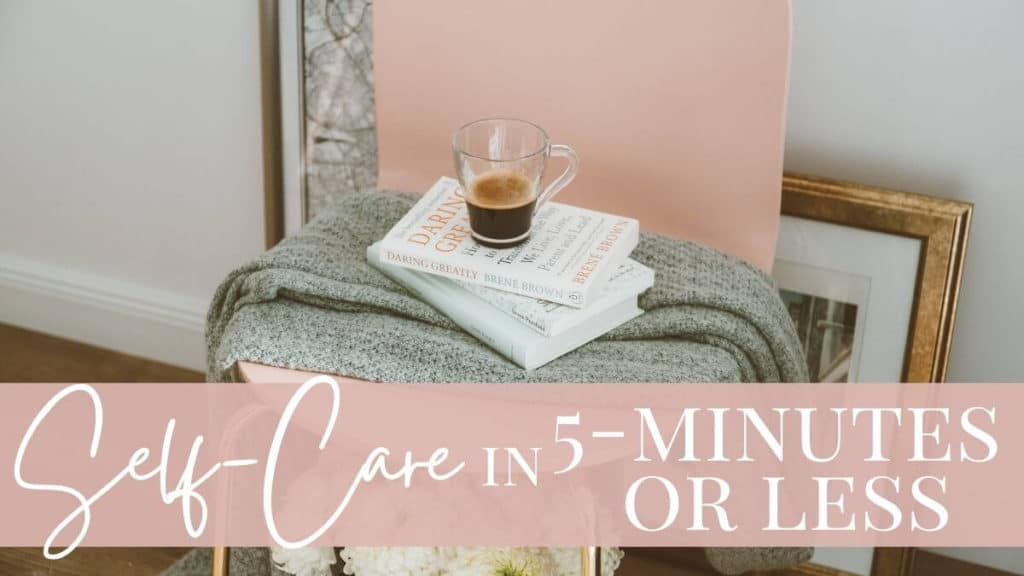 Self-care is an essential part of our lives. Many of us mistakenly view self-care as a privilege, rather than a necessity. With that, when life gets busy, our self-care gets pushed to the back burner.
We say we "don't have the time", "don't have the energy", or even "don't deserve" self-care.
Wrong.
This is SO wrong… and a total recipe for disaster.
Self-care is essential for maintaining a life of health, happiness, productivity, and overall wellness. Where so many of us slip up is thinking that self-care has to be a long, luxurious, or expensive process.
At its core, self-care is simple.
Self-care does not need to be time-consuming or extravagant. There are plenty of under 5-minute self-care activities that can leave you feeling completely refreshed and rejuvenated.
Even something as simple as drinking a glass of water or taking a deep breath can be an act of self-care. Resist the urge to skimp on self-care because of the misconception that you "don't have enough time".
Next time you come home from work feeling burnt out, don't shy away from self-care out of exhaustion. Instead, lean into the small, simple, 5-minute self-care activities. These small acts of self-care are what will ultimately make you feel refreshed and ready to move forward.
Remember: self-care is essential. You deserve consistent and routine acts of self-care – no matter how big or small.
Find a way to fit self-care into your schedule daily. If you are running short on time or energy, use this list of 5-minute self-care ideas to quickly care for your health and well-being.
80 Relaxing 5-Minute Self-Care Ideas
Step outside and breathe fresh air
Stretch your body
Look up inspirational quotes
Shut your eyes and rest
Grab a snack
Consciously unclench and relax your body (from the top down – eyes, lips, jaw…)
Drink a glass of water
Have a mental check in with your mind and body
Put on a happy song
Meditate
Take a quick shower (this really helps to refresh and energize you!)
State positive affirmations
Wash your face
Put on your favorite pair of comfy pants (I LIVE in my Old Navy loungewear)
Take a short walk
Do some yoga
Practice deep breathing
Apply a hair mask
Tidy up your space, wherever you may be
Do a mini workout circuit (exercise dice are perfect for this!)
Pin some fashion inspiration on Pinterest
Watch a quick YouTube video
Laugh!
Make yourself a coffee
Apply a charcoal face mask
Add lemon or fruit to your water
Find a yummy recipe for dinner tonight
Eat some fresh fruit
Give yourself a foot massage
Put on good-smelling lotion
Read an inspiring blog
Journal in a 5-minute journal
Have a cup of tea
Lay down for 5 minutes – no distractions
Write a list of things you love about yourself
Write a gratitude list for your life
Put on fuzzy socks
Call a friend
Work on your vision board… get re-inspired!
Remove your chipped nail polish
Jump rope
Have a solo dance party
Talk to your partner
Cuddle a pet
Use a scalp massager (this feels SO good!)
Look at cute puppy photos
Savor some chocolate (or your sweet of choice!)
Find a new positive instagram account to follow
Take a shot at writing some poetry
Send a kind text message
Watch a couple happy TikToks (only a few!)
Have a braindump in your journal – get it all out!
Cry (this is actually a great form of emotional self-care!)
Listen to an inspirational speech
Do cat & cow yoga pose for 5 minutes
Light a candle
Diffuse essential oils in a diffuser
Walk around you house – sometimes just getting moving can clear your mind
Draw something
Do a brain game/puzzle
Read one page of a daily book (The Daily Stoic is my favorite)
Freshen up! Put on some perfume or good-smelling deodorant.
Put your hair up and out of your way
Clean out one drawer of your desk
Empty your trash in your room – sounds weird but, trust me, you'll feel lighter afterwards
Give a hug
Give a stranger a compliment on social media
Buy yourself something online – treat yo'self!

Daydream

Read a positive news article. We could all use some more good news!
Watch a candle flicker – this is actually a meditation technique to calm the mind.
Do a 5-minute tidy. Go through your house and pick up as much as you can in 5 minutes! You'll feel productive and clean after!
Make your bed
Open your blinds and window – sunlight and fresh air is good for the mind!
Paint your nails (at least try to do this in 5 minutes… #impressive!)
Learn about self-care types for the future
Decide on a new TV show to start
Sing your heart out to your favorite song
Put your bare feet in the grass – there are many benefits to this
Do absolutely nothing at all!
Who says you can't practice self-care in 5 minutes or less?
There are TONS of 5-minute self-care acts that you can do when you only have a few minutes to spare. In fact, incorporating short bursts of self-care throughout your day may be a great way to get them in. Routine, consistent self-care is key for a happy and healthy life!
Next time your mind tries to trick you into thinking you are "too busy" to show yourself some self-care, pull out this list. Self-care, at its core, is so basic. We do not need to overcomplicate it. Simply doing something that feels good to your mind, body, or soul is an act of self-care.
Which of these 5-minute self-care acts will you try first?
Let me know which fast self-care activity stuck out to you! What are you most excited to try? Tell me in the comments!