This post may contain affiliate links meaning that, I may make commission if you purchase through my links. Learn More. 
Looking for the perfect list of meals for dinner ideas to make after a long day? I have you covered with almost 200 different options to inspire you!
Keep this list of meals for dinner forever with a FREE 7 Page Printable Dinner Idea List Booklet!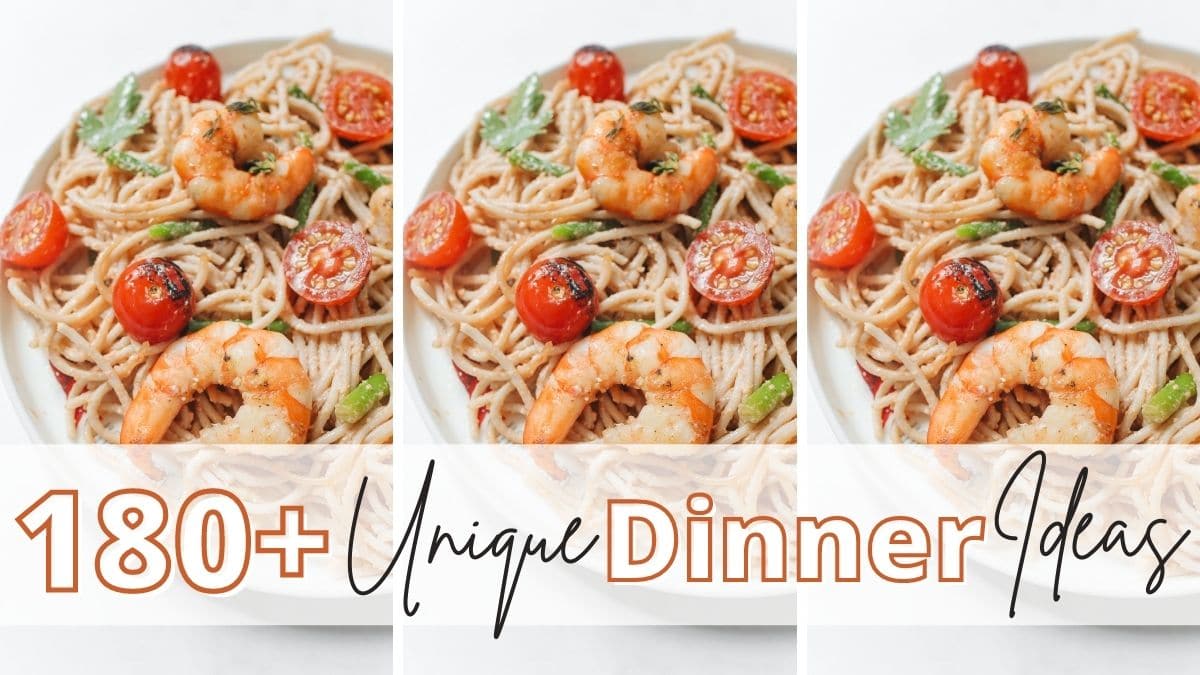 You know when 5 pm rolls around and the dreaded "what's for dinner?" question pops up?
Making dinner isn't even the problem most of the time… Coming up with a dinner plan is the real hard part.
Luckily, this list of meals for dinner is filled easy, delicious, and real crowd-pleaser dinners!
No more scrolling Pinterest for half an hour looking for simple dinner ideas and then deciding to eat a frozen meal anyways (just me?😉). Having a solid list of dinner meal ideas to refer to keeps me from slacking.
Mexican Food, Asian Food, Soups, Pasta, Meat, Burgers, Sandwiches, Salads, Comfort Food: We got it ALL on this dinner meal list!
Spice up your dinner rotation (pun intended) with this list of insanely easy and delicious homemade dinner ideas!
This post is all about the best simple dinner ideas to save time. 
Quick and Simple Dinner Ideas
This list is a collection of TONS and TONS of different simple dinner ideas. Take some inspiration from here and translate these ideas into your own personal dinner planner!
Almost all of these diinner ideas are ones that you will likely already know how to make OR can find SUPER easily with a simple Google or Pinterest search!
I will duplicate some under multiple different categories too! For example, taco salads could be found when you're in a Mexican food mood or a salad mood! Best of all worlds!!
Mexican Food:
Taco Tuesday? Why stop there? Taquito Thursday? Fajita Friday? Salsa Saturday? Street taco Sunday? Mojito Monday? I'm here for it.
Tacos
Enchiladas
Tortilla Soup
Burritos
Quesadillas
Fajitas
Carne Asada
Chicken Tacos
Burrito Bowls
Street Tacos
Quesadilla Burgers
Taquitos
Tamales (my family makes homemade tamales and they're INCREDIBLE!)
Taco Lettuce Wraps
White Chicken Chili
Fish Tacos
Taco Stuffed Peppers
Pozole
Crockpot Salsa Chicken (can be used in tacos, burritos, burrito bowls, or just served over rice! YUM!)
Homemade Crunchwraps
Enchilada Casserole
Nachos
Taco Salad
Santa Fe Chicken Salad
Taco Soup
Chili
Asian Food:
Spice up your life by adding these incredible, flavor-filled Asian-inspired meals to your list of things to have for dinner!
Ramen
Stir Fry
Fried Rice
Teriyaki Chicken
Pot Stickers
Sushi
Chow Mein
Orange Chicken
Beef/Chicken and Broccoli
Sweet and Sour Chicken
Chicken Lettuce Wraps
Pad Thai
Peanut Noodles
Wonton Soup
Chicken/Pork Satay
Egg Rolls
Spring Rolls
Thai Peanut Salad
Soups:
Mmmmm… warm, hearty, and comforting. I love a good soup!
Chicken Noodle
Chili
White Chicken Chili
Tortilla
Chicken and Rice
Clam Chowder
Broccoli Cheddar
Potato
Tomato
Corn Chowder
Potato Cheddar
Minestrone
Stew
Zuppa Toscana
Vegetable Soup
Chicken and Dumpling
Italian Style Wedding
Pasta Fagioli
Alphabet (super fun if you have kids too… this was a childhood favorite of mine!!)
Taco
Chicken Pot Pie
Lentil
Pasta:
Bow tie, angel hair, penne, spaghetti, rigatoni… the options are endless with pasta! What's your favorite noodle type? Mine's definitely angel hair!
Spaghetti
Alfredo
Macaroni and Cheese
Chicken Parmesan
Tomato Basil
Cajun
Shrimp Scampi
Lasagna
Baked Macaroni and Cheese
Ravioli
Pesto Pasta (SUPER yum with shrimp!)
Tortellini
Primavera
Garlic White Wine
Caper, Tomato, Olive
Sausage and Mushroom
Baked Feta Pasta
Pasta Carbonara
Marinara
Gnocchi
Goulash (This is my childhood in a dish. My grandparents used to make this for me ALL. THE. TIME. Yum!!!)
Pomodoro
Puttanesca
Buttered Noodles
5-Cheese Ziti
Pasta Fagioli
Stuffed Shells
Burgers and Sandwiches:
Sometimes you just really need a big, juicy burger and an incredible homemade sandwich. Honestly one of my favorites on my list of meals for dinner!
BLTS
Grilled Cheese
Baja Turkey Melt (Basically a grilled cheese with turkey, green chiles, and a special sauce. They used to have this at Red Robin and when they got rid of it, I found this recipe. It's a favorite!)
Tuna Salad
Egg Salad
Chicken Salad (bonus if this is served on fresh croissants. OMG. *Chefs kiss*)
Turkey
Chicken Caesar Wraps
BBQ Chicken Wraps
Grilled Veggie Sandwiches
Apple, Cheddar, Chicken/Turkey Melt
Pitas or Naan
Caprese Sandwich
French Dip
Ranch Chicken Wraps
Veggie Hummus Wrap
Philly Cheesesteak
Breakfast Sandwiches
Pulled Pork
Burgers
Quesadilla Burgers
Fish Burgers
Chicken Burgers
Turkey Burgers
Fish Burgers
Hot Dogs (The age-old question arises… is a hot dog a sandwich?)
Brats
Build-Your-Own Sandwich Bar (Super fun AND easy! Lay out all the fixings for a perfect sandwich and let the family build their dream sandwich for themselves. Everyone wins!)
Meaty Meals:
The most standard option of this list of meals for dinner! These are perfect main course ideas when paired with one or two sides! (I will give you a bunch of side ideas soon! Don't stress!)
Steak
Sausage
Burger Patties (Honestly good on their own… don't knock it 'till you try it!😉)
Chicken

Grilled
Chicken Piccata
Strips
Nuggets
Rotisserie
Baked
Roasted
Marinaded (SO many great options on Pinterest!)

Fish/Seafood

Salmon
Halibut
Fish Sticks
Tilapia
Cod
Shrimp
Lobster
Crab

Pork
Corned Beef
Ham
Kabobs
Breakfast for Dinner:
Breakfast makes the best quick and easy dinner idea! I'd eat breakfast for all 3 meals if I could… anyone else?!
Scrambled Eggs
Omelets
Breakfast Sandwiches
Diner Breakfast

Eggs
Toast
Hashbrowns
Bacon or Sausage

French Toast
Pancakes
Waffles
Crepes
Breakfast Burritos
Huevos Rancheros
Breakfast Casserole
Quiche
Migas
Miscellaneous Dinners:
These are all the dinners on this list that don't QUITE fit into a specific category but are still DEFINITELY worth mentioning because, uh, YUM! Total must-haves on your list of meals for dinner.
Stuffed Peppers
Homemade Pizza
Jambalaya
Casseroles

Tater Tot
Chicken/Broccoli

Freezer Meals (we've all been there!)
Rice Bowls
Spaghetti Squash
Sides:
When making a list of dinner meal ideas, I like to have a section for sides too so I have the perfect pairing for any dish!
I can't lie… sometimes sides are the true shining star of a meal. There's plenty of times that I LOAD my plate up with sides and skimp on the main course (oops!). I mean… when there are potatoes, WHAT DO YOU EXPECT?!
Potatoes

Mashed
Scalloped
Baked
Roasted
Fries

Side Salad
Rice
Quinoa
Roasted Veggies
Steamed Veggies
Corn on the Cob
Pasta Salad
Potato Salad
Macaroni Salad
YUM! There are TONS of Options on this List of Dinner Ideas! 
Make sure you never forget these dinner ideas with this FREE printable list of meals for dinner booklet!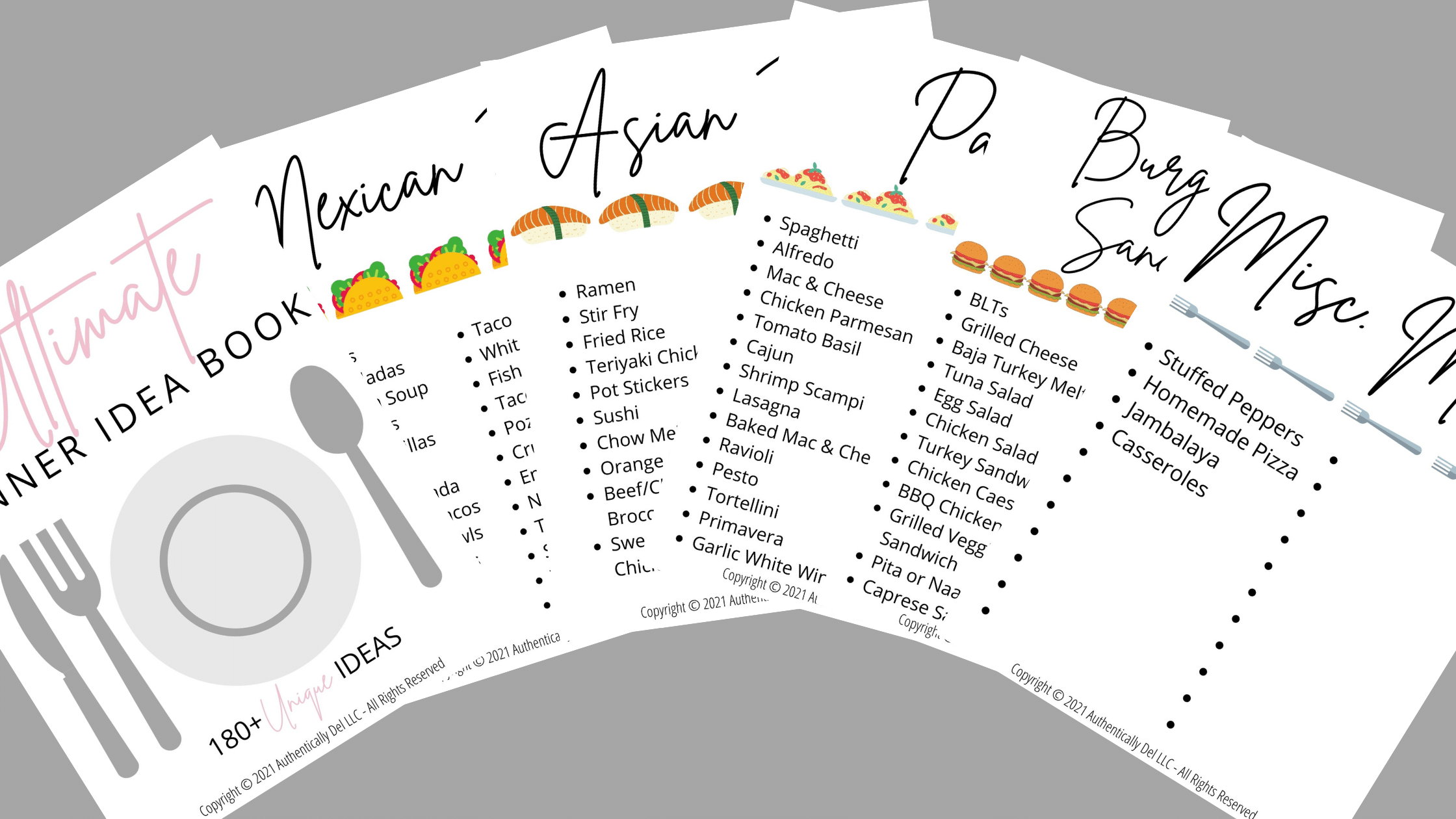 With over 180 different options, there is BOUND to be something that sounds good here, right?!
I know that this list can feel a bit crazy and overwhelming. Hopefully breaking it into categories helped out a little bit!
More Posts I Think You'll LOVE
Healthy and Balanced Grocery List (+ Printable)
Life-Changing Chocolate Recipes
Happy Dinner Makin'!