This post may contain affiliate links meaning that, I may make commission if you purchase through my links. Learn More. 
The truth is, you can make money on Poshmark pretty easily, but you have to know the right steps for how to sell on Poshmark. Without the proper knowledge, your listings will probably not get much attention from buyers. But, with some simple tips for selling on Poshmark, you can make money rather fast.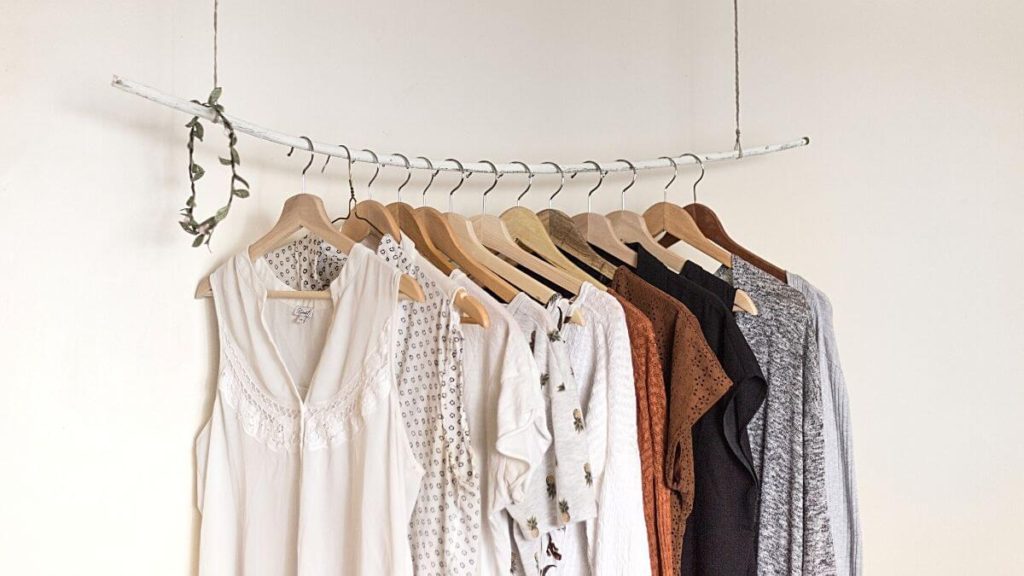 When I first started selling on Poshmark, I didn't know what to expect. I had heard of people selling their old clothes and household items, but I had no idea if I could actually make any significant money on Poshmark. Now, I use my Poshmark as a side hustle that compliments my regular everyday job.
But it wasn't always that way.
When I first started "poshing", I just wanted to clear out my closet… so why not list these clothes and see if I can make a few dollars?
I sloppily listed my items and barely had any offers, views, or followers. Now, I know better and I want to stop you from making the same mistakes I did.
I'm going to share all my tips, tricks, and secrets of how I learned to make money on Poshmark.
First things first, let's cover the big question:
Can You Make Money on Poshmark?
Yes!
You can totally make money selling on Poshmark. The best part about Poshmark is that it doesn't cost you anything to sell on the site. It costs nothing to open an account. Shipping is part of the buyer's cost, you just have to package and ship out your sales!
If you have some time and a solid inventory of things to sell, you can absolutely make money selling on Poshmark.
How Much Can You Make on Poshmark?
The amount that you make on Poshmark really depends on a quite few factors.
These factors include:
what you're selling
the quality of your images
your pricing
the amount of followers/views
your inventory
item condition (NWT, used, like-new)
These are just a few of the many factors that go into how much you can make on Poshmark.
That said, it's important to know that there is a TON of potential for your Poshmark earnings. Within my first 3 months or so, I had made over $1,000. This may seem like a lot or a little, depending on your Poshmark sale goals.
To be honest, there are Poshers that make a lot more than me. Some people make enough to turn Poshmark into their full-time income of $30-40,000 a year!
On the other hand, there are some Poshers that make $20 here and there as some extra spending money.
Both are super common (and totally doable)!
What are the Poshmark Seller Fees?
Poshmark does take a portion of your earnings. After all, they have to make some money somehow!
Poshmark guidelines state that for any sale under $15, Poshmark keeps a flat rate of $2.95. For anything over $15, Poshmark takes 20% and you keep 80% of your earnings.
In the grand scheme, that really is not that bad of a deal in my opinion. There are other seller sites that take much more than that. Poshmark has the lowest seller fee of any site that I have used personally.
With most sales over that $15 mark, I end up making plenty of profit for my secondhand sales on Poshmark.
Who Can Sell on Poshmark?
Anyone over the age of 18 can sell on Poshmark. Poshmark prohibits minors from selling on their site. Hold off on selling if you're under 18 (or the legal age in your place of residence).
What Can You Sell on Poshmark?
There are lots of options of things to sell on Poshmark. Taken directly from their site, Poshmark is open to "fashion, accessories, new personal care products, select home goods, and select pet items" (Poshmark).
Example of Items to Sell on Poshmark
*All products should be new or lightly used*
Shoes
Pants
Tops
Jackets
Scarves
Jewelry
Home Decor
Kitchenware
Makeup
Personal care items
Jeans
Hats
Jerseys
Children's clothes
Belts
Purses
Example of Items NOT to Sell on Poshmark
There are some strict guidelines for things you cannot sell on Poshmark. Some of these include:
Replicas/Fakes
Weight Loss Supplements
Medical Items
Food
Nail Polish
Purfumes
Used Makeup
Health Products
Used Underwear
For some obvious reasons, these are things you CANNOT sell on Poshmark.
How to Get Started on Poshmark?
The setup of your Poshmark account is super simple. Download the app, create a free account, and get to posting.
Here is a quick overview tutorial on how to list items on Poshmark.
I will dive deeper into the strategies and tips for posting later on, but the actual act of getting started on Poshmark is incredibly simple, easy, and FAST. You can be selling in minutes.
15 Essential Poshmark Tips to Make Money
These tips are the ones that I have learned and implemented to really improve my quantity and quality of sales.
1. Build Your Closet
One of the best things you can do for your Poshmark sales is to have a substantial closet. Not only day having one or two items in your closet really limit your potential profit, but it also doesn't make you look like a reputable seller to potential buyers.
Try to collect a group of at least 10 items to kick off your Poshmark closet with. That way, when people go to your closet, you look a bit more established. I've found that this boosts the chance that they will buy from you!
2. Take Good Listing Pictures
Taking good pictures for your listings is ESSENTIAL for making sales on Poshmark.
I'm going to make a bold statement and say that I believe that the #1 thing Poshers do wrong is post mediocre (at best) images for their items.
Dimly lit, blurry, cropped, or messy images are an automatic 'no' when people are scrolling. Think of it as online shopping on a company's website. The picture is what catches your eye and makes you buy the item, right?
The same is true for Poshmark shoppers. If you want to make money on Poshmark, you're going to have to learn how to take good quality listing images.
8 Poshmark Listing Image Tips
Ensure that the photo is bright, crisp, and attention-grabbing.
Avoid messy background.
Iron and remove and hair or lint that may be on the item.
Do not crop the item. Try to get a photo of the full item whenever possible. This should be the listing cover. (You can photograph details later.)
Include a variety of shots/angles, show front and back, etc. You can include up to 16 images – utilize them.
Make the background aesthetic or clean/crisp. If the aesthetic is too busy, go for clean.
Include photos of the item on your own body and/or a manequin. This helps shoppers invision themselves in the item.
Make sure the photos are honest. Do not be deceitful in any way, intentionally or not. Make sure the colors of the item are portrayed as accurately as possible. Disclose and photograph all imperfections.
3. Title Listings with Keywords for SEO
SEO = Search Engine Optimization
You may have heard the term for Google, but it applies to Poshmark as well. If you want to reach your audience and actually make money on Poshmark, you need to be titling your listings accordingly.
For example, a listing titled "shirt" is absolutely NOT going to be the best option for when you want to make money on Poshmark. A better title example might be "silk light pink tank top". The second title is much more specific to what your target shoppers will be searching for.
The Poshmark blog goes a bit more in-depth on writing listing titles that sell.
4. Write Detailed Listing Description
So you got someone to click on your Poshmark listing. Yay! Now you have to close out the sale.
Your description for your listing is an essential part of making sales on Poshmark. With a good description, you can get buyers to purchase from you right then and there. On the other hand, a bad description can give them doubts or even negate them from purchasing altogether!
An example of a bad description would be "Lightly worn jean shorts. They didn't fit me anymore." This clearly doesn't give much detail about the product.
A good description might look something like this:
"Size 28 American Eagle light wash high-rise distressed denim shorts. They have a lot of stretch and the sizing is generous. These shorts have a gold button fly, a distressed rip on the front left leg, a distressed hem, and subtle detailing on the pockets.
Condition: Like-New, Worn Once, No stains/damage/etc.
Measurements:
Waist: X in, Hips: X in, Inseam: X in"
You can see how this description would sell.
Also, be sure to fill out as many of the areas in the description as possible (size, brand, condition, etc.), as this will help you be found by searchers!
5. Know Brands that Sell
Understanding which brands perform well is a key part of making money on Poshmark. If you want to make a lot of sales, you need to know the top brands that buyers desire.
This post highlights some of the most recent top brands to sell on Poshmark.
From personal experience, here are some of the brands that I've seen perform extremely well:
LuluLemon
Adidas
Nike
Amereican Eagle
Zara
NFL
PINK/Victoria's Secret
North Face
Joe's Jeans
Lucky Jeans
Miss Me Jeans
True Religion Jeans
Mother Jeans
Free People
Levis
Of course, you do not have to list ONLY high-end or trending brands. However, knowing what brands perform well can be super helpful when building your Poshmark closet.
6. Understand Pricing
PRICING IS SO IMPORTANT ON POSHMARK!
To be honest, a big reason people shop on Poshmark is to save money. If money-saving wasn't a priority, they would likely shop at the regular stores.
So, where is the balance between giving your buyers an eye-catching price while still making a significant profit yourself?
You have to really know your pricing. I like to compare my prices to other Posher's listings of similar items. Poshmark now even includes a suggested price when listing a new item based on other similar listings.
In addition to that, there are a few main considerations that I keep in mind when pricing my Poshmark items.
Poshmark Pricing Tips:
Take into account wear and tear. Any signs of wear should warrant a pretty decent discount for your buyer.
List the original price. If you are listing an item that is rather expensive in stores, let your buyers know the great deal that they're getting. Whenever possible, include this in your listing.
Understand the brand. As mentioned in the last Poshmark selling tip, popular brands tend to sell for higher prices. If you are listing a trending brand, you can up your prices.
List Higher if it's New with Tags. If your item is NWT (new with tags), you can up the price a bit. Buyers tend to prefer items that are NWT as there is no wear and tear to be considered. It is almost as if they are buying it from the store. (These also tend to sell a bit quicker in my expereince.)
Leave room to negotiate. Oftentimes, buyers will not purchase your item outright. I would say the majority of my buyers send an offer price that is a bit lower than the listing price. You then choose to accept, decline, or counter their offer. Listing your items at a price that allows for negotiation helps make sales on Poshmark – your buyers then know that they are getting an EXTRA good deal.
7. Utilize Posh Parties
Poshmark puts on "Post Parties" at specific times throughout the day. These Posh parties occur 4 times a day.
Posh parties are a place for you to share specific items that relate to the part theme. Some examples of party themes may be: "Best in Shoes", "Sportswear", or "Trending Brands". All of these are GREAT opportunities to share your closet items.
By entering Posh parties, you showcase your goods to a specific group of shoppers that will be looking for exactly what you're sharing!
8. Interact and Engage
In addition to sharing your own listings, it's important to engage with others as well. By sharing others' listings, you can facilitate relationship building and they will be more likely to share your listings in return. This is great for making sales on Poshmark.
Another way to connect with your followers is to utilize your STORIES. I often post when I am planning a big shipment run and encourage my followers to get their orders in before then for the fastest shipping. This helps drive my followers to my closet for sales.
9. Reach Out on Bundles
(Bundles allow shoppers to put together multiple listings from your closet and purchase them all in one order.)
Sometimes people will put together a bundle of your items, but not do make a purchase or an offer. This is a great time for YOU to reach out.
Bundles are cool because they're one of the only places on Poshmark where you can have 1-on-1 conversations with your buyers. Make a comment on their bundle if you haven't heard from them. Be kind and friendly. Offer them a discount or offer to negotiate the price.
Bundles are a great way to get the ball rolling on a purchase and you know what that means — you can make more money on Poshmark.
10. Have a "Meet the Posher" Post
It feels a bit odd to list yourself in your Poshmark closet… but it actually is really great for letting your potential buyers get to know you.
Simply post a picture of yourself, title it "Meet the Posher" and list it as "Not for Sale". In this description, you can introduce yourself to those that are shopping your closet.
Some good things to include in your "meet the posher" listing:
Details about your home (ie. smoke free, dog free, etc.)
Promises about quality (ie. Mine proises that "I won't sell anything I wouldn't want to receive myself")
Openness for negotiations or offers (ie. tell them if you're open for discussion/offers or if you are firm on your listing prices)
Tell them your shipping schedule
Make it personal!
When your buyers feel like they know you, they'll have more confidence in you and are more likely to make a purchase from you on Poshmark.
11. Counter – Don't Decline
I recommend being flexible with prices, but there will be times that you get an offer that you just cannot accept. Instead of declining offers, offer a counteroffer.
I try to go about halfway between the listing price and their offer – IF REASONABLE.
There will probably be times that they counteroffer you back, again. Sometimes I have counteroffer threads that go on for days (but usually result in a purchase).
Find a happy medium between a price that will make them happy and a price that still allows you to make money on Poshmark. You should be making a profit that more than compensates you for your time and effort.
The only time I decline an offer is when I think it could do more harm than good to our Posher relationship. If their offer was incredibly low, I know that my counteroffer will seem incredibly high to them.
For example, I once got offered $6 for a pair of jeans listed at $75. That was a hard no for me. I knew that any counteroffer would just upset them. So I politely declined and moved on. (The jeans sold for $67 later that week. #Win)
12. Personalize Your Shipments
This is honestly my favorite part of Poshmark shipments. I always, always, always customize my shipments. I want my buyers to know that their purchase really helps me out and means a lot to me.
In every order, I include a handwritten card thanking them. I also often include cute notes throughout the order. For example, I once sold a bundle of 10 pairs of high-end jeans. This made me a lot of money and I was SO grateful. I wrote personalized notes ("you're beautiful", "you're strong", "you look fabulous", etc.) and put them in the pockets of the jeans for the buyer to find later.
These little extras go a long way when building relationships with your customers.
13. Ship FAST
Fast shipping is not only really prioritized by buyers, but it is one of your main Posh stats too!
Shipping is super important for making money on Poshmark.
I try to ship same-day or next-day… and it does wonders for my sales. On your Posh profile, your average days to ship is one of your main stats. If you routinely ship quickly, you get labeled as a "Fast Shipper" so your buyers know they can count on you!
Time is money on Poshmark. Shipping fast can help get you more sales.
14. Become a Posh Ambassador
Becoming a Posh Ambassador puts you as one of the best of the best Poshers. They receive a ton of benefits that can help drive more people to their closet too!
How to Become a Posh Ambassador
Minimum 5,000 community shares
Minumum 5,000 self-shares
At least 50 New Poshers shared
Over 50 available listings
Minimum of 15 sales
Purchase rating of 4.5 stars or more
Average ship time of < 3 days
1 love note given
This isn't necessary for making sales on Poshmark. You can still make money on Poshmark as a regular Posher. However, there are massive benefits to becoming an ambassador… and your sales will reflect it!
15. Get Good Reviews
Good reviews are a key part of making lots of sales on Poshmark.
If a buyer is on the fence about buying your listing, they will likely check your reviews. Good reviews help boost your ratings on Poshmark and let your potential buyers know you are reliable, credible, and respectable.
In a long-winded way, what I'm getting at here is that good reviews help you make more sales on Poshmark.
5 Most Important Secrets for Selling on Poshmark
All 15 of those Poshmark selling tips are super important, but if you are looking for the ultimate tips for how to make money on Poshmark, these are them.
Getting started on Poshmark can feel like a lot, but if you only take away 5 key tips from this post, let these be them:
Take amazing listing pictures
Be 100% honest in your listings and in response to buyer questions

super important to disclose ANY imperfections with the listing item

Engage with others
Ship as fast as possible
Aim for great ratings!
These are the 5 key things to keep in mind if you're just now jumpstarting your Poshmark journey. The rest can come later, but these are the must-know secrets to start making money on Poshmark.
How Does Poshmark Pay You?
Poshmark payment is super easy and hassle-free. It's the best. Here is the process.
Once you ship out an item, Poshmark keeps track of it and lets you know when it's been delivered. Once delivered, the buyer has 3 days to approve the item. Any requests for returns must be put in within these 3 days. If the buyer does nothing, the sale is automatically approved by Poshmark after 3 days and the money is yours!
Once the money hits your account, you can set up direct deposit to your bank account OR request a mailed check. I do direct deposit since it makes it super easy. Within a few days (at the most), you should see your money in your bank account.
Quick. Easy. Painless. Money!
Is Poshmark Worth It?
Now the big question looms: is Poshmark worth it?
This question is difficult to answer objectively since it depends on many things. Your goals, time commitment, inventory, and dedication all determine whether Poshmark is worth it to you.
Here is what I can tell you:
Poshmark can make an incredible side-hustle. This was my main college side-hustle before I started my blog. Even now, Poshmark is a great side-hustle for me.
Poshmark CAN be a full-time income – if you put in the work. You will need to dedicate some time to shopping for inventory (thrift stores and garage sales are great), learning your brands, building your Posh stats, creating great listings (with amazing photos), answering questions, packing orders, and shipping them. If that sounds like something you're willing to do to make lots of money from Poshmark, then it is absolutely worth it.
YOU Can Make Money on Poshmark
If you're not seeing the sales you want now, try to not get discouraged. You have the ability to make some sales on Poshmark, even if it feels like it's not giving you the return you want now.
Try implementing these Poshmark selling tips and see if you can get those numbers closer to where you want them.
I'm rooting for you! Go get those Poshmark sales! Happy Poshing!