This post may contain affiliate links meaning that, I may make commission if you purchase through my links. Learn More. 
Looking for some tips for how to start using a planner? Or, maybe, you're already a planner-lover and you are just looking to graduate to planner pro? Either way, these planner essentials are absolute must-haves for a successful planner!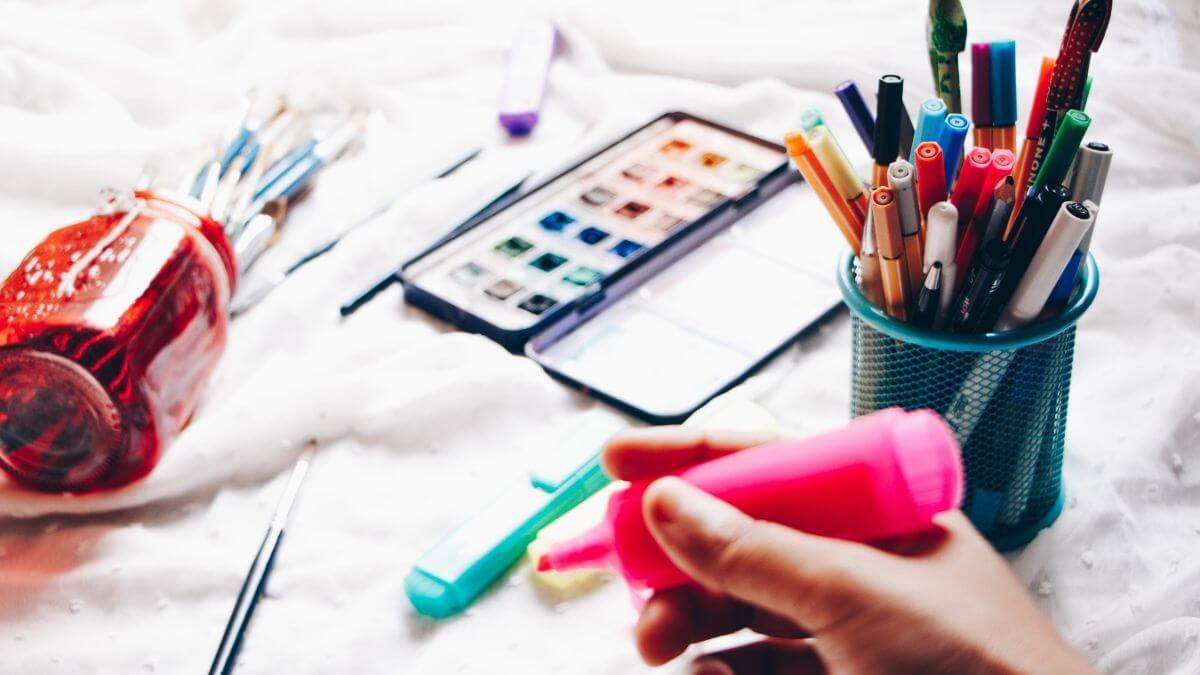 The world of planner supplies and organization products is always growing! Every time I walk through Staples I am overwhelmed by the number of products available to add to your planner.
That said, it can be confusing to navigate what products are absolute planner essentials and what products are just fun planner extras… there's a big difference!
Planner extras can be cute and fun but, if you are not looking to spend a ton on supplies for planners (I feel you!), it's super important to be able to determine planner essentials from planner extras!
All of these planner must-haves are focused on functionality and organization. Over my many years of planning, I have tried and tested many different planner products and these have proven to be the absolute planner essentials.
This post is all about planner essentials that every planner needs.
The #1 Must-Have Planner Essentials
Let's start with the basics. To have a successful planner you are going to need…
Planner Essential 1: A Planner
(Duh!)
However, picking a planner is way easier said than done. There are countless different options out there. Size, brand, shape, hardcover, softcover, spiral, bound, daily spreads, weekly spreads… oh my gosh! It can all be overwhelming if you don't know where to start!
To make this as simple as possible I'll separate this into 4 separate categories for you to check out:
Best Planner for the "Basic Planners"
Think of these as just a planner standard.
If you are looking for a planner to just keep yourself organized and roughly jot down your upcoming events and important dates, a simple, basic planner will be perfect for you.

Blue Sky is one of the best brands for just a good old basic planner. They have exactly what you'd expect a planner to have.
Monthly Spread
Weekly Spread
Important Dates
Holidays
Notes Pages
This is one of the best standard planners out there. If all you are looking for is a place to keep everything organized (nothing too fancy-schmancy), this is the perfect planner for you!
(Keep in mind, even the most basic of planners can be enhanced with some outside planner essentials!)
Best Planner for the "Monthly Overview" Planners
These planners take out the day-to-day planning and focus more on the big picture. Monthly overview planners offer you tons of spaces to set goals, to-dos, and intentions, one month at a time.
These planners do not have sections for every individual day which is a major bonus for some people. Depending on your planning style, you may prefer a monthly plan rather than a day-to-day plan. If that's you, this planner is perfect for you!

Erin Condren has the best planners! They are customizable (you can get your name on them!!) and are often on sale for a super affordable price. She makes some of my absolute favorite planners of all time.
Best Planner for the "Plan Everything" Planners
This is my kind of planner!
"Plan everything" planners are pretty much the exact opposite of the "monthly overview" planners. These planners are for the people who would plan their days down to the millisecond if they could.
These types of planners often allow for what is called time-blocking. Essentially, this allows you to split up your days into hour increments and schedule them out.
These planners also often have other additional elements such as weekly priorities, to-do lists, shopping lists, etc.

This planner has:
Weekly Priorities
Daily Goals
Hourly Time Blocking
Work To-Do Lists
Personal To-Do Lists
Budget Planning
More!
If you are a die-hard planner, this is the one for you!
More Planner Essentials
Aside from the obvious (your planner), there are a few additional planner must-haves that will make your life so much easier (even if you are still a beginner planner).
Planner Must Have 2: Colored Pens
Yes, colored pens make life fun. But they are also a crucial part of a functional and organized planner. Over my years of planning, this is probably my favorite planning essential (it's hard to pick just one!).
But I can confidently say that this is the main thing I wish someone had told me when I was a beginner learning how to start using a planner.
When looking at my planner spread, there are a million different colors everywhere. But, trust me, there is a method to the madness.
I use colored pens to color code (obvi!). I will get into color-coding more later. As of now, all you need to know is that a good set of colored pens is a planning must-have!
These are my personal favorites:

Who doesn't love a good gel pen? And this color variation is INSANE!
Planner Must Have 3: Highlighters
I always get highlighters that match the colors of my colored pens. That way, I can coordinate my pens with a highlighter and really go crazy.
For example, say my "work" category in my planner is color-coded as blue. I would write down work events with my blue PEN (meetings, shifts, etc.) and HIGHLIGHT in blue the essential deadlines for work (project proposals, due dates, etc.). That way I can quickly differentiate between a work event and a work project.
Planner Must Have 4: Sticky Notes
Sticky notes are fairly self-explanatory. Whoever invented sticky notes is my hero. Truly. Thank you, Mr. Sticky, from the bottom of my heart.
When I am planning, sometimes I will have scattered thoughts that really don't have a place in my planner. For example, sometimes I am planning my week of work and I have a random thought about needing to take chicken out of the freezer for dinner on Thursday. (Random… but it happens. LOL!)
I will write that down on a sticky note because "defrost chicken" isn't exactly something I need in my planner.
OR.
Sticky notes come in handy when you want to remember things in your planner outside of your planner. For example, if you have an important call coming up that you are writing in your planner, you can also write it on a sticky and place it on your bathroom mirror so you are sure to remember!
There are so many uses for sticky notes (which is why I like to get this multi-use assorted size pack). I could go on and on but you get the point. They're a major planner essential.
Planner Must Have 5: Bookmarks
There's nothing worse than having to flip through your planner to find the correct page for the day. Ugh!
I am obsessed with paperclip bookmarks for planners! They hook on so like a paperclip so they are sure to stay in place when you are transporting your planner around!
I have a tassel paperclip bookmark in my planner right now, but I am also in love with the puffball paperclip bookmarks.
Like, ugh! Are you kidding me?! How CUTE are these?!
Planner Must Have 6: Erasable Pen
I'm just going to say it… I make so many mistakes in my planner.
If I am using a regular pen, white-out does the trick. (I can NEVER scribble something out! It pains me. LOL!) But, between you and me, I am not a white-out fan.
But I do try my best to keep my erasable pens on hand when I am speed-planning cause I know I am bound to make mistakes.

These erasable pens have saved me in countless planning catastrophes! 😉
Planner Must Have 7: Sticky Tabs
Imagine a sticky note and a bookmark had a baby: that is sticky tabs.
I like having sticky tabs in addition to my sticky notes and bookmarks. They are smaller than a sticky note so they are more user-friendly in some situations. Also, they act as a bookmark but I can write on them which can be SO helpful.
Sometimes I'll leave little notes on my sticky tabs on pages that I need to mark and remember why they're important.
For example, sometimes I'll write "REMEMBER", "DUE DATE", "MEETING", or even just "!!!". These little notes are just enough to catch my attention and remind me that the sticky tab is marking something super important!
Planner Must Have 8: STICKERS!
I have saved the best for last, my fellow planners.
Do you know how you used to feel getting a sticker from the doctor's office as a kid? Yeah, that's how planner stickers feel for adults. 😉
I underestimated the power of planner stickers for YEARS and, now that they are one of my top planner essentials, I regret the days I didn't use them. I didn't know how much I was missing out on!
Planner stickers are my FAVORITE part of planning. My first set of planner stickers came with one of my old planners. Some planners will have stickers included. That is a HUGE bonus.
But once I started using them, I've never stopped. They rapidly became one of the planner essentials that I absolutely need when planning. Since then I have purchased multiple planner sticker booklets and packs.
Originally, they were just a way to make my planner look cuter. But I now realize how helpful they are in keeping my planner organized and neat. They're super affordable too! Bonus!
Trust me here, planner stickers are an absolute must-have for planning.
Whenever I bust out my planner for a good plan session, these 8 planner essentials are bound to be nearby.
With so many different options in supplies for planners, it is tough to determine planner essentials from planner accessories.
Accessories are just there for fun while these 8 planner essentials will actually help you build a more successful and organized planner.
After many years of planning, I can confidently say that these are the absolute best planner essentials for success.
If you are looking to up your planning strategies, grab these planner essentials ASAP.
I wish I had known about them sooner!
Happy Planning!