This post contains affiliate links meaning that, at no additional cost to you, I make a small commission if you purchase through my links. For additional information, visit my affiliate disclosure. 
Are you searching for all the best essentials for a healthy and balanced grocery list? Don't worry, girl! I got you covered!
If you're anything like me, you want to nourish your body and feel your best… but you also aren't gonna say no to dessert. Obvi!
This healthy and balanced list has it all because, girllll, life is TOO short to say no to the ice cream!
This healthy and balanced grocery list is the only guide you need to stock your kitchen with all the best essentials!
Fruits:
Nature's candy… YUM!
Berries: strawberries, blueberries, raspberries, blackberries
Bananas
Melon: I rotate between honeydew, cantaloupe, & watermelon
Apples (team Fuji!)
Avocados
Grapes
Lemons/Limes (GREAT in sparkling water!!)
A "fun" fruit: usually something seasonal and extra yum! Peaches, plums, kiwis, oranges, pineapple, etc.
Vegetables:
Get those vitamins!
Lettuce- I usually grab an iceberg and romaine
Tomatoes (don't even try that "they're a fruit!!" talk… no. Just no.)
Bell peppers
Cucumbers
Celery/celery stick snack packs
Carrots
Mushrooms (LOVE these in my eggs)
Spinach (for eggs and smoothies!)
Zucchini (usually for baking)
A "fun" veggie: something special or for dinner that week… green beans, asparagus, artichoke, cauliflower, etc.
Dairy/Fridge Staples:
What I like to refresh my fridge with every couple of grocery trips…
Milk/Alternative Milk (Unsweetened Vanilla Cashew Milk is my FAVORITE!)
Greek yogurt (Two Good is my #1 brand! FAGE is also great for baking!)
Cream cheese ("whipped" is best… I will fight you on that)
Cheese: shredded, slices, block, string, etc.
Eggs/Egg Whites
Sour Cream, Salsa, Dressings, Condiments
Dips: Hummus, Tzatziki, etc.
Coffee creamer (I use Premier Protein in my morning coffee… their Vanilla is my favorite in coffee!)
Proteins/Meats:
Turkey Breast Deli Slices
Ham Deli Slices
Lean Ground Turkey (what I use for tacos)
"Sometimes" Meats: salami, pepperoni, shrimp, salmon, ground beef, etc.
Grains:
CARBS!
BREAD: my family usually gets two kinds for the week– typically a whole wheat/seeded loaf and a sourdough!
Breakfast Item: bagels, English muffins, bagel thins, Breakfast sweetbreads, etc.
Wraps/Tortillas (OLE Xtreme Wellness are my long-time favorites!)
Buns: hamburgers or hot dogs if those are on the dinner plan for the week!
Pasta and Rice: whole grain, lentil, or just traditional for never-failed deliciousness😍 (Banza pasta is the BEST! High protein and delicious!)
Oats/Granola (I love tthis for my yogurt or ice cream bowls!)
Cereal (Team Cheerios, Special K, and Frosted Flakes… what're your childhood favorites?)
Canned Foods/Pantry Staples:
These I definitely do not get every trip since they have such a long shelf life but they are some of the essentials that I like to keep in my pantry!
Honey or Maple Syrup (PB, banana, & honey is the BEST combo)
Nut Butter (PB makes my top 5 favorite foods list. Easy.)
Marshmallows (Rice Krispie Treats… Duh!)
Nuts, Seeds, and Dried Fruits: almonds, cashews, peanuts, chia seeds, pumpkin seeds, raisins, coconut, etc. (great for snacking, adding to smoothies/oats, or topping salads!)
Pickles and Pepperoncinis (my secret ingredient for a next-level wrap or sandwich)
Beans and Lentils: Black Beans, Chickpeas, White Beans, etc.
Canned Veggies: Corn, Chiles, Olives, Artichoke Hearts, Water Chestnuts, Tomatoes, etc.
Baking Mixes: cakes, brownies, pancakes, biscuits, etc.
Cooking Oils
Any Other Baking Essentials: Flour, Cocoa Powder, Baking Soda/Powder, etc. (we all know I love to bake!)
Snacks and Treats:
The part we've all been waiting for… I LOVE SNACKS!
Sometimes I make healthy snacks at home, but these are great storebought options that are a bit easier!
Popcorn: usually Boom Chicka Pop or Orville Redenbacher's Microwave SmartPop!
Rice Cakes
Jello/Pudding Cups
Pretzels, Goldfish, Cheez-Its, etc.
Protein/Nutrition Bars: Larabar, LunaBar, ZBar, Quest, FiberOne, RXBar, etc.
Tortilla Chips
A Special Treat! Donuts, Cookies, Candy, Pastry, etc… Delicious and good for the soul! 😉
Freezer: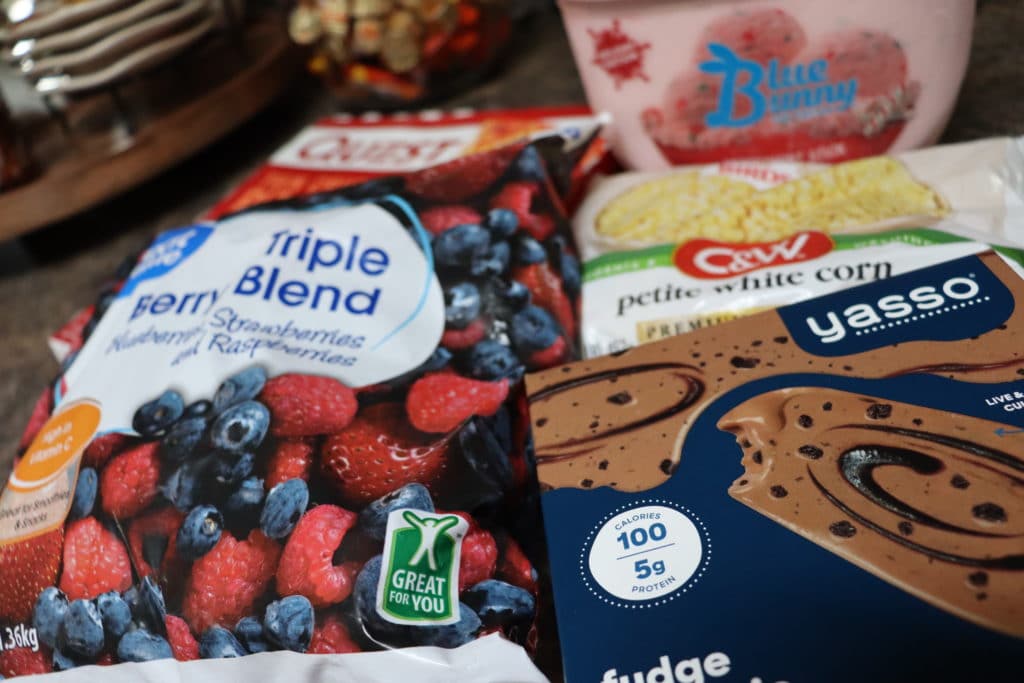 Mixed Fruit Blends
Frozen Veggies
Freezer Meals (I'll be honest here, I've been OBSESSED with Quest's frozen pizza lately!)
Ice Cream Treats: mini cones, YASSO bars, popsicles, or a tub of plain old-school ice cream… you can't go wrong🍦
There you have an affordable, healthy, balanced grocery list!
That concludes the main grocery essentials that I have on hand almost 24/7. There is no shortage of delicious combinations and creations that you can make from this list.
Want a printable list of your own?!
I try to approach eating with a healthy and balanced mindset so I make sure to leave room for all the foods I love regardless of how "nutritious" they are.
Remember: all foods fit!!
Your happiness is a key component of your health so make sure you are nurturing your mind as much as your body. Be kind to yourself! ❤️
More Posts I Think You'll Love
10 Energizing Afternoon Snacks
5 Time-Saving Breakfast Meal Prep Ideas
180+ Simple Dinner Ideas (+ FREE Printable Book)
What're your healthy grocery list essentials?