This post contains affiliate links meaning that, at no additional cost to you, I make a small commission if you purchase through my links. For additional information, visit my affiliate disclosure. 
Choosing the right planner always feels like a huge and daunting commitment. Since my planner takes on such an important role in my life (I use it multiple times a day), I want to be sure that I am picking the perfect planner for me. This past year, I committed to a Sugar Paper planner. Hopefully, my insights in this Sugar Paper planner review can take some stress off of your own planner decision.
What is Sugar Paper?
First things first: What IS Sugar Paper?
Sugar Paper is a beautiful stationery brand. While they have all sorts of incredible supplies, I would say they are most known for their planners… and for good reason.
Sugar Paper can be found on their website or at Anthropologie, The Container Store, and, most commonly, Target. That is where I first discovered the bran and where I ultimately bought my first Sugar Paper planner.
If you know me, you know my deep love for Target trips. When I get bored, my first solution is Target. But what you might not know is that the majority of my time on those Target trips is in the "Sugar Paper for Target" section. (Or snacks… I'm always looking for good snacks.)
Needless to say, I'm a fan of Sugar Paper… but for time's sake, I'll focus just on my Sugar Paper planner review for now. After all, that's why you're here, right?
Sugar Paper Planner Review
This review is going super in-depth with all the details you can imagine about the Sugar Paper planner. Choosing a planner is a personal decision and there are many factors that go into choosing the right planner for you. This review is here to help you know if Sugar Paper is a good fit for those needs.
It is important to note that this review is on the Sprial Bound Large Hardcover Sugar Paper Planner.
Affordability
My Rating: 8/10
Sugar Paper planners range from about $40 to as cheap as $10, depending on your planner style and where you choose to buy it. Like I said before, I've had the most luck in reasonable pricing and option variety at Target.
Here are some of the different Sugar Paper planner options Target offers (all at slightly different price points):
That list doesn't even cover ALL the varieties, but it accounts for most of them. The point to be made here: ordering from Target is probably your best bet for getting the planner you want at a price you can afford.
Size
My Rating: 10/10
This section is simple. I rate the size a 10/10 simply because they have OPTIONS. I personally have the LARGE (10.25″ x 8.88″). But they also have SMALL (8.5″ x 6.5″) and POCKET (6.25″ x 3.62″).
As someone who writes literally EVERYTHING down in her planner, the large planner works best for me. That said, I have also used the small Sugar Paper planner as a transport planner. When I was constantly on the go, I kept the small version of my planner in my bag and kept the big guy at home.
This is totally dependent on personal preference but, as far as I'm concerned, Sugar Paper gets a 10/10 for size versatility.
Design
My Rating: 9/10
I'll just say it… Sugar Paper planners are CUTE.
I know planners are meant to be functional, but a little cuteness never hurt anyone, right?!
The Sugar Paper planners really seem to go the extra mile with design details. For example, my planner has cute metallic gold edges to match the gold spiral binding. This both protects the planner from getting bent at the corners AND looks super glam and fashionable.
Also, the inside covers are a cute polka dot print AND the font is super clean and aesthetic. I love the look and the thoughtful design aspects of Sugar Paper's planners.
Monthly Spread
My Rating: 9/10
I am PICKY about my monthly planner spreads. Let me tell you why.
I love to have a page dedicated to planning the MONTH as a whole in ADDITION to the 2-page monthly spread. This planner luckily has both.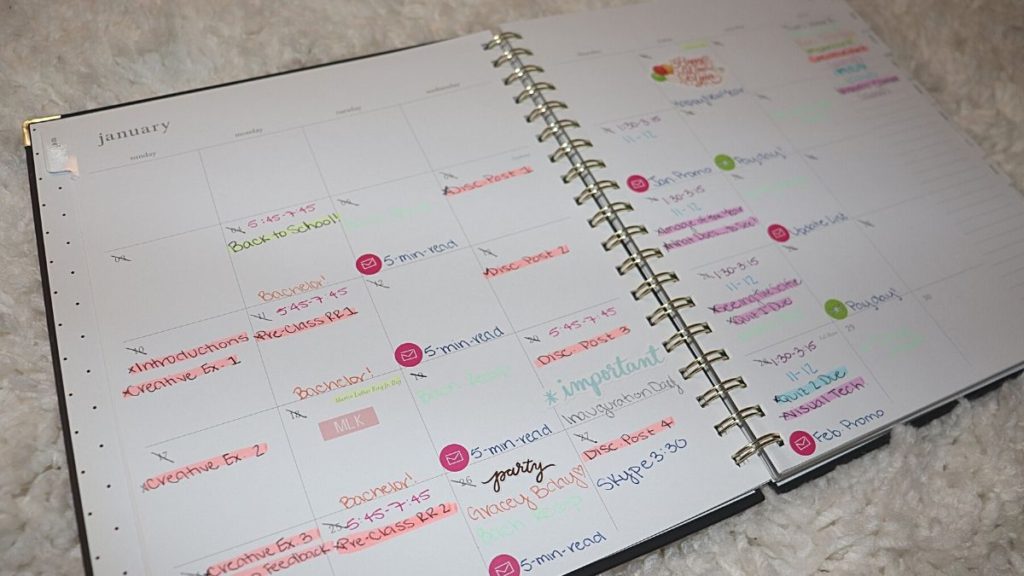 A month-at-a-glance page is an absolute MUST. This is where I outline everything. If you read my planner tips for beginners, you know that adding important dates to my monthly spread is something I do right away. That way I can see my whole month at a quick glance. This is essential for me.
ALMOST equally as important to me is a monthly overview page for goals, plans, and important dates. Sugar Paper planners have one of these, thankfully! This page is what really boosts my rating up to a 9/10.
The monthly goal page has 5 categories:
personal goals
health goals
financial goals
important dates
etc.
And, for an added bonus, there is a blank line with 6 bullet points underneath to make your own category of goals. As I was in college this past year, I would usually make that section "academic goals". This page always worked really well for me.
Weekly Spread
My Rating: 6/10
The Sugar Paper planner weekly spread isn't as strong as the monthly spread in my opinion. Now, it's not BAD by any means… but it's not anything special in my eyes.
The weekly spread is just one page, divided into 5 equal rows with an extra row divided in two for the weekend.
One thing that could be nice to add to this page is some bullet points or some lines for to-do lists. I found that I would almost always be writing in my own open bullet points in these open boxes. This is the main reason for my lower rating here. I like a bit more structure.
HOWEVER – a major bonus for this section is the weekly overview page. This is hard to find in a lot of planners. Much like the monthly goal page we just talked about, there is actually one for every week. This added some bonus points to my Sugar Paper Planner review.
That said, I'm not totally in love with the section titles here. "To Do", "To Call", "To Email", and "To Buy" are the list headings. I found that I almost never had enough things to put on my call or email list that warranted having a whole section for it.
Instead, I would often rename these sections. Sometimes I would make it "work to-dos", "school to-dos", or even dinner ideas for the week! I'd just white out the existing titles and make my own. Not a huge deal, but also not a win in my book (or planner 😉 ).
Extras
My Rating: 6/10
This planner DOES come with some extras, don't get me wrong. But I found that I wanted a bit more.
The main extras that come with this planner are:
holiday overview list
1 page of stickers
folder pocket
empty notes pages
My main complaint here was the minimal amount of stickers… or at least an odd proportion in my eyes.
I ran out of birthday stickers!
I was happily going through, putting my cute stickers on all my family birthdays and I ran out of the sticker I was using by the time I got to April. So, that was a bummer.
The stickers are SUPER adorable – I just wish I had more.
However, I will say that the back pocket helped me solve this dilemma. I bought a pack of planner stickers on Amazon to supplement in and I keep them in the back pocket of this Sugar Paper planner.
Boom. Just call me a problem-solver.
Pros/Cons:
This is basically going to act as a Sugar Paper planner review recap. If you're looking for an overview of all the features that I found to be good or not so good, here is a quick guide.
Sugar Paper Planner Pros:
Affordable
Lots of options/varieties
Great design
Spiral and stitch bound options
Monthly tabs/markers
Yearly holiday cheatsheet
Monthly overview page
Monthly goals page
Weekly overview page (with space for each day)
Weekly goals page
Stickers
Back folder pocket
Hardcover
Corner cover protection
Cute font/aesthetically pleasing
User friendly
Sugar Paper Planner Cons:
No bullet points/lines/structure on weekly overview page
Limited stickers (left me wanting more, haha!)
Not any places for reflection (ie. a gratitude/daily reflection space)
No water tracker (a super nice feature of some past planners)
Some unhelpful list labels ("to call", "to email")
Not a ton of extra special features (monthly quotes, etc.)
Sugar Paper Planner Review Recap
Overall, the Sugar Paper planner was a win. Coming from someone who is super, super picky with planners (Type A personality over here), Sugar Paper is one of the only brands I've found in standard stores that meet my requirements.
I've used my Sugar Paper planner as my college planner, work planner, appointment planner, and personal planner. That just goes to show you how versatile it is. It really has great usability and can be tweaked to fit almost everyone's needs.
Would I Buy Another Sugar Paper Planner?
Absolutely!
I am actually planner shopping for next year's planner right now and Sugar Paper remains one of the top contenders.
This may be the first planner that is in the running for a second year. Usually, after one year, I'm ready to advance to a new planner for the next year. Not with Sugar Paper! I'm overall very happy with it!
More Sugar Paper Essentials
After how much I loved my planner, I've been looking into even more Sugar Paper products. I've found some great ones that, from organization-lover to organization-lover, I have to share. You need to know about these!
Here are the best Sugar Paper products I've found: