This post contains affiliate links meaning that, at no additional cost to you, I make a small commission if you purchase through my links. For additional information, visit my affiliate disclosure. 
Do you ever have those days where you're staying busy but get to the end and you're like "I got NOTHING done that I needed to!!".
Or, even worse, you know you have lots to do but you just can't find the motivation to actually be productive.
Well, luckily I have you covered with these must-know tips for planning your day. (I also threw in a FREE day planner printable that will help guide you!)
As a mild planner freak, I wholeheartedly believe that having a solid plan is the KEY to a productive day.
When I don't have a set plan in mind, lord knows what I will do all day long… I'll probably end up in the Target dollar section TBH, hahaha!
I always start my days with some good ol' pen-to-paper planning.
But just the act of planning isn't gonna cut it. I have built a set planning style and routine that I have found works the BEST for staying on track with my goals.
These planning tips and tricks have been game-changing in boosting my productivity and success.
I want to share these day-planning tips in hopes that I can help you achieve the same incredible feeling of productivity that I do!
This post is all about tips for planning your day.
Productive Tips for Planning Your Day
(+ FREE Daily Planning Printable)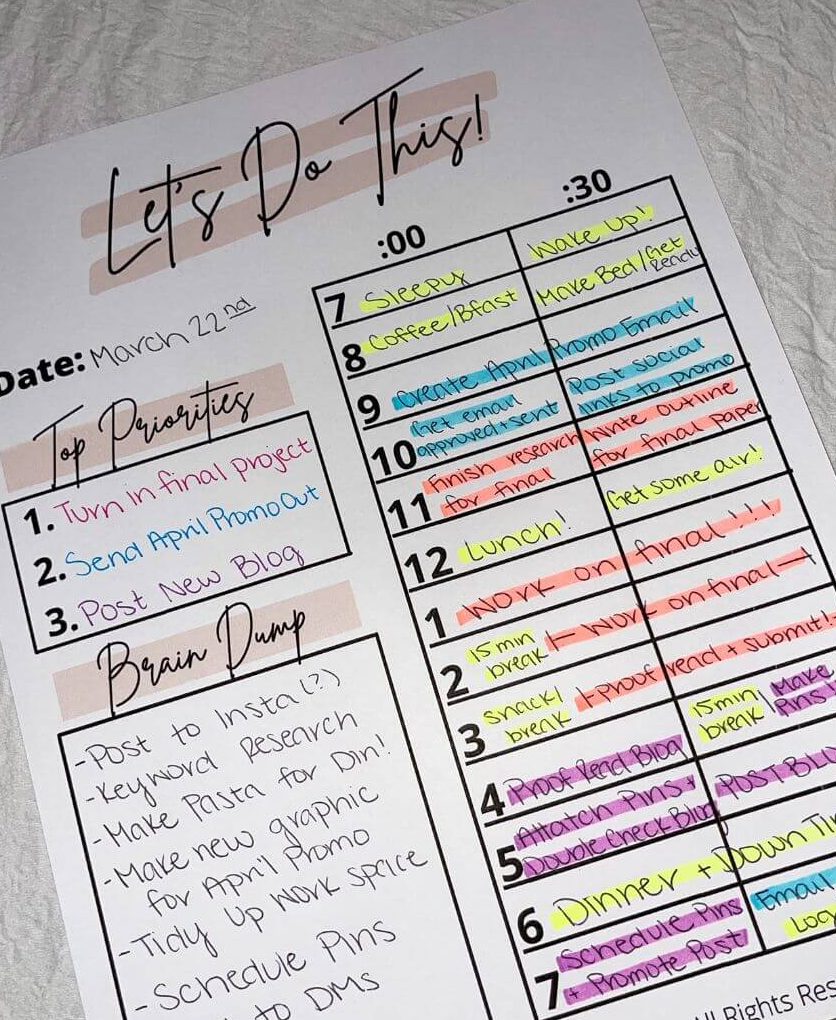 Planning Tip #1: Have a Pre-Existing Plan
I always start my day with a rough idea of what needs to be accomplished. Usually, this is done already because I plan my week out every Sunday night!
Having a pre-existing plan to get me started planning my day is SO helpful.
It makes me less overwhelmed and keeps my memory fresh with what actually needs to get done. That way, when I sit down to plan my individual days, it's quick and easy.
The faster I can plan, the faster I can get to crushing those daily goals!
Planning Tip #2: Plan First Thing in the Morning
The FIRST thing I do in the morning (after I start the coffee, of course) is come up with a plan.
My brain needs a refresher on everything that lies ahead of me that day. I always do this right away so I don't waste time. Once I plan, I feel ready to start actually DOING the things that I need to.
Planning my day first thing gets me in the right mindset for productivity. That's really half the battle: getting your brain ready to WORK.
Kickstarting my day with a solid productivity plan has been the best way I've found to do this.
I don't know what it is, but once my to-dos are down on paper, I'm ready to really grind them out!
Let's GO!
Planning Tip #3: Set a "Top 3" Priority List
Setting a "Top 3" priority list is something that I actually just adopted into my own planning routine this past year.
Let me tell you, this is one of the best tips for planning your day that I can offer.
Having set priorities for the day gives you a set goal and intention for the direction of your day. Having 3 clear things to focus all my attention on helps direct my day. I can then plan smaller steps to achieve those 3 main priorities.
This can be a super simple overview of tasks:
This tip really helps with structure. Once I set my daily "Top 3", I structure the rest of my day around that. It keeps me moving in the right direction. (I also color code this area but we'll dive into color coding later!)
It can be easy to get distracted by busy work… I've been guilty of this myself.
Some days I will be busy all day long, rushing around, and doing THINGS, but I get to the end of the day and I haven't accomplished any one, big, solid goal.
This is the #1 mistake I see people make with planning their day. 
You can go throughout your day being "productive" without really accomplishing anything. It can be so frustrating!!
But when you have a solid Top 3, every individual accomplishment can lead to accomplishing the big stuff. Win, win, win!!
Planning Tip #4: Have a Brain Dump
More often than not, when I sit down to write my "Top 3", my mind starts spinning.
Random to-dos, ideas, and thoughts pop up left and right. And, even if it feels overwhelming or annoying, it is a good thing!! But I want to remember these things…
If I don't write down the ideas that come up while I'm doing this, they'll be gone forever.
This is where the brain dump section of my planning comes in super handy. In this section, feel free to put anything that feels important or necessary to remember.
I typically use this for small tasks (ie. run the dishes), little reminders (ie. text __ about __), etc.
This might be my favorite section of my planning because it feels so liberating to just pour out everything weighing on my mind. Feel free to just run with this.
No structure, no thought process, no rules, no guidelines… just brain dump!
Planning Tip #5: Master Time Blocking
Woohoo! This is where we get down to business! Are you ready for this? Don't be intimidated. It's fun and it's gratifying. Trust me.
Alright, let's do this!
What is Time Blocking?
So time blocking is something that I never did before. I'd have a rough idea of my plan for the day but nothing set in stone.
Time blocking basically takes what you have to do and tells you when you have to do them.
At first, I felt like this was unnecessary stress and pressure. Why do I need such a rigid schedule if I can just be freely productive on my own?
But contrary to what you might think, this has actually relieved me of my stress.
Time blocking allows me to stay consistently productive and it removes the pressure of deciding what I need to do and when I need to do it. I can always refer to my time block for the day and make sure I'm on track.
Now that we know WHAT time blocking is and WHY is it helpful, let's dive deeper into HOW to do it.
How Do I Time Block When Planning My Day?
On the free printable planning sheet I will link down below, you can see that I divided the day into hourly blocks and then again into half-hour segments.
Most store-bought planners only divide by the hour but I find that to be difficult sometimes.
Some tasks only take 15-30 minutes to accomplish but will take up the whole hour block when you write them in. Dividing each hour in half gives much more space for these smaller tasks to fit.
I also included the hours 7 am-7 pm as I have found that those are the most standard working hours of the day.
While you may get up earlier, I highly recommend not working PAST 7 pm.
Even if it sounds counter-intuitive, allowing yourself some time to NOT be productive is productive. Sounds weird, right? But it's true. I like to have a set time that I call it quits with the work for the day. For me, this is about 5 pm but I made this planner template go to 7 pm in case your day runs a bit longer.
That's not to say that once 7 pm comes you're tied down to sitting on the couch and doing absolutely nothing.
But your mind and body deserve some time away from the "go-go-go" mindset.
Not to mention, 7 am-7 pm gives you 12 HOURS of working.
That is more than enough if you optimize your time correctly. Honestly, I don't think working more than 12 hours is the key to a happy or healthy life anyways.
After a while, your mind and body will be fatigued and you just need some time away. I hope that including these hours will not only help you be productive but help you remember to rest as well!
Planning Tip #6: Color Code Your Planner
Holy cow! I can't stress this enough. Color coding is a game-changer for coming up with an effective and productive day plan.
You probably noticed the bright colors in my picture above showing how I time block
(Not to mention, I have a lot of fun with all the different colors. I live for cute pens and matching highlighters! Haha!)
Try to color-code your plan based on the categories of tasks! For example, my color code categories include:
Work tasks
Home tasks
School tasks
Appointments/Reminders
Miscellaneous tasks/daily activities/self-care
Under the work tasks, I'll include specific things like:
Submit X project proposal
Ask my boss about X
Send out X email
Home tasks might look a little something like this:
Change sheets
Vacuum
Clean Bathroom
School tasks might be:
Turn in X assignment
Class from X:00-X:00
Message group members
Appointments and reminders are pretty self-explanatory. For example:
Doctor appointments
Hair cuts
Miscellaneous tasks are pretty much my catch-all. This is where I put anything that doesn't fit into the other categories. Some examples of this might be:
Return library book
Have lunch
Go for a walk
Make bed
You get the idea. Color coding is a clear and concise VISUAL way to categorize your daily tasks. With just a quick glance, you can tell what aspect of your life you are working on at any given moment. This is one of (if not my #1) favorite of all my tips for planning your day… and not just because I love making my planner bright and colorful (although that is a perk).
Planning Tip #7: Reference Your Daily Plan Often
Another major tip to keep in mind when planning your day is that you keep referring to it. After all, you didn't make the list for nothing, right?!
You might as well use your well-thought-out, color-coded, time-blocked, planning masterpiece.
It's essential to keep your list somewhere you can easily refer to it. Some people like to do this using the notes section on their phone but I am much more of a pen-and-paper girl. (Hence the printout that I am giving you, haha!)
I keep my daily plan on my desk, where I can visually refer to it whenever I need to.
A simple check-in after each task does wonders for keeping you on track with accomplishing your goals and staying productive.
That way you never have to wrack your brain to remember what you were planning to do next. It is all laid out (and color-coded nicely 😉 ) in front of you!
Planning Tip #8: Be Flexible with Your Plan
I really hope you've stuck around this far because this last planning tip is a MUST!
Do NOT get so caught up in your plan that you freak if something falls out of place or order. THAT'S LIFE!
Plans change, things happen, and tasks run over their "allotted" time… it's okay!! There's no need to panic!
Planning your day is supposed to reduce your stress, not add to it! Never feel so stuck to your plan that you spiral if it gets messed up.
To be totally authentic and real here, I'd say more often than not my time-blocked schedule gets a little off (usually by early afternoon too!). No biggie!!
This daily planner schedule is supposed to give you a rough idea of your day. Some things may take longer or go faster.
Other things may not be achievable when you reach them because of something that's come up. Oh well! We'll add that to tomorrow's list!
Being flexible when planning your day is huge. There's no need to add stress and pressure to following your schedule exactly.
Allow things to shift and move naturally. If something comes up, refer to your "Top 3" and get back on track with what's going to help you best accomplish those!
Life happens, adjust accordingly! You got it!
Now that you have 8 incredible tips for planning your day, are you ready to start?
I've made you a FREE day planner printable to jumpstart your productivity journey!
This planner printable includes a Top 3 Priority, Brain Dump, and Time-Blocking section so you can practice ALL of these effective tips for planning a productive day!
Get your FREE planning sheet now:
I am obsessed with how this printable came out. TBH I've actually been using it myself to plan my days lately. TWINNING!
It's everything I need in a planner all on one page. Hopefully, this can help keep you productive, successful, motivated, and well-planned too!
More Posts I Think You'll LOVE
11 Unexpected Productivity Goals to Set
How to Effectively Use a Planner
6 Ways to Be More Productive at Home
Go get to planning your day and crushing those to-dos, you boss babe!