This post may contain affiliate links meaning that, I may make commission if you purchase through my links. Learn More. 
These reading challenge prompts for adults are the perfect way to spice up your TBR list in 2023.
Are you up for the challenge? Which reading prompt will you take on first?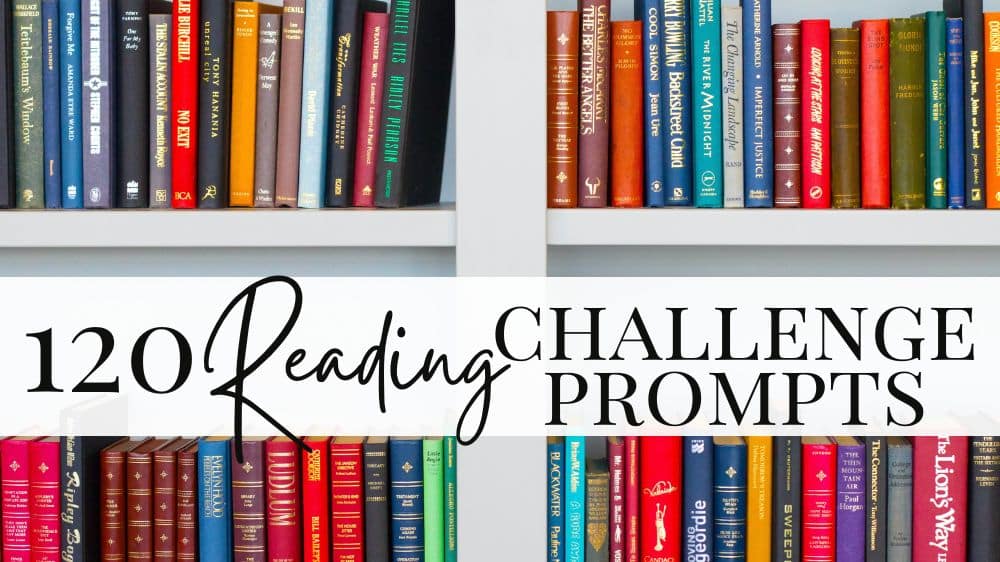 Have you ever fallen into a reading slump and can't pull yourself out of it? Or maybe the overwhelm of deciding what to read keeps you from starting at all?
Trust me. I've been there.
With so many fantastic book options, it can feel nearly impossible to know where to start. It's like full-on decision paralysis (book edition).
This yearly reading challenge checklist is here to keep you inspired and avoid that slump.
By giving you reading prompts to help choose your next book, you can rest assured that you'll always know where to start your book hunt.
Additionally, the satisfaction of a physical reading challenge checklist printable to check off is a motivator in itself! (Nothing beats the gratification of crossing off a checklist.)
This 120 Adult Reading Challenge Prompts Checklist gives you tons of reading challenge ideas to take on this year!
What Are Reading Challenge Prompts?
Reading challenge prompts are simple challenges that give you a starting point for choosing a book.
The prompts are a great way to add an element of fun or excitement to your typical reading routine.
Most prompts will be centered around a book's title, author, genre, or plot.
For example, a challenge may be to find a book that starts with the letter 'A'. This would be a title-related prompt.
This book challenge checklist is filled with different ideas in each category and for all types of readers.
Why Start a Reading Challenge?
Not convinced that you're ready to start a reading challenge? I hear ya, but hear me out.
There are a few reasons I love participating in reading challenges…
10 Reasons to Start a Reading Challenge
Takes away new-book decision paralysis/overwhelm.
Allows you to track your reading progress.
Inspires you to try new books/authors/genres.
Pushes you out of your reading comfort zone.
Makes completing a book more gratifying.
Keeps you motivated to keep reading.
Introduces you to new ways of reading.
Gives you a starting point for deciding on a new book.
Helps prevent a reading slump.
It's just plain FUN!
How to Complete These 2023 Reading Challenge Prompts
Once you download the printable list of reading prompts and challenges (or create your own if you're into that!), where do you begin?
There are a few different ways to complete this reading challenge checklist:
Complete it in order
Schedule X amount of books for each month
Plan out your challenge order in advance (I recommend tracking this in your planner or phone!)
Align the challenges with yearly events that feel related to the prompt (holidays, birthdays, summer, etc.)
Use a random number generator to decide what challenge to do next
Close your eyes and point to a spot on the list (then do that one!)
Simply skip around as desired!
Now that you know the "what", "why", and "how" of these reading prompts, what do you say we jump into the list?
120+ Adult Reading Challenge Prompts for 2023
Find the perfect prompt for you related to each of the following categories: title, author, genre, appearance, and plot.
Title Book Challenge Prompts
Read a book that…
Starts with the same letter as your name
Has the same word in it twice
Uses the name of a place/city in the title
Has a comma in the title
Starts with 'A', 'B', 'C'… (continue through the whole alphabet)
Has a one-word title
Has a number in the title
Uses the characters' names in the title (ie. Verity or Josh and Hazel's Guide to Not Dating)
Has a suspenseful title
Has the name of one of your family members in the title
Uses alliteration in the title
Has a color in the title
Starts with 'The'
Has 'girl', 'lady', or 'woman' in the title
Has 'boy' or 'man' in the title
Does NOT have a preposition in the title ('in', 'at', 'on', 'of', 'to', 'from', etc.)
Has a three-word title
Has a word in the title related to reading (ie. Book Lovers by Emily Henry)
Uses the word 'child', 'kid', 'baby', or 'children' in the title
Has a season in the title
Author Book Challenge Prompts
Read a book by a(n)…
Author that shares your first name
Author with your parent's or sibling's name
Author you've read and enjoyed before
Pseudonym author
Author duo (Did you know Christina Lauren is actually TWO people?)
Internet famous author
Friend/family favorite author
Under-30 author
Author from another country
Female author
Male author
Author you've never read before
Author with your same initials
Famous author
Author with your last name
GoodReads award-winning author
Author you previously disliked (second chance!)
Author from your home state
Classic author (check out this list of classic authors)
Genre Book Challenge Prompts
Read a book that is a…
Fantasy
Sci-Fi
Thriller
Memoir
Romance
Young Adult
Historical fiction
Poetry collection
Short story
Collection of essays or prose
Literary fiction
Self-help
Nonfiction
A classic
Mystery
Comedy
Play
Holiday romance
Crime
Murder Mystery
Appearance Book Challenge Prompts
Read a book that has…
A hardcover
A softcover
Over 400 pages
Under 200 pages
A map in the beginning
A pink cover
Images of people on the cover
A hand-drawn/sketch cover
An aesthetic cover
A photo of the author on the back cover
Images/illustrations in it
Orange font (Every Summer After anyone?)
A book on the cover
Flowers on the cover
A title that is written in cursive
An award on the cover (NYT bestseller, Oprah's choice, etc.)
A sleeve cover
A fully neutral cover (black, white, gray, brown, gold, etc.)
Holiday-themed images on the cover
Over 30 chapters
Plot Book Challenge Prompts
Read a book with a(n)…
Friend-to-lovers romance
Unreliable narrator
Plot twist ending
Second chance romance
Sibling relationship
Strong mother/daughter bond
Mental health message
Plot about books/authors/writing/etc.
Summer setting
Winter setting
Small town setting
High school setting
College setting
Divorce storyline
Big city setting (New York, San Fransisco, Seattle, etc.)
WWII story
Childhood friends to adult lovers romance
Forced proximity romance
Grumpy/sunshine character match
Alternating timeline plot (ie. The Best of Me or Ugly Love)
Setting in a place you want to visit
Spicy romance (Tessa Bailey anyone?)
Holiday plot
Husband/wife thriller
Setting in the future
More Reading Challenges
Oprah's choice
A series
A classic novel you were assigned in school
NYT bestselling novel
A book that became a TV show
A book that became a movie
Rory Gilmore reading challenge book
A series connected to another book/series (ie. the Addicted and Calloway Sister series)
A book that has been on your shelf for years
Book to make you cry
Book to give you the creeps
Two-book series
A trilogy
Get Your Free Reading Challenge Checklist Printable
Ready to create your own challenge from these reading challenge prompts? Use these free printables to construct your perfect checklist (or BINGO game!).
Which book challenge prompt will you take on this year?
Leave a comment below telling me which prompts you will be taking on first!
Let's Be Book Besties!