This post may contain affiliate links meaning that, I may make commission if you purchase through my links. Learn More. 
Looking for some new ideas for practicing self-care? Here are 100 self-care ideas that are sure to boost your mood and leave you feeling refreshed.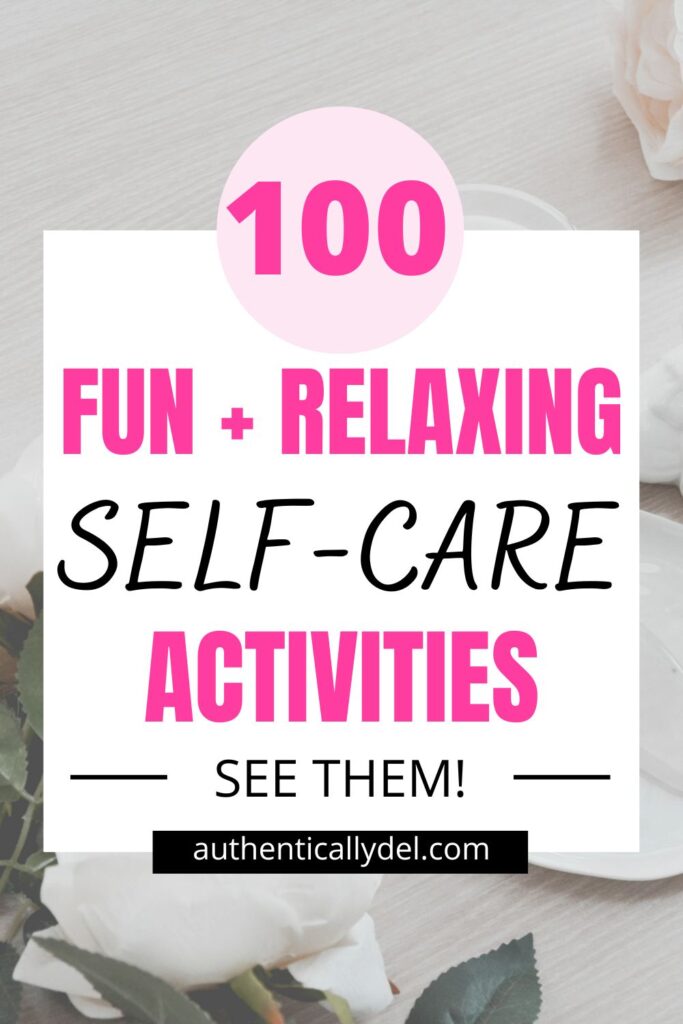 What Is Self-Care?
Self-care is defined as "the practice of taking an active role in protecting one's own well-being and happiness, in particular during periods of stress".
In simple terms, self-care is exactly what it sounds like. Taking care of yourself – mentally, emotionally, physically.
For many of us, self-care has become less of a natural practice with the hustle and bustle of today's busy society.
This doesn't mean it should not be a priority – it means you may need to be more intentional about practicing self-care.
Making time for self-care is not only a healthy practice, but it is essential. Here's why.
Why We Need Self-Care
Self-care is essential.
When we hear the term "self-care" many of us picture bubble baths and face masks. While this is one form of self-care, it is so much more than that too.
Self-care is getting enough rest. It is feeding yourself nourishing foods. It is tending to your mind and your mental health.
Without self-care, we cannot function properly.
We tend to put emphasis and focus on the external things in our lives – work, relationships, money, material things, etc. but when we don't take proper time for ourselves, the other areas of our lives pay the price too.
Self-care is not selfish, it is essential.
The 6 Types of Self-Care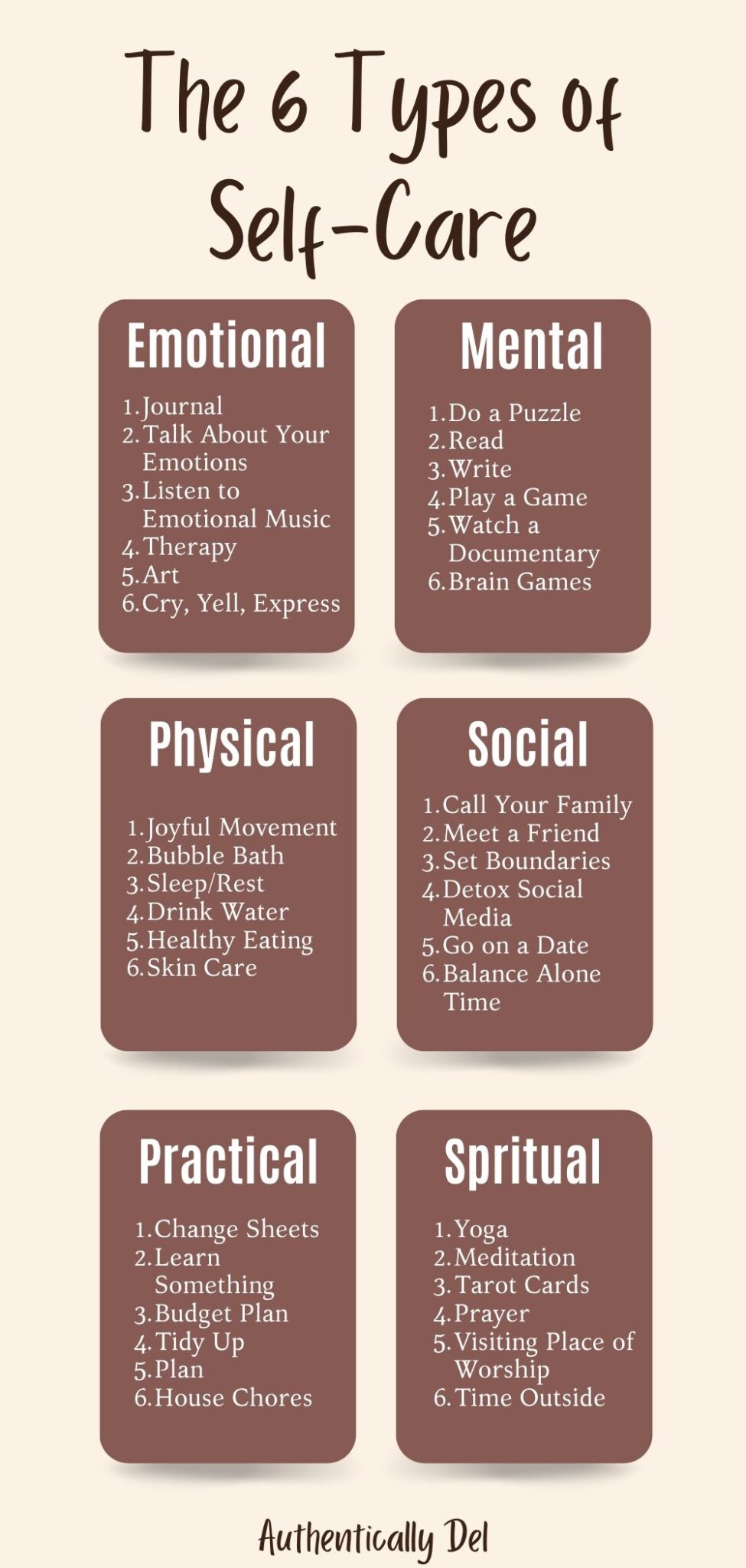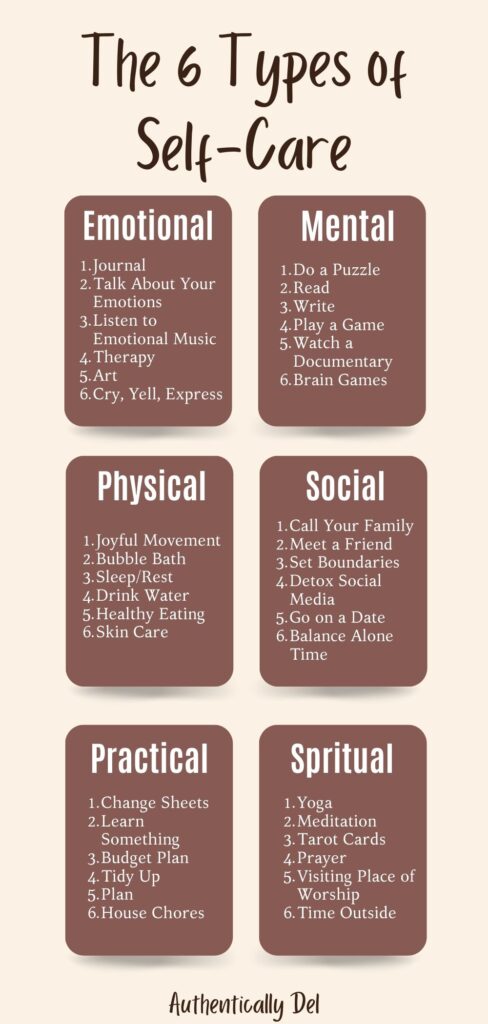 When looking at self-care as a whole, it can be roughly divided into 6 main categories:
Emotional: Tending to or expressing your feelings and emotions.
Mental: Working your brain through mind-focused activities.
Physical: Tending to your body or external/physical being.
Social: Activities related to your connections and relationships.
Practical: Caring for yourself in practical, everyday ways.
Spiritual: Tuning into and fostering your spiritual connection.
LEARN ALL ABOUT THE 6 TYPES OF SELF-CARE HERE
100 Refreshing Self-Care Ideas
Whether you're looking for at-home self-care ideas, free self-care ideas, relaxing self-care ideas, or fun and adventurous self-care ideas, this list is bound to have some activities for you!
Go for a walk
Take yourself out for coffee
Cuddle with a pet
Have an at-home movie night
Listen to an uplifting podcast
Bake your favorite dessert
Take a relaxing self-care bath or self-care shower
Have a solo dance party
Create a vision board
Journal
GET THOUSANDS OF FREE JOURNAL PROMPTS HERE
Make a DIY self-care jar
Meditate
Take a workout class
Stretch
Create positive affirmation cards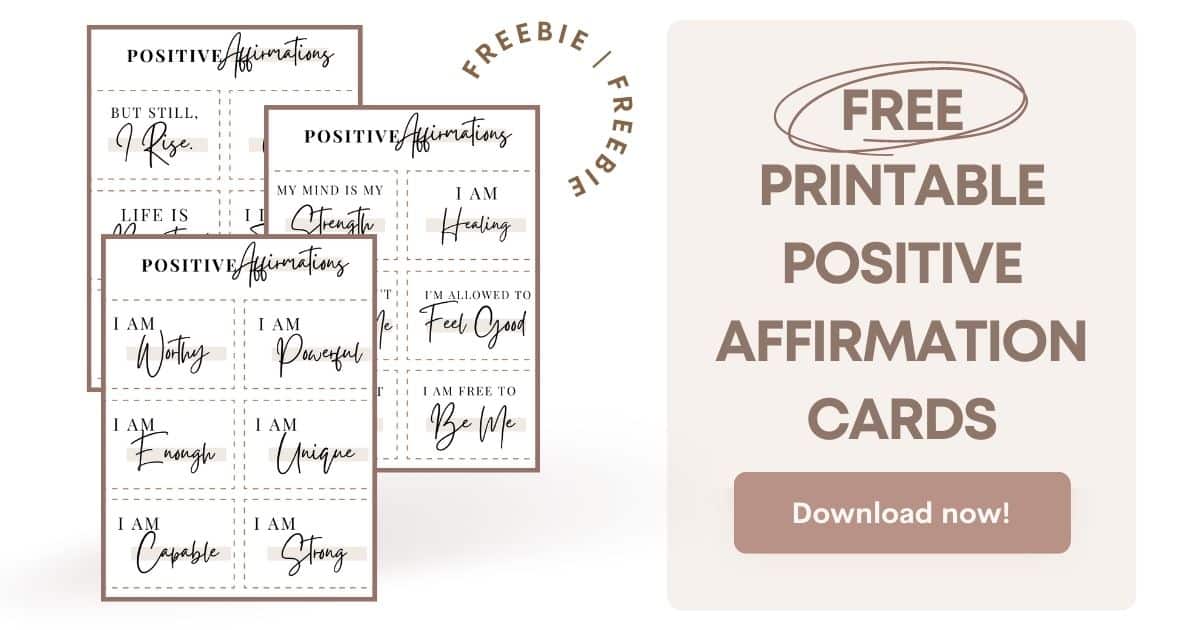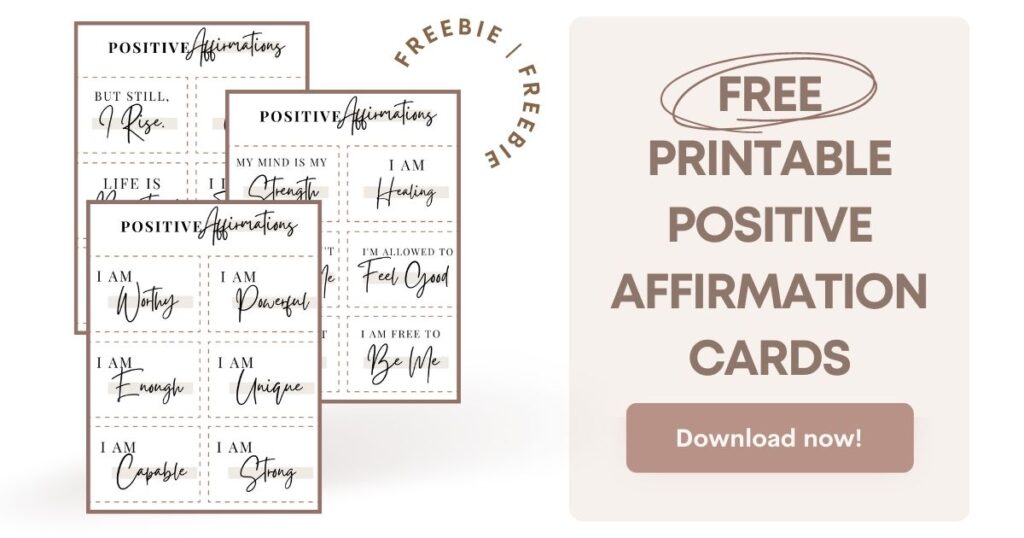 Color
Paint
Do a puzzle
Create art
Make friendship bracelets
Call a friend
Write a letter to a loved one
Paint your nails
Have an at-home spa night
Do a face mask
Buy yourself flowers
Start a new hobby
Enjoy your favorite snack
Go for a drive
Do some yoga
Turn your phone off
Take some deep breaths in nature
Take a nap
Wear your comfiest clothes
Read an inspiring book
Read a for-fun fiction book
Binge-watch a TV show
Order takeout
Make a to-do list for the week
Set some new goals for yourself
Play a game
Look through old photos and reminisce
Write a letter of encouragement to yourself
Tidy up your space
Practice grounding techniques
Visit a park
Watch a TED Talk
Make a fun bucket list
Go secondhand book shopping
Visit the library
Make a fort
Watch the sunrise/sunset
Scrapbook
Savor a good cup of coffee
Get a massage
Send a 'thinking of you' text to someone you love
Visit a museum or art gallery
Get dressed in something that makes you feel confident
Do your hair and/or makeup
Change your sheets
Tackle a household chore you've been putting off
Give a compliment
Make someone smile
Watch cute dog videos online
Clean out your social media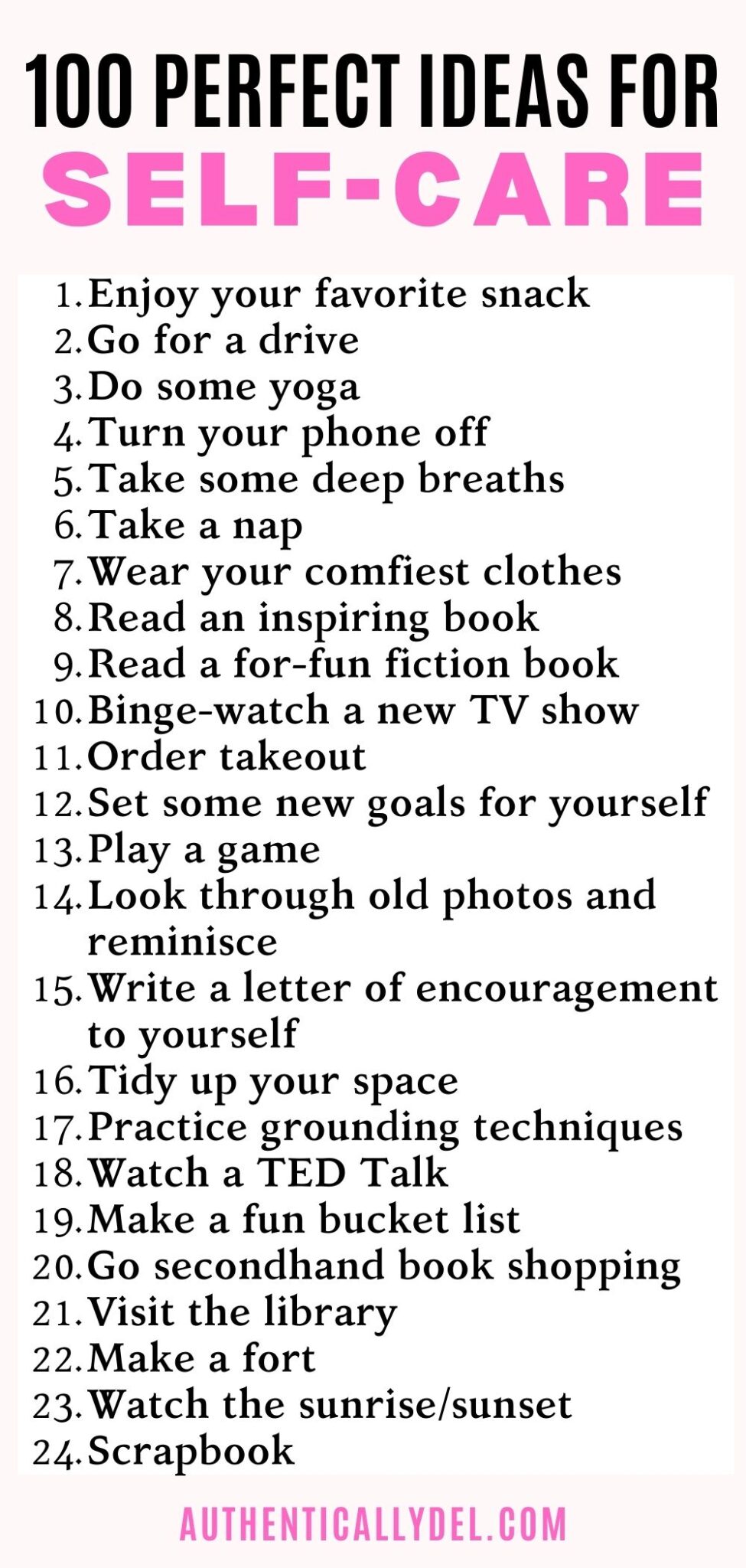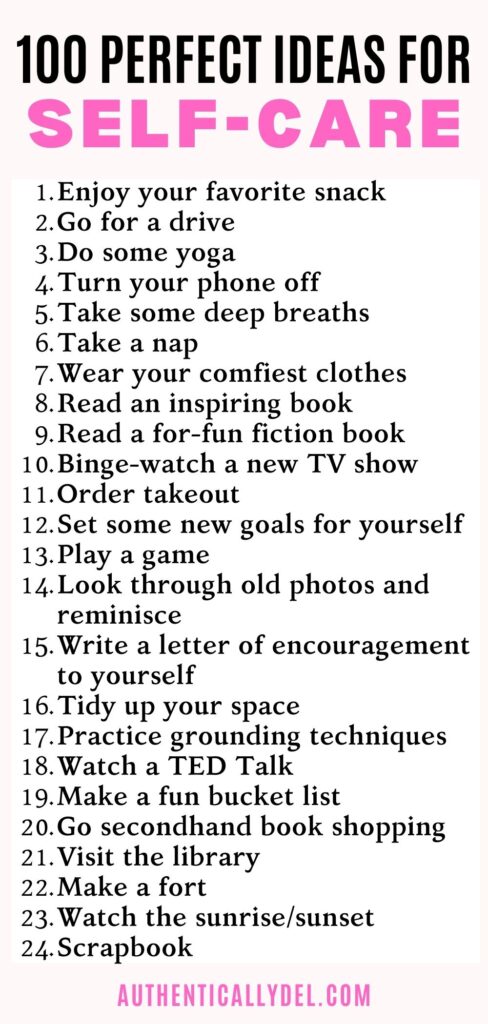 READ: 10 Easy Ways to Make Your Instagram Instantly More Positive
Brain dump anything on your mind into a journal
Buy yourself a gift you've been wanting
Educate yourself on something you're curious about
Light your favorite candle
Plan a dream getaway/vacation
Garden
List 10 things you are grateful for
Write down 5 things you love about yourself
Write down 5 things you love about life
Stretch
Stock up on fresh, nourishing groceries
FaceTime a friend or family member
Make a homemade dinner
Take yourself out for ice cream
Rewatch a comfort movie or TV show
Hug somebody
Drink water
Give a gift to a loved one just because
Take photos of things you love
Lay in the sunshine
Read uplifting quotes
Go to therapy (TRY TALKSPACE HERE)
Learn to sew, knit, or crochet
Organize your desk/workspace
Take a trip to your favorite store
Read poetry (SEE MY FAVORITE POETRY BOOKS HERE)
Volunteer or donate to a cause you support
Listen to an Audiobook
Get cozy in a blanket
Play a sport you enjoy
Workout
Allow yourself to sleep in
Make a DIY self-care kit
Join a book club
Speak kindly to yourself
Get Your Free Printable 100 Self-Care Ideas PDF List
Enter your email below to get a 4-page printable booklet filled with 100 self-care ideas (+ a bonus customizable self-care idea sheet!).
How to Get Started with Self-Care
Beginning a consistent and sustainable self-care practice is one of the best things you can do for your health, mindset, productivity, and overall well-being.
Here are 5 tips for getting started with a self-care routine:
Discover What YOU Love: If you don't love the aesthetic, stereotypical ideas of self-care you see online, then don't do them! There is no one "right" way to practice self-care. Discover what you love and what makes you feel good – then do that.
Make Yourself a Priority: Just as you'd prioritize showing up for an important meeting or a friend's birthday party, start to prioritize showing up for yourself. Don't expect self-care to naturally happen. Make it happen.
Plan It Out: Getting a self-care planner is the best thing I ever did for my self-care practice. Setting aside specific times for self-care makes it way easier to actually make happen. Make it a plan. Write it down. Follow through.
Something Is Better Than Nothing: A quick 5-minute self-care activity is better than nothing. You don't have to spend hours on self-care. Something small and simple is better than nothing.
Tune In to Yourself: Your needs will look different every single day. Tune into your mind and body to decide what you need at that moment. Maybe you need a workout, but maybe you need rest. Maybe you need some social interaction or maybe you need some self-care alone time. Your needs will change constantly. Learn how to identify and honor them.
A Note on Self-Care
Remember that self-care doesn't always look glamorous. Sometimes self-care is just pulling yourself out of bed to take a shower or brush your teeth. Sometimes it's sleeping until noon or allowing yourself time to cry.
Self-care doesn't have to be face masks and expensive spa days.
At it's core, self-care is caring for yourself in whatever form YOU need. You deserve to be cared for and have your needs met.
Self-care is not a luxury, self-care is a necessity.
Never forget that self-care is your right at all times. You are not selfish for taking time to care for yourself. You never need to make excuses or apologies for that.
Take good care of yourself. You deserve it.