This post contains affiliate links meaning that, at no additional cost to you, I make a small commission if you purchase through my links. For additional information, visit my affiliate disclosure. 
Another month gone… another 12 books read. You won't want to miss this full August reading recap.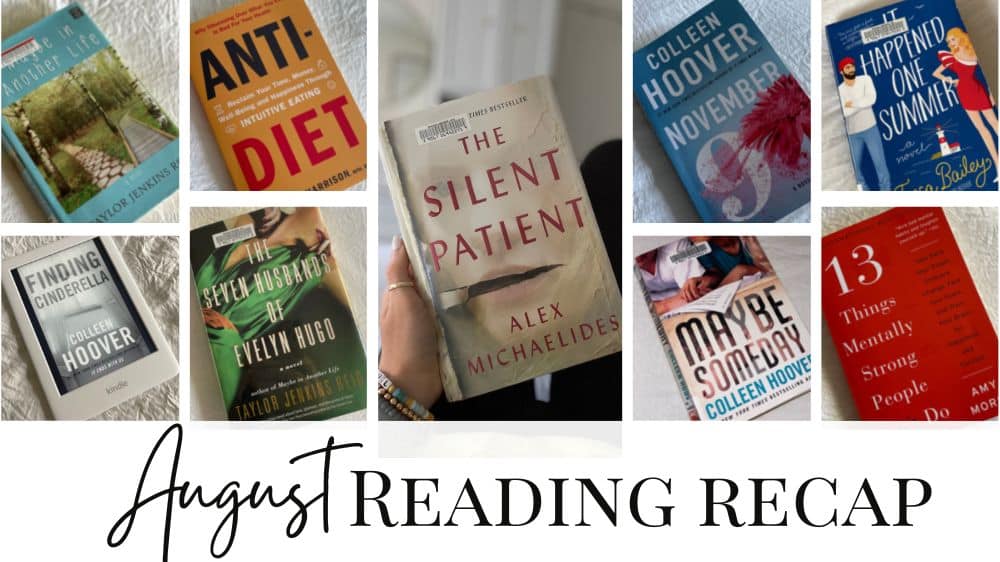 There are some mixed reviews and unpopular opinions in this monthly book recap… you won't want to miss this one!
About My Month of Reading
Before I begin this August reading recap, I want to give some background into what was going on this month and what prompted my choices for these books.
All About My Kindle
As you may know (if you read my July 2022 reading recap), I got a Kindle for my birthday at the end of July! (Thanks, sis!)
TBH, I was super torn for a long time about whether or not I wanted a Kindle. I really love the feeling (and smell… is that weird?) of a new book in my hands.
Flipping pages, adding sticky notes, looking at covers… I love it all!
But as I really kicked my reading into high gear these past few months, I became more and more open to a Kindle.
Let me tell you… I'm SO glad I got one.
I LOVE my Kindle.
Not only is it convenient, compact, and travel-friendly, but there are SO many free book options. I had NO idea that, with my Amazon account, I get such a huge variety of books for FREE on my Kindle.
Also… as much as I love physical books, I was rapidly running out of room to store all my books. (I really need to expand my bookshelf space.)
Okay, I'm totally rambling. But, bottom line is that I love my Kindle. I've had a blast exploring it this month!
If you want to be Kindle twins, here's the link to get one for yourself:
My Love of the Library
As you'll see in this post, the majority of my reads this month were from the library!
I started regularly visiting the library a few months ago. Since then, I've been placing holds like crazy on all the popular BookTok books. (It's such an adrenaline rush when they come in!)
TBH… the only downfall of this is that I didn't get to use my Kindle as much as I wanted to this month.
Whenever I have a library book on my TBR, I read that first so I can get it returned and the next person that has it on hold can enjoy it too!
That explains why a lot of my books in this August reading recap were library reads.
I had lots of holds come in and I didn't want to hoard them when other people were waiting. (It's a good motivator to get reading!)
This is your sign. Utilize your public library. It's literally FREE BOOKS. It feels too good to be true.
My August Reading Recap: 12 Books Reviewed
As usual, I am going to divide my August monthly reading recap into genres to make it easier to navigate. Under each book, I will also link to the summary/description on GoodReads AND link to where you can buy the book for the best price!
Romance Books
Romance has definitely been the prominent genre this month… but I didn't LOVE (pun intended) all the romance books I read in August. Here are my reviews and ratings.
The Seven Husbands of Evelyn Hugo by Taylor Jenkins Reid
My Rating: ⭐️ ⭐️ ⭐️ 💫 (3.5/5 stars)
Review:
This book was HARD for me to rate. I loved parts of it, while other parts of it felt so… SLOW!
To give a brief overview, this book follows famous actress, Evelyn Hugo, as she shares her story with the woman she has asked to author her biography.
Evelyn Hugo, in addition to being a famous actress and beauty icon, was known for having 7 husbands. With that, this book is broken into seven different sections – one for each husband.
Some sections I LOVED and couldn't read fast enough. Other sections had me constantly looking forward to see how many pages were left in the chapters… (don't act like you don't do this too!)
That's why I had to go with 3.5/5 stars for this book.
As a whole, this book covers some SUPER important topics and I love the statements it makes. (I will not go into detail to avoid spoilers!) I just am rather picky with my books and reserve 4- and 5-star ratings for the REALLY good ones.
Finding Cinderella by Colleen Hoover
Rating: ⭐️ ⭐️ 💫 (2.5/5 stars)
Review:
This is the first of many CoHo books this month.
This particular one is a novella (only about 170 pages) AND part of a series (which I didn't know until I finished it… whoops!).
TBH, I read this in about an hour and a half one night. It was free on my Kindle and I thought, "why not?".
And it was fine… It was cute, quick, and easy to read. There was nothing mind-blowing or life-altering about this book IMO.
I have recently started a quest to read EVERY CoHo book, so I'm glad I read this. There are no regrets and I'd recommend it as a quick read. Just don't expect it to be as good as some of the other CoHo novels out there.
(See my July reading recap for my FAVORITE – Ugly Love)
It Happened One Summer by Tessa Bailey
READ THE SUMMARY || BUY ON AMAZON
Rating: ⭐️ ⭐️ (2/5 stars)
Review:
TBH… this rating felt generous.
TikTok hyped this book up SO MUCH and, if I'm blunt, I really disliked it.
I found the characters shallow. The connection between LA "influencer" and Pacific Northwest "fisherman" felt too stereotypical.
This book was an enemy(ish) to lovers type of trope – and I'm not a fan.
Not to mention, the SEX SCENES in this novel are really… something.
They are incredibly graphic and, in my opinion, awkward. I love a good smut book as much as the next girl, but this one just had me cringing.
No hate to anyone who loved this book. I have lots of friends who swear it's one of the best they've ever read. It just wasn't for me.
Two stars.
Maybe Someday by Colleen Hoover
READ THE SUMMARY || BUY ON AMAZON
Rating: ⭐️ ⭐️ ⭐️ 💫 (3.5/5)
Review:
This book is the first of the 3-part Maybe series.
Mixed feelings here. I gotta unpack this book with y'all. But, before I do… SLIGHT SPOILER ALERT.
If you don't want to know the overall premise of this novel, stop reading here. (This is revealed a few chapters in…)
Okay, ready?
I am NOT a fan of love triangle tropes.
I do NOT condone or support cheating in any form. To me, this is a major turn-off in romance novels. I find myself not rooting for the couple that I'm "supposed" to be rooting for.
That was my problem with this book. I have a hard time rooting for the "other woman" when one of the characters is in a relationship.
That said, I do feel like this book did a good job with character development and gave some insight into the struggle of feeling torn between wanting two people at once.
However, cheating just is not the vibe. (Maybe cause I've been cheated on multiple times and I'm a bit bitter… LOL!)
As a whole, this book was good-ish. I liked the characters, I just didn't support their relationship for like 80% of the novel.
Maybe Not by Colleen Hoover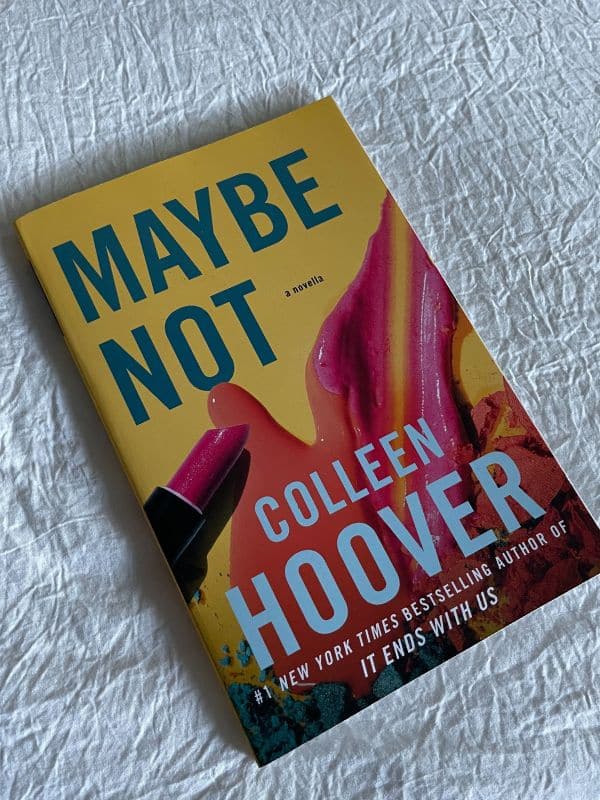 READ THE SUMMARY || BUY ON AMAZON
Rating: ⭐️ ⭐️ (2 stars)
Review:
Sorry, Colleen Hoover… I love YOU, but I didn't love this book.
Maybe Not is the second book in the Maybe series. It's a super short novella (about 120 pages) and I read it in just over an hour.
I was grateful it was so short because I don't know if I would've wanted to read anything much longer. This book just felt shallow to me.
The characters in this book (Bridgette and Warren) were the roommates from Maybe Someday. I felt like I got the whole story of Maybe Not through the subplot of Maybe Someday.
Besides some sexy details of their encounters, I didn't feel any more connected to Bridgette and Warren after reading this book. Not to mention, their "hatred" of each other got kind of… annoying?
I guess enemies to lovers just really isn't my thing.
Review:
Another Colleen Hoover book. Are you surprised?
This book was GOOOOOD! I was so, so close to giving it 5 stars, but it just wasn't at the same level as my other 5-star CoHo books.
My Colleen Hoover 5-star list (so far):
November 9 follows two people, Fallon and Ben, through years of their relationship. They meet on the same day each year (November 9).
This book is split into sections dividing each of the years they meet. Within each section, both Fallon's and Ben's perspectives are shared.
CoHo has a dual perspective in many of her romance novels and I love it.
This book had a great plot twist that literally made me GASP. I couldn't put down this book. I read it cover-to-cover in one night. It was so so good.
Definitely a CoHo must-read.
Side Note: Did anyone else recognize Tate and Miles from Ugly Love in this book? I loved the crossover!
Maybe In Another Life by Taylor Jenkins Reid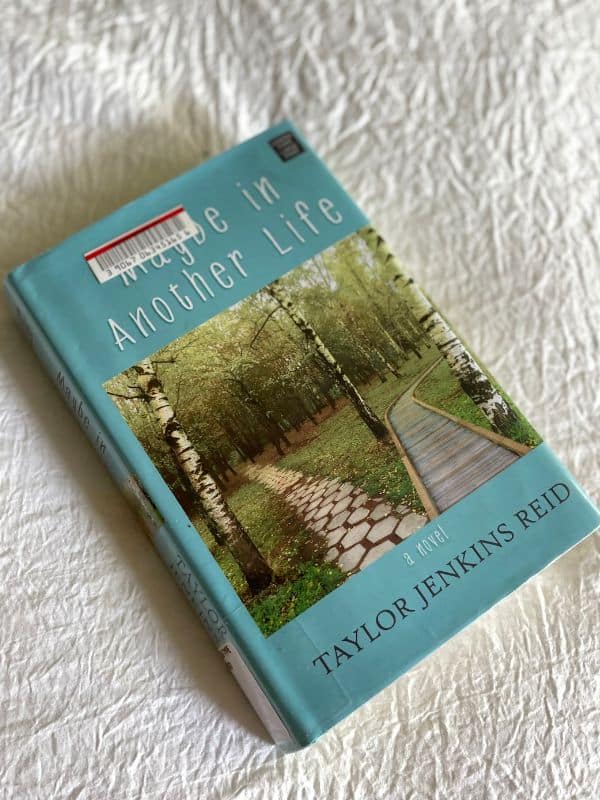 READ THE SUMMARY || BUY ON AMAZON
Rating: ⭐️ ⭐️ ⭐️ (3/5 stars)
Review:
This book was really cute and thought-provoking.
To give a brief summary, this book follows Hannah as she simultaneously lives two different lives based on one split-second decision.
After returning to her hometown in her late 20s, Hannah is faced with the choice to stay and reconnect with her high school sweetheart or not.
After this, Hannah lives out the events that follow both outcomes.
Taylor Jenkins Reid really makes you think about fate, parallel universes, soulmates, and how everyday decisions impact your life.
On the surface, this novel is cute and entertaining. But, when you think critically about it, it's pretty deep.
I enjoyed this book a lot. It wasn't a 5-star read for me… but, again, that's because I'm pretty stingy with my 5-star ratings.
Just know that I definitely recommend this book. It was an easy read with an intriguing storyline. Loved the characters and loved the thoughts this book brought up for me.
Great book.
Thriller/Paranormal Books
My love for thriller/mystery books has grown SO much over the past few months. I have been LIVING for the thrill of a good suspenseful novel.
The Silent Patient by Alex Michaelides
READ THE SUMMARY || BUY ON AMAZON
Rating: ⭐️ ⭐️ ⭐️ ⭐️ ⭐️ (5/5 stars)
Review:
The solo 5-star read of this entire August reading recap.
And WOW. The 5-stars was well-deserved.
This book literally had me SHOOK. After I finished it, I spent the next 48 hours thinking about the ending. I had so many ideas and suspicions throughout the book, but not one of them was correct. The ending was really unlike anything I expected it to be.
If I'm totally honest, this book took me a bit longer to get into than some. I felt like the start was a little bit slow. But, trust me… it was worth it.
This book is up there with Verity and The Woman in the Window for me. I loved this. The Silent Patient lived up to the hype for me.
Layla by Colleen Hoover

READ THE SUMMARY || BUY ON AMAZON
Rating: ⭐️ ⭐️ ⭐️ ⭐️ (4/5 stars)
Review:
I struggled to rate this one TBH. At times it was a 3. Other times it was a 5. So I settled on a 4-star rating.
I have never read a paranormal genre book before. Honestly, I wasn't sure if I'd like it. But, after reading Layla, I'm definitely interested in reading more.
This book had touches of a love story… so much so that I almost added it to the romance genre. But, even more, it was creepy AF.
There were literal jump-scare moments in this book for me.
I'm a pretty spiritual person, so ghosts, spirits, and creepy energies are all things I somewhat believe in. I think this book made me believe in them even more.
All in all, I thought this was a really good book. Not good enough to be a 5-star read, but definitely up there for me. I enjoyed this story a lot.
Memoir Books
I love memoirs! It's like a little sneak peek into the lives of those you respect, look up to, or wonder about.
What I Know for Sure by Oprah Winfrey
READ THE SUMMARY || BUY ON AMAZON
Rating: ⭐️ ⭐️ ⭐️ ⭐️ (4/5 stars)
Review:
You know when you read a really good quote in a book and you want to highlight it, tab it, and save it for later?
Well, I pretty much wanted to highlight this entire book.
This book is technically Oprah's memoir – but, being the wise queen she is, it read like an inspirational novel. There are so many beautiful life lessons and takeaways from this book.
My main takeaways were regarding being present and how to live a simpler and more joy-filled life. I think everyone could stand to read this book. It's a winner in my eyes.
Self-Improvement Books
I love talking about how we can better ourselves here on Authentically Del. Self-improvement books are a big part of that for me!
13 Things Mentally Strong People Don't Do by Amy Morin
READ THE SUMMARY || BUY ON AMAZON
Rating: ⭐️ ⭐️ (2/5 stars)
Review:
Hmmm… lots of mixed emotions about this one.
There are some really great thoughts and ideas in this book, absolutely. But, all in all, I'm going to have to give it a thumbs down. And here's why…
I think this book lies dangerously close to toxic positivity.
Also, I found this book to be a bit harsh, insensitive, and even tone-deaf to those battling mental illness (ie. anxiety, depression, etc.)
Many of the things that "mentally strong people don't do" are really common with mental illness. This implies that those struggling (myself included) are "mentally weak" individuals… when I believe we are actually quite the opposite.
As a whole, I think Amy Morin's goal here was to be motivational, and, for some, I'm sure this book accomplished that. It just wasn't for me.
Non-Fiction Books
Now that I'm out of school, I enjoy reading to LEARN again. I'm introducing more non-fiction books into my reading routine and I've been loving it.
Anti-Diet by Christy Harrison
READ THE SUMMARY || BUY ON AMAZON
Rating: ⭐️ ⭐️ ⭐️ ⭐️ (4/5 stars)
Review:
As an Eating Disorder Recovery Coach, this book is right up my alley. I think that this is one of the best books I've read in the anti-diet/recovery/Intuitive Eating space.
I originally was reading this book with the view of it being school-like.
As a coach, the concept of this book is similar to the ones I read in my training. However, as I read, I loved it more and more.
Christy Harrison brings the FACTS and communicates them in an easy-to-understand and digestible (pun intended) way.
I LOVE THIS BOOK. I think that everyone should read it – ESPECIALLY if you've ever struggled with food/body/exercise/etc.
Wrapping Up My August Reading Recap
Shop My August Reading Recap:

That concludes my August reading recap. I read 12 books this month… and I found a few that I really loved. I'll call that a win.
At the end of every month, I like to have a ROUGH idea of what I'm going to be reading the next month.
Keep in mind, this is bound to change as library holds roll in and I find new books on my Kindle and at the store.
But… as of NOW, this is my September TBR (to be read) list.
My September TBR
This is my current list of September books to read. If you want to read along with me, I'll link the books below and meet you back here next month for my monthly reading recap. It's like a little virtual book club!
Those are 6 on my current plan! I'm going to leave some room for flexibility here!
What was your favorite book on this August reading recap?
Comment below if you've read and/or plan to read any book mentioned here! Let's chat about it!