This post contains affiliate links meaning that, at no additional cost to you, I make a small commission if you purchase through my links. For additional information, visit my affiliate disclosure. 
July has been a month of lots of reading and good books. To recap the month, I want to compile all the books I read and let you know if they're worth you reading too! Welcome to my July 2022 reading recap!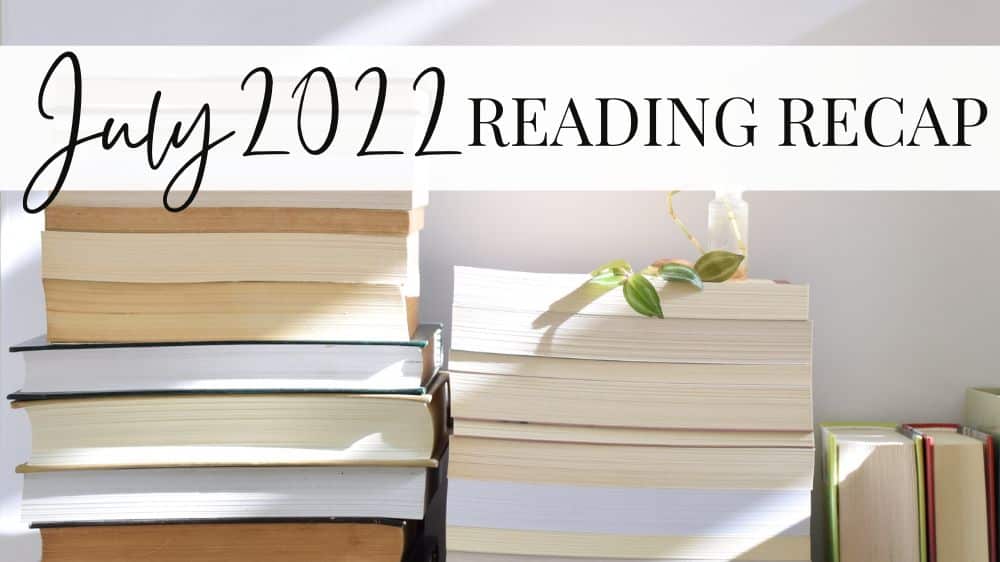 Welcome to My First Reading Recap
Over the past few months, I've gotten back into reading books!
I have been LOVING strolling the library, watching BookTok videos, binging YouTube book reviews, and – of course – READING.
As a kid, I was always a huge reader. I think that since writing is such a passion of mine, my passion for reading is also super strong.
My favorite genre to read lately has been romance. However, I love a good literary fiction, psychological thriller, or mystery too.
That said, I'm going to try my very best to not ONLY read books in my comfort zone. It's my goal to keep it entertaining and unique with each monthly reading recap post I do.
What to Expect in My Reading Recaps
If I'm honest, I don't really have a clear plan or structure for these posts. I just know that I love to hear about other people's book recommendations and reviews and figured it'd be fun to share mine as well!
In these posts, I will try to separate my monthly books by genre. Within those categories, I'll list the books, offer a brief summary, and give my rating and review.
I will steer clear of spoilers!
My purpose in these posts is to give you some good book recommendations. This means I want you to go and have the pleasure of reading these books on your own!
If I spoil them, then what fun is that?
(I cannot stand people who spoil books.)
Alright, enough blabbing. I want to talk about BOOKS.
So, if you're a fellow book-lover like me, get ready to take some notes. Here are all the books I read in July 2022.
I hope you find some good books on this list to add to your own TBR (to be read) pile.
Let's dive in, bookworms.
My 10-Book July 2022 Reading Recap
In July, I read books in 4 categories: romance, mystery/thriller, self-help, and memoir. For this July reading recap, I'll divide these 10 books into these 4 categories below.
Let's start with romance…
Romance Books
Let's talk about LOVE, baby. I was SUPER into romance this month, as you'll see in this section of my July reading recap. Here are the 3 romance books I read in July 2022.
Ugly Love by Colleen Hoover

My Rating: ⭐️ ⭐️ ⭐️ ⭐️ ⭐️ (5/5 Stars)
Summary:
"When Tate Collins meets airline pilot Miles Archer, she knows it isn't love at first sight. They wouldn't even go so far as to consider themselves friends. The only thing Tate and Miles have in common is an undeniable mutual attraction. Once their desires are out in the open, they realize they have the perfect set-up." (GoodReads)
My Review:
As I write this, Colleen Hoover (also nicknamed CoHo on BookTok), is allll the rage. TBH, I think it's well-deserved.
There are mixed emotions regarding Colleen Hoover books.
I, personally, cannot get enough of her books.
So far, I have read 4 Colleen Hoover novels:
I have all the rest on hold at my local library (except Layla – that's on my physical TBR shelf as we speak!).
Ugly Love currently rivals It Ends With Us for my #1 favorite spot. It is SO GOOD!
Ugly Love includes somewhat of an enemies-to-lovers trope, as well as the "brother's best friend" trope. Even though these aren't my favorite romance tropes, this book makes them WORK.
First of all, I love the two different perspectives throughout this book. The chapters jump and forth from Tate to Miles. Miles' chapters are recalling his past (and formatted center-spaced, which I found super creatively unique), while Tate's are focused on the present.
Also, the character development in Ugly Love is some of the best I've read in a long time. As I was reading, I was thoroughly invested in every single character – even the secondary characters.
Not to mention, the actual romance itself is heartbreakingly gorgeous. This book covers trauma, emotional unavailability, drama, scandal, friendships, etc. (There are even some pretty spicy scenes. Definitely a PG-13 book. 😉 )
All in all, Tate and Miles' story is one that stuck with me. It had me smiling, laughing, crying, and feeling ALL the feels. 10/10 recommend this book to all romance lovers.

My Rating: ⭐️ ⭐️ ⭐️ 💫 (3.5/5 stars)
Summary:
"Tiffy Moore needs a cheap flat, and fast. Leon Twomey works nights and needs cash. Their friends think they're crazy, but it's the perfect solution: Leon occupies the one-bed flat while Tiffy's at work in the day, and she has the run of the place the rest of the time.
But with obsessive ex-boyfriends, demanding clients at work, wrongly imprisoned brothers and, of course, the fact that they still haven't met yet, they're about to discover that if you want the perfect home you need to throw the rulebook out the window…" (GoodReads)
My Review:
Tiffy and Leon start out as complete strangers that end up having to share a flat (and a BED!). However, they work opposite shifts so they are in agreement to never be in the flat at the same time.
These two first start communicating through notes and post-its around the house. I love books that contain letters/notes/journal entries – and The Flatshare is largely centered around that!
I also love the back-and-forth point-of-view in books. The Flatshare is a constant back-and-forth between Tiffy and Leon's perspectives.
As a reader, it's so fun to feel like you're "in the know" on both characters' perspectives, even though the other character is not.
Overall, this book was super light-hearted, easy to read, and entertaining. It's a heartwarming story and the characters are super lovable!
Without Merit by Colleen Hoover

My Rating: ⭐️ ⭐️ ⭐️ (3/5 stars)
Summary:
"The Voss family is anything but normal. They live in a repurposed church, newly baptized Dollar Voss. The once cancer-stricken mother lives in the basement, the father is married to the mother's former nurse, the little half-brother isn't allowed to do or eat anything fun, and the eldest siblings are irritatingly perfect. Then, there's Merit.
Merit Voss collects trophies she hasn't earned and secrets her family forces her to keep…
Fed up with the lies, Merit decides to shatter the happy family illusion that she's never been a part of before leaving them behind for good. When her escape plan fails, Merit is forced to deal with the staggering consequences of telling the truth and losing the one boy she loves." (Read the full summary on GoodReads)
My Review:
I read this book in about 4 hours one night. It was a super easy, quick, and fun read.
I loved the story of Without Merit, but it is definitely not my favorite Colleen Hoover book. It most definitely wasn't BAD… I just felt the characters were a bit young for the novels I like to read. (They're high school seniors.)
This book covers a lot of important topics too. If you struggle with mental health, this book could potentially be triggering. I highly recommend looking into trigger warnings if you have specific topics that are difficult to read because this book covers multiple.
I enjoyed the beginning/middle of this book more than the end. It felt a bit forced/cheesy towards the end IMO.
However, all in all, good book. Easy read. Memorable story.
People We Meet on Vacation by Emily Henry

My Rating: ⭐️ ⭐️ ⭐️ (3/5 stars)
Summary:
"Poppy and Alex. Alex and Poppy. They have nothing in common. She's a wild child; he wears khakis. She has insatiable wanderlust; he prefers to stay home with a book. And somehow, ever since a fateful car share home from college many years ago, they are the very best of friends. For most of the year they live far apart—she's in New York City, and he's in their small hometown—but every summer, for a decade, they have taken one glorious week of vacation together.
Until two years ago, when they ruined everything. They haven't spoken since.
Poppy has everything she should want, but she's stuck in a rut. When someone asks when she was last truly happy, she knows, without a doubt, it was on that ill-fated, final trip with Alex. And so, she decides to convince her best friend to take one more vacation together—lay everything on the table, make it all right. Miraculously, he agrees.
Now she has a week to fix everything. If only she can get around the one big truth that has always stood quietly in the middle of their seemingly perfect relationship. What could possibly go wrong?" (GoodReads)
My Review:
I have a bit of an unpopular opinion here… This book really didn't do anything major for me.
Yes, it was a cute story and an entertaining read, but definitely not one of the best romances I've read.
This book is a friends-to-lovers trope (which I really do enjoy!).
People We Meet on Vacation follows Poppy and Alex through 12 years of friendship. About every other chapter is a flashback chapter to a previous trip they took together. The present moment mixed with the constant flashbacks felt a bit chaotic to me at times.
However, that's not the reason I didn't love this book.
I, personally, felt that this book was a bit too detailed in terms of setting/travel. If you want to read a story about travel adventures, this is a great choice. But I was much more invested in Alex and Poppy's relationship.
As I said, each flashback chapter details a different trip they've taken. I felt that there was too much emphasis on their trip itineraries and experiences when I really just wanted to hear more about THEM.
All in all, this book was cute. Great for a fun summer read. But not at the top of my recommendation list.
(That said, I have Beach Read and Book Lovers by Emily Henry on my TBR list! Very excited!)
Mystery/Thriller Books
I discovered my love for mystery/thriller books this month. Let me tell you, these books bring the SUSPENSE. These are some of my favorite books from this July reading recap.
The Woman in the Window by A.J. Finn

My Rating: ⭐️ ⭐️ ⭐️ ⭐️ ⭐️ (5/5 stars)
Summary:
"Anna Fox lives alone, a recluse in her New York City home, unable to venture outside. She spends her day drinking wine (maybe too much), watching old movies, recalling happier times . . . and spying on her neighbors.
Then the Russells move into the house across the way: a father, a mother and their teenage son. The perfect family. But when Anna, gazing out her window one night, sees something she shouldn't, her world begins to crumble and its shocking secrets are laid bare.
What is real? What is imagined? Who is in danger? Who is in control? In this diabolically gripping thriller, no one—and nothing—is what it seems." (GoodReads)
My Review:
I'll be honest. I almost gave up on this book just a few chapters in.
My sister recommended The Woman in the Window to me and, when I first started it, I was not convinced.
This book starts out by introducing multiple different families and, in my opinion, WAY too many characters. I got overwhelmed with names and families almost immediately.
BUT… my sister convinced me to keep going and I am SO glad I did.
The initial overwhelm of characters really does not matter in the long run. Anna (the main character) really focuses in on just a few key characters and the book ends up being relatively easy to follow.
So, if you're anything like me, don't let the rapid introduction of characters overwhelm you. Trust me. Stick with it.
Once I got into this book, I was INTO it.
This book is FILLED with scandal, mystery, shock, blood, gore, confusion, and thrill. I also am a huge sucker for an unreliable narrator – and this book has a great one!
The Woman in the Window has also been made into a movie on Netflix, so once you're done reading, you can enjoy the film too!
(But definitely read the book first – it's WAY better IMO.)
10/10 recommend this book. It's up there with some of my all-time favorite reads.
The Last Thing He Told Me by Laura Dave

My Rating: ⭐️ ⭐️ ⭐️
Summary:
"Before Owen Michaels disappears, he manages to smuggle a note to his beloved wife of one year: Protect her. Despite her confusion and fear, Hannah Hall knows exactly to whom the note refers: Owen's sixteen-year-old daughter, Bailey. Bailey, who lost her mother tragically as a child. Bailey, who wants absolutely nothing to do with her new stepmother.
As Hannah's increasingly desperate calls to Owen go unanswered; as the FBI arrests Owen's boss; as a US Marshal and FBI agents arrive at her Sausalito home unannounced, Hannah quickly realizes her husband isn't who he said he was. And that Bailey just may hold the key to figuring out Owen's true identity—and why he really disappeared.
Hannah and Bailey set out to discover the truth, together. But as they start putting together the pieces of Owen's past, they soon realize they are also building a new future. One neither Hannah nor Bailey could have anticipated." (GoodReads)
My Review:
Another unpopular opinion… I didn't think this book was all that great.
It was entertaining, sure. But I've seen this book hyped up on TikTok so many times. Maybe my expectations were too high because of that, but I was not as wowed as I thought I'd be.
In my personal preference, I don't enjoy reading in-depth details about legal situations or financial issues. Because of this, I found this book to be too legal-y.
The overall plot of this book was brilliant. I loved the storyline.
Personally, I got tired of the legal verbiage and financial terms. I wanted to hear more about the characters and feel less like I was sitting on a jury.
Because of this, I gave this book a 3/5. The plot was there, the story was great, and the characters were likable – I just wasn't blown away by this book.
In a Cottage in a Wood by Cass Green

My Rating: ⭐️ ⭐️ ⭐️ ⭐️ (4/5 stars)
Summary:
"A strange encounter…
Neve comes across a troubled woman called Isabelle on Waterloo Bridge late one night. Isabelle forces a parcel into Neve's hands and jumps to her death in the icy Thames below.
An unexpected gift…
Two weeks later, as Neve's wreck of a life in London collapses, an unexpected lifeline falls into her lap – a charming cottage in Cornwall left to her by Isabelle, the woman on the bridge. The solution to all her problems.
A Twisted secret…
But when Neve arrives, alone in the dark woods late one night, she finds a sinister-looking bungalow with bars across its windows. And her dream home quickly becomes her worst nightmare – a house hiding a twisted secret that will change her life forever…" (GoodReads)
My Review:
I picked up this book at random. Honestly, I was at the library looking for a John Green book. They didn't have any on the shelves… but they did have this book by CASS GREEN.
It looked intriguing and different, so I gave it a shot… and I AM SO GLAD I DID.
I read this book in under 2 days. Once you get into the plot, you just cannot set it down. It's creepy, interesting, chilling, and emotional all at once.
There are some touchy topics covered in this book, so beware if you are sensitive to any triggering topics.
This book starts off with a band and then continues to have plot twist after plot twist. Definitely a page-turner. I loved this book and if you like suspense/mystery/thriller books, you will too!
The Guest List by Lucy Foley

My Rating: ⭐️ ⭐️ ⭐️ ⭐️ (4/5 stars)
Summary:
"On an island off the coast of Ireland, guests gather to celebrate two people joining their lives together as one. The groom: handsome and charming, a rising television star. The bride: smart and ambitious, a magazine publisher. It's a wedding for a magazine, or for a celebrity: the designer dress, the remote location, the luxe party favors, the boutique whiskey. The cell phone service may be spotty and the waves may be rough, but every detail has been expertly planned and will be expertly executed.
But perfection is for plans, and people are all too human. As the champagne is popped and the festivities begin, resentments and petty jealousies begin to mingle with the reminiscences and well wishes. The groomsmen begin the drinking game from their school days. The bridesmaid not-so-accidentally ruins her dress. The bride's oldest (male) friend gives an uncomfortably caring toast.
And then someone turns up dead. Who didn't wish the happy couple well? And perhaps more important, why?" (GoodReads)
My Review:
Contrary to popular opinion, this book started out slow for me. I ALMOST gave up on it… but I ended up sticking with it (obviously) and ended up really enjoying it.
Essentially, this book is a drama/murder mystery that takes place at a wedding. Everyone is super intertwined and the relationships are MESSY.
One thing I really loved about this book is the point-of-view shifts with every chapter. We hear from the bride, the bridesmaid, the best man, the wedding planner, and the plus-one.
This keeps it super interesting because you get to see everyone's internal thoughts, feelings, and resentments.
I was torn between 3 and 4 stars for this book… In all honesty, it's probably about a 3.5. Let me explain why…
I wasn't BLOWN away by this book like I've heard others are since I read one that felt almost identical the month prior. This book was The Guilt Trip by Sandie Jones. Obviously, the stories have differences, but I felt the overall plot was super similar.
I enjoyed both books. They just were really similar to read almost back-to-back.
That said, if you enjoy The Guest List (which I bet you will) and you want a similar read, try out The Guilt Trip.
Personal Development & Self-Help Books
There is only one personal development/self-help book in this July reading recap. I was more into the fiction this month, but still wanted to get in a bit of self-improvement reading too!
The Untethered Soul by Michael A. Singer

My Rating: ⭐️ ⭐️ ⭐️ (3/5 stars)
Summary:
"What would it be like to free yourself from limitations and soar beyond your boundaries? What can you do each day to discover inner peace and serenity? The Untethered Soul offers simple yet profound answers to these questions.
Whether this is your first exploration of inner space, or you've devoted your life to the inward journey, this book will transform your relationship with yourself and the world around you. You'll discover what you can do to put an end to the habitual thoughts and emotions that limit your consciousness. By tapping into traditions of meditation and mindfulness, author and spiritual teacher Michael A. Singer shows how the development of consciousness can enable us all to dwell in the present moment and let go of painful thoughts and memories that keep us from achieving happiness and self-realization." (GoodReads)
My Review:
I'll be honest. I've read this before… a LONG time ago. Like, so long ago that I felt like I had never read it at all.
This book is super popular in the self-improvement/personal development space. I think I've even recommended it before too!
But, if I'm totally honest, I had a different perspective this time around.
I did not find this book to be that inspiring, enlightening, or empowering. At times, I even felt it to be invalidating and borderline "toxic positivity".
The ideas in this book are great, but I do think that it misses the mark on including the reality of mental illness (anxiety, depression, etc.). Sometimes you cannot just "mindset shift" or "mediate" your way to happiness.
I felt that this book oversimplified what it takes to "just be happy".
That said, I have a lot of respect for Michael A. Singer and I think he has some brilliant ideas. I just, personally, did not find this book to be overwhelming insightful or life-changing. (Maybe my expectations were too high?)
Memoir Books
I'm saving one of the best for last in this July reading recap. Memoir is not a genre I typically go towards… but this book was incredible.
Know My Name by Chanel Miller

My Rating: ⭐️ ⭐️ ⭐️ ⭐️ ⭐️ (5/5 stars)
Summary:
"She was known to the world as Emily Doe when she stunned millions with a letter. Brock Turner had been sentenced to just six months in county jail after he was found sexually assaulting her on Stanford's campus. Her victim impact statement was posted on BuzzFeed, where it instantly went viral–viewed by eleven million people within four days, it was translated globally and read on the floor of Congress; it inspired changes in California law and the recall of the judge in the case. Thousands wrote to say that she had given them the courage to share their own experiences of assault for the first time.

Now she reclaims her identity to tell her story of trauma, transcendence, and the power of words. It was the perfect case, in many ways–there were eyewitnesses, Turner ran away, physical evidence was immediately secured. But her struggles with isolation and shame during the aftermath and the trial reveal the oppression victims face in even the best-case scenarios. Her story illuminates a culture biased to protect perpetrators, indicts a criminal justice system designed to fail the most vulnerable, and, ultimately, shines with the courage required to move through suffering and live a full and beautiful life.

Know My Name will forever transform the way we think about sexual assault, challenging our beliefs about what is acceptable and speaking truth to the tumultuous reality of healing. It also introduces readers to an extraordinary writer, one whose words have already changed our world. Entwining pain, resilience, and humor, this memoir will stand as a modern classic." (GoodReads)
My Review:
Wow.
That's the first word that comes to mind when I think about this book.
Chanel Miller is an incredible author, artist, and human being. The strength, resilience, and passion in this novel brought me to tears on multiple occasions.
When I read this book, I did about a 50/50 split between the hard copy and the AudioBook (read by Chanel herself). Both forms of reading were incredibly moving.
This book is the story of Chanel's sexual assault case. Hearing her share her story through her own words was eye-opening in so many ways.
I laughed and I cried throughout this book. I felt sadness, rage, anger, and disgust – but I also found joy, hope, and strength in this book.
Chanel extends this book beyond her own sexual assault story and makes statements regarding sexual assault in general and the way it is approached and addressed in society, in court, and in life.
I truly believe this is a book that everyone should read.
Chanel is someone I look up to – for many reasons. I cannot say enough good things about her or this book. I'd give this 10/5 stars if I could.
Shop My July Reading Recap
See something that interests you? Here are all 10 of the books included in this July reading recap:

What Am I Reading Next?
I'm so glad you're here for my VERY FIRST monthly reading recap on Authentically Del. I am hoping to make this a continuing series here as I read more and more books.
My birthday was at the end of July (the 30th) and I got a KINDLE! I'm so excited!
That said, I will likely be reading even MORE in the months to come. Stay tuned for more reading recaps, book reviews, and recommendations.
I'd also love to hear from YOU.
Do you enjoy these recaps? Are you going to be reading any of the books from this July reading recap? Do you have any book recommendations for ME?
Let's talk all things books in the comments below!
Happy August and Happy Reading, my fellow bookworms! Talk soon!
MORE READING POSTS
20 Books to Read if You're Single in Your 20s