This post contains affiliate links meaning that, at no additional cost to you, I make a small commission if you purchase through my links. For additional information, visit my affiliate disclosure. 
The most beautiful thing about the Thanksgiving holiday is the reminder to practice gratitude and count your blessings. These 50 Thanksgiving journal prompts can help you reflect on all there is to be thankful for.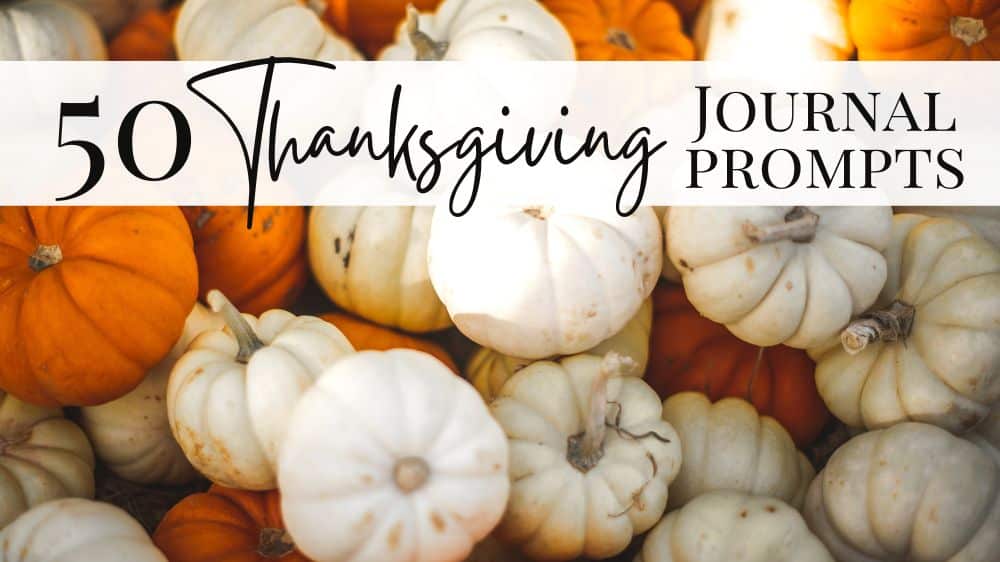 I absolutely love the concept of Thanksgiving. As someone who does their best to focus on gratitude all year long, a holiday dedicated to thankfulness is right up my alley!
For the past few years now, I have been dedicating my Thanksgiving morning (before the big feast 😉 ) to slowing down and doing some Thanksgiving journaling.
I gratitude journal often, but Thanksgiving journaling goes even deeper than my daily gratitude.
This can be a bit overwhelming if you don't have a prompt or direction to guide you. This is what initiated my brainstorming process for Thanksgiving journaling prompts.
I went to Google to find the best Thanksgiving journal prompts. There were lots – but most were for school-aged children and in-class assignments! I struggled to find Thanksgiving journal prompts for adults.
So, I figured… Why not create my own list of adult journal prompts for Thanksgiving?
And that's what brought us here today!
Thanksgiving Journaling Themes
There is a HUGE variety of things to journal about regarding gratitude. Within this list, you'll find a variety of Thanksgiving-themed prompts.
These prompts focus extra on all things related to the Thanksgiving holiday:
Family
Friends
Food
Nature
Holiday
Daily Blessings
This helps keep the Thanksgiving vibes strong and prominent through these journal prompts.
50 Thanksgiving Journal Prompts for Adults
Finally! Let's jump into these prompts…
List 10 things you are grateful for in your life.
Write a letter to one person that you are thankful for.
What is your best Thanksgiving holiday memory from childhood?
What does Thanksgiving mean to you?
What is your favorite part of Thanksgiving dinner? (Food, family, friends, etc.)
If you could build your ideal Thanksgiving dinner guest list, who would be on it?
Look around you right now. What physical things do you see that you are grateful for?
How do you practice gratitude/thankfulness in your daily life?
How can you add gratitude/thankfulness to your daily life?
What life experiences or challenges have taught you gratitude?
What challenges have you faced that you are grateful for now?
Make a list of the people in your life whom you are thankful for.
What would your ideal Thanksgiving dinner spread include?
What abilities do you have that you are thankful for?
Which opportunities in your life make you feel gratitude?
How can you express more gratitude for those around you?
Is there any stress or negativity surrounding Thanksgiving? Where does this stem from?
As a kid, what was your favorite part of the Thanksgiving holiday?
How has Thanksgiving changed for you from childhood to now?
What is your favorite part of Thanksgiving as an adult?
Living or dead, you can invite one person to your Thanksgiving dinner table. Who is it?
What lessons have you learned since last Thanksgiving that you are grateful for?
List the good things that have happened to you in the past year.
How does gratitude enrich your life?
In what ways do you express gratitude to those you love?
In what ways do you feel gratitude from those around you?
What is your favorite part of the fall/early winter season?
Do you have any family traditions surrounding Thanksgiving? When did they begin?
What are you most looking forward to for the rest of the year?
What does your Thanksgiving look like this year? Is there anything unusual occurring this year? How do you feel about your Thanksgiving plans?
What emotions does Thanksgiving bring up for you? (Gratitude? Nostalgia? Memories? Etc.)
List the things you appreciate about nature.
What do you know about the history of Thanksgiving?
What things are you thankful for regarding your job/work life?
If someone asked you what the biggest blessing from this past year was, what is the first thing you think of?
What is something unique about your family in the way they celebrate Thanksgiving?
What childhood traditions surrounding Thanksgiving do you/will you carry on with your own family?
Do you prefer a small, intimate Thanksgiving or a big, extravagant celebration?
What Thanksgiving dish do you hate? Describe it.
What does being thankful mean to you? Is it a daily act? Emotion? Both?
What is your favorite part of fall?
What does your Thanksgiving weekend entail? Black Friday? Christmas decorations? Football? Relaxation? Etc.
What tangible objects do you own that you are grateful for? Why?
What places are you most thankful for? Why?
What small, simple everyday joys are you thankful for?
Who feels like a blessing in your life?
How can you be a blessing in the lives of those around you?
Describe your best Thanksgiving in detail. What made it great?
How can you plan to practice more gratitude in your life?
Describe your ideal Thanksgiving in detail.
Which Thanksgiving Journaling Prompt Idea Will You Use?
This Thanksgiving season, what will you choose to journal about? Will you use a prompt on the list? Maybe you'll modify it. Or maybe you make up your own Thanksgiving journaling prompt altogether.
No matter how you choose to journal this Thanksgiving, keep the tone of gratitude and thankfulness. There is so much out there to appreciate.
This Thanksgiving season, I want you to know I am thankful for YOU. If you are here reading this now, you are on my list of blessings. Thank you for the support and love that you show me and AuthenticallyDel.com.
Much Love,
Del