This post may contain affiliate links meaning that, I may make commission if you purchase through my links. Learn More. 
If you have upcoming plans on your calendar that you are dreading already, these 35 totally believable excuses can help you get out of your plans – without hurting anybody's feelings!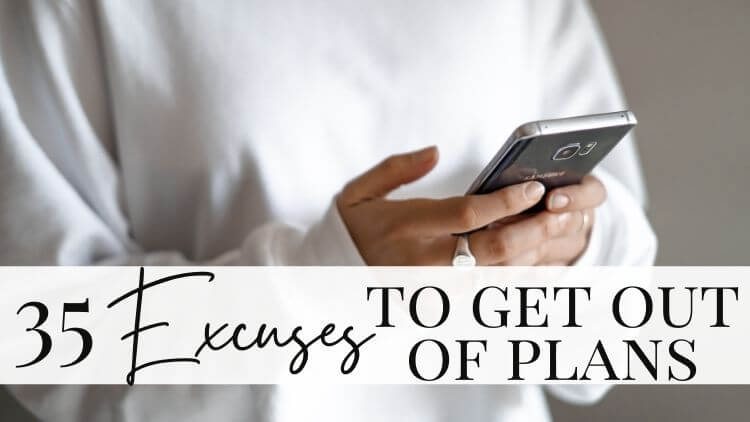 So you've committed to some plans. Maybe you were in an unusually extroverted mood one day and now you have #regrets! (Been there!)
Or maybe you never wanted to go but felt too bad to say no at the time. (Where are my fellow people pleasers?)
But now, you're sitting in your bed in your sweatpants with greasy hair and no desire to get up, get ready, or socialize.
All you want to do is order some take-out and eat it while you binge-watch the FRIENDS marathon on TBS. Joey and Chandler are the only friends you feel like seeing tonight.
You pick up your phone to see the dreaded text, "Are we still on for tonight?"
Ugh! Now what? How do you get out of plans without hurting your friend's feelings?
Maybe you even curse your own name for ever feeling social enough to make the plans in the first place.
What were you thinking?! (😉)
Luckily, as an intensely introverted person myself, I've excused my way out of my fair share of plans and I can help you do the same.
If you are looking for a convincing and believable excuse to get out of plans, you've come to the right girl.
I've used just about every plan-escaping excuse in the book.. and here they are.
35 Foolproof Excuses to Get Yourself Out of Plans
The type of excuse you need will depend on how far in advance you committed to your introversion.
If you have a day or two until the plans, your excuses are going to look a little bit different than if you are supposed to be on the way to the plans.
Since I know that post-plan-making dread can hit at any moment, I've included excuses for both instances! (Thank me later.)
15 Excuses to Get out of Plans in Advance
These excuses are great for when you check your calendar on Wednesday and see that you committed to a Friday night out on the town.
You're exhausted, overwhelmed, and just want to eat popcorn on your couch. You already know that Friday is a no-go.
Here's how to politely excuse yourself from the plans in advance.
"I'm feeling sick." This old excuse never fails. 1-3 days in advance works great since you'll likely still be "feeling sick" by the time the plans roll around.
"A work thing came up." Totally believable. It happens all the time! Your boss sprung an unexpected project on you that's going to have you working some extra hours. Darn.
"I have surprise family coming into town!" Bonus points if you play it off like you're dreading this and would much rather stick to your original plans with them.
"I totally forgot it's my bro-in-law/cousin/dad/guinea pig's birthday." Try to choose someone that's extended enough that it's believable that you'd forget… but close enough that you'd still be celebrating.
"OMG. I already had plans with my sister/mom/friend/etc. that I totally spaced when we made ours!" Darn, you're such an airhead! Guess you gotta cancel. #SoSad
"I actually have an appointment that I totally forgot about." You're really forgetful, ya know? (Maybe don't use all these in a row… they might start to worry about you.)
"My (someone you live with) is actually feeling pretty sick. I might have to stay back to care for them." You are such a selfless person… really.
"I might've been exposed to the flu. I think I'm gonna lay low until I know I'm in the clear." Respectable.
"Work has me SWAMPED. I think I'm going to be working late." You are such a hard worker. (Yes, binge-watching FRIENDS counts as work.)
"I'm really exhausted this week. I don't know if I have it in me to go out." Fair enough.
"I've had an emotional week. I'm going to have to cancel." This is often really honest for me. A good friend will more than understand.
"After thinking more, I decided that I don't really feel like going out right now." Again, totally reasonable for a variety of reasons.
"My sister/friend/etc. just asked me for help (doing something – moving, etc.). Any chance we can reschedule?" Not the best… but hey! You're helping out a loved one. It works.
"My car is going into the shop." Ugh. Don't ya hate imaginary car problems?
"I don't feel like going." When in doubt, honesty is the best policy. Maybe they even feel the same way!
20 Excuses to Get Out of Plans Last Minute
Your plans are rapidly approaching and the dread of leaving your couch is only growing. These are 20 excuses to get out of plans that you can use as a last-minute attempt to salvage your night of solitude, take-out, and PJs.
"I'm not feeling well." Again, this is the oldest excuse in the book… but it works like a charm.
"I can't find anyone to watch my kid/puppy/etc." I shamelessly used my new puppy as a plan-escape for months. #SorryNotSorry
"There's a family/friend/pet emergency." TBH, I don't use this one just because I don't like putting out those vibes, but you do you.
"OMG. I TOTALLY FORGOT!" Darn! Our plans totally spaced my mind (I definitely haven't been stressing about them all day) and now I can't make it!
"I work really early tomorrow." Any chance we can do another night? I have to be up super early. Ugh!
"I threw up…" This is a surefire way out of plans. No one likes a puker.
"I have a migraine." Headaches are miserable. Hopefully, your friend will sympathize with this excuse.
"I have so much to do around the house." Too overwhelmed with housework – a classic excuse.
"I hurt my back/ankle/hip/etc. on my run today." Another excuse that's risky… be cautious of jinxing yourself.
"I'm super exhausted." Fair enough. And not a lie. We've all been there.
"I don't feel like people-ing." If your friend is a fellow introvert, they will totally get this.
"I'm having car troubles." FYI – this excuse has holes. They may offer to pick you up. I learned from experience. SMH… rookie mistake.
"I don't really have the money." Again, potential holes here. They may offer to pay. In which case, you have some nice friends. Go see them. 😉
"I've had a really bad day." Hopefully, they don't go all supportive and want to talk you through it.
"I went too hard last night." They don't have to know that last night was spent in sweats with a large pizza all for you and your dog.
"I got caught up at work." A pretty boring excuse, but it works.
"I'm stuck in traffic!" Be sure that they can't fact-check you or you'll be #caught
"Something came up." It's vague and not the best excuse, but it works in a pinch.
"I'm feeling a little under the weather." Tell them that you won't be much fun since you feel a bit blah. Really, you're just looking out for them.
"I don't want to." When in doubt, honesty is the best policy.
5 Friendship-Saving Tips When Making Excuses
At the end of the day, making excuses to get out of plans is usually caused by a goal of not hurting the other person's feelings. Even though it's genuinely nothing personal to them, making excuses can leave the other person feeling bad.
Here are a few tips to avoid hurting the feelings of those you are canceling on when making excuses.
1. Make Sure You Really Want to Cancel the Plans
As an introvert, I know that I often really dread plans beforehand but, once I'm there, I'm glad I went. If you're building the plans up in your mind to be something way worse than they are, maybe give yourself a reality check.
Will you enjoy yourself once you're there? Did you have fun the last time you saw this person? Would some social interaction be good for your mental health?
If you ask yourself these questions and still deem that you really don't want to go, that's okay too! Do what's right for you. Proceed with your excuses.
2. Apologize
If you're anything like me, you probably do genuinely feel bad for canceling plans. Let the other person know that. Be sincere in your apology.
After all, they did set aside time in their day just for you. Let them know that you are sorry to cancel. Be genuine and kind.
3. Offer to Reschedule
ONLY if you won't cancel again. If you know that you don't want to commit to future plans, maybe opt to not reschedule at this time.
Being ditched once is one thing… but if you cancel on them a second time, they might get suspicious about your excuses for getting out of plans.
4. Call Don't Text
If possible, it's always nicer to call than text when you're ditching plans with someone.
It's kinda like breaking up with someone over text (okay, maybe a little less intense). Calling feels a bit more respectful and less like you're brushing them off.
5. Offer to Pay
If ANY money was invested in these plans by the other person (tickets, accommodations, reservations, etc.), you should be offering to pay for the canceled plans.
NOT cool to cancel on someone and have them be out the time and money.
Notes About Using Excuses to Get Out of Plans
Believe me, I genuinely wish I didn't have to make excuses to get out of plans. I wish there was some universal rule that we could drop plans without it meaning anything deep or personal.
It's genuinely (almost) NEVER about the other person and more about me and my introverted tendencies. In my dream world, we could all just understand this.
That said, that's not always the case. People don't always take kindly to being canceled on (hence the need for these phony – but believable – excuses).
Whether you are the excuse-maker or the one being dished the excuse, these are some notes to keep in mind.
Don't Take it Personal
Truly. If someone cancels on you, try to not take it personally. I have used excuses to get out of plans with some of the people I love the most. Sometimes we just don't have it in us to be social or active.
If someone consistently makes excuses, consider having an honest conversation with them. Ask them why. If you worry it's personal, ask!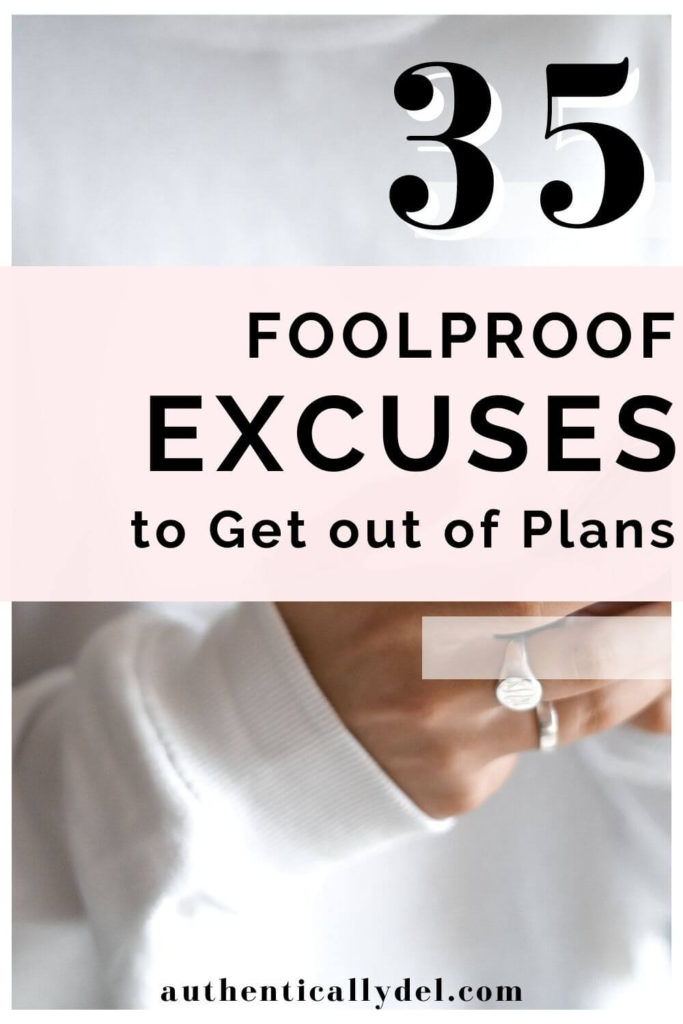 Excuses Are Not Foolproof
If you're going to make an excuse to get out of plans, beware that there's a chance you'll get caught in a fib.
For example, say you tell them you have to take your dog to the vet… but the vet is closed that day. #Busted
Or you stretch the truth about traffic, but their GoogleMaps says the roads are wide open. #Caught
If this happens and there are loopholes or mistakes in your excuse, you risk doing more damage than just being honest.
People (myself included) don't like being lied to. Even though our intent is to save their feelings, finding out they've been given an excuse may make them feel even worse.
Honesty is the Best Policy
Most people will agree: honesty is the best policy.
Even though I just listed 35 (incredibly clever and believable) excuses to get out of plans, the best excuse to give isn't an excuse at all… it's the truth.
In the past couple of years, I've adopted telling the truth more to get out of plans – no excuse needed.
As an introvert with anxiety, there are many times I just don't want to follow through with plans. Owning that as my truth and letting the other person know why I honestly want to get out of our plans has been my new goal.
9 times out of 10 the other person is really understanding.
If they're not, they may not be a great friend to you. As long as you are canceling for reasons that are not offensive or damaging to the other person, they should be willing to hear you out if you're honest.
Sticking to plans is not always the best option.
Sometimes the best option really is to care for yourself and stay home. If your mental health needs some TLC, give it that care. Opt for a self-care night or a fun night at home by yourself.
Mental health first. Your friends should understand that too!
What's the best excuse to get out of plans that you've ever heard?
Maybe you've given it or maybe it's been given to you… what's the best or funniest excuse you've ever heard?
Leave it in a comment below to make me smile.
After all, this post is silly and lighthearted. We've all been excuse-makers and excuse-receivers at one point or another. 😉
---