This post may contain affiliate links meaning that, I may make commission if you purchase through my links. Learn More. 
On the hunt for some good afternoon snacks to boost energy? I got you covered! Take care of that rumble in your tummy and your afternoon energy slump with these delicious, energy-boosting, best afternoon snacks.
When that afternoon slump creeps up, one of the first things I like to do is reach for some of my favorite afternoon snacks for energy.
The afternoon slump usually hits us around 1 p.m. to 3 p.m. It is no coincidence that it falls right in between lunch and dinner. Our energy from lunch is wearing off and we have a ways to go until dinner time. This is when it is most essential that you pick the best energizing afternoon snack for you.
Whether it be a more extensive snack that you take time to prepare or a quick grab-and-go snack, it is important that you know all the good afternoon snacks for energy.
I have found that these are some of the best foods to eat in the afternoon. It's time to snack smarter, not harder. 😉
This post is all about the best afternoon snacks for energy.
What Makes a Good Afternoon Snack?
1. Filling
Any good afternoon snack should be FILLING! What's the point in reaching for a snack for energy if you are just going to be reaching for another one 10 minutes later?
Snacks that are highly processed, high in sugar and refined carbs will likely not keep you full for long enough to power through to dinner. For example, chips, cookies, fruit snacks, and other standard packaged foods of the sort are not the best afternoon snack ideas. While they are definitely delicious and there is a time and a place for them to be enjoyed, when you need a snack to boost your energy, they are not the best option.
Instead, grabbing more whole foods or foods rich in fiber, protein, and healthy fats can keep you fuller for longer! (And they can be just as delicious!)
2. Nutritious
That leads me right into this next must-have quality for the best afternoon snacks for energy: they should be NUTRIENT DENSE!
Nutritious snacks are not only going to keep you a lot fuller, they are going to give you that natural boost of energy that you are searching for. Nutritious snacks don't have to complicated either… it really just comes down to a basic understanding of what fuels your body best and gives you the most energy to power through your day!
Luckily, you don't have to stress about it. All of my favorite afternoon snacks for energy that I will be sharing are nutritious (and delicious!).
3. Satisfying
I think this is the biggest mistake I see people make when choosing an afternoon snack (or any snack): they do not reach for foods that are really going to SATISFY their needs and desires.
Did you know that there's more to food satisfaction than just taste and fullness?
Yup… you can be full and enjoy your food without being satisfied. There are tons of satisfaction factors that come into play when finding the right snack.
Texture
Temperature
Smell
Taste
Hunger Level
Nutrient Density
Appearance
ALL of these actually affect how satisfying and fulfilling your snack is! For more info on choosing satisfying foods, I found this article is super informative. Check it out if you want to know more about how to choose good afternoon snacks!
4. Convenient
Convenience matters! Especially when looking for the best afternoon snacks. Midday snacks might mean you are looking for snacks at work, snacks on the go, or quick snacks. We all know how busy life can be in the afternoon… sometimes the last thing we want to do is spend time on food prep.
Having convenient snacks on hand is the perfect way to ensure you have the best afternoon snacks available to prevent that midday energy crash (and hangry moods!).
Whether this be taking some time to package and prepare some homemade energy-boosting afternoons snacks or finding the best store-bought energizing snacks, convenience is key.
5. Delicious
Last but definitely not least, we have to pay attention to the TASTE of our snacks.
No one wants to eat a mediocre snack. As we mentioned above, taste is a key element in satisfaction. Not only will less-than-desirable snacks leave you unsatisfied, they will likely not give you the motivation and fulfillment that you need to boost that afternoon energy.
When looking for the best afternoon snacks for energy, rest assured that you do not have to sacrifice taste! All of these healthy afternoon snacks are sure to rejuvenate you and taste great!
Best Homemade Afternoon Snacks for Energy
Energizing Snack 1: Energy Balls
I am not a huge meal-prep girl but this is something that I actually do love to prep for the week. Energy balls are so delicious, nutritious, and filling.
There are so many different energy ball variations, too! From switching up the base to swapping out the mix-ins, you can create so many combinations that you are sure to never get bored of them.
This PB Oat Ball recipe is one of my favorite bases and then I can add any mix-ins I want!
Some of my favorite flavor mix-ins are:
PB Chips
Chocolate Chips
Craisins
Raisins
Nuts
Pretzel Pieces
White Chocolate Chips
Freeze Dried Fruit
Coconut
Rice Krispies
See what I mean? The options are endless!
Top Recipes:
PB Chocolate Chip Energy Balls (my favorite flavor), Vegan Chocolate PB Energy Balls, and Pistachio Date Balls (a great no-oat option)
Energizing Snack 2: Homemade Crackers/Chips and Hummus
This sounds WAY more difficult than it really is. When you make your own crackers or chips, you can pack in the nutrients and make them super energizing and good for you! (Plus they're fun!)
You can eat these all on their own or pair them with a healthy dip! Pairing homemade crackers or chips with some hummus is the perfect way to round out a good afternoon snack and hit all the nutrient groups. I have recently started making baked crackers at home and, not only do I enjoy doing it, but they taste better than ANY store-bought crackers (and they're healthier too!).
Give this a try!
Top Recipes:
Energizing Snack 3: Overnight Oats
When I make overnight oats, I typically make them a bit heartier, balanced, and nutrient-dense so I can make a full meal out of it (aka breakfast). But overnight oats can make the perfect option for a good afternoon snack too!
Much like the energy balls, the versatility of overnight oats is incredible! Adding different fruit mix-ins, different toppings, and different flavorings can make it so you never feel like you're eating the same thing on repeat. I seriously never get bored of eating overnight oats cause they're always just a bit different.
To get you started, here are some of my favorite flavor combos:
Blueberry + Vanilla
Apple + Cinnamon
PB + Banana
Chocolate + Coconut
Strawberry + Vanilla
I usually rotate between those 5 variations.
Oats are a GREAT carb source for energy. To balance this out, I always make sure to add in a protein source too. I never make overnight oats without a scoop of my favorite Vanilla Premier Protein. It sweetens them up perfectly and adds just the right amount of flavor. Not to mention, the protein keeps me full and energized!
Top Recipes:
PB Cup Overnight Oats (SHH has some of my FAVORITE recipes! Check her out!)
Energizing Snack 4: Trail Mix or Snack Mix
Can I get a "whoop whoop" for how EASY this one is?
I prefer making my own trail mixes though so I can customize what I want and how much of everything I want.
Aka I can have a 3-1 M&M to nut ratio. Kidding! … Kinda. 😉
But seriously, grab your own nuts, dried fruit, and a sweet treat of choice (I like M&Ms and PB Chips), and make an at-home trail mix for the best afternoon snack!
Recipe: Savory Snack Mix (this one is less "trail mix", more Chex Mix and I LOVE IT)
Energizing Snack 5: Homemade Granola Bars
This is like oat ball meets cookie meets childhood Chewy granola bar nostalgia meets HEALTH… and I'm here for it!
If you've never made your own homemade granola bars, you HAVE to… They make the BEST afternoon snacks (even though I say that for everything, hahaha! I'm a foodie!).
Try these! That's all I have to say here.
Top Recipes:
Homemade Granola Bars (GF, DF)
Energizing Snack 6: Healthy Cookies
You're telling me you're going to turn down a COOKIE that is packed with all the nutrients and energy to give you that afternoon pick-me-up?
Yeah, I think not.
Becoming an adult has taught me that cookies are the answer ANY time of the day (not just for dessert). 😉
I love to find cookie recipes that are a bit more nutrient-dense to choose for a good afternoon snack.
Here are some of my favorite options:
Top Recipes:
Flourless PB Chocolate Chip Cookies
Cranberry Chocolate Chunk Cookies
3 Ingredient Banana Oat Cookies
Energizing Snack 7: Muffins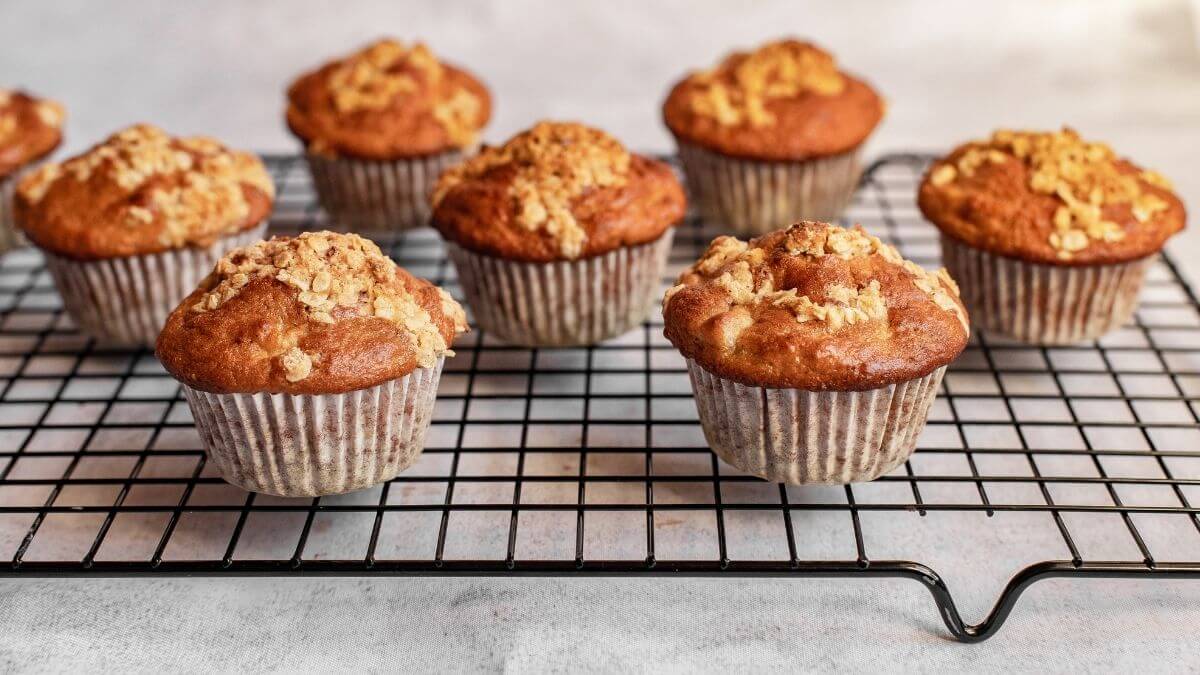 Much like the cookies… I know what you're thinking. Muffins are a HEALTHY afternoon snack?
Yup. They are!
Well… they CAN be!
I love to make some healthy muffins at the start of each week and then eat them as snacks or a tasty addition to breakfast! They feel like such a treat while still giving me all the nutrients and energy I need!
Whether you like blueberry, apple, zucchini, chocolate, banana, or more… there is a healthy snack muffin option out there for you.
One of my favorite tips for healthier muffins is using Kodiak Cakes as the base. There are tons of Kodiak Cake Muffin recipes and they are totally delicious and packed with protein and nutrients for an energy-boosting afternoon snack.
Top Recipes:
Kodiak Cake Blueberry Power Muffins
(Side note: Kodiak Cakes also has their own muffin mix… They are super yummy! I just think it's fun to make my own sometimes. 😉 )
(There are lots more flavor options for both of these variations! Yum!)
Energizing Snack 8: Roasted Chickpeas
These have been my new obsession! I absolutely love chickpeas on salads and in nourish bowls so I figured why not make them a snack?
You have probably seen roasted chickpeas at the store. But I love to make these at home because of how many flavor variations you can make. Ranch, garlic, bbq, miso, chile lime, parmesan… there are so many options! You can even make them sweet and go for some cocoa chickpeas. Trust me, they're WAY better than you'd think.
Roasted chickpeas make SUCH a good afternoon snack for energy because of how nutritious and satisfying they are. All the health benefits and a satisfying crunch? Yes, please!
Recipe: Oven-Roasted Chickpeas 4 Ways
Quick and Easy Roasted Chickpeas
Energizing Snack 9: Smoothie
Ah my beloved smoothies.
In my life, smoothies are an entire food group. I am not lying when I tell you that I rarely go one day without a smoothie. Whether it be for breakfast, dessert, or that afternoon snack pick-me-up, smoothies are essential in my diet.
I love how quick, easy, and simple they are too. Throw some stuff in a nutribullet, screw on a lid, push down, and BOOM! Hot (or cold 😉 ) to go!
This is the blender that I use personally. It blends so fast (and QUIET!!). Being quick and quiet is a MUST for me since I tend to make smoothies at night when my entire house is asleep. LOL! Oops!
Smoothies are one of the easiest ways to pack in nutrients. I like to fill mine with fruits, veggies, protein, and often a fat source, making it one of the best afternoon snacks for energy.
My current go-to recipe is:
frozen zucchini (makes it SO creamy and you don't even taste it!!)
strawberries
dragon fruit
ice
Bai coconut drinks (my secret ingredient for the best smoothies)
vanilla protein
chia seeds (sometimes!)
PB (usually added on top!)
If you are home or have access to a blender, smoothies make the best afternoon snacks for an energy boost. This is probably my #1 favorite on this list! (Shh… don't tell the others!)
Energizing Snack 10: Chia Seed Pudding
Okay, I won't lie. This is a newer one for me. I used to hate the texture of chia seed pudding and could never get the flavor quite right.
But I am happy to say that I have finally mastered the art of chia seed pudding. LOL!
I always would see people post about how much they loved it and I felt so left out. Now I can join their party.
I honestly make this super similar to overnight oats. I will add chia seeds, some flavor (protein powder, cocoa powder, syrup, honey, etc.), oftentimes yogurt, some milk, and then some mix-ins!
Recipe: 20 Easy Chia Seed Pudding Recipes
But do you want to know what makes this chia seed pudding such a good afternoon snack? Get ready for my secret ingredient!
PUDDING MIX! This is a total game-changer. As I said, I never used to like chia seed pudding until I started adding in pudding mix for flavor!
Some of my favorites are:
chocolate
white chocolate
banana cream
vanilla
These make such a smooth texture AND such a delicious flavor. If you're not a chia seed pudding fan, definitely give it another shot with some pudding mix. Trust me, I just changed the game. 😉
There you have 10 of the best afternoon snacks for energy!
SAVE FOR LATER:
More Posts I Think You'll LOVE:
How to Beat the Afternoon Slump
180+ Simple Dinner Ideas to Save Time
How to Make Better-Than-Starbucks Coffee at Home
These energizing afternoon snacks are the BEST ways to beat the afternoon slump and silence that post-lunch stomach growl. Not only are these snacks nutritious and sure to give you the energy to push through the rest of your afternoon, they taste incredible too!
Give these healthy midday snack ideas a try and let me know your favorite in the comments!
Happy afternoon snacking!