This post contains affiliate links meaning that, at no additional cost to you, I make a small commission if you purchase through my links. For additional information, visit my affiliate disclosure. 
Learning how to make coffee at home can feel like too much work when you don't know where to start. But, luckily, it is actually SUPER easy (and oftentimes even more delicious)! I'm going to show you how to make coffee at home like a pro barista, no training needed.
Who here spends WAY too much money on coffee?
Guilty.
I promise you're not alone in that, haha!
But luckily, learning how to make coffee at home is actually SUPER easy! It's pretty fun too TBH!
For a long time, I was afraid that making my coffee at home wouldn't taste as good or feel as special. BOY WAS I WRONG!
I'd say 9 times out of 10 I actually prefer my homemade coffee over my $5 (or more!) drink at Starbucks. You may not believe me, but just hear me out.
After you learn all the steps for how to make coffee at home, you will 100% agree with me! It's even more delicious and WAY cheaper.
The money I've spent at Starbucks makes me CRINGE. $5 here, $7 there… it adds up! I'd bet that I was spending over $100/WEEK at Starbucks before I learned how to make coffee at home. YIKES!
Yet another reason that learning how to make coffee at home is such an amazing skill! Let's get into it!
This post is all about how to make coffee at home.
How to Make Coffee at Home
Step 1: The Base
Whether this be hot coffee, iced coffee, cold brew, or iced tea… you obviously gotta have the base to get anywhere.
You can find all of these things at your local grocery store (I always get mine at Walmart or Target) or on Amazon! There are a ton of different options.
Coffee:
As far as coffee goes, there are actual jugs at the grocery store that are Starbucks brand if you want to keep it super Starbucks-official. That said, there are also brands for a lot cheaper that taste practically the same… I hate to say it but you are sorta just paying for the"Starbucks" name when you buy their brand. Other brands can be just as good!
There are also different forms… there are big jugs, small bottles, cans, powders, instant mixes. There are also sweetened and unsweetened versions of almost everything too! You name it, they have it! It can get a bit overwhelming but, honestly, it just comes down to personal preference in taste and ease.
There is even an option for you to make your OWN iced coffee at home from scratch with coffee grounds! I'll get into that later though… we don't have to add that to our plate (or cup😉) just yet.
For me, I find that I like the big pre-made jugs of unsweetened iced coffee/cold brew the best (I like to add my own flavor!). It tastes great and it is so easy to just pour and go! Some of my friends prefer powdered sweetened mixes. I'd say just dedicate some time to exploring your options and testing some out to see what works best for you!
Tea:
Where all my fellow tea-lovers at?! Holla, girl! I'm with ya!
I love hot tea on a cold day and iced tea pretty much any day… LOL!
As a former Starbucks barista, I can confirm that they use Teavana teas (I linked two of the most popular sellers)! So if you want to keep it on-brand, Teavana is the way to go! And, lucky for you, there is ZERO shortage of options.
As far as brewed teas go, you can get every single option that Starbucks has in-store and MORE on Amazon. One whole container of 15 PACKETS on Amazon costs about $7… that's like TWO Starbucks teas. Just let that soak in (tea bag pun intended😉).
Now, let's get to my favorite part… ICED TEA!
Teavana also has some great iced tea options but, personally, I'm not too worried about the brand. I don't notice a huge difference and would rather just get whatever is cheaper. LOL!
My favorite is Pure Leaf black or green tea. I have been able to make something nearly IDENTICAL to my Starbucks iced tea order with these.
(If you're wondering, I get an unsweetened green iced tea with one stevia, vanilla, and light coconut milk! *Chefs Kiss*😘 )
Last (but DEFINITELY not least) I have found the BEST Chai Tea Latte mix. I LOVE it. There's a lot of different varieties too!
I'm not a matcha gal but they have matcha green teas and matcha lattes as well!
Similar to iced coffee, you wanna get REAL fancy-schmancy, you can actually steep your own tea… but, as I said, I'll dive into that later.
Step 2: The Add-Ins
Now, THIS is the fun part. This is where you really get to customize your drink and take it from a coffee to a whole masterpiece. (No, I'm not being dramatic… coffee is just THAT important to me.)
For me, my add-ins include some sweetener, sugar, or syrup, and some cream/milk.
If I'm going to add sugar to my coffee or tea, I stick to the same brand of stevia that Starbucks has: WHOLE EARTH Stevia/Monkfruit blend. It doesn't have that gritty texture or aftertaste that I feel like most sugar has.
My FAVORITE syrups to add to coffee at the "Skinny Syrups" (even though I really don't like the brand's name). They just have SO many flavor options. I always buy them at TJMaxx but they are all over Amazon too!
Vanilla, caramel, pumpkin spice, peppermint bark, salted caramel, mocha, white mocha… oh my goodness! They have it all! I think Caramel Pecan might be my all-time fave though! If you can get your hands on it, you have to try it!! It reminds me of my favorite holiday Starbucks syrup (chestnut praline). YUM!
There are also actual "Starbucks" brand syrups that you can buy if you want to stay on that Starbucks vibe. Maybe my pallet is just dull or something but I hardly notice a difference between brands but my mom swears by the "Starbucks" brand syrup only! Again, TOTAL personal preference!
As for creamer, I personally use Premier Protein drinks as my cream… I love the subtle touch of flavor that it adds! Caramel and Vanilla are the best!!
But you can use any creamer/milk/milk alternative you want! I feel like everyone has their set coffee creamer that they love so just stick to what you know, girl. I can't tell you what to do here LOL!
Step 3: Big Brewing Machines
I like big brews and I cannot lie…
I'm sorry… that's just what this section title reminded me of. LOL!
But let's get into this. There are a ton of different coffee makers that you can get. And all of them are popular for a different reason.
I'm overwhelmed with where to even start this section so I think I'll just list some of the most popular ones and tell you what I prefer/use on a day-to-day basis!
I'm starting with this one because this is my EVERYDAY morning-cup-of-coffee maker. I mentioned in my Morning Routine post that I love this coffee maker because you can have it all set and prepped the night before (or even program it to start brewing at a certain time!). This maker takes whole bean coffee, grinds it, and brews it fresh super quick and with minimal effort.
This one is my go-to, my main, my #1, my everyday morning cup o' Joe.
I'm grouping these together because, in my mind, they are very similar.
Keurig or Nespresso fans, don't be mad at me for saying that… I just feel like they're similar in their one-cup-at-a-time method.
To be totally honest, I've only had a Nespresso coffee once in a hotel room in Hawaii so my experience is very limited. All I know is that it feels like everyone I follow on YouTube uses their Nespresso a TON and LOVE it.
As for Keurig, I own a Keurig and TBH I don't use it. Maybe I'm just a SUPER picky coffee drinker but I don't like how it tastes. My parents on the other hand (my dad especially) use it ALL THE TIME. My dad literally uses it multiple times every day. So it's definitely a personal preference if Keurig is for you.
I love my espresso machine.
Like, really.
I LOVE MY ESPRESSO MACHINE.
This thing was my saving grace at the start of quarantine. With no Starbucks runs, I was making coffees daily for my fam.
If you don't know what this does, basically it allows you to brew espresso shots and steam milk meaning you can make pretty much any coffee drink you want! Americanos, lattes, flat whites, cappuccinos, mochas… truly all of the main Starbucks drinks you can make FROM HOME.
The Cuisinart Espresso Machine is the EXACT one that I own but there are a ton of options, some more expensive and some more affordable! Since I only have experience with this one, it's the only one I can 100% personally recommend! However, Breville is probably the most POPULAR brand for espresso machines. They're a bit pricier but they seem to be incredible!
This is definitely a price commitment but, if you are a hard-core espresso drinker (hot OR iced), it will more than pay itself off with the money you'll save not buying your drinks every day. Somthing I'd 100% recommend but, of course, depends on if it feels worth the cost to you!❤️
Step 4: Fancy Gadgets
Now, this step is technically optional but, TBH, I feel like it just MAKES the drink (and it's a lot of fun).
Coffee-related gadgets are what allow you to get a lil' fancy with it. For me, half the appeal of going to Starbucks was the specialness and these things are what give my coffee at-home that same special feeling.
Not to mention, as a former Starbucks barista, I love having these to make me feel all official and barista-y AT HOME.
Cold foam, authentic lattes/americanos/flat whites/cappuccino/etc., homemade iced coffee, real french press… all of that is entirely achievable AT HOME if you want to commit to the gadgets.
As I said, these are technically completely optional. You go through all the essential steps of how to make coffee at home without any of these. But if you want to keep that special feelin', these are a must.
I just got this a few months ago and am obsessed with it. Watching this thing whip up some frothy, foamy milk is oddly satisfying.
I use this to add cold foam almost every time I make my chai tea lattes or iced coffees at home.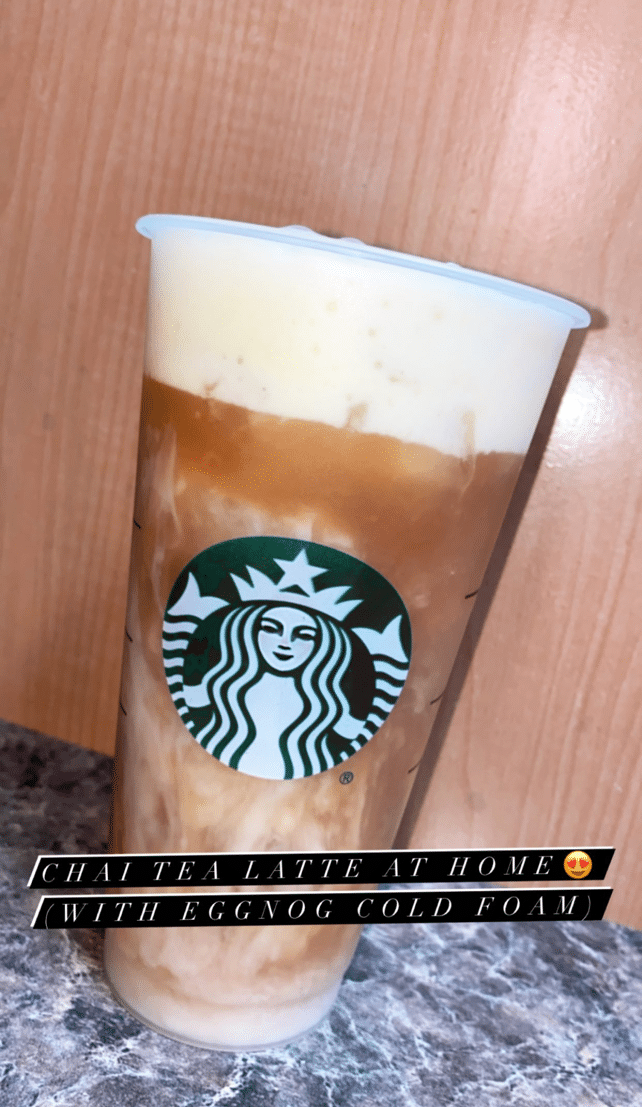 When I make my chais, I'll do a little caramel premier protein, add some syrup if I'm feeling extra fancy (pumpkin spice is amazing), and whip up some cold foam for the top. And oh my gosh, you guys. It's amazing.
This also is super great for topping hot coffee. I'll add some hot milk and froth it up real quick to pour on my coffee in the morning and it automatically takes it from a regular cup of coffee to a full-on boujee latte vibe.
It takes about 30 seconds and you have smooth and creamy foam. I love this frother. 10/10 would buy again.
I used to just think french press coffee was like any other brewed coffee but believe me when I say IT'S NOT.
My mom and I got on a french press kick for like a month straight at the start of quarantine where we would have it with dessert every single night. (Mom, if you're reading this… can we make this our routine again?😉)
French press coffee, for me, is very clean, fresh, and hot!
Imagine that PRIME first sip of coffee in the morning, freshly brewed, straight out the pot… that's what french press coffee is like to me. Amazing.
Yet another style of coffee that I thought was "just coffee" until I had it.
I equate a pour-over to the flavor of an americano (my go-to order) in how bold and coffee-y it is.
When I really want the ZING of coffee, pour overs get the job done.
They are also incredibly satisfying and fun to watch/do. This was lowkey my favorite thing to make at Starbucks. (Partially because it's so easy – LOL!)
For my fellow iced coffee sisters, this one's for you.
It only in the last few years that I've really gotten into HOT coffee. Before then, it was iced coffee or no coffee for me. Even as a Washington girl… it could be snowing outside and I'd still be getting my iced coffees.
You can buy the pre-made jugs that I mentioned before OR, if you want a richer and fresher taste, you can make your own. This is actually super simple to do. You literally just scoop in some ground coffee, add water, let it sit, and BOOM. Homemade iced coffee for days! So simple and WAY cheaper than spending $5 on that Starbucks coffee every day.
The money you'll save not buying Starbucks coffees will MORE than pay off the cost of the cold brew maker… at least that's how I look at it!

If you are going to use the french press, pour-over maker, or cold brew maker, you're going to need a coffee grinder. It's important to have coffee that is ground specificly for what you are making. For example, there are different grind settings for french press, pour-over, espresso, cold brew, etc. so you're going to want a grinder that does it all!
When I first looked at the cost of just the grinder, my initial thought was "screw it, I'll stick to Starbucks". But, when I thought realistically if I'm spending $5 on my coffee at Starbucks every single day, this grinder pays for itself in less than half a month. #WorthIt.
If you opt to not get a grinder, you can also take coffee into Starbucks (if it's Starbucks brand) and ask them to grind it on the right setting for you. Just, whatever you do, make sure it's ground correctly for the coffee you're making. (This is my inner Starbucks training coming out😉)
My iced tea sisters, you still with me?!
An iced tea infuser is honestly probably the best choice as far as iced tea goes, in my opinion. You get the most bang for your buck here. Just a bag or two of tea (you can add fruit and other flavors too!!) and you have a ton of iced tea! I need to get better at remembering to use my own infuser for iced tea more instead of buying the jugs at the store. It would probably end up saving a lot of money.
"Hey Siri, set a reminder to steep my own iced tea" 😉
(Pro-Tip: this also makes some BOMB infused water)
That's all you need to know how to make coffee at home!
Learning how to make coffee at home has been both fun and smart. When I sit and think about the true amount of money I spend/have spent on coffee, it is mind-blowing (and a bit alarming😳).
Now I no longer feel like I need to spend money on coffee. While I do enjoy a Starbucks treat every once in a while, it is so great to know that I can make everything BY MYSELF right from my HOME.
More Posts I Think You'll LOVE
180+ Dinner Ideas (+ Printable List)
Life-Changing Chocolate Recipes
If you're anything like me, you know coffee is serious business. I hope that these tips help you discover how to make INCREDIBLE coffee without needing to blow so much money.
Cheers!
XOXO,
Del