This post contains affiliate links meaning that, at no additional cost to you, I make a small commission if you purchase through my links. For additional information, visit my affiliate disclosure. 
These 20 books for being single in your 20s are perfect for fulfilling your needs and promoting self-improvement while you spend some time alone.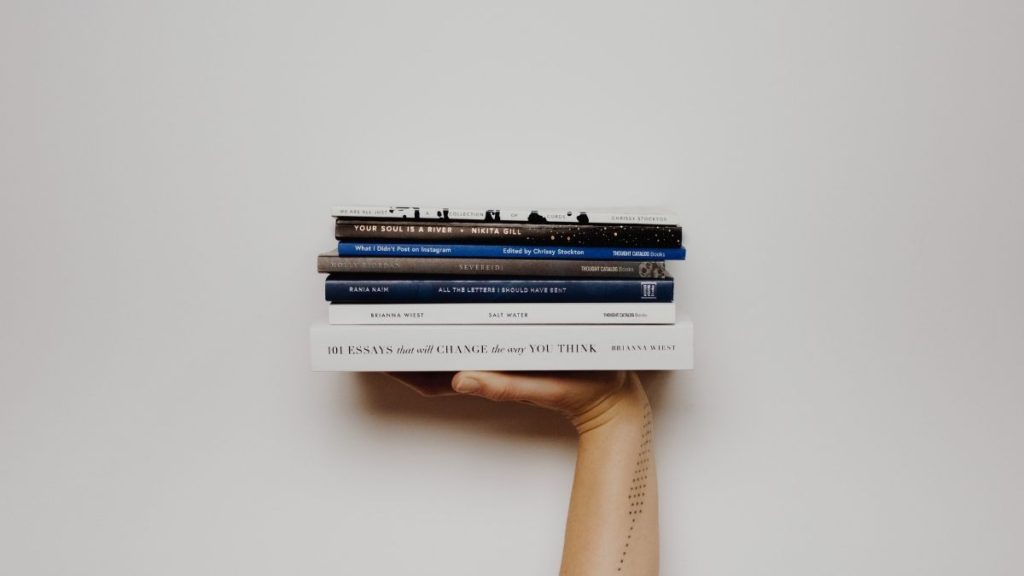 Our 20s are a weird time in our lives. We all feel this from time to time. Our 20s can be filled with great highs and deep lows – sometimes at the same time.
Being single in your 20s can bring up even more emotion. Often, our feelings about being single in our 20s are contradictory. We may feel joy, bliss, and contentment… but also loneliness, sadness, and confusion. All of this is natural.
One of the best things I've found to help me navigate these emotions is reading – specifically reading books for being single in your 20s.
Why Read Books When Single in Your 20s?
Depending on your lifestyle, personality, preferences, and priorities, reading may not be the #1 thing on your mind in your 20s. Whether you're navigating school, work, friendships, relationships, or other life things, it's easy to let reading fall to the back of our minds during this time.
But, from personal experience, I can tell you that reading in your 20s can be so transformational. As someone in their 20s, I try to read every single night. It was a New Year's goal of mine to make reading one of my nighttime habits. Honestly, it's been going pretty well.
In this time, I've discovered a TON of books. Some fun fiction, some deep self-improvement, and TONS of books for being single in your 20s.
Whether explicitly about single-ness or not, reading books for being single in your 20s has really helped me navigate this time in my life and grow myself as a person.
I've noticed 3 main benefits of reading books while single in my 20s:
Sometimes I read books explicitly about being single in your 20s. These books help me realize that I am not alone and there is nothing wrong with me or this phase in my life.
Other times, reading about love, romance, and being a good partner has been beneficial. I feel that it serves as "training" for future relationships. Gaining knowledge about relationships is a great way to help build a great one in the future.
Then there are the times that I read fun, mindless fiction. Reading these books is a great way to help me stay entertained or fill the loneliness I am feeling. I've found a lot of romance/passion books that have helped fill that gap.
With that, these groups could be summed up into the following categories:
Single empowerment

Love in Training

Fun & flirty fiction
These are just my silly names for these book categories… I doubt you'll find them plastered in a Barnes & Nobel. 😉
But, for the sake of this post, I want to share a few of my favorite books from each category. All of these are perfect books for when you are single in your 20s. They are all unique and can help you in different ways.
Only you know what you need the most. Whether you need a quick, sexy romance novel or a deep self-improvement book, there is something on this list that can benefit you.
20 Books for Being Single in Your 20s
Like I said above, these books are sorted into 3 categories: Single Empowerment, Love in Training, and Fun & Flirty Fiction.
8 Single Empowerment Books
Here are 8 incredible books all about embracing and enjoying your singleness!
1. What a Time to Be Alone by Chidera Eggerue

Starting off with a CLASSIC book for singles everywhere. This book is like the single-girls bible – no exaggeration.
I actually have this book permanently on display in my room. Not only is it filled with incredible, inspiring words, but it is absolutely beautiful. The colors, patterns, fonts, and design in this book are mind-blowing. Each page feels like a true piece of art.
I love how this book is a compilation of a bunch of sort readings. If you're busy, you can pick it up and read just one page, and put it away. Or you can read the whole thing in one sitting (which I've done three times now…).
It's the perfect book for all single people. Can't say enough good things about it. Love, love, love.
2. Single on Purpose by John Kim

I am SO SICK of people viewing being single in your 20s as a negative thing. In many cases, we are single by choice.
This book, Single on Purpose, redefines this narrative and reminds us that being single is not a negative thing. Being in a relationship is not all there is to life. We are whole as we are.
These messages are one of the things that makes this one of the best books for being single in your 20s. Flipping the script and redefining single-ness is powerful and necessary. John Kim helps us reframe our thinking with this book.
3. How to Be Single and Happy by Jennifer Taitz

This is another no-brainer book for being single in your 20s. I love how this book acknowledges that we might genuinely WANT a partner. But, for whatever reason, we are in a season of singleness.
Taitz helps remind us that even if we are actively soulmate-searching, we can be happy as we are right now.
This book really helped me develop happiness and contentment with being single. Whether wanting a significant other or not, this book about being single helped me learn to enjoy where I am now.
4. Single That by Acamea Deadwiler

This book is all about calling out the MYTHS of being a single woman. Hallelujah!
So many people believe that being single means loneliness, pain, sadness, or even that you are hard to love. WRONG.
This book calls out all of these harmful, yet widespread, myths about being single. In doing so, Deadwiler has a way of making you feel empowered and strong in your singleness.
Being single in your 20s (or ever) is NOT a weakness. Single That makes that very clear.
5. Enjoy Your Solo by Mary Delia Allen

Another insanely empowering book about being single in your 20s. (Well, to be honest, it's great for being single at any age.)
Mary Delia Allen calls out the unnecessary cultural and social forces that make us feel like we NEED to be in a relationship in Enjoy Your Solo. Allen notes that this book really strays away from "dating advice" and, instead, offers advice on building your relationships with yourself.
Being single in your 20s (or anytime, as I said) is a GREAT opportunity to get to know yourself better. Build that relationship with your inner self first. This book is a great guide on how to do that.
6. The Unexpected Joy of Being Single by Catherine Gray

Gray wrote this book specifically for those of us who are single in our late 20s or beyond. Hello! This is perfect.
In The Unexpected Joy of Being Single, Gray talks a lot about the external pressures to be in a relationship in our 20s and 30s. These pressures can leave us feeling lonely, confused, anxious, and unlovable.
In reality, there is nothing wrong with us or our single-ness. Instead, we must learn to embrace this time of solitude and learn how we are whole by ourselves.
Stop the relationship panic – the endless scrolling on dating apps, the social media "like" game, the overwhelming pressure you put on a potential relationship… stop all of it.
Instead, practice contentment for being single in your 20s (or beyond) and embrace your own path with no external pressure.
7. Single Girl Bliss by Leslie Kaz

If there's one thing that I've learned from being single in my 20s, it's that being single is SO FREAKING BLISSFUL.
I have grown to really love my solitude. Being alone is one of my favorite things… and I have #NoShame about that!
This book is about learning how to feel exactly that. It took me a long time to learn that my lack of a relationship was not something to mourn or feel down about. Rather, II could celebrate and embrace it.
The "Single Girl Bliss" is REAL. Let me tell ya. You just have to find it!
8. Untamed by Glennon Doyle
If you know me or have spent any significant amount of time on my blog, you know that Glennon Doyle and THIS BOOK are two of my very favorite things.
Untamed genuinely changed my life. That is no exaggeration.
I am now an avid listener to Glennon's podcast and am just about to start her Untamed Workbook.
Anyways, even though Untamed is not specifically about being single, it is an incredible book for being single in your 20s. Here's why.
Untamed teaches us how to free ourselves from the pressures, expectations, and opinions of others. In other words, Untamed promotes becoming who we are by rediscovering who we were before the world told us who to be.
This feels connected to singleness to me. There is so much pressure on being in a relationship, engaged, married, starting a family, etc., especially in our 20s and 30s.
Untamed helps us shut out all of the external "shoulds" and start living for ourselves. This book truly changed who I am (for the better) and I cannot recommend it enough.
6 Love-in-Training Books
Looking to work on yourself so you can be the best version of yourself in a relationship later? These 6 books are great for learning about love, communication, and partnership.
9. The Mastery of Love by Don Miguel Ruiz

Holy cow. Where do I even begin?
Much like Untamed, The Mastery of Love is a book that genuinely changed me. It is so powerful that I truly feel that it has changed the way I love and look at love.
This is a book that you can read over and over again and get something new out of each time. The first time I read The Mastery of Love I was in middle school. I later read it twice in high school and again in college. Each time, I have taken something new away from this book.
As you grow, this book takes on different meanings and messages. Nonetheless, it is powerful and thought-provoking every single time.
10. The 5 Love Langauges: The Secret to Love that Lasts by Gary Chapman

There are a ton of "The 5 Love Languages" books by Gary Chapman. For example, there is a 5 Love Languages book specifically for:
singles (might be a good book for being you're single in your 20s – I haven't read it yet though!)
etc.
As you can see, there are TONS of options for The 5 Love Languages series. I chose this one in particular because I think it's a great option for when you are single and want to build a strong foundation for any potential future relationships.
If you've never taken the 5 Love Languages quiz, I highly recommend you start there. This can tell you a lot about yourself and the way you give/receive love.
By knowing this information about yourself, you can work accordingly to cultivate strong relationships where you and your loved one feel loved and valued. It helps set the foundation for a great love.
11. Anxiety in Relationships by Theresa Williams

This one is for all my fellow anxious singles! I'm right there with ya.
Anxiety can be pretty difficult to navigate in relationships – especially romantic relationships. For so long, I felt that my anxiety was actually the reason I was single. I was anxious, jealous, untrusting, and insecure in my relationships as a result of my deep-rooted anxiety.
That's when I found this book.
Anxiety in Relationships made me feel understood and gave me hope for a future of anxiety-free relationships. By learning how to manage our anxiety in our relationships, we offer ourselves the opportunity to build strong, trusting, lasting relationships with our loved ones. This book has been helping me do that.
12. Healthy Relationships by Rachael Chapman

This book is similar to the one above in the topics it discusses. Anxiety, insecurity, depression, conflict, and jealousy are all big themes in this book (and, not ironically, in most of our relationships, am I right?).
Chapman does a beautiful job of talking us through all of these common roadblocks and hardships that relationships face. In order to build truly happy and healthy relationships, we've got to learn how to overcome these toxic habits and mindsets that we have set. This book helps do that.
13. I Hear You by Michael S. Sorensen

COMMUNICATION SKILLS.
The heart of every good relationship involves good communication skills from all parties.
This book focuses on validation. Many, many, many relationships lack validation in their conversations. This can lead to anger, miscommunication, and frustration. Sorensen helps break down how you can actively make an effort to incorporate validation into your everyday conversations to strengthen your bonds and relationships.
This isn't only a good book for being single in your 20s, this is a good book for everyone. All ages and all relationships can benefit from the methods and tips that Sorensen gives in this book. Highly recommend.
14. Twenty Guys You Date in Your Twenties by Gabi Conti

I LOVE THIS ONE.
This is definitely more light-hearted and humorous than the previous books, but it is still a great book for when you are single in your 20s.
Gabi Conti is a comedian that has done her own research as a single girl in her 20s and put together this book for us. I seriously was laughing out loud flipping through this… it is just so accurate. From "the guy with an expiration date" to "the guy who texts 'sup' at 2 am", this book is FILLED with relatable and hilarious anecdotes.
I didn't even know what category to place this one under, but all you need to know is that this is a must-read book for any single female in their 20s. So funny, so good!
6 Flirty & Fun Fiction Books
These 6 books will fill the relationship gap (even if just for a minute). These are some of the best romantic, flirty, and sexy books out there.
15. 50 Shades of Gray Series by E L James

We have to just get the most obvious one out of the way early. The 50 Shades of Gray trilogy is a great option for a book to read when you're single.
The story is one that is easy to get lost in. It is filled with romance, drama, and relationships. In a way, it gives the perception of a relationship… who needs a real boyfriend when you could have Christian Gray, right?
16. The Best of Me by Nicholas Sparks

This is probably my #1 favorite romance novel I have EVER read.
When I was on winter break from college, I started this book and ended up staying awake until 5 am reading it. I seriously finished it in one night because I was that invested in the story.
Nicholas Sparks always does a nice job with romance, but the characters and the storyline in The Best of Me are UNMATCHED. It's the perfect mix of romance, tragedy, and drama.
I cannot say enough good things about this book. (The movie is okay too… but nothing compared to the book!)
17. Sex Life by BB Easton
(This one is a memoir – not fiction!)

As I write this, I am currently in the middle of this book. I literally had to put the book down to come to write this blog post.
This book is what gave me the idea to write a post about books for being single in your 20s.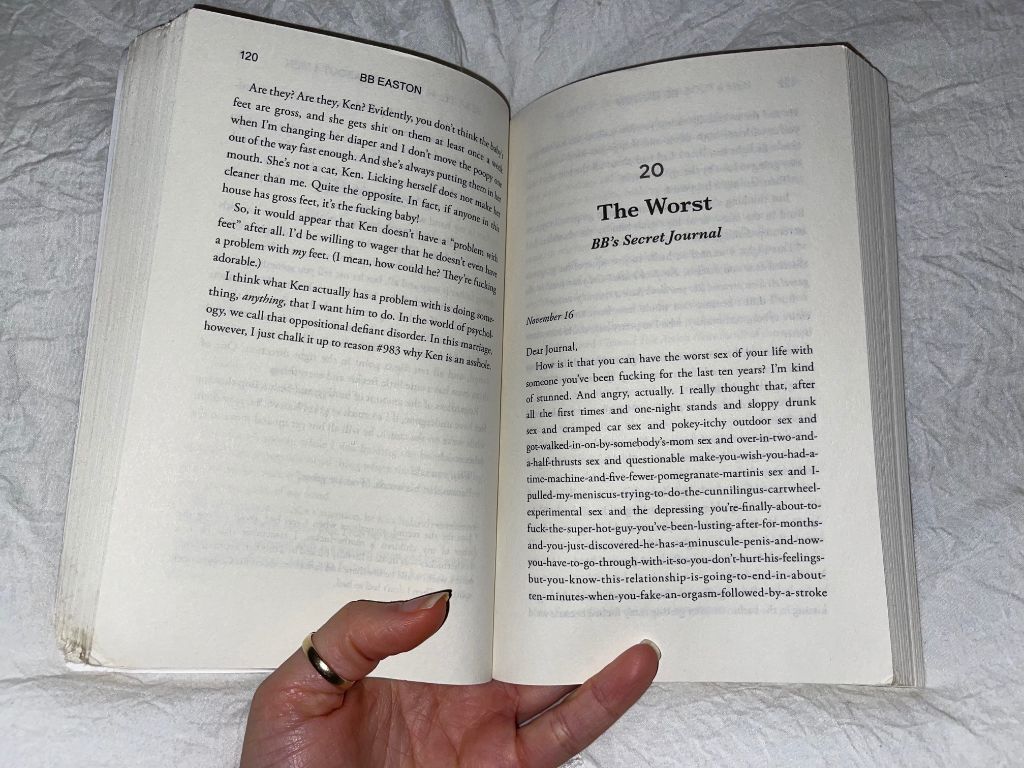 I first heard about Sex Life from my sister. She actually watched the series on Netflix and got me started on it too. The show is amazing, but the book is even better.
As you can see above, I am in the middle of it right now and I have been reading it every night for the past couple of days. It's an easy, mindless read that also gets you super invested. Great story, hilarious author, awesome characters.
10/10 would recommend to all my single ladies in their 20s.
18. Gone Girl by Gillian Flynn

Okay, I'll be honest. This book is not flirty or fun… but dang is it GOOD!
If you've seen the movie Gone Girl, you know what I'm about to say. This story is about a CRAZY woman. Truly crazy. She is manipulative and, quite honestly, a bit scary. But it makes for a great story.
I actually had to read Gone Girl for a college class. I had seen the movie before, but I was still blown away by the book. It completely captured my attention from page 1. Flynn is an excellent author and this book is one of my favorites.
Definitely will keep you entertained (and make you think twice about ever wanting a relationship…).
19. The Soulmate Equation by Christina Lauren

Not a whole lot to say about this book. It's a quick, easy, and entertaining love story. I will say, I'm pretty picky with romance novels. If it's too cheesy, predictable, or familiar, I'm not into it.
This book by Christina Lauren does a great job of staying unique. With a touch of science, statistics, and wit, The Soulmate Equation is one of the best mindless romance reads I've read in a while. Super cute story.
20. Bared to You by Slyvia Day

Is this book series better than the 50 Shades series? It just might be.
This is definitely an adult novel, but since this is books for being single in your 20s, I figure we're all old enough to enjoy it. 😉
Bared to You is the first book in this series by Sylvia Day. It shares many similarities with 50 shades – the sexual elements, the troubled man, etc. If you enjoyed E L James' sexy novels, you will like these too.
Which of these books for being single in your 20s will you read first?
With so many great options, I want to know where you will start first.
What category of books for being single in your 20s appeals the most? What book will you start with?
Each of these books is so different and unique – yet all are a great option for single 20-somethings. Above all, I hope you remember that there is nothing wrong or shameful about being single in your 20s.
I hope you find the perfect book for you on this list!
Happy reading!
---
More Posts You'll LOVE
Ultimate Bucket List for Your 20s
50 Good Habits to Start in Your 20s