This post may contain affiliate links meaning that, I may make commission if you purchase through my links. Learn More. 
Perfecting Blogging is a blogging course by a 7-figure blogger and entrepreneur, By Sophia Lee. This is an in-depth and honest Perfecting Blogging course review.
By Sophia Lee is one of the top blogs in the college, home decor, and early-20s niche. Sophia Lee is also an incredibly successful blogger and entrepreneur.
With multiple courses and posts on blogging, Sophia works to inspire and help other bloggers achieve the success she has seen.
This post is an in-depth and authentic By Sophia Lee Perfecting Blogging course review.
---
What is the Perfecting Blogging Course?
Perfecting Blogging is a blog course from 7-figure blogger BySophiaLee. This course is ideal for beginner or intermediate bloggers looking to start a blog, grow an existing blog, learn SEO strategy, understand keyword research, and turn their blog into a money-making business.
Within the blogging world, Perfecting Blogging (+ the two follow-up courses, Perfecting Pinterest and Perfecting Email) seems to be one of the most popular and well-loved resources out there.
As a blog coach myself, I see firsthand the outcome of the strategies in this course. Not only have I personally grown my blog into my full-time income using Perfecting Blogging course strategies, but I have seen many of my own clients do the same.
(NOTE: ALL COURSES IN THE BSL BUNDLE HAVE BEEN RECENTLY UPDATED IN JULY 2023!)
Who is By Sophia Lee?
Sophia, a 7-figure blogger and business owner, is the founder of the blog BySophiaLee and the business "Perfecting Blogging".
Sophia first started her blog from her dorm room as a broke college student and has grown it into a full-blown business. (Like, a mega-successful one.)
Now, Sophia has a full team, a planner line, a house-flipping company, AND BySophiaLee.com – where it all began.
Sophie uses her personal experience, knowledge, and skills to educate other bloggers with her 3 majorly popular blogging courses.
She is a phenomenal leader in this field for all aspiring entrepreneurs and bloggers.
How I Found Perfecting Blogging
I first came across BySophiaLee when I was about 19 years old. At the time, I was working as a Starbucks barista, going to college full-time, and taking any freelance jobs I could find as a side hustle.
I hated the early hours at Starbucks – especially as an exhausted full-time college student – and the unpredictability of freelancing made me so stressed.
To this day, I can vividly remember the night I stumbled across BySophiaLee's blog.
It was about 2:30 am and I was up with anxiety and dread – I had to be up in less than an hour to get to Starbucks for my 4:30 am shift.
I knew I wanted something different for my life.
As I frantically searched the internet for other potential jobs that wouldn't run me dry and wear me out, I found BSL (BySophiaLee).
She had an income report up on her blog that showed, in-depth, how much she made every month from her blog. I was SHOCKED.
That morning, I drove to work listening to podcasts from other successful bloggers that took their blogs full time. Consider me bit by the blogging bug.
Later that week, I revisited BySophiaLee's site. I found that she had COURSES explicitly laying out how she made this happen: the Perfecting Blogging course.
Now that you know my story, here's where the Perfecting Blogging course review really begins.
Perfecting Blogging Course Review
Let's dive into all the nitty-gritty details of Perfecting Blogging. I will be giving my honest opinions and thoughts on my experience with the Perfecting Blogging course from start to finish. We'll be discussing price, content, results, and more!
Why You Can Trust This Perfecting Blogging Course Review
As I've talked about now, when I first started my blog, I was borderline desperate. I REALLY needed something to work.
I was dying to quit my Starbucks job and I knew that, ultimately, my goal is to have a family, and working from home is my dream.
With that, I went in DEEP when I first discovered blogging as a money-making option.
I signed up for dozens – yes, dozens – of free blogging courses within the first week. (You don't even wanna know what my email inbox looked like… wowza!)
I also did a bunch of research on other blogging courses.
While I have found a few that I love, the majority of them are… meh. For the most part, the really good courses are going to cost you a bit more… like $300-$600.
I'm telling you this to let you know that I've done my research.
In a way, I'm your guinea pig. I've tested these courses so you don't have to waste time and money doing so (like I did… LOL!).
Of all the courses I've bought, Perfecting Blogging is my #1 favorite to this day.
In terms of an all-around blogging course, it's truly amazing. The other courses I've loved have been more focused and specific (ie. affiliate marketing, SEO, etc.).
Perfecting Blogging gives you the most well-rounded information.
It is a super in-depth guide to the beginning phases of a blog (which is the hardest part).
I will be sharing some of my results from this course below to give you a better idea of how this course has helped me.
But first, let's talk about buying, starting, and applying this course…
How Much is the Perfecting Blogging Course?
Perfecting Blogging is offered on its own or as part of a discounted bundle along with Perfecting Pinterest and Perfecting Email.
Here is the cost breakdown of BySophiaLee's Perfecting Blogging:
As a college student, I didn't have a ton of spare money to throw around.
The extra money that wasn't put towards essentials was put right into my savings account for life after college. (I had dreams of buying a house right after I graduated… this didn't happen – LOL!)
After initially finding Perfecting Blogging, I had done a ton of research into other blogging courses. So many of them were like $300+!
Knowing I couldn't afford this felt really defeating to me, but I knew that I wanted to pursue blogging.
At the end of that week, I came back to BySophiaLee's blogging course. It was a payday from Starbucks and I set aside a couple hundred for this.
My dad, as a successful business owner and entrepreneur himself, gave me some of the best advice. He said:
"You have to spend money to make money."
He was right. I knew this deep down and his words encouraged me to commit.
I ended up buying the course that night. It was just under $150. In the grand scheme, this is a really small price to pay for the knowledge I gained.
BSL also has a Pinterest course ("Perfecting Pinterest") in addition to her blogging course.
Since she offers them for a discounted bundle (and I knew nothing about Pinterest!), I went ahead and bought the discounted course bundle to begin with.
This was kinda ballsy since I didn't know much about BSL courses, but I'm so glad I did. They've more than paid themselves off by now anyway.
$200 (ish) may seem like a lot of money if you're in a position similar to mine at the time.
But, in the grand scheme, it's really not that much. It's comparable to a nice dinner out with a friend… only this is an investment in your future self.
In my eyes, this course was 1000% worth the cost.
I'd buy it 10x over again. It gave me the skills, knowledge, and – most of all – confidence I needed to start a blog.
What to Expect After Buying Perfecting Blogging
After you buy Perfecting Blogging, you have instant access to all of the course modules.
The course is hosted through Teachable, an online course platform.
BySophiaLee has her own school on teachable. This dashboard is where you will find access to your new course.
Teachable is really easy to navigate and user-friendly.
There's nothing worse than when you purchase something online and then can't even figure out how the HECK to use it (even as a Gen-Zer I have the problem…). This isn't like that.
You buy the course, the course is yours, and you can GET STARTED.
Note: Once you buy Perfecting Blogging, you have lifetime access to the course. This means that every time BySophiaLee updates the course (which she does pretty often to keep it up to date!), you have automatic access to the newest updates at no additional cost.
Perfecting Blogging Course Content
So what can you actually expect to see inside this Perfecting Blogging course? What can you expect to learn?
The main modules of the Perfecting Blogging course are:
Welcome to the Perfecting Blogging Master Course!
Really Freakin' Important Things You Need To Know About Blogging
Setting Up A Website That Your Readers Will Trust
Content, Content, Content (The MOST Important Thing I'll Teach You About Blogging)
The Exact Steps I Take When Writing Every Single Blog Post
The Techniques I Use To Make Money From My Blog
Affiliates
Worksheets + Printables
BONUS SECTION!
Under each of these categories are multiple lessons that include text, photos, videos, and other resources.
As of now, there are 9 modules and 52 lessons in this course – but Sophia is known for updating and adding to it!
BySophiaLee shows a deep inside look into every individual lesson on the Perfecting Blogging page. You can scroll through and get a really good idea of exactly what lessons you will learn.
The course curriculum is all listed on this landing page so you can get an idea of the content before you commit.
(I personally don't feel comfortable putting all of the course content on this Perfecting Blogging course review simply because that is Sophia's hard work to show off. Instead, head to her page to view the actual curriculum.)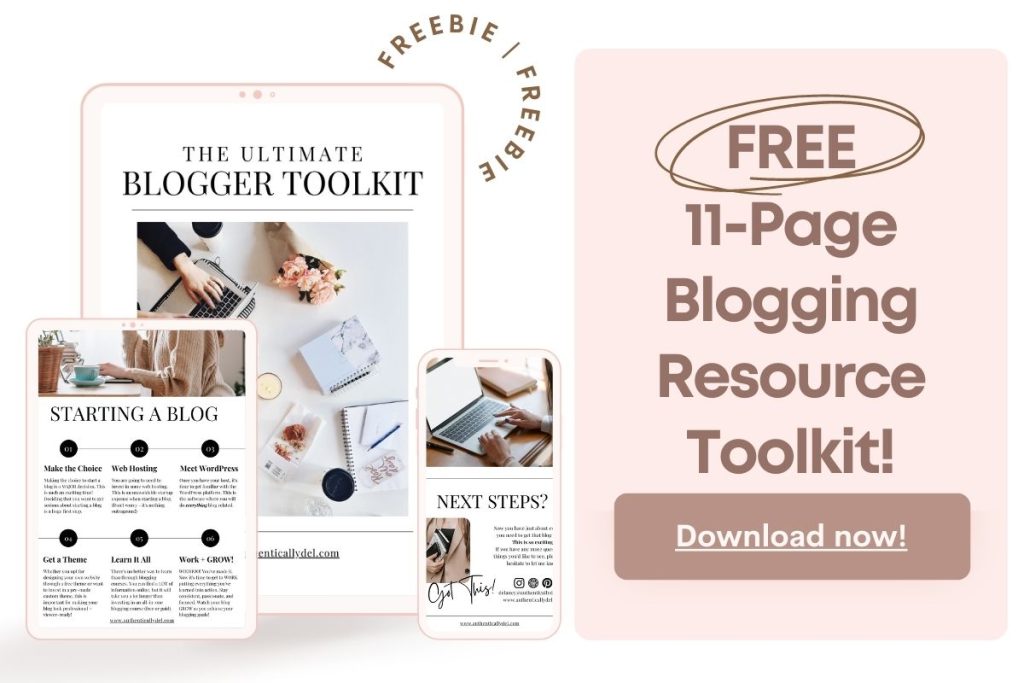 Perfecting Blogging Course Teaching Style
Most blogging courses are taught in one of two ways:
Videos
Written text
BySophiaLee's courses are unique in the way they utilize BOTH videos and written text. This is something I found really valuable throughout this course.
BSL includes step-by-step videos where she screen shares exactly what she is doing as she talks you through it.
She ALSO includes a full written breakdown of exactly what she discusses in the videos (with screenshots and images!).
This is super helpful for when you need a quick refresher but don't want to watch the whole video again.
When I took the course the first time, I watched every video at least twice. Now, when I go back to the course I usually skim the text to refresh my memory.
It's really nice to have both options for various learning styles and needs!
11 Pros and Cons of the Perfecting Blogging Course
Since I've been rambling and ranting through this entire Perfecting Blogging course review, I'll try to keep these pros and cons short and sweet. Here are some of the major perks and downfalls of BySophiaLee's Perfecting Blogging course.
Pros of Perfecting Blogging
1. Unlimited Access.
As I mentioned above, you buy this course once and you have lifetime access. You can refer back to it as much as needed (I still do this at least once a month). You also have access to all of Sophia's updates and info that she adds to the course.
2. Keyword Research Education.
Keyword research is a key (pun intended) part of blogging. Before BSL's course, I was not doing ANY keyword research.
Perfecting Blogging gives you the knowledge and information you need as well as templates and printables to do your own keyword research alongside Sophia.
3. Step-By-Step Video Tutorials.
You literally get to see every single click Sophia makes when researching, writing, and publishing her blog posts. She screen records every single step so there's really no room for confusion.
4. Honest, Relatable, Authentic.
I am ALL for authenticity (hence the name of my blog) – and Sophia is exactly that. She's not above saying "I don't know" and she gives you the real, honest truth about blogging.
There's no salesy B.S. in this course which is really rare. You can tell Sophia is genuine in wanting to help and not just trying to profit off of you being a newbie!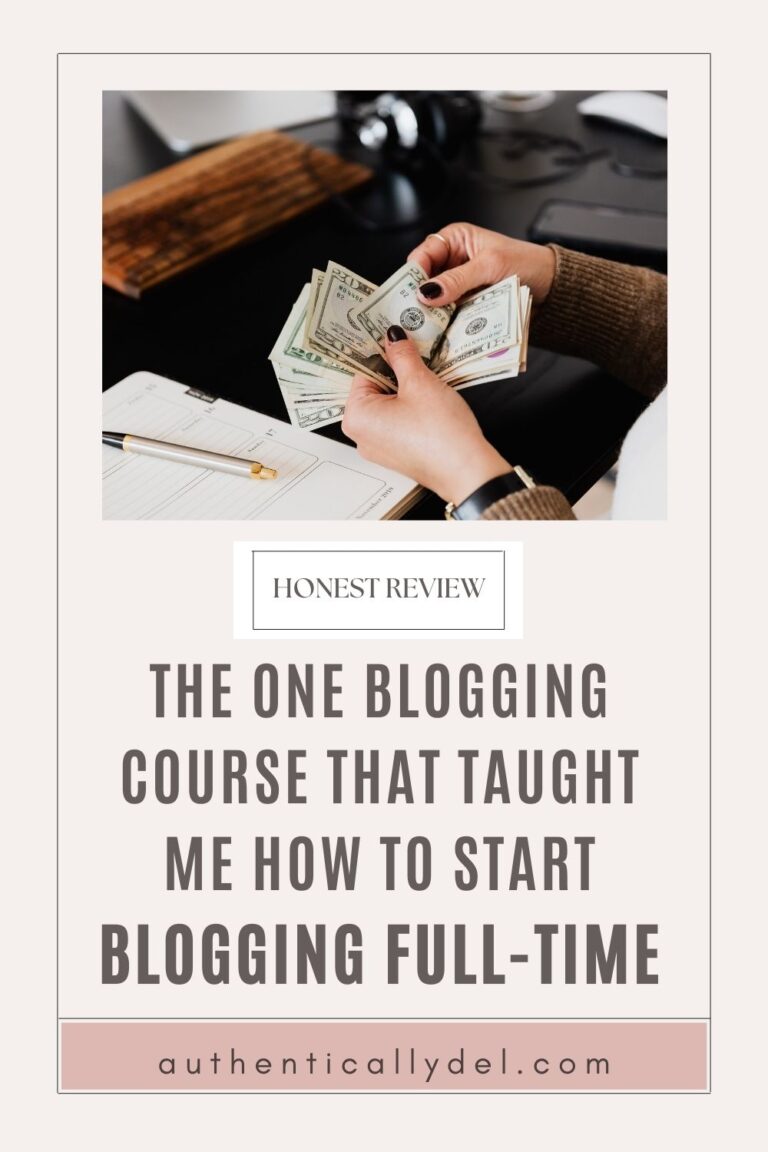 5. Great Support.
BSL has actually grown into a team of 6 (I think!) people. (Go, Sophia, Go! She's killing it!)
Because of that, there is GREAT chat support for the courses. I had a couple of niche-specific questions and was bugging the email support over and over again. They reply so fast and are super kind and helpful!
6. Affordable!
There are free blogging courses out there, but most of them lack the high-quality info that really makes a blog thrive. (Which is fair… you gotta pay for those services!)
Cons of Perfecting Blogging
Everything in life has some pros and cons… these are a few of the minor things that I didn't love about BSL's Perfecting Blogging course.
1. Sophia Uses the Old WordPress Editor.
This is totally a personal preference. BSL is an OG blogger so she prefers to use a plugin to write her posts using the old WordPress editor.
This is something I don't particularly love. I prefer the current version of WordPress.
Because of this discrepancy, I have to translate some of the technical parts of this course to make sense for the current WordPress editor.
2. No Focus on Email Marketing.
This is fair since the course is focused specifically on blogging, not email.
But, just FYI, if you're looking for tips on email strategy or promotion for your blog, this isn't included in Perfecting Blogging.
MAJOR UPDATE: BSL has created the most amazing Email Marketing Course. I bought it the DAY it dropped and it has absolutely changed the game for my email marketing. I am making HUNDREDS more each month since implementing this email strategy.
3. Minimal Discussion of Legal Pages.
Again, this is not Sophia's fault. In fact, she's smart to not give legal advice since she's not a lawyer. That's risky business – haha!
That said, I'm a HUGE advocate for blogging legally.
You need to get these pages written personally by a lawyer or buy legal blogging pages. (Click here for the Legal Bundle I use.)
This is a SUPER important part of blogging… you do NOT want to get in legal trouble.
4. Minimal Technical SEO Help.
Again, fair. This is not technically an "SEO course" – there are plenty of those out there. If you have minimal SEO knowledge, this course covers a big chunk of it, but not all of it.
Technical SEO is tricky. I highly recommend exploring Yoast's blog or Neil Patel's blog for some free technical SEO help.
5. BSL is Now Offering Free Blogging Tips.
Sophia has recently started a blogging YouTube where she gives lots of valuable blogging tips. Although none of it is nearly as in-depth as Perfecting Blogging, she is still giving out some blogging info for free.
The Pre-Perfecting-Blogging me would have LOVED this – and I think it's great that BySophiaLee is making this info accessible for all.
However, as a Perfecting Blogging customer, I sometimes feel like the info I paid for shouldn't be offered for free!
That said, I know BSL tries to remain respectful of those who have purchased the course and the free content is definitely not as rich as the course content.
In addition to teaching you how to start a blog, write every blog post, do on-page SEO, keyword research, affiliate marketing, advertising, and more, Perfecting Blogging has even more BONUSES!
These are the top 3 unexpected bonuses that I was SUPER excited to learn about when I bought Perfecting Blogging.
(FYI – I'm about to spoil the exciting bonuses… sorry! They're too good to not include in a Perfecting Blogging course review!)
1. Helpful Printables
Perfecting Blogging has tons of free printables that you can utilize. The printables correspond directly with BSL's strategy so you can print them out and follow the strategy using the printables.
The Perfecting Blogging printables include:
Branding Guide
Keyword Research
Keyword Ideas
Content Calendar
Start-to-Finish Blog Post Checklist
These are SUPER handy tools. I use the keyword research and blog post checklist in my everyday blogging routine.
2. Exclusive 'Perfecting Blogging' Facebook Group
You get a VIP pass into BSL's Facebook group!
This group is FILLED with other people who have purchased the course and is SO helpful.
You can post a question whenever you have one and you get answers almost immediately. (A lot of times Sophia herself replies! I fangirl a little every time! LOL!)
This Facebook group is a great resource. It's also nice to be surrounded by like-minded bloggers who are taking this seriously. Only people who have invested and purchased the course can be in the group, so you know they're all serious about this!
3. Perfecting Blogging Affiliate
Sophia offers an affiliate program for promoting her courses. You can share this with friends and fellow bloggers. Sophia is super generous too.
She offers a 40% commission rate with 60-day cookies (how long sales will be traced back to you!).
FYI – this is really good for an affiliate program.
A lot of bloggers offer affiliate programs for their courses but Sophia's has the best conditions that I've experienced personally!
My Results from the Perfecting Blogging Course
Traffic Results After Perfecting Blogging
Before taking Perfecting Blogging, I was getting ZERO views from Google searches. Yes, ZERO.
If that's you, don't feel embarrassed. I was there too… we all start somewhere!
After Perfecting Blogging, 85.71% of my traffic is from organic search. Thanks, keywords and SEO!

I'm currently working on growing my Pinterest but, to be honest, I'm okay with most of my traffic being from Google.
SEO seems to be a more reliable and long-term strategy (although a Pinterest strategy is great too!)
Needless to say, this addition of Google search clicks to my traffic has drastically increased my traffic.
As of now, my traffic has been increasing at an average rate of 140% over the last 90 days. This is largely due to having a real, consistent, and strategic blogging routine.
Income Results After Perfecting Blogging
Thanks to the major increase in traffic after taking BySophiaLee's Perfecting Blogging course, my blog income has skyrocketed.
I absolutely cannot believe I am saying this but…
My blog is now my main, full-time income stream.
This was a DREAM of mine since I first began blogging and the knowledge I gained from the Perfecting Blogging course (along with a TON of hard work) has helped me achieve it.
Income from ONE Affiliate Program:
Income from ONE MONTH of Ads with Mediavine:
Perfecting Blogging Course Review Wrap-Up
To summarize, Perfecting Blogging is one of my favorite blogging courses out there. I credit Perfecting Blogging as one of the main resources that have allowed me to grow my blog traffic and start making money from my blog.
Key Takeaways from This Perfecting Blogging Course Review:
Perfecting Blogging is among the more affordable blogging courses
The course is a mix of video and text
You have lifetime access to the course and updates
Private Facebook group access comes with the course
BSL offers a refund within 30 days if you are unhappy and have not gone past module 1
Perfecting Blogging walks you through step-by-step video screen sharing
Keyword research, on-page SEO, blog post templates, and more are included
Perfecting Blogging is PERFECT if you are new to blogging (I wish I took it sooner so I didn't have to go back and fix mistakes!)
Perfecting Blogging is NOT for technical/off-page SEO
Sophia offers an affiliate program for Perfecting Blogging owners
You can go entirely at your own pace
Perfecting Blogging is great for an introduction to affiliate marketing
If you are also interested in Perfecting Pinterest, buy them together in a bundle to save money
Sophia and her team are very accessible and offer quick responses and personalized help where they can
Is the Perfecting Blogging Course Worth It?
If you are a new or intermediate blogger looking to grow your blog traffic and start making money from your blog, yes! Perfecting Blogging is for you.
If you are already making an income you are satisfied with or consider yourself a blogging pro, this may not be the course for you.
For me, this course was 100% worth the investment. To this day, it is a resource I use for growing my blog.
There are many things I regret buying along my blogging journey, but BSL's courses are not one of them.
Here are some things to consider when deciding if By Sophia Lee's Perfecting Blogging course is right for you:
Perfecting Blogging is Perfect For You If…
1. You're a new blogger. If you have just started a blog and are feeling overwhelmed, this course can give you all the tools you need to get going.
2. You want to start making money blogging. So you have a hobby blog but want to turn it into a money-making blog? BSL's strategy in Perfecting Blogging is going to really help you out.
3. You feel stuck in your blogging journey. Not seeing growth? You may be doing something wrong without realizing it. Sophia's step-by-step teaching strategy can help you uncover what's holding you back – and fix it!
4. You don't understand keywords. A huge chunk of Perfecting Blogging is focused on keyword research and how to implement keywords into your blog. This is a critical strategy for blogging success. If you need help in this area, this course is a great place to start.
5. SEO scares you. Don't be embarrassed. SEO is terrifying at first. In Perfecting Blogging, Sophia covers SEO basics and makes it super easy to understand and implement on your own blog. No scary, techy, overwhelming language.
Does this sound like you?
Perfecting Blogging is NOT For You If…
Perfecting Blogging may not be worth the price to some people. If you fit into these categories, you may not get the MOST out of this blogging course.
1. You already see hundreds of thousands (or more!) of pageviews per month from Google. If you are already seeing this success from Google search clicks, congrats! That's super awesome! Chances are good that's not strictly from luck.
You most likely have a strategy that's working for you and, if so, this course may not be teaching you much that you don't already know.
2. You don't care about growing your blog. Do you want to keep your blog strictly a hobby? That's great too.
Chances are good you won't be reading this review if this is you… but if it is, then there's no need to buy a course if you don't really care about getting your pageviews or revenue up. Keep blogging for fun!
3. You are already making a full-time income. If you've already monetized your blog to become your full-time job, you may not need this course. Your strategy is already working for you and, while there's always room to grow, you may benefit more from a more advanced or specialized course.
The Final Verdict: Should You Buy the Perfecting Blogging Course?
For me, Perfecting Blogging was totally worth it.
This was the first blogging course I bought when I first started my blog and, to this day, Perfecting Blogging and Perfecting Pinterest are the two courses I refer back to the most.
BySophiaLee's courses are in-depth, detailed, realistic, and easy to understand.
I love BSL's way of visually showing each step as she simultaneously talks you through it.
The access to the Perfecting Blogging Facebook group has been SO helpful and the community support surrounding BSL is unmatched!
Perfecting Blogging has helped me learn the ins and outs of blogging and, as a beginner blogger, was the guide I needed to get started.
From this point, I've been able to incorporate the course into my own blogging strategy and make it my own.
But don't just take my word for it. Try out Perfecting Blogging for yourself and let me know your opinions on it!
Happy Blogging!
Get Private 1:1 Blog Coaching With Me!