This post may contain affiliate links meaning that, I may make commission if you purchase through my links. Learn More. 
Looking into starting a blog in your 20s? These are the TOP 10 things about blogging in your 20s that I wish I knew before I started.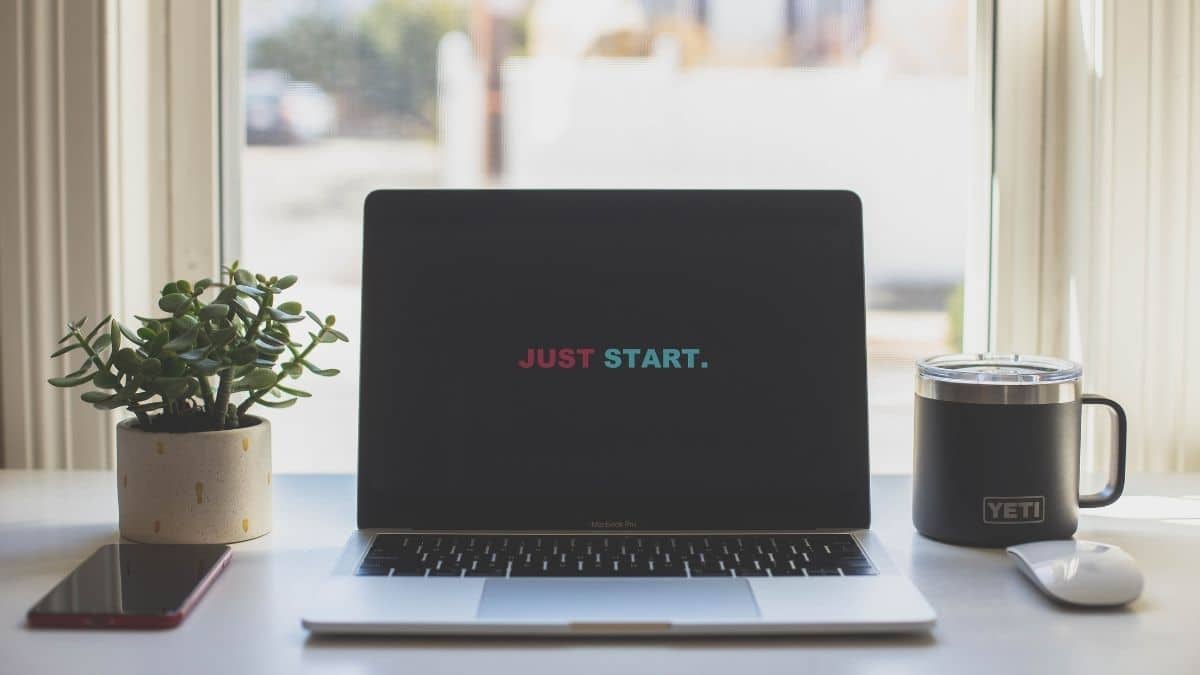 So you're hoping to start blogging in your 20s? Great! You've come to the right place.
I technically did not start my blog in my 20s… I was just shy of turning 20. Authentically Del began when I was just 19. But, let me tell you, I am glad I started when I did.
For years, I contemplated starting a blog. I've always loved writing, but something about sharing that writing felt super intimidating.
Not to mention, the logistics of starting a blog seemed terrifyingly overwhelming. If you are in a similar situation, know that I totally feel you.
Starting a blog in your 20s can feel so scary!
What will your friends think? How do you balance work/college/family/friends/life/etc. with blogging?
Is blogging just a waste of time?
Can you actually get anything from blogging?
Isn't blogging just a mom thing? Who do I write for?
Does anyone even read blogs in their 20s?
These were the limiting beliefs running through my head that were holding me back from starting. But looking back, if I could tell myself one thing, it would be this:
Just start.
Blogging, in many ways, is a learn-as-you-go type of thing.
In just my first year blogging, I learned more than I did in YEARS of schooling – just because I jumped in and did some good old hands-on learning.
That said, there are some things that I REALLY wish I knew at the beginning of my blogging journey.
Had I known these 10 things, I would've saved myself a lot of time, energy, money, and – to be honest – tears.
This post is all about the 10 secret tips no one told me before I started a blog… but I wish they did. If you're looking into starting a blog in your 20s, you are going to want to know these 10 blogging tips.
10 Secret Tips for Starting a Blog in Your 20s
Let's jump right into the 10 things you NEED to know when starting a blog.
1. Have Realistic Expectations for Your Blog
If you know me or have read any of my posts, you probably know that I am a HUGE goal-setter. Heck, I goal-set for everything.
When starting a blog in your 20s, goals are great… but they should be realistic.
It's super easy to get ahead of yourself when you are starting a blog in your 20s.
You think you can post a blog and wake up to thousands of readers the next day – at least I kinda thought that's what would happen.
Blogging Reality Check: That's really, really unlikely.
(If that happens for you, I'm going to need you to give me YOUR blogging tips 😉 )
Instead, it's important to know and remind yourself of these two harsh truths about starting a blog in your 20s (or at any age!):
Blogging is NOT Easy
The title "blogger" gets a really bad reputation. So many people think it's laughable that it's even a job title. (Nothing makes me angrier than someone diminishing the work of a blogger.)
Blogging takes a LOT of WORK. Like – more than you would think.
You're not just writing and pushing "publish". You're suddenly a web designer, an SEO strategist (we'll talk about SEO later), an author, an editor, a pin designer, a tech guru… the list goes on and on.
So if you're hoping that starting a blog in your 20s is the "easy route", you might want to pursue something else. Sorry!
Blogging is a LONG Process
Results don't come overnight. In fact, results don't usually come over many nights. It took months (after I finally started doing things right – LOL) to start to see significant traffic on my blog.
Even once I finally learned the tips I'm sharing with you now (which took months and months), my traffic still didn't come quickly. Blogging is a long game. Not much comes quickly in the blogging world.
If blogging was a get-rich-quick type of thing, everyone would be doing it!
All REAL phrases that REAL people have said to me when I started a blog in my 20s. Rude, right?
Rude… but also wrong.
Starting a blog in your 20s can be really lonely since so many people misunderstand and underestimate your work. Surrounding yourself with other people in a similar position as you makes the process so much easier – both mentally and practically.
Join Blogging Facebook Groups!
There are lots of blogging group options out there – most of which are totally free. I am in three Facebook blogging groups that I love. Within those groups, there are some other bloggers in their 20s that have been super helpful in my journey.
(Tip: Most paid courses offer exclusive blogging groups for members. These tend to be the MOST helpful.)
3. Start Blogging ASAP
Try to resist the urge to sit and contemplate starting your blog. That is precious time that could be used to grow and establish credibility for your site.
Older, long-term, established websites tend to rank better on Google (your website coming up high in searches = more people on YOUR blog). Brand new sites haven't built up that "trust" with Google.
Also, the more posts you have, the better chance you have of gaining readers.
AND… the more time you've been blogging, the more experience you'll have, and the better you'll be.
I could go on forever. Long story short: if you're considering starting a blog in your 20s, START IT. Don't waste time that could be put to use growing your blog.
(Secret Blogger Tip: Growing your blog = MONEY in YOUR pocket)
4. Choose a Good Web Host for Your Blog
When first starting a blog in your 20s, you probably have very limited (if any) experience with web hosting services. But, to be honest, you NEED to pick a good one.
Bluehost is a great beginner host for new bloggers. Through freelance work, I've built websites with other hosting platforms that were just NOT fun to deal with.
Bluehost is amazing for starting a blog in your 20s because it's affordable, easy to use, and it WORKS. Your site speed is one of the factors that influence how your page ranks in Google – and a big part of your site speed is your HOST.
Also, Bluehost support is great! They have 24/7 live chat support (which has saved my butt MULTIPLE times).
At the start of my blogging journey, I accidentally completely took my entire site down (don't ask me how… I was a newbie, okay?!). Bluehost support was there for me at 1 a.m. and got it back up and running for me.
Alright, enough about hosting… Just be sure you choose a good host, okay?
5. Learn SEO
Learning and implementing SEO (search engine optimization) from the start is probably the #1 thing I would tell new bloggers.
This is something I didn't do and I'm still paying the price.
What is SEO?
SEO stands for search engine optimization. In very simple language, SEO is a strategy that allows search engines to read, recognize, and rank your content. Good SEO is what qualifies those #1 search result websites when you Google a question or phrase.
SEO is complex.
While it's not necessarily HARD, it is complicated to learn on your own with no experience. That said, once you understand good SEO practices on a deep level, it starts to become second nature as you write blog posts and produce blog content.
Learning SEO as a Blogger
I tried for months to learn SEO on my own. It didn't go well. To this day, I am having to go back through my old blog posts and redo them for better SEO. Ugh! A total time-kill when I could've been doing it correctly from the get-go.
I highly, highly, highly recommend taking a course (or a few) on SEO. My very first blogging course was BySophiaLee's Perfecting Blogging. This course laid the foundation for my SEO knowledge.
If you are starting a blog in your 20s, BySophiaLee's courses are especially perfect.
She started her blog in college and now makes multiple six-figures on her blog. Her course is both videos and text as she walks you through step-by-step exactly how she writes, edits, formats, and optimizes her blog posts – with good SEO.
You can see a glimpse of my Google page ranking above. I have over 100 search phrases where MY BLOG is ranking as the #1 result after implementing BySophiaLee's strategy.
Because of this, I see almost 80% of my traffic coming directly from Google searches.
I cannot stress the importance of SEO enough.
When you start a blog in your 20s, you need to get familiar with an SEO strategy. Whether you use one, succinct SEO course or take the time to do your own research, you absolutely NEED to learn SEO in order to start the blog you are dreaming of.
6. Prioritize
There is a LOT that goes into starting a blog in your 20s. Especially at the beginning, it can feel unbelievably overwhelming. You absolutely HAVE to learn how and what to prioritize.
SEO
We just talked about why you need to know SEO to start a blog so I'll keep this section short. SEO should be a top priority when starting a blog.
Quality Content
Producing quality content is how you get readers. Pretty self-explanatory, right? You need to be actively producing content that is of value to your audience. There needs to be a direct need for your blog posts.
Solve a problem, offer advice, teach something – your content needs to be valuable and high-quality.
Consistency
Consistency is key for blogging. In fact, consistency matters more than frequency. Set out a posting schedule in a planner or notebook. (BSL's course has a content planner that's really helpful!)
It's better to post once a week than to post 5 times one week and then nothing for a month.
If you are starting a blog in your 20s, chances are good that you have other responsibilities. This is where it can serve you well to plan ahead and write out blog content ahead of time. That way, when life gets busy (and it will!), you can keep up with your consistency.
Consistency not only tells your readers that you will be actively helping them, but it's a key component of good SEO. SEO takes time and consistency is key.
Consistency, consistency, consistency!
Pinterest
There are mixed opinions on using Pinterest for blogging success. In my opinion, if you are starting a blog in your 20s, Pinterest is a great tool since your target audience will most likely be on Pinterest.
BySophiaLee also has a Pinterest course (Perfecting Pinterest) that I took.
In a way, Pinterest is its own search engine and, therefore, it requires its own SEO strategy. This can be pretty tricky to learn on your own, but once you do, Pinterest can drive traffic to your site like CRAZY!
As you can see from the numbers above (145,854!), Pinterest has the potential to REALLY help your blog grow. BySophiaLee's Pinterest strategy is what I follow exactly.
Tip: If you buy both BSL's Pinterest AND Blogging course, she offers a course bundle for a discount!
What NOT to Prioritize When Starting a Blog
Social Media Accounts
Social media accounts are hard to grow and, honestly, don't generate the traffic that you'd think. I was spending too much time on Instagram and it took away from my blog. If your goal is strictly to grow your blog, postpone the social media component for a bit.
Facebook Group Shares
In blogging Facebook groups, you often will see threads where you can post a link to a blog post to get page views. This is honestly kind of a waste of time. You are not reaching your target audience and, therefore, aren't really growing your blog authentically.
Perfectionism
Quality content matters. Perfectionism holds you back. Accept that you are going to make mistakes, have errors, and mess up sometimes. Don't let perfectionism keep you from getting your blogs out there.
7. Blog Legally
This is one of the most important tips for starting a blog in your 20s… or at any age. Although it's not the most fun part of blogging, it is essential.
Legally protecting your blog is a MUST.
You NEED to have certain legal pages on your blog… and no, you can't write them yourself.
If you are not a legal professional that is qualified to write legal pages, you most likely cannot write the legal pages on your blog by yourself.
Additionally, you CAN NOT copy another blogger's legal pages. This is illegal and can get you in BIG trouble.
To do this, you should seek professional legal help (from a lawyer, etc.) or purchase a template from a professional.
I, personally, purchased a legal bundle from Blogging for New Bloggers. The templates are super beginner-friendly and easy to use.
Blogging for New Bloggers also offers a 100% FREE course about how to blog legally.
This is one of those purchases that aren't fun to make… but is necessary. It would be even less fun to deal with legal ramifications later on. Protect yourself and your blog and get those legal pages up and running so they can be out of your mind.
8. Niche Down
This was a big mistake I made at the start of my blogging journey. I called myself a "lifestyle" blogger and wrote about anything and everything I wanted to.
Netflix recommendations, recipes, life hacks, morning routines, monthly favorites… my blog was so random!
If I could go back and tell my beginner-blogger-self what I know now, I would say NICHE DOWN FROM THE START.
What is a Blogging Niche?
A niche is a specific topic that you will write about on your blog. The more specific you can get, the better.
When choosing a niche, it can be super helpful to create a profile of your ideal customer or reader. Age, gender identity, interests, personality traits, economic status… come up with as many characteristics as you can that your ideal reader would have.
Then, every time you write a post, write for that exact reader. This can help you stay in your niche and remind you that you are blogging for your reader.
How to Choose a Niche
Here is my perfect formula for choosing a niche when starting a blog.
Passion + Knowledge + Profit = Your Ideal Blogging Niche
You should be writing about something you enjoy writing about. If you don't feel strongly about your topic, you are going to burn out and give up writing about it.
You should be writing about something you know about.
If you are terrible with money, you probably shouldn't start a personal finance blog – even though they're profitable.
You need to feel like an expert on your topic so you can give real, valuable information to your readers.
You want to write in a niche that is profitable – at least somewhat! Blogging niches vary drastically in profitability. (Read about niche profitability here.)
If you are looking to start a blog in your 20s to make money, you should keep that in mind while choosing a niche.
The profitability is not a make or break… there are ways to boost profitability in lower-ranking niches. But it can be helpful to have an idea about your blog's potential.
Importance of Choosing a Niche
Why choose a niche? Doesn't that just limit your content opportunities? Won't I run out of things to talk about?
These were my exact thoughts. It's actually the exact opposite.
Why choose a niche?
Niching down is good for SEO.
When you routinely write about the same/similar topics, that tells Google what your site is about. Over time, Google will start to see your site as an authority figure/expert in that niche and rank you higher than less clearly defined competitors.
Niching down brings a strong audience.
If your blog is all over the place, your readers likely will not be interested in every single thing you cover.
However, if your blog covers one specific topic, you can grow a fan base and following that is going to be interested in nearly all your content.
Won't I run out of things to write about?
Nope! This is another big thing covered in Sophia's blogging course: keywords!
When you know how to do proper keyword research, there are literally endless amounts of blog post ideas for you to cover. (As long as your niche isn't incredibly, unrealistically narrow.)
9. Spend Money to Make Money
Starting a blog in your 20s can be really defeating. You may have college debt, living expenses, minimal income, etc.
Heck, maybe that's the whole reason you want to start a blog in your 20s. I was exactly in that position too.
When you're in this position, it's super defeating to feel like you have to spend money just to get your blog up and running. After all, we want to make money, not spend it.
Blogging Truth: You have to spend money to make money.
It's true. Think of your blog as less of a blog and more of a business.
As with every business, you are going to have startup fees. In the grand scheme, blogging fees are WAY less than those of a traditional startup business.
First Year Blogging Expenses
These were my main blogging expenses for starting a blog in my 20s:
Squarespace is another really amazing and popular host for new bloggers! Both are great, affordable options.
Read my Full HONEST Review of Perfecting Blogging HERE
You NEED a professional for legal pages.
You learn allll about this in the Pinterest course above – it's a lifesaver!
I am the queen of typos and this was cheaper than hiring a proofreader, haha!
You MUST have a keyword research tool.
Worth. Every. Penny. I use this for ALL my blog graphics, images, and Pinterest pins.
(Huge update: I recently bought Making Sense of Affiliate Marketing and my affiliate income is GROWING! Ah! I'm so excited! Michelle, the creator of the course, also has a 100% FREE affiliate marketing eBook that is super helpful if you need a free alternative. Click here for the eBook!)
RELATED POST: Honest Making Sense of Affiliate Marketing Course Review
My momma taught me not to talk about money but I'm gonna tell you anyway… 😉
These blogging expenses have already more than paid for themselves.
I have made more than I have spent – even being just a year into my blogging journey. TBH, I wouldn't have been able to make nearly this much money without those expenses, so it was really worth it to me.
10. You Can Make a LOT of Money
This is probably the best secret to starting a blog in your 20s.
You can make money blogging – and a LOT of it.
Anyone who says that blogging is dead or a thing of the past is simply wrong. There are many bloggers that blog as their full-time job. Even more so, there are plenty of bloggers that earn millions.
Yes, millions.
If you are wanting to start a blog in your 20s, it's not unrealistic to have ambitious financial goals for your future. If you take the proper steps and give your blog the time, attention, and energy it needs to grow, the sky is the limit for you.
How Do Bloggers Make Money?
Many bloggers expand their business into other avenues (podcasts, social media, etc.). However, there are four main ways that most bloggers make money on their blogs.
1. AFFILIATE MARKETING
If bloggers link to a product with an affiliate link and someone purchases that product, the blogger makes a commission – at NO extra cost to the purchaser.
Click Here for the Affiliate Marketing Course that Boosted my Affiliate Income in WEEKS!
Commissions usually range from 3%-40% (sometimes more/less), depending on the affiliate program or company.
2. ADVERTISEMENTS
Once you grow your blog to a significant amount of traffic, you can put ads on your site. There are multiple different ad programs that bloggers can join. If the traffic is there, you can make tons of money just by placing ads on your site.
Sign up for blog coaching with me to learn how I got into Mediavine in less than 1 year!
3. SPONSORED POSTS
Some bloggers will do sponsored posts. This is exactly what it sounds like. Basically, a blogger will work with a company and write a post featuring their product. To do this, the blogger will charge the company for the post.
(Tip: if you decide to pursue sponsored posts, be authentic! Only promote things you truly know and love. Your readers can tell if you are just trying to be a salesperson. One of the reasons I have not done a sponsored post as of now is that I haven't connected with a brand I genuinely love enough to promote to my readers/online friends.)
4. SELLING PRODUCTS
Most big bloggers have their own products of some sort that they sell to their audience. Whether it be merch, a printable, an eBook, a course, etc., bloggers can make TONS by selling their own products through their blogs.
I use SHOPIFY to host my own digital/printable product store.
Highly recommend their eCommerce platform. It's super user-friendly (even for my fellow tech dummies!)
Do you feel better about starting a money-making blog in your 20s?
I hope that these 10 tips about blogging in your 20s helped you gain some confidence, resources, and knowledge. Starting a blog can be nerve-wracking at any age – especially in your 20s!
Know that I am here to answer questions and support you in any way I can. Feel free to leave a comment and I will get back to you ASAP.
Now, go start that blog! You totally got this!