This post may contain affiliate links meaning that, I may make commission if you purchase through my links. Learn More. 
Journaling is a great way to calm down your mind at bedtime. Use these night journal prompts to help unwind before you go to sleep.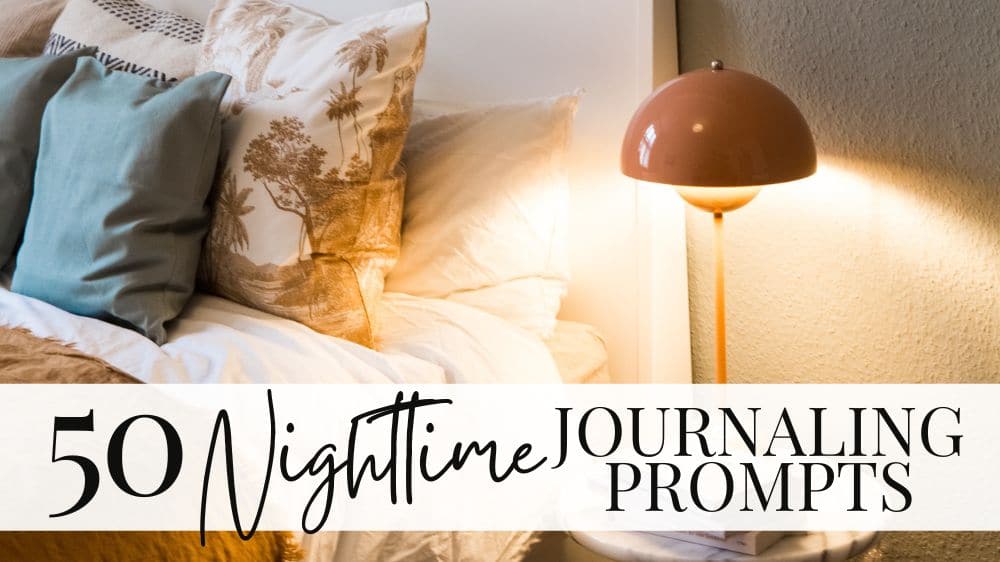 Journaling, at any time of the day, is a great tool for practicing mindfulness, relaxing your mind, relieving anxiety, and promoting overall mental wellness.
We commonly see journaling as part of a morning routine and, while that is great, journaling doesn't only have to be a morning activity.
Bedtime journaling at night is an incredible way to calm yourself, clear your head, reflect on the day, and even prepare for tomorrow.
Journaling before bed can even lead to improved sleep quality and better health.
While you can totally free-write in your journal before bed, using these night journal prompts is another option.
These journal prompts for bedtime are intended to help guide you so that you can get the most out of your nighttime journal session.
Feel free to pick and choose your favorites from this list. Test some prompts out from each of the categories below and see what leaves you feeling the best!
Now, let's dive into these night journal prompts!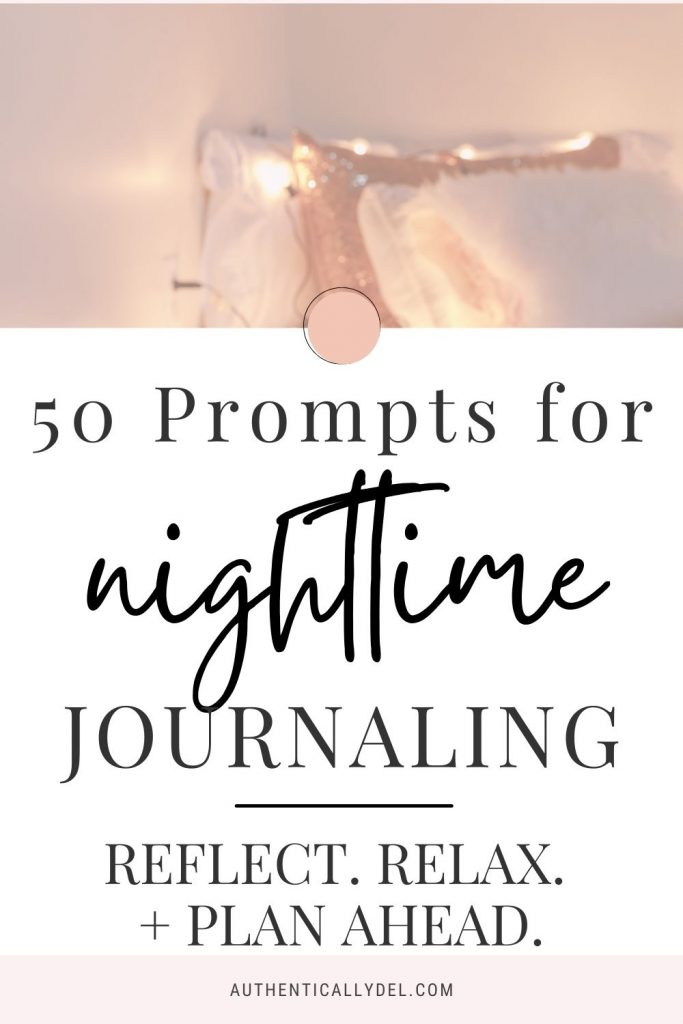 50 Best Nighttime Journal Prompts for Before Bed
Bedtime journaling allows you to go to bed with a clear mind. Regardless of what is left in your brain at the end of the day, taking a moment to write about it can help you go to sleep clear-headed and get the best night's sleep possible.
These night journal prompts will allow you to:
Reflect on the day
Go to sleep with a clear mind
End the day with a positive outlook
Release stress
Prepare for a great tomorrow
These are just 5 of the main focuses of these nighttime journaling prompts. Let's explore them!
25 Nighttime Journal Prompts for Reflection
These bedtime journal prompts are all about reflection. These can help clear your mind of daily stressors and reflect on the positive moments of your day.
What was the most prominent emotion you felt today? Why?
What did you do today? (Fun add-on: rate each activity on a scale of 1-10)
List the to-dos you crossed off today. Celebrate how good that feels!
What stands out the most about your day?
Make a list of some memories from the day.
What's something you're proud of yourself for?
Write down one word to describe your day. Then, explain.
What was the biggest challenge of today? Why?
What's something that bothered you today? How did you overcome that?
Make a list of the things that made you smile today. List as many as you can think of.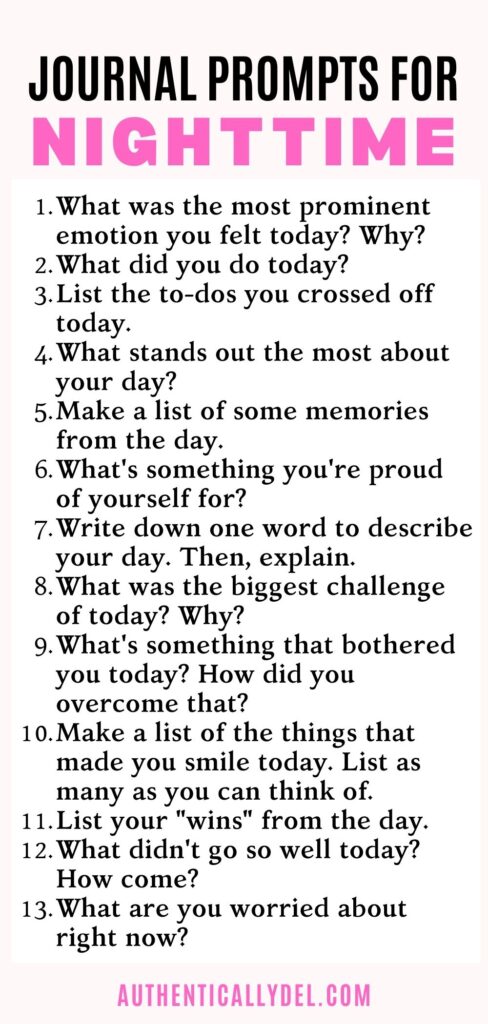 List your "wins" from the day. What went well?
What didn't go so well today? How come?
What are you worried about right now?
What area of your life do you feel the most fulfilled? Why?
What area of your life do you feel least fulfilled? Why?
Who do you feel most grateful for today?
When you reflect on your day, what's the first moment that comes to mind? Why do you think?
Is there anything that's been bothering you or taking up space in your mind? What is it?
Did you feel stressed today? If so, why?
How did you practice self-care today?
List your daily top 3 (the 3 best moments of your day).
What's a lesson you can take away from today?

What is something that would've made today better?

Rate your current mental health/mental state on a scale of 1-10. Explain.
Make a gratitude list. Write down as many things as you can think of. Get specific!
25 Nighttime Journal Prompts for Preparation
These night journaling prompts are future-focused and curated as a way to help set you up for a happy and successful future. These prompts help you prepare for the coming days and/or weeks in an attempt to make them great!
What is something you're looking forward to in the next week?
How can you make tomorrow better than today?
What lesson did you learn today that you will take with you into tomorrow?
How can you set yourself up for success tomorrow?
What are your top 3 goals for tomorrow?
Plan out at least one daily self-care activity for the next week.
Make a list of all the to-dos on your mind.
Write out your ideal morning routine for tomorrow.
How are you feeling about tomorrow? (Excited, anxious, exhausted, hopeful, etc.)
What's your #1 priority for the week?
What is something you can do tomorrow that gets you closer to your big life goals?
What's something challenging you have coming up? How can you prepare for it?
What do you want your mood to be tomorrow? Set that intention.
Start the 101 in 1001 challenge. Set 101 goals for the next 1001 days!
Designate a "word of the day" for tomorrow. How do you want your day to go? (Some of my favorites are: focused, dedicated, productive, mindful, etc.)
Brain dump any future anxieties or stresses you have. Feel the weight lift as you put them on paper.
Make a "don't forget!" checklist for tomorrow.
What does "personal growth" mean to you? How can you take steps there?
Create a fun bucket list for the next few months.
How can you stay focused tomorrow?
Write down some written manifestations for the next week/month.
Write yourself a note of encouragement for the morning!
What do I want to see in my dreams tonight?
I will revisit this in the morning, but for now, I need to just get it out of my mind…

List 5

positive affirmations

to start your day tomorrow.
5 Bedtime Journaling Essentials
Now that you are set with some night journal prompts for before bed, I wanted to share some of my favorite nighttime journaling essentials. For me, journaling at night is a full experience. I love to set the tone with cozy and relaxing add-ons.
Here are some of my favorite nighttime journaling essentials:
A cute journal. Whether it be a guided nighttime reflection journal or just a plain notebook, having a cute journal specifically for my nighttime journaling is a MUST.
Relaxing candles. Candles can really change the mood of a room. I love to add some relaxing candles to my bedtime journaling routine. I tend to opt for relaxing, therapeutic scents such as vanilla, lavender, or eucalyptus!
Comfy chair. Whether you're sitting at your desk, on the couch, or in a big comfy lounge chair, having a comfortable place to sit is KEY. It just makes your journaling experience feel THAT much more special.
RELATED POST: 15 East Ways to Romanticize Your Everyday Life
Cozy blanket. Much like a comfy chair or an inviting candle, having a cozy blanket can really get you in the journaling mood. Creating a comfortable environment is so important for your journaling experience. Blankets help!
A favorite pen. If you're a stationery supplies lover like me, the pen you choose for your nighttime journaling matters. Whether you opt for a bright color or a neutral black is up to you – just make sure it's smooth-writing and juicy! (I will link my favorite pens for journaling here!)
Shop My Night Journaling Essentials:

Why You Should Journal Before Bed
So you have the night journal prompts and the journaling essentials – but are wondering WHY this is so important.
Why should you journal before bed?
Well, there are a few reasons why journaling before bed can be a valuable addition to your nighttime routine.
Journaling before bed allows you to:
Solidify memories – This is great for making note of memories or things that you want to remember. Good, bad, or ugly, journaling of the day's events helps you solidify your memories from the day.
Reflect on the day – Unpacking your day before bed can help aid in self-reflection and allow you the ability to digest the day's events. This also helps you reflect on any lessons you learned from the day and brainstorm how you can put those lessons to good use tomorrow.
Get a better night's sleep – The act of unpacking the day and putting your thoughts on paper helps clear your mind before you hit the hay. Going the bed clear-minded helps improve sleep quality, allowing you to get more restorative and restful sleep.
Practice mindfulness – Journaling can be a great practice of mindfulness. Mindfulness has been linked to lower anxiety, better health, and improved quality of life.
Manifest – Attempting to start a manifestation practice? Journaling before bed can be a great tool! Our subconscious mind is a powerful tool for manifestation, making the moments right before and right after sleep super valuable. Your mind may be in the perfect state before bed for manifesting. Journaling on some written manifestations can help with the manifestation process.
These are just 5 of the many benefits of bedtime journaling.
All in all, ending your day with a moment of self-reflection and mindfulness through journaling can benefit your overall health, happiness, and wellness.
So, go get started tonight! Take these night journal prompts and make them your own!
Happy Journaling!
More Journal Prompt Posts for You: