This post may contain affiliate links meaning that, I may make commission if you purchase through my links. Learn More. 
Does Christmastime bring up a lot of different emotions? Here are 50 thoughtful Christmas journal prompts to help you navigate the holiday season.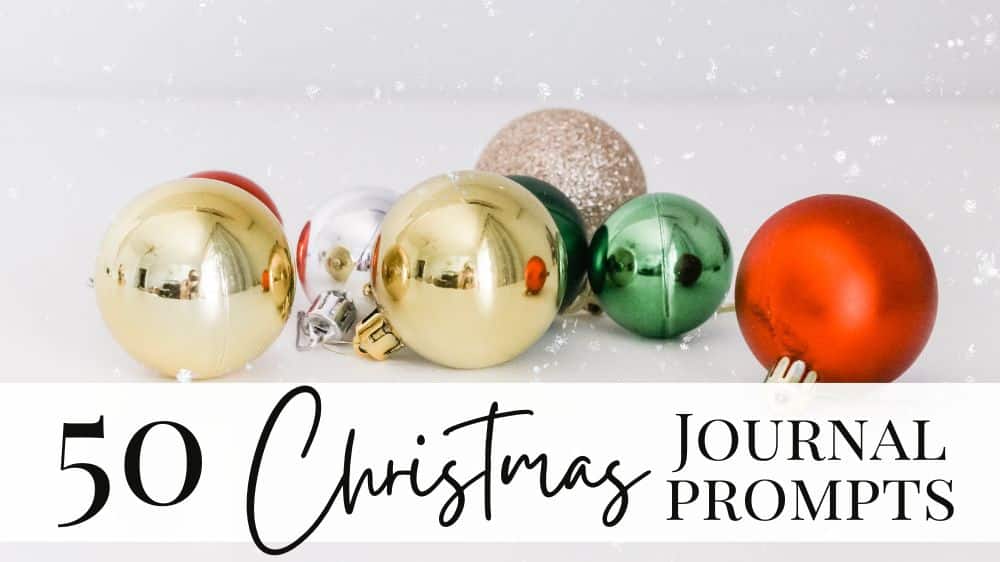 There is a lot going on during the holiday season. Family get-togethers, Christmas shopping, festive events, office parties… the season is filled with festive experiences.
With that, there can come a wide range of emotions: happy, sad, nostalgic, excited, joyful, stressed…
No matter how you're feeling, we can all agree that there is an abundance of emotion tied to the holiday season. These 50 Christmas journal prompts for adults are here to help you work through them.
These Christmas journal prompts prompt thoughts surrounding holiday memories, deep holiday emotions, and festive holiday fun. No matter what you're looking for in a holiday journaling prompt, you'll find it here.
Let's jump into these festive Christmas journal ideas.
50 Festive Christmas Journal Prompts for Adults
Holiday Memories Journal Prompts
What is your first memory of Christmas? Describe it in detail.
What is your favorite holiday tradition from childhood?
What's the best Christmas gift you've ever received?
What memories do you have of Christmastime in elementary school?
How would you describe childhood holidays in one word? Why?
Who is involved in your favorite Christmas memories? Are you still connected with them?
Write about the best gift you've ever given. Who was it to? How did they react?
Did you believe in Santa? How long? Was this a positive experience for you?
What was your favorite Christmas decor as a child?
What was your favorite Christmas movie when you were younger? Do you still watch it?
READ: 100+ Positive Christmas Affirmations for the Holidays
What holiday traditions from childhood do you still do?
Describe your best Christmas morning ever.
Make a Venn diagram of Christmas as a kid and Christmas now. How is it the same? How is it different?
Write about a time that you felt the Christmas spirit take over.
Describe an ideal day at Christmastime as a kid.
Deep Emotional Christmas Journal Prompts
What emotions do the holidays bring up for you?
Who do you miss most around the holidays?
What parts of the holidays do you enjoy? What do you not enjoy? Why?

Do you prefer giving or receiving gifts? Why?

What makes you feel most connected to others around Christmas?
How can you care for yourself at Christmas?
READ: 25 Days of Christmas Self-Care
Make a grown-up Christmas list of non-tangible wishes. What do you wish for the world? For yourself?
What brings you stress around the holidays?
How are the holidays special?
If you could invite anyone to Christmas dinner, dead or alive, who would you invite?
Is there anything that makes you sad around Christmas? What is it? Why?
Do you feel nostalgic during the holidays? For what? Why?
How do you feel about commercialism during the holidays?
Do you raise/want to raise your family with any of the same holiday traditions you had? Which ones? Why or why not?
How can you be more giving during the holidays?
In what ways can you spread holiday cheer to others?
Who adds joy to your holiday season?
How do you connect to others during the holidays?
What do you feel most grateful for at Christmastime?
Describe what Christmas means to you.
Fun Festive Christmas Journal Prompts
What's your favorite cozy Christmas activity?
What's on your Christmas list this year?
Make a Christmas movie checklist to watch this year.
Describe your ideal Christmas morning in detail.
If you could have anything for Christmas, what would it be? (Pretend money isn't a factor!)
What is your favorite holiday-specific activity?
Make a December bucket list.
If you were Santa, what would your uniform be? (Ditch the red suit! What are you wearing instead?)
Think of a new holiday tradition to start with your family.
Write your own version of the 12 Days of Christmas song. What would you want for each day?
Make a list of your top 10 Christmas songs.
Write a cheesy Christmas love story. Get creative!
What does "holiday spirit" mean to you? What does it look like?
If you were Santa, what snack would you want to be left for you? (Doesn't have to be milk and cookies!)
If you could make every day Christmas, would you? Why or why not?
How will you journal this Christmas?
Are you journaling this Christmas to boost your spirits? Relive old nostalgic holiday memories? Feel the full effects of Christmas spirit?
What's your goal for your holiday journaling? Which of these Christmas journaling prompts will best help you get there?