This post may contain affiliate links meaning that, I may make commission if you purchase through my links. Learn More. 
Looking for fun things to do in December? Use this December bucket list to end your 2023 on the best note possible!
---
December is here!
The holiday season is officially upon us. For some, this means stress. Christmas shopping, holiday baking, and all the December events.
But, the holiday season doesn't have to be stressful.
In fact, it's meant to be ENJOYED. December is a month filled with magic, no matter how old you are. Sometimes it just takes some effort to reignite that holiday feeling that you had as a kid.
This bucket list for December is filled with all the most amazing things to give you the BEST December you could ever imagine.
Whether you tackle this holiday bucket list solo or with some loved ones, it's time to sit back, print out your December bucket list, and get to checking off all of these amazing and festive holiday activities!
Ultimate 2023 December Bucket List
This bucket list is FILLED with great ideas for the month of December. Some can be done at home, some out and about, some for free and some may cost a dollar or two, some alone and some require a loved one.
Pick the options that sound best to you and get to living your best life this December!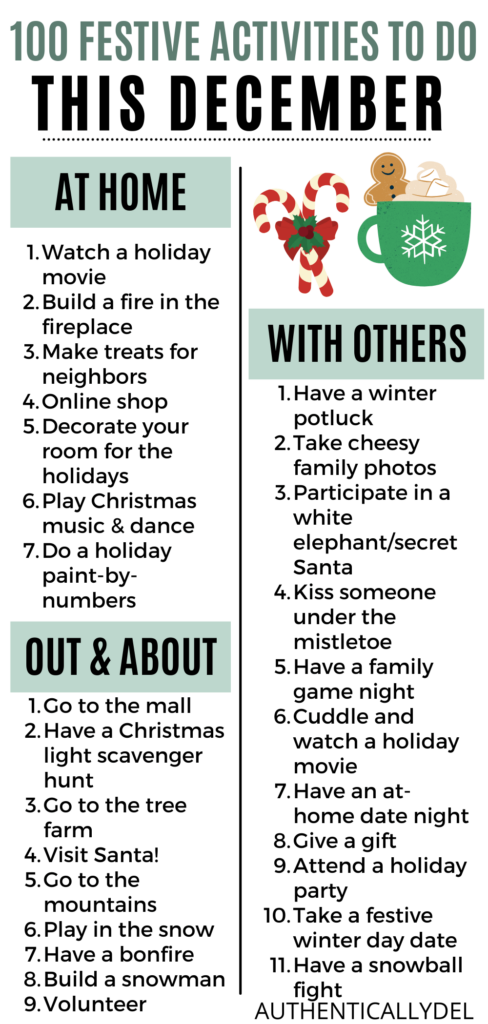 25 At-Home December Bucket List Ideas
Watch a Christmas movie (or five)
Build a fire in the fireplace
Cuddle with blankets and watch the sunset outside
Make treats for neighbors
Online shop (for others or yourself )
Decorate your room for the holidays
Play Christmas music and dance
Do a holiday paint-by-numbers
Do a holiday puzzle
Decorate a Christmas tree
Make homemade ornaments
Complete a holiday word search
Knit something cozy
Have a game night
Read a winter-themed book (Debbie Macomber's books are great!)
Make homemade Christmas cards
String holiday lights in your bedroom
Wrap gifts
Make paper snowflakes
Stay in your pajamas all day (bonus points for Christmas PJs)
Build a homemade wreath
Dress up your pet in Christmas PJs
Watch the Grinch
Write a letter to Santa
Build a gingerbread house
READ: 100+ FUN AND FESTIVE CHRISTMAS AFFIRMATIONS
25 Outdoors December Bucket List Ideas
Go to the mall
Have a Christmas light scavenger hunt
Go to the Christmas tree farm
Visit Santa!
Go to the mountains
Play in the snow
Have a bonfire
Build a snowman
Volunteer and give back
Foster a family for the holiday
Drive around and give to the homeless
Go to a small local business
Go caroling
Visit a Christmas shop
READ: 25 DAYS OF CHRISTMAS SELF-CARE (+ PRINTABLE)
Go to the Nutcracker
Take a winter hike
Go to a Chrismas parade
Do a drive-through Christmas light show
See a holiday drive-in movie
Go ice skating
Donate to the food bank
Go to church (if applicable!)
Buy a new cozy blanket
Shop Target's holiday section
Have a holiday drive (holiday music, hot cocoa, etc.)
25 Food-Related December Bucket List Ideas
Bake holiday cookies
Make hot cocoa with marshmallows
Make winter snack mix
Bake cinnamon rolls from scratch
Make homemade gingerbread cookies
Make homemade coffee with eggnog
Buy a seasonal item at the grocery store (Holiday snacks are the BEST!)
Try a seasonal Starbucks drink
Eat a candy cane
Get a chocolate advent calendar
Try 3 different flavors of hot cocoa
Make a cozy winter soup
Make peppermint bark
Bake homemade bread
Have dessert while watching a holiday movie
Eat s'mores from the fireplace
Eat all holiday-themed foods for one day (Christmas tree-shaped pizza, anyone?)
Try fruitcake
Make homemade candy
Eat a pie
Leave cookies for Santa
Drink hot cocoa outside
Bake sugar cookies
Make an old family holiday recipe
Have a holiday dinner
READ: 50 CHRISTMAS JOURNAL PROMPTS FOR A GREAT HOLIDAY SEASON
20 December Bucket List Ideas for Friends and Family
Have a winter potluck
Take cheesy family photos
Participate in a white elephant/secret Santa
Kiss someone under the mistletoe
Have a family game night
Cuddle and watch a holiday movie
Have an at-home date night
Give a gift
Attend a holiday party
Take a festive winter day date
Call someone you haven't spoken to in a while
Buy a coffee and pay it forward
Have a neighborhood holiday get-together
Kiss in the snow
Have a snowball fight
Have an ugly Christmas sweater competition
Wear matching pajamas with a loved one
Deliver holiday treats to your grandparents
Have a gingerbread house competition
Spend a cozy winter weekend away with your significant other
Top 5 December Bucket List Activities
Allow yourself time to relax
Be present in the moments
Share a laugh with someone you love
Practice gratitude
ENJOY YOUR TIME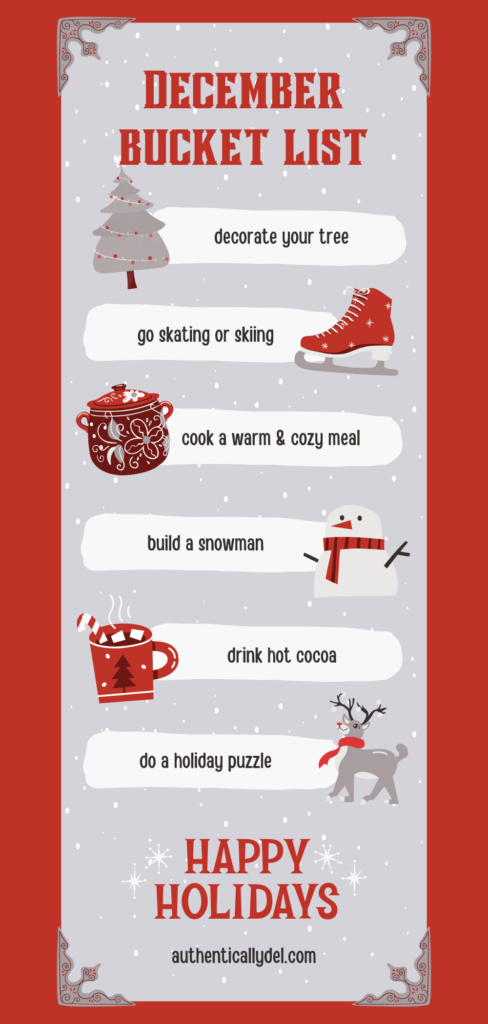 Which December Bucket List Idea is Your Favorite?
These winter activities are perfect for your winter bucket list.
Whether you celebrate Christmas or not, prefer relaxing or activities, or enjoy being alone or with loved ones, there are plenty of ideas on this for you!
Free Printable December Bucket List!
Use this blank December bucket list template to fill in all the things that sound the most enjoyable to YOU this holiday season!
Happy Holidays!