This post may contain affiliate links meaning that, I may make commission if you purchase through my links. Learn More. 
With the rise of technology, we seem to have lost the appreciation for the art of handwritten letters. If you are wanting to go old school, here are 50 fun, creative handwritten letter ideas to write!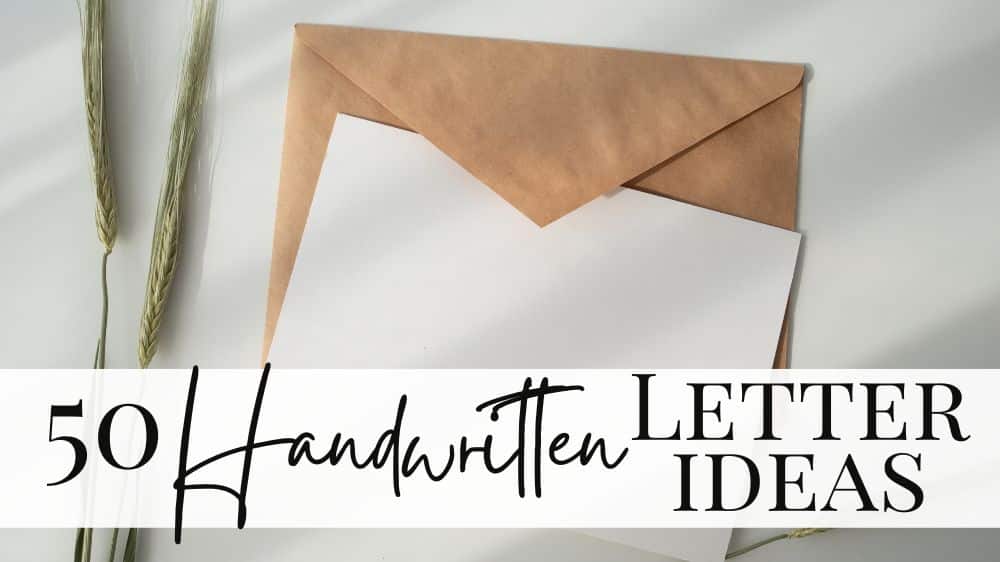 For as long as I can remember, I've loved to write. The written word is such a powerful form of communication and connection.
With the rise of technology, I seem to have lost my appreciation for a good old handwritten letter or note.
There are so many wonderful perks to the online world, of course. (Heck, it allows me to write this blog! Major bonus.) But, I do wish that we could find a way to maintain the art of writing letters by hand.
If we're honest, texts are nice and convenient, but nothing will beat the specialness of a handwritten letter.
Why Write Handwritten Letters?
I believe in the power of a handwritten letter for so many different reasons. Here are a few…
They show you really care.
Taking the time to physically sit down and handwrite a letter to a loved one shows that you really care. Not that sending off a kind text doesn't… but it's a whole other level of showing someone you're thinking about them.
It's so fun to receive mail.
How often do you receive mail that isn't bills, ads, or other adulting things? It's such a wonderful surprise to receive something JOYFUL in the mail.
They can be kept forever.
Sure, you can screenshot a nice text. But how often do you really revisit those texts?
With handwritten letters, you can physically store them all in a letter storage box or envelope to revisit sporadically.
To this day, I have letters from my childhood that I reread sometimes. They are so much more meaningful than a text or DM.
You can have more fun with them.
Writing a letter is fun… but decorating a handwritten letter is even better! Decorate and dress up your snail mail with fun, creative add-ons, such as:
Additionally, you can include fun things in your envelope that you couldn't otherwise (ie. gift cards, bookmarks, additional notes, and little gifts).
They feel more meaningful.
All in all, handwritten letters just feel more meaningful. The recipient can recognize the intentionality and effort that went into it.
It really is a beautiful form of connection and communication that many of us miss out on!
50 Creative Handwritten Letter Ideas
Ready to start letter-writing? Here are 50 fun letter ideas to get you started!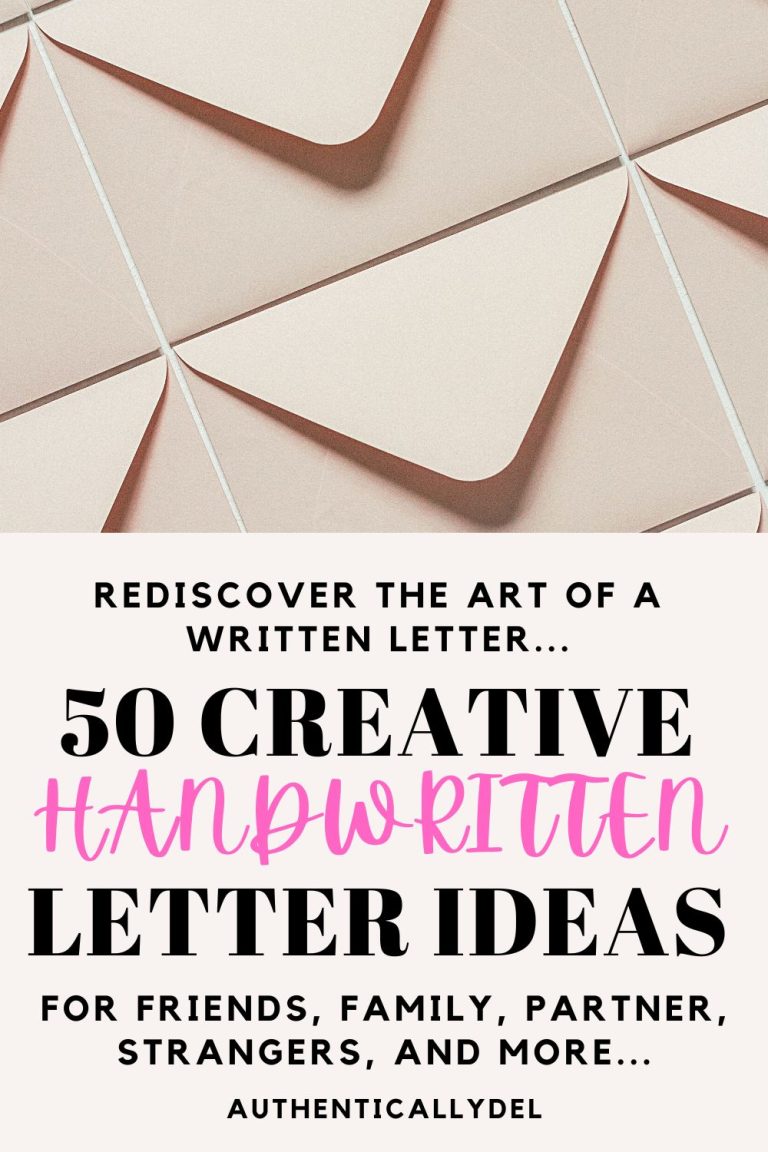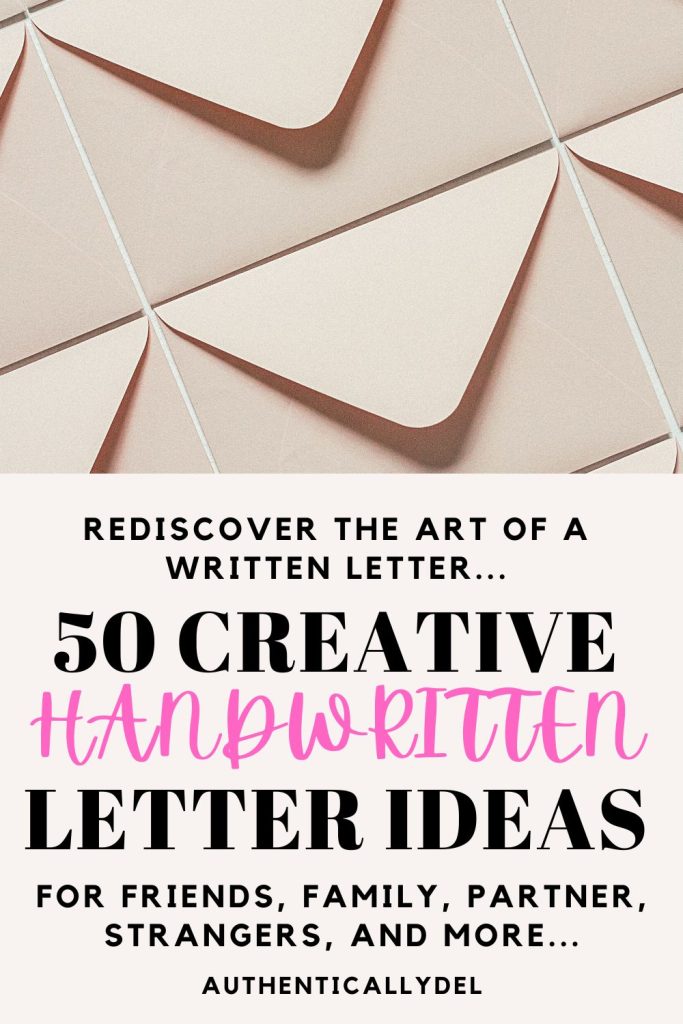 Letters to Send to Family
Write to a grandparent recalling a favorite childhood memory with them.
Celebrate an anniversary in your family with a handwritten letter.
Write a letter to your mom telling her all the things she did right raising you.
Send your sibling a letter recalling a childhood memory. Include a photo.
Write your dad a letter thanking him for something specific he did while you were growing up.
Send a letter to a family member that lives far away.
Write a niece or nephew a fun letter with a small gift enclosed.
Send a meaningful birthday letter to someone in your family (rather than a generic store-bought card!).
Write to an aunt/uncle and update them on your life. Ask them to send you an update back!
Find an old photo of you and your cousins. Send it to them with a letter.
Letters to Send to Friends
Send a long-distance friend an old photo of the two of you.
Purchase a $5 Starbucks gift card and send it to the biggest coffee lover you know.
Write a thank you letter to a friend for a past gift that you still use today.
Surprise a friend you don't normally send a card to with an unexpected birthday card. (It's okay if you have to check Facebook to find their bday. 😉)
Send a friend a list of all the reasons you love them.
READ: 121 Compliments Not About Physical Appearance
When a friend posts about an exciting accomplishment or life event on Facebook, send them a letter congratulating them.
Send a letter to your elementary school best friend recalling a memory.
Send a letter to a coworker telling them how they make your work life better.
Put some bookmarks in an envelope with a list of your favorite book recommendations and send it to a friend who loves reading.
Write a letter to an ex-friend telling them how they touched your life. Clear the air if there is any lingering awkwardness.
Letters to Give Your Partner
Make a list of all your favorite things about your partner. Give it to them.
Create a coupon book to give your partner along with a love note.
Write a letter to your partner telling them your side of the story from your first date.
Make a memory list of your favorite moments with your partner and give it to them to reminisce together.
Write a letter thanking your partner for a time they made you feel special.
Put together an envelope of papers with date ideas to draw from when you need a fun idea.
Write a letter telling your partner the story of when you knew you were in love with them.
Explain your love language to your partner in a written letter. Tell them the ways they can make you feel loved.
READ: 50 Gift Ideas for the 5 Love Languages
Write your partner a love poem.
Put a special memento from your relationship into an envelope (ticket from a date, first photo, etc.). Write a letter explaining what it means to you.
Letters to Send Strangers
Send a letter to someone in the military. (Check out this program to send a letter to a deployed soldier.)
Drop some fun bookmarks in an envelope with a fun note and leave it at your local public library.
Write a random note of kindness, address it "to whoever finds this", and leave it in a public park near you.
Leave a kind note on a random car in a parking lot.
Buy a $5-10 gift card to a store and leave it on a random aisle in the store with a note for someone to find!
Write a note of encouragement and pin it to a bulletin board in a public space (coffee shop, library, etc.).
Put together a quick, kind letter and drop it in a random mailbox.
Place some encouragement stickers in an envelope with a note telling someone they are doing a great job. Leave it outside a local therapist's office. We all need to hear this sometimes!
Write a thank you card to give to a local worker (grocery store clerk, dentist, receptionist, firefighter, etc.).
Put an extra notecard, stamp, and envelope together with a letter encouraging them to write to someone they love. Leave this in someone's mailbox. (You could include some of your favorite letter ideas from this list to inspire them!)
More Creative Handwritten Letter Ideas
Write a thank you letter to a favorite teacher from your childhood. You may also want to include a life update and a current photo of you!
Send a letter of appreciation to someone who has helped you through a hard time (even if it was years ago).
Write to the kids you used to watch/babysit. Tell them a funny story from when they were younger.
Write a letter to someone you feel resentful towards. (You don't even need to send this one… This is more for your healing!)
Choose an influencer that you feel connected to. Write them a letter telling them how they've touched your life. (You can usually find a P.O. box address if you search hard enough!)
Write to a past sports coach telling them how they've impacted you and your life.
Send a letter to a child in your life. Kids love getting snail mail!
Think about a gift you received that you use often. Write a "thank you" letter to whoever gave it to you.
Write a thank you letter to your favorite grocery store clerk or barista. Tell them how they brighten your daily errands!
Write a letter to your future self. Store it somewhere safe and set a reminder on your phone to open it in 5-10 years.
How to Write a Great Letter
Now that you have tons of creative letter ideas, you may be wondering HOW to write the perfect letter.
Honestly, there is no such thing as a "perfect" letter.
This is the beauty of the art of handwritten letters. There is no need for perfectionism or stress. Simply writing someone a letter is special enough.
That said, if you want some guidance for letter-writing, I do have a few recommendations for getting started.
Here are 5 quick tips for a great handwritten letter:
Address it to Someone Specific. If you are writing to a specific person, open the letter with their name. If you are writing to a stranger, address it with a clever opening (ie. if you leave the letter at the library, address it "Dear Fellow Book-Lover").
Include a Term of Endearment. Now that you know to open the letter by addressing the recipient, feel free to get creative including terms of endearment. For example, "Dear Suzy" could be turned into "To the Stunning Suzy Smith". Easy way to add that extra pizazz!
Use a Creative Sign-Off. Instead of just signing your name, find a creative and personalized sign-off. You can even relate it to the context of the letter. For example, if you leave your letter in a coffee shop, sign off with "Happy Sipping!".
Add in Extras. Bookmarks, gift cards, photographs, stickers, etc. all make great add-ons to a letter.
Use Your Own Voice. At the end of the day, the most special part of a letter is that YOU wrote it. Let your personality shine through. Make it your own.
There you have it – 50 creative letter ideas and my top tips for a great handwritten letter!
What is your favorite letter idea on this list? Which do you think you'll write first? Let me know in the comments.
Happy Letter-Writing!