This post may contain affiliate links meaning that, I may make commission if you purchase through my links. Learn More. 
Knowing your loved one's love language can tell you all you need to know to pick the perfect gift for them! Use these love language gift ideas to give the people in your life exactly what they want.
If you're anything like me, gift-giving can be a major stress bomb. Trying to pick out the perfect gift for all the different people in your life is HARD.
Yeah, you may know them well. You understand their interests, their job, and their hobbies… but how does that translate into finding a gift they'll LOVE?
If you're still shopping strictly based on someone's interests, you may be missing a key element to finding a gift that will really 'wow' them – Their Love Langauge.
Whether you're shopping for a significant other, parent, friend, sibling, coworker, or family member, giving gifts for their love language is sure to make them feel known, loved, and special.
Here are 50 perfect love language gift ideas that are sure to impress!
What are the 5 Love Languages?
In order to shop for love language gifts, we should probably know exactly what the 5 love languages are, right?
The 5 love languages are based on Gary Chapman's 1992 book, The 5 Love Languages.
Despite being over 30 years old now, Chapman's work in this book is still very relevant today.
Essentially, Chapman has broken down how we, as humans, give and receive love into 5 main categories.
Of course, there are more specific love languages within these categories, but the 5 main love languages give us an amazing starting point for knowing how to express love to those we care about.
The 5 Love Languages
Words of Affirmation: This love language relies on words (written or spoken) to affirm, express, and receive love.
Acts of Service: This is the "actions speak louder than words" love language. People with this love language feel loved when you do actionable things for them.
Quality Time: Undivided attention is the key to this love language! They feel loved by spending meaningful time with you!
Receiving Gifts: This love language feels most loved, seen, and appreciated when you offer them a heartfelt and meaningful gift.
Physical Touch: Appropriate, meaningful physical touch is the secret to expressing love to those with this love language.
These love languages are not black-or-white. We all tend to have a touch of all 5 love languages. However, most of us have one or two love languages that are particularly prominent.
Don't know your loved one's love language?
No worries! There are a few things you can do!
Suggest taking the love language quiz.
This is something you could easily bring up in conversation. Try something like, "I took this love language quiz the other day and it was super interesting. You should take it and we can compare!"
Super casual… they'll never know it has something to do with their gift.
Make an educated guess.
Oftentimes, how people receive love is also how they subconsciously express love.
Does this person often send you kind texts? They may have the Words of Affirmation love language.
Do they offer lots of hugs or high-fives? Physical Touch may be their jam!
Take your best guess. You can't go wrong!
Know the stakes are low.
While most people have a dominant love language, almost all of us have a touch of all 5. Giving someone a gift for any love language will still be meaningful and special to them.
Don't fret too much over getting it perfect!
50 Love Language Gift Ideas
Let's jump into these love language gift ideas for each of the 5 main love languages!
Words of Affirmation Gift Ideas
Use these 10 gift ideas for words of affirmation to express how much you care!
"What I Love About You" Book – This book is made up of fill-in-the-blank prompts for you to personalize for the person you love. Prompts such as "you deserve the _ award" and "I'm kind of obsessed with your _" are sure to leave your gift-recipient feeling LOVED. [GET THE BOOK HERE]
"Open When" Letters – A collection of "open when" letters is a Words of Affirmation gift that keeps on giving. You can do these all by hand or get a pre-made "open when" letters booklet to fill out. This is such a sweet way to show you care. [GET THE BOOKLET HERE]
Poetry Book – Poetry is such a perfect Words of Affirmation gift idea. Whether it's written by you or not, the emotion behind meaningful poetry is so beautiful. Consider adding sticky notes or tabs throughout the book for a personalized touch. [GET MY FAVORITE POETRY BOOK HERE]
Notes Jar – This is such a simple, budget-friendly gift idea that's perfect for anyone in your life. Put together a cute jar of mini notes for them to open when they need some positive words. Create your own DIY jar or purchase a pre-made one. You can't go wrong with this. [GET THE NOTE JAR HERE]
Affirmation Cards – This is another simple and super budget-friendly idea. Positive affirmation cards make a great gift for the word lovers in your life. You can design your own for free on Canva, purchase some, or find free downloads online! [GET MY FREE PRINTABLE AFFIRMATION CARDS]
Engraved Jewelry – Custom-made engraved jewelry screams "I love you!". There are so many beautiful options for engraved accessories – some even engrave in exact handwriting! Check Etsy for some of the most amazing ideas. [GET HANDWRITING ENGRAVED JEWELRY]
"Little Letters of Love" Book – This booklet allows you to write short and sweet letters for your loved one. For those who receive love best through words, this is the perfect gift to make them feel special. [GET THE BOOK HERE}
Affirmation Clothing – As a Words of Affirmation girl myself, I can confirm we LOVE clothing with positive phrases on them. Mental health or positive phrase graphic clothes are always a great idea! [SHOP GRAPHIC CLOTHING ON ETSY]
Encouragement Mugs – Mugs, cups, or other household items with positive phrases are a great go-to gift idea for this love language! [GET THE POSITIVE AFFIRMATION MUG]
A Handwritten Letter – Fancier isn't always better. You really can't put a price on the value of a heartfelt handwritten letter. Grab a pen and paper and create the best gift out there!
Acts of Service Gift Ideas
These 10 acts of service love language gift ideas are the perfect way to show you care!
Coupon Book – A homemade, customized coupon book is the perfect Acts of Service gift. Fill it with things you know your loved one will appreciate! [GET A CUSTOMIZABLE PRINTABLE COUPON BOOK]
Get Them a Car Wash – Take care of their car maintenance. A car wash, oil, change, etc. are all ways to show love through acts of service!
Tackle a Household Project – Has your loved one been meaning to repaint the bedroom? Tile the shower? Rearrange the living room? Take care of this for them!
Take On the Meal Planning – Whether you do this manually or with an automated meal plan service, your loved one will appreciate the stress relief from this. [GET YOUR $5 MEAL PLAN]
Organization Tools – Sometimes the best act of service is simply making their work easier. Consider productivity or organization tools that can help your loved one out!
Stress Relief Activities – If your loved one has lots on their to-do list, giving them the gift of stress relief may be the best act of service out there. Consider scheduling a massage or paying for them to attend a workout class to unwind and relax. [GET AN AT-HOME WORKOUT SUBSCRIPTION]
Make a Home-Cooked Meal – Give the gift of their favorite home-cooked dinner. Take care of it all – prep, cook, clean. They'll love the great food and the night off!
Pamper Basket – With lots keeping them busy, your loved one may not make much time for self-care. Put together or order a self-care basket to encourage them to slow down and take care of themselves. [GET A SELF-CARE SUBSCRIPTION BOX]
Breakfast in Bed – Allowing your loved one the luxury of a beautiful breakfast in bed is the perfect way to say "I love you!"
Write a "Thank You" Letter – After all, sometimes the best gift is showing deep appreciation for THEIR acts of service. Tell them how much you see and appreciate all they do.
Quality Time Gift Ideas
Does your loved one prefer quality time? Here are 10 perfect quality time gifts for their love language.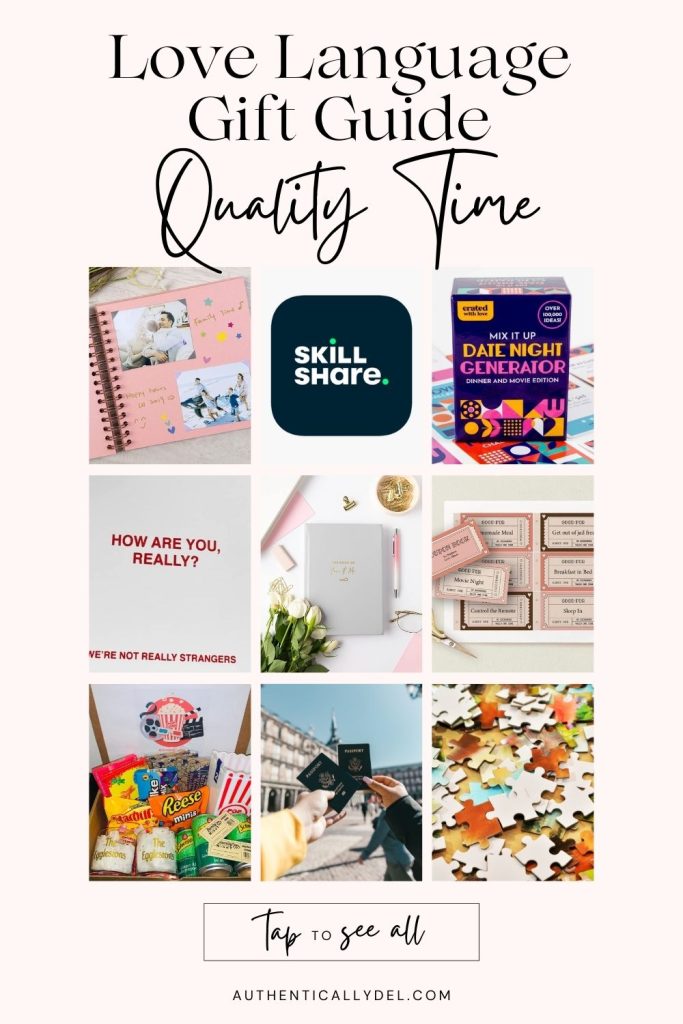 Scrapbook – Put together a scrapbook of some of your favorite quality time moments together. Leave a few blank pages for future moments too! [GET YOUR SCRAPBOOK HERE]
Bucket List – Put together a bucket list for you and your loved one to take on together. Consider leaving a few extra spaces for them to add their own ideas! [GET 100 FUN BUCKET LIST IDEAS HERE]
Online Learning Course – Sign up for an online class that the two of you can take together. Learning a new skill or hobby is a great way to spend quality time together. [TRY OUT SKILLSHARE FOR FREE]
Quality Time Coupon Book – Put together a coupon book filled with quality time activities for the two of you! [GET A PRE-MADE BOOK HERE]
Date Night Generator – Whether you're shopping for a significant other or not, a date night jar or card stack is the perfect quality time gift idea. Throw different date activity ideas together to pick from when you are looking for some quality time together! [GET THE DATE NIGHT GENERATOR CARD GAME]
Conversation Starter Card Game – Give the gift of getting to know each other better with a conversation starter card game. My favorite is "We're Not Really Strangers" because they have so many different decks for every type of relationship! [GET THE WNRS CARD GAME]
Weekend Getaway – This is a bit of a larger gift but if you are able to, booking a weekend getaway screams "quality time". Plan a fun trip for you and your loved one.
Couple Question Book – Get to know each other on a deeper level with an activity book of questions! Sit down and work through this together. [GET THE COUPLE QUESTION BOOK]
A Shared Hobby/Project – Give them a gift that the two of you can work on together as a way to spend quality time together. Some ideas include a puzzle, a mystery-solving kit, a paint-by-numbers canvas, or other DIY project.
Movie Night Basket – Take time to pick out some of their favorite movies, snacks, and cuddly blankets to put together a quality time gift basket filled with movie-night essentials! [GET THE MOVIE NIGHT GIFT BASKET]
Receiving Gifts Gift Ideas
This may be the easiest love language to give gifts to… the simple act of gift-giving speaks their language! Here are 10 extra-special ideas.
Beauty Subscription Box – If shopping for a skincare, haircare, or makeup lover, a beauty subscription box is a gift that keeps on giving, month after month. [GET BIRCHBOX HERE]
Pet Gift Subscription Box – Is your gift-loving loved one also a pet owner? If so, give them the gift of giving gifts to the pet they love the most. You can't beat that! [GET BARKBOX HERE]
5 Senses Gift Box – As a general gift lover, why not give them something for all 5 senses? Put together a gift basket of a gift for each sense: sight, smell, taste, sound, and touch. [GET PRINTABLE 5 SENSES GIFT TAGS]
RELATED POST: 25 Self-Care Ideas for the 5 Senses
Clothing – When in doubt, some new clothes are a great gift idea for anyone on in your life. We all wear 'em (hopefully 😉 ).
Coffee Subscription Box – Who doesn't love the idea of recurring coffee sent straight to your door? Sounds like a dream to me. This coffee subscription box is a perfect gift idea for this love language. [GET THE BEANBOX]
Self-Care Gifts – We could all use the reminder to practice more self-care. Give your loved one a self-care-related gift, such as a face mask, candle, fuzzy socks, or spa day coupon.
Meaningful Jewelry – A gift with meaning is always extra special! Personalized jewelry is a great way to show someone you love them. [GET CUSTOM JEWELRY ON ETSY]
Personalized Phone Case – In today's world, a lot of us use our phones more than almost anything else. Get your loved one a customized phone case to spice up their device! [GET A PERSONALIZED PHONE CASE]
Self-Care Subscription Box – A recurring reminder to practice self-care tells them you love them! Gifting a self-care subscription box is the perfect way to do this. [GET THERABOX HERE]
Night In Subscription Boxes – For all my fellow homebodies, this subscription box is the best! This box is filled with at-home activities for the perfect night in. [GET THE NIGHT IN BOX]
Physical Touch Gift Ideas
How do you give the gift of physical touch? This one's a bit tricky… but here are 10 incredibly physical touch love language gift ideas.
Bath Gift Basket – A relaxing, self-care bath is the perfect gift for the physical touch love language. [GET A LUXURY BATH KIT ON ULTA]
Long-Distance Vibration Bracelets – This is the perfect physical touch gift idea for a loved one that you are often apart from. Touch your bracelet to send a vibration to theirs, letting them know they're on your mind. [GET THE BRACELETS]
Physical Touch Coupon Book – Create a handmade coupon book filled with physical touch coupons. Massages, foot rubs, cuddles, and hugs all make for great coupon ideas! [GET A ROMANTIC COUPON BOOK HERE]
Weighted Blanket – A weighted blanket provides comfort and security through the act of physical touch. This makes the perfect touch love language gift. [GET A WEIGHTED BLANKET]
Yoga Classes – Yoga is an incredible way to connect with your body through physical sensations and movement. Get your loved one a yoga class subscription or an online class! [GET ALOMOVES YOGA ONLINE]
Massage Gun – Want to give the gift of massage without having to do the hands-on work yourself? (I see you.) This is the perfect gift idea to appeal to the physical touch language. [GET THE MASSAGE GUN ON AMAZON]
Couple Cuddle Pillow – If your significant other is a cuddler, a couple pillow is sure to make them feel loved. This pillow is specifically designed to make cuddling more comfortable. [GET THE PILLOW]
Barefoot Dreams Robe – In terms of cozy gifts, Barefoot Dreams is just about as good as it gets. This is definitely a pricer high-end brand, so shop discount stores for the best deals! [GET ON NORDSTROM RACK]
Underwear Subscription Box – An undergarment/lingerie subscription box is the perfect tasteful gift for those who love sharing intimate moments to express love. [GET THE UNDERCLUB BOX]
Skincare Gift Set – A good skincare routine is an underrated form of self-love physical touch. Give the gift of an at-home spa night with a good skincare set. [GET THE GLOSSIER GIFT SET]
Shop These Love Language Gift Ideas
See something you liked? Use the links below to find the perfect gift for your loved one's love language.

I hope these gift ideas for the 5 love languages helped you find the perfect gift for any occasion.
What love language are you shopping for? Which gift idea are you going to be giving? Leave a comment below!
More Gift Ideas
20 Gift Ideas for Organization Lovers
20 Best Planners for Entrepreneurs