This post may contain affiliate links meaning that, I may make commission if you purchase through my links. Learn More. 
Having a good planner for your blog is crucial for staying organized and on track. Here are the 10 best blogging planners for growing and maintaining a successful blog.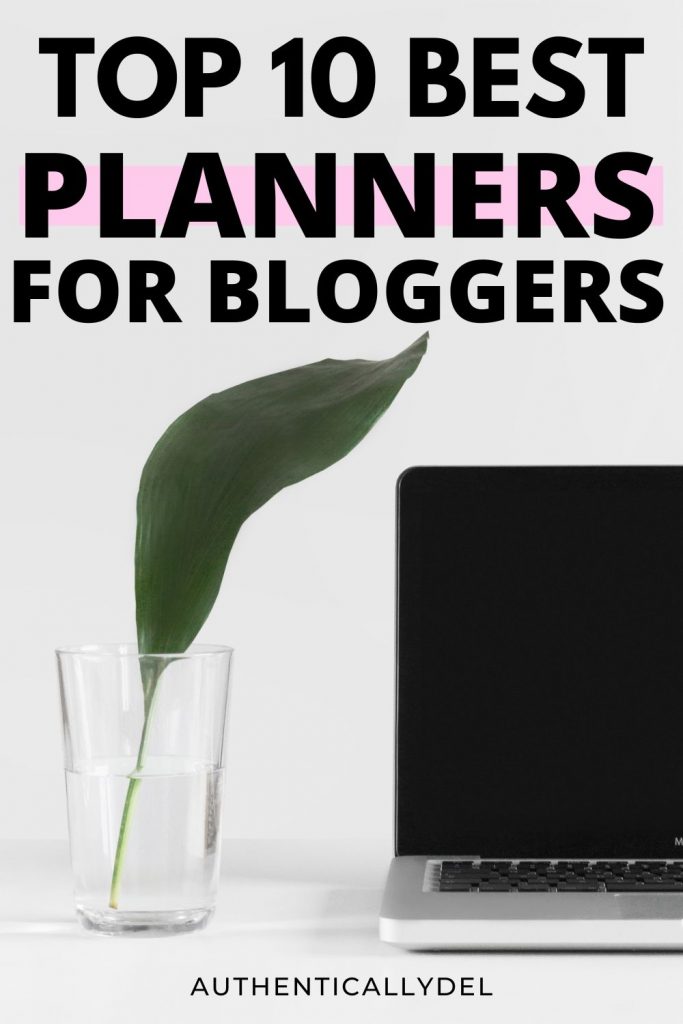 If you're looking to grow (and maintain) a successful blog, you know that running a blog takes a lot of work.
Staying organized as a blogger is essential.
To help you optimize your time, stay organized, and be successful, I've put together a list of the 10 best blogging planners I've ever seen.
As a lifelong planner lover myself, I have some pretty high standards when it comes to planners. This list is filled with only the best planning resources for my fellow bloggers out there!
What is a Blogging Planner?
A blogging planner is a tool that any blogger that wants to get serious about their blog should consider investing in.
Traditional planners are great, but a blogging planner has some additional features that help take it to the next level for blogging success.
Blogging planners can be specifically made FOR blogging or they can be just standard planners with some incredible extra features.
(You'll see both listed below.)
Some elements of a blogging planner may include:
Goal-setting
To-do lists
Time-blocking
Monthly overviews
Important dates lists
Monthly review pages
Notes pages
Inspirational quotes
These are just some of the many features of these top 10 best blogging planners.
CLICK HERE TO READ ABOUT THE #1 COURSE THAT TAUGHT ME HOW TO GROW A SUCCESSFUL BLOG
Why You Need a Planner for Blogging
As bloggers, we all know how overwhelming running a blog can be. Emailing, researching, writing, organizing, scheduling… we have LOTS on our plate.
Without the proper tools, it can feel really overwhelming to keep track of it all.
Having a planner for blogging has been a game-changer for me.
As someone who really needs order and organization to remain on track, having one specific place to put all my to-dos, lists, ideas, etc. is a total must.
Our minds are not meant to hold a million to-dos, deadlines, dates, and lists all at once. It's overwhelming. Not to mention…
Overwhelming your mind can stunt your creativity.
This was something I really noticed before getting a really good blogging planner.
My mind was too clouded with technical details to fully be creative, which obviously impacted my ability to produce blog posts. (Hello, writer's block!)
A good blogging planner gives you a place to keep all the important details, deadlines, and technical stuff that otherwise takes up valuable space in your mind.
That way, you can have the full mental capacity to be creative and do what you love most… BLOG.
10 Best Blogging Planners
Now that we've covered all the benefits of keeping a planner for blogging, let's dive into the top 10 best blogging planners.
No matter what level of blogger you are, these are the absolute best planners for bloggers who want to be organized, productive, and successful.
1. Erin Condren LifePlanner

I had to list the Erin Condren LifePlanner as the #1 best blogging planner since it's the one I currently use myself.
Erin Condren planners had been my dream planner for years before I actually committed to buying one this past year. I wish I hadn't waited so long!
Erin Condren planners are a bit pricier ($50+) than other planners you may find at Walmart or Target – but for good reason.
My Erin Condren planner is amazing quality, super functional, the perfect size, AND incredibly cute.
I highly recommend the Vertical Layout LifePlanner for a blogging planner if you also have other areas of life to consider.
The vertical layout divides each individual day into 3 sections. I use this to categorize my day. For example, I use the categories "blog", "work" (my 9-5), and "life".
See this video below for exactly how I use the Erin Condren LifePlanner planner for blogging:
2. Day Designer

Day Designer planners are incredibly popular – and it makes sense why they would be!
Not only are they super cute (with tons of different cover options), but there are SO MANY different variations of planner styles.
My personal favorite is the weekly planner. This planner has full weekly spreads with a section for "schedule" and "to-do's" on each day. I find this specific "to-do" list section particularly useful for a blogging planner.
Day Designer also has a daily planner. This planner is for bloggers that are super organized and scheduled!
The daily planner dedicates a full day to each day with a space to time block from 6 am – 8 pm, a daily to-do list, a "today's top 3" section, daily gratitude, nighttime planning, and notes. This planner really has it all!
3. The Happy Planner

I adore The Happy Planner. It screams inspiration, positivity, and good vibes.
Not only is The Happy Planner filled with motivational quotes and positive energy, but it is incredibly functional AND customizable.
One thing I really love about The Happy Planner is how many inserts/extras are available.
The Happy Planner is bound by a big spiral ring that allows for additional page inserts and add-ons. (Which they sell lots of!)
The actual weekly spread layout of The Happy Planner is relatively similar to the Erin Condren planner in #1 (which you know I love!). This is a super functional planner with lots of pizzazz that makes you actually want to use it every day.
The Happy Planner has all the features I look for in a blogging planner (and, if it doesn't, there's definitely an insert for it! 😉 )
4. Sugar Paper Planner

The Sugar Paper planner is probably the most affordable option on this list of best blogging planners. Sugar Paper is a super adorable and feminine brand that can be found at Target.
For years (before I got my current Erin Condren planner), Sugar Paper planners were my go-to planner for all things. When I was juggling college, work, life, and my blog, this planner kept me organized.
READ MY ENTIRE SUGAR PAPER PLANNER REVIEW HERE
They're a great universal planner that is functional, easy to use, and beginner-friendly.
Sugar Paper planners are overall fairly basic in their layout, but they have additional features that make them one of the best blogging planners out there.
The weekly overview page is my favorite feature. It gives a look into the week with sections titled: "to-do", "don't forget", "to call/email", "to buy", and blank notes.
This is a super helpful feature in a planner for blogging – it helps you remember everything that needs to get done!
5. The Social Media Blog Planner
(This is a printable/digital blog planner.)

The Social Media Blog Planner is the first DIGITAL planner on this list. It's also super catered to content creators and bloggers, making it one of the best blogging planners out there.
This blogging planner has so many amazing features for bloggers.
Some of my personal favorite pages are the social stats tracker, password tracker, and weekly posting schedule – but there are SO many more!
I also love that this planner is from Etsy. It's always nice to shop small and support small businesses whenever possible!
(Note: This is a DIGITAL planner, meaning you can use it on a phone, laptop, or tablet OR print out the pages and create your own physical planner with them.)
6. The Blog Planner
(This is a printable/digital blog planner.)

The Blog Planner is similar to the previous one mentioned but is even more blog-specific.
I absolutely adore this planner for blogging. It is super aesthetically pleasing and incredibly useful for keeping track of all the blog things that only bloggers would know about (keywords, promotion, analytics, etc.).
My two absolute favorite features of this blog are the keyword list and the editorial checklist on each blog post planning page.
This planner is super detailed and in-depth so that you never miss a step in the blog post process (and, as we all know, there are a lot of steps).
I also love that, since this is a digital product, you can print as many pages as you need. Unlimited blog post planner pages!
7. Bloom Weekly Planner

The Bloom Weekly Planner is another cute, affordable, and simple basic planner for bloggers. It's not blog-specific but has a lot of great features that make it really helpful for bloggers.
The add-ons and extras in this planner are amazing.
There is a page for you to build your "ideal" weekly schedule. Getting an idea of how to best utilize your time is really helpful when juggling all the tasks of running a blog.
The Bloom Planner also has over 20 "life coach" pages. This includes things like goal setting, mindset shifting, positive thinking, and habit tracking.
SHOP MY PRINTABLE MINDSET SHEETS HERE
Mindset is key when blogging and all of these pages are great tools for running a successful blog and business.
8. The Home Edit Planner

The Home Edit Planner is a special edition of Day Designer planners (mentioned above). Essentially, it has all the same amazing features of the Day Designer planners… and then some!
I love the additional pages in this planner for blogging.
The Home Edit Planner is filled with super unique and useful lists for blogging. There are pages for tracking big events and milestones, setting goals, planning a morning routine and night routine, and more.
There's also an entire section in this planner labeled "extra credit". In this section, there are so many fun pages: self-care planners, summer bucket lists, cleaning routines/trackers, etc.
I also LOVE the monthly recaps available every month.
These month-in-review pages have sections for: "things I did", "things I did but didn't have to", "things I didn't do", and "things I absolutely had to do – so I need to do next month".
This is so cute, realistic, and helpful for staying on track with planning as a blogger!
All in all, I just adore this planner for blogging. The bones are good, the extras are great, and the cuteness factor is insane! Obsessed.
9. The Blogger's Content Planner
(This is a digital product.)

This is yet another incredible digital planner for bloggers. It is not a traditional daily/weekly/monthly planner, but it is still one of the best blogging planners I've found.
This planner is a Google Spreadsheet template for content planning, analytic tracking, categorizing, brainstorming, and keeping track of all things on your blog.
I think this planner makes an incredible addition to your blogging resource library and, coupled with a traditional planner, gives you everything you need in a blogging planner.
10. The Simplified Planner

This is one of the best blogging planners for those that like a simple, easy-to-use, and to-the-point planning system. (That's me!)
The simplified planner has everything you need to get organized and stay on track with all your blogging to-dos and tasks.
With a big monthly spread and weekly pages with day-to-day breakdowns, you can plan each day out precisely and intentionally.
One thing I love about this planner is the bulleted "to-do" list for each individual day. I sit down as part of my morning routine and plan out the day's to-dos, so having them all in one neat list is super helpful.
There you have the 10 best blogging planners.
Finding a good planner for blogging can be tough. If you're a planner like me, it's really important to find a planner that has all the features you look for.
I'm hoping that this list gives you a variety of options to help guide you to the best planner for your blog!
Let me know in the comments one thing that is an absolute MUST-HAVE in your blogging planners. (For me, it's a daily or weekly to-do list. I LOVE my bulleted to-do lists!)
More Blogging Resources
Check out some of my resources handmade specifically for bloggers below!
Free Blogger Resource Toolkit
Get 1:1 Blog Coaching with ME
Get 1:1 Blog Coaching Chat Support (Open 24/7)
More Blogging Posts
My Organizational Digital Products