This post contains affiliate links meaning that, at no additional cost to you, I make a small commission if you purchase through my links. For additional information, visit my affiliate disclosure. 
Read about the 5 AM morning routine that transformed my life and boosted my productivity as an entrepreneur.
---
Mornings can be tough.
Let's be honest… sometimes that alarm goes off and the very last thing you want to do is get out of bed. Especially when that alarm is at 5 AM.
I have never considered myself to be a "morning person".
In fact, I used to tell myself that my circadian rhythm just didn't want me to be up that early. (Nice try, Del!)
In reality, I just didn't have the right routine set.
I wasn't doing the right things before bed, I wasn't getting nearly enough sleep, I didn't have a solid morning routine, and I just wasn't in the right mindset!
After learning how to correct all these things, I've actually come to love my 5 AM morning routine… like really love it.
To be fair, I do not follow this 5 AM routine every single day. Rather, I pick up this routine when I need a reboot, refresh, or just some new motivation.
My 5 AM morning routine is the push I need to get back to business when I've fallen off into a slump.
Being an entrepreneur and running my own business takes a lot of dedication and motivation.
My 5 AM morning routine has become a great tool for me when I need that extra push toward productivity.
Let's jump into it!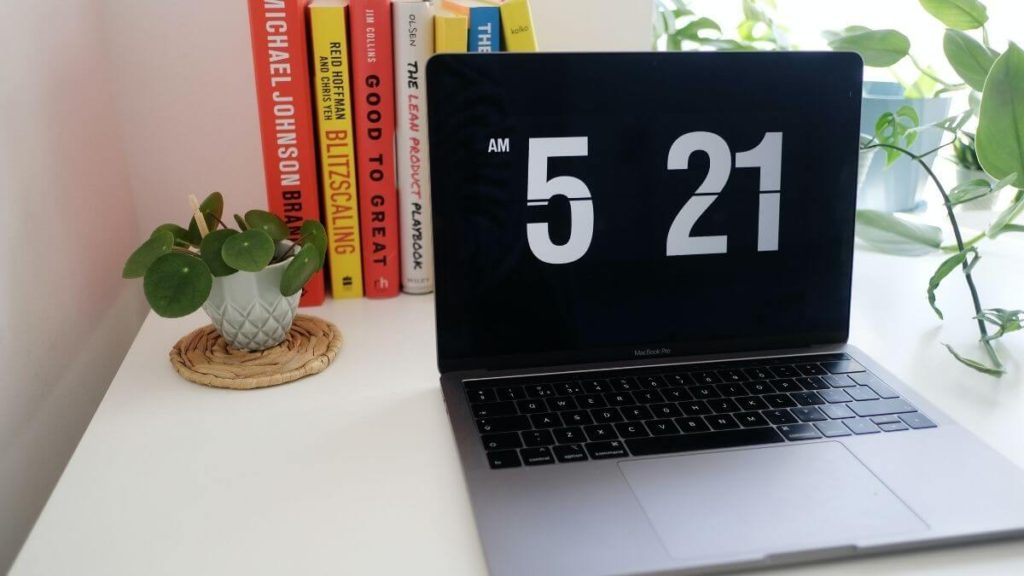 My 5 AM Morning Routine as an Entrepreneur
5 AM – Wake Up
This is an obvious start to my 5 AM morning routine. I actually set my alarm to go off just before 5 – 4:50 to be exact.
That gives me a little bit of time to wake up slowly and naturally. There is nothing worse than your alarm going off and having to jump out of bed RIGHT AWAY. That just starts your day in a mindset of panic and stress.
Even just the extra 10 minutes helps me wake up and feel more prepared to tackle the rest of my morning routine.
5:10 AM – Start Coffee Maker
By 5:10 AM, I have gotten myself out of bed and made my way to the kitchen for the most important part of my 5 AM morning routine… COFFEE.
(Kidding, but also not. I love my morning coffee.)
As part of my nighttime routine to prep for the morning, I like to prepare my coffee maker the night before.
If you use a Keurig, Nespresso, or other instant coffee maker this is less important.
Since I have a coffee maker that takes a few minutes to brew and keeps it warm for hours after, I typically start it right when I get out of bed so I can have it when I'm ready to sit down and get to work!
5:15 AM – Water
As my coffee brews, I fill up my huge 40oz water jug and get to sipping. Drinking water is so good for your health – mental and physical.
Water is a great way to cleanse your body and your mind, allowing you to feel refreshed, rejuvenated, and have positive vibrations throughout the day!
Water also has the ability to increase your productivity by up to 14%!
Stay hydrated guys!
5:20 AM – Face Wash and Gua Sha
I'm someone that wakes up with puffy eyes and a swollen face no matter what. It just happens!
Because of that, I've really loved getting into the habit of washing my face with cool water in the morning, followed by using my ice roller and gua sha.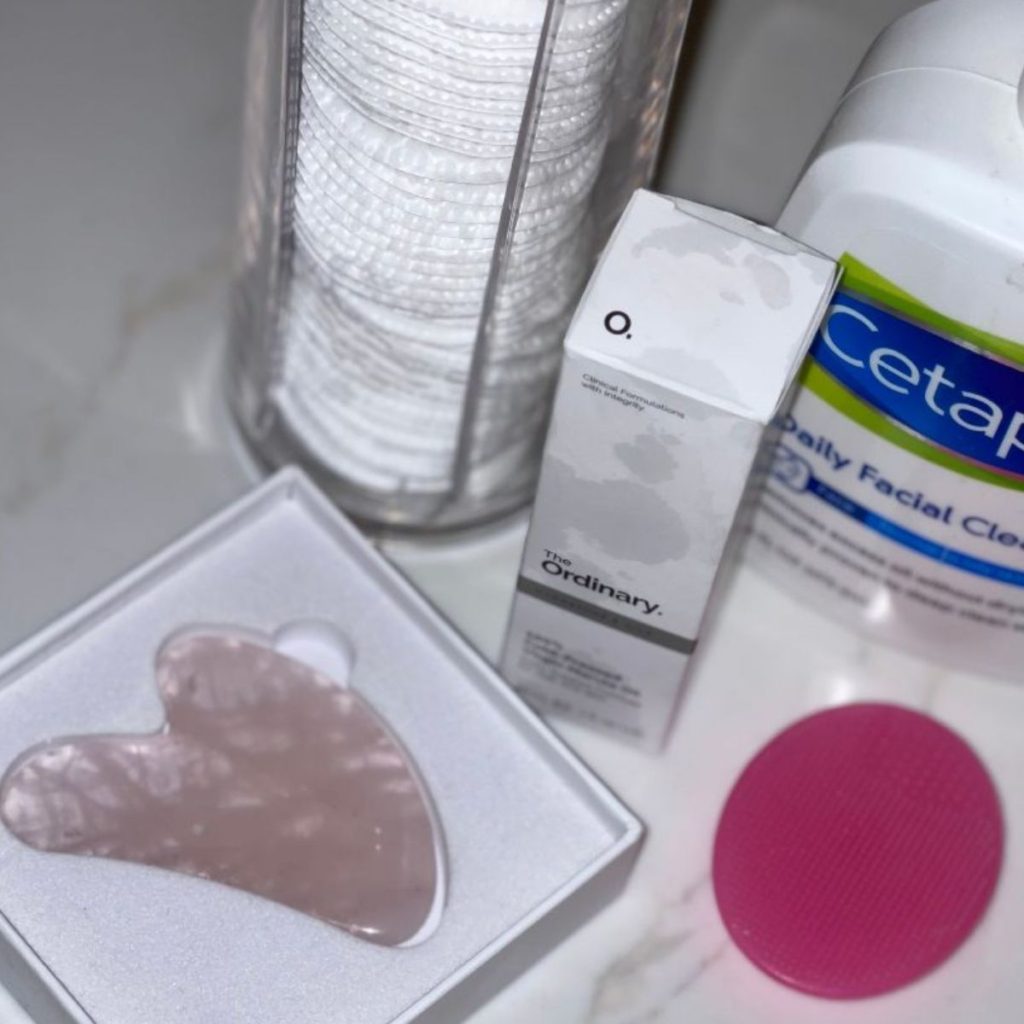 Shop this photo:

If you're on TikTok, you've probably seen people talking about using a gua sha. I thought it was just trendy at first, but it actually helps so much!
As a traditional Chinese healing method, there are tons of health benefits to using a gua sha.
I also notice that my face is way less puffy and more defined after using my gua sha in my morning routine.
5:30 AM – Coffee & Journaling
This is my favorite part of my 5 AM morning routine.
I absolutely love the peace and quiet during this time. Sitting down with a nice warm cup of coffee and my journal is such a powerful start to my day.
If I can offer you one piece of advice, it is to start a morning gratitude practice. I prefer to do this in my journal because I find that the most powerful for me.
My daily reflection journal had become such a powerful tool for me as I navigate my personal and professional life.
As an entrepreneur, I noticed my life really starting to shift and success flowing towards me when I started practicing gratitude daily.
Now, this is part of my everyday morning routine – whether it's a 5 AM morning or not.
During this time, I will also set some affirmations that I want to manifest that day. This keeps me aligned and on track with my goals and my purpose.
Gratitude and manifestation help me shift into an abundance mindset for the rest of my day. All it takes is 5-10 minutes to shift your entire perspective for the better.
6 AM – Check Planner
After I finish journaling, I continue sipping my coffee as I look over my planner. I make a rough plan for my week every Sunday night and then I refer to it and add to it every day.
Taking just a few moments to plan my course for the day keeps me productive and up to date on everything I need to get done and accomplish.
RELATED POST: 20 Best Planners for Entrepreneurs
Making a list of top priorities for that day is always super helpful.
6:20 AM – Walk and Podcast
I love to MOVE in the mornings.
In the past, I would do my full daily at-home workout in the morning.
Lately, I haven't been feeling like doing anything too intense in the morning – especially as early as 5 AM in the morning.
I save the more intense movement for later if I am feeling it!
Instead, I have been loving going for gentle walks with my dog in the morning.
Getting outside and breathing fresh morning air is absolutely incredible. I love to take in all the sights and smells in the morning and get grounded for my day.
(Plus, did you know that breathing fresh air is a great way to boost productivity?!)
When I go for my walks, I typically listen to a podcast.
My current favorite Podcasts are:
All of these podcasts are perfect for getting me in a positive, productive mindset.
As part of my 5 am morning routine as an entrepreneur, I thrive off of fresh inspiration, motivation, and ambition.
All of my favorite walking podcasts feel like authentic one-on-one conversations with fellow boss babes. Nothing motivates me more!
7 AM – Manifest
Somewhat recently, I have begun to learn about the power of manifestation. After reading The Secret and watching the documentary, I have begun implementing the Law of Attraction into my life.
RELATED POST: How to Write a Manifestation List that WORKS
Since dedicating time and attention to my manifestation practice and altering my vibrations, I have noticed such a drastic shift in my life.
I am more positive and, in turn, more positive things are coming toward me.
My business is growing, my relationships are expanding, and my confidence is strengthening!
I take about 10-15 minutes in my 5 AM morning routine to visualize my dreams and manifest them. Your mind is more powerful than you could ever imagine.
7:20 AM – Brush Teeth & Get Dressed
It's officially time to get down to business. My mind, body, and soul have been taken care of and tended to and now it is time to work!
Brushing my teeth is an obvious must. Hopefully, this is part of your morning routine already. 😉
Getting dressed and ready for the day (whatever that may look like for you – hair, makeup, clothes, etc.) is something that I want to stress the importance of though!
When I became an entrepreneur, I gained the ability to work from home. In so many ways, this is absolutely incredible.
However, there are times that the motivation is a little bit lessened when working from home.
There are 3 main things that keep me motivated when working from home.
Setting good routines (like this 5 AM morning routine)
Curating a good workspace
Getting ready as if I am going to work
Getting myself dressed and ready for the day is like a signal to my brain that it's time to be productive.
When I first started working from home I had the "woohoo, PJs all day" type of attitude. That was extremely short-lived because my productivity TANKED.
The simple act of getting dressed signals a shift that it is time to work, be productive, and get stuff done!
7:45 AM – Eat an Energizing Breakfast
Time for food!
The fuel that you put into your body plays a major role in your mindset and performance.
Ensuring that you eat a balanced breakfast (with ENOUGH food to fuel you) is essential to your productivity and success.
I love to meal prep breakfasts to save time. By this point in my 5 AM morning routine, I am just ready to get going about my day.
RELATED POST: 5 Best Meal Prep Breakfasts to Save Time
That said, if you prefer a more elaborate and fancy breakfast, you better have that! You woke up at 5 AM for a reason, right? Make time for what you want!
Bottom line: fill yourself up with something that makes your mind, body, and spirit feel prepared to start a successful day!
8:15 AM – Check Emails
You might be surprised this comes so late on in my 5 AM morning routine. This is actually intentional.
I do not check emails until I have done my morning journaling, gratitude, and manifestation, and tended to my mental health.
When I check emails first thing (even though it's tempting), I struggle to be present throughout the rest of my morning routine.
That said, emails are an important part of my morning routine as an entrepreneur.
Honestly, I am grateful to have emails to respond to that relate to a job I love. I can't complain.
But I do know that they can be a bit tedious. I've found that if I just get them done and out of the way, I can focus on the rest of my work afterward.
Open up that inbox and get to business!
8:45 AM – Get to Work
By around 8:45 or 9:00 AM, I am ready to get to work!
This is one of my favorite parts of my 5 AM morning routine… I have gotten so much done and am still getting to work before the standard 9-5 schedule.
Setting my plan for the day, checking my emails, and getting my mindset in the right place really helps me be ready for when this final step comes.
My workdays look a bit different every day. Some days I am making tons of social media posts, Pinterest pins, etc.
On other days I am all about writing blog posts and producing content.
There are even days when I spend the majority of my time on emails, phone calls, and interviews.
That is one of the things I love most about this work… every day is unique and lively.
But one thing stays consistent no matter what I am doing that day…
I make time for breaks in my workday!
Taking fairly frequent breaks away from your work is essential for your mind and productivity.
I like to grab a healthy and energizing snack, step outside, or even get a quick workout in during my workday.
Breaks make my day go faster, keep my mind fresh, and allow me to actually ENJOY my days.
No one wants to feel chained to their computer or stuck at their desk for hours on end. Give yourself a break!
There you have my productive 5 AM morning routine as an entrepreneur!
If 5 AM mornings feel a bit too intense for you, start gradually waking up earlier and earlier every day for a few weeks.
Even just moving your wake-up time earlier by about 10 minutes every day can help you get accustomed.
Also, it's important to remember that this is not an everyday thing for me. I don't follow this exact 5 AM morning routine every single day!
I do this often since I enjoy it and it reignites my productivity.
But I also have days where I get out of bed at 8, 9, or even 10 AM. It's important to know when you need that extra rest and listen to when your body is overtired!
How are you going to structure your 5 AM morning routine?
Are you a fellow entrepreneur? What's your successful entrepreneur routine look like? Do you start work at 5 am? Or are you a later riser?
Let me know what your successful morning routine looks like in the comments! I'm always looking to try out new habits!