This post may contain affiliate links meaning that, I may make commission if you purchase through my links. Learn More. 
Learning how to manifest the life you want can be super intimidating. Start by learning how to write a manifestation list in just 8 simple and easy steps.
---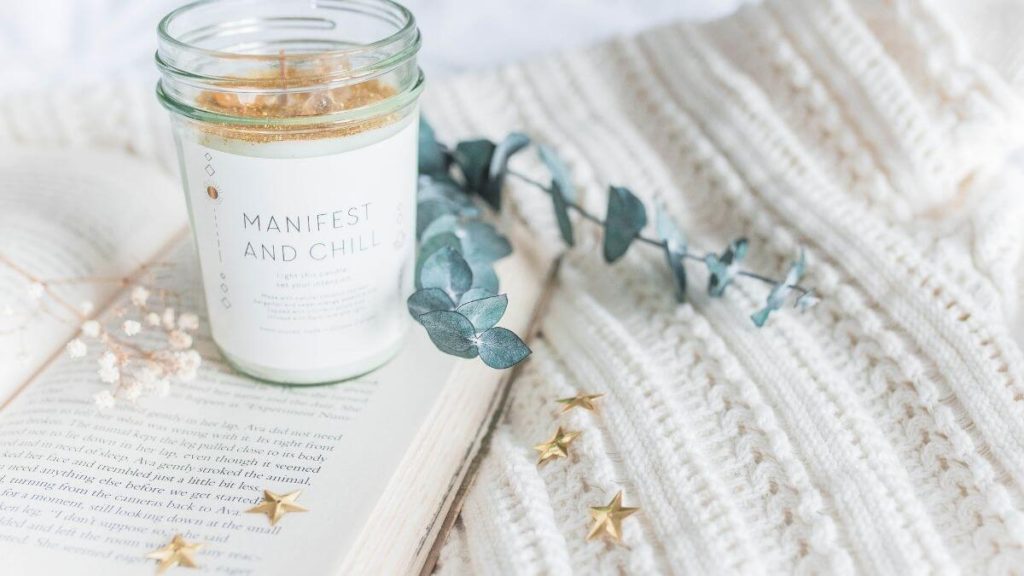 Manifesting.
We've heard of it but what is it? How does it work? What is a manifestation list? And, most of all, how in the world do we DO IT?
If you are feeling a bit overwhelmed by manifestation, no worries! We are going to cover it all today.
Starting from the basics and working our way up, this guide to learning how to write manifestations is perfect for all manifest-ers!
What is Manifestation?
Let's start at the basics.
Manifestation is the act of attracting the things you desire into your life. Whether it be something physically tangible or an emotion, manifestation is a way to bring your desires to you through your energy and beliefs.
Manifestation is incredibly powerful.
Manifestation and the Law of Attraction
The Law of Attraction and manifestation work hand-in-hand.
The Secret is the first book I read that really introduced the Law of Attraction to me.
To this day, it is a great reference. Before you start manifesting, I highly recommend reading more about the Law of Attraction. (Update: The Secret has also become a Netflix documentary!)
To summarize, according to the Law of Attraction, we are able to attract situations, feelings, experiences, and things through the energy we put out.
The Law of Attraction states that the frequencies we put out as human beings (through thoughts, feelings, and beliefs) directly affect what comes back to us.
With this, manifestation is created. Manifestation relies on the belief that the energy you put out reflects what comes back to you. In other words, you are able to control the things you get in life through your own frequency.
Why You Should Start a Written Manifestation List
So we're talking about thoughts, feelings, and beliefs… why is it important to physically write them down in a manifestation list?
Well, for many reasons.
Manifestation writing is one of the best tools when pursuing manifestation.
Manifesting by writing allows you to spend a more significant amount of time on your desires.
Instead of just being a fleeting thought, manifesting on paper through writing allows you the time to sit with your desires, goals, and dreams and really think them through.
There are some things that you are going to want one day and then, a few days later, won't seem so important.
Keeping a manifestation list can help you sort through and uncover deep desires that you really want to dedicate your attention to. In order to attract something, you must know you really want it.
A manifestation list helps keep your desires organized, ordered, and well thought out.
How to Write a Manifestation List: 8 Simple Steps
Let's dive right into how you can start manifesting by writing!
Step 1: Gather the Right Tools
Having the right supplies when starting a manifestation list is important. Many people just jot the list down on their phones or their laptops. This is not ideal.
If you are wanting to get serious about attracting your dream life through manifestation, you have got to give it a bit more attention. Think of it as a new relationship you are trying to grow. It takes dedication.
Manifesting on paper tends to be more thoughtful and intentional than a quick note on your phone.
A guided manifestation journal can be incredibly helpful for this. But, if you are looking to start right away, any journal you own will do!
Step 2: Brainstorm Your Desires
This is a fun part.
You get to dream up all the things you want in your life. All of these things are potentially going on your manifestation list.
For the sake of this step, don't think too much about the reality of these goals or how they size up to one another.
Avoid your limiting beliefs or negative thought patterns. Simply jot them down and write a large manifestation list that you can come back to later.
Some manifestation examples to get started:
If you are hitting a block when you write down what you want to manifest, these ideas might help prompt something.
buy your own home
meet your person
get a dream job
buy a new car
move across the world
get a puppy
make new friends
Write down any of the things that you want in life.
Step 3: Prioritize
Now that you got a big list of everything you hope to attract through manifestation, it's time to prioritize that list. As much as we'd like to, we simply cannot focus on too many things all at once.
Being ambitious is great. But it's important to be realistic as well.
For example, if you are hoping to buy a new house, new car, and travel the world in the next 2 months, that might not be realistic for you.
This is where prioritizing comes in!
You wrote down what you wanted to manifest… now let's organize it.
I can not guide you too much with this step since it is pretty unique and personal to you. But I can offer you some things to keep in mind.
When prioritizing your written manifestations, keep in mind two key things:
What you desire the most
What you are ready for
Desire is a great indicator of how you should prioritize. But, even more so, you need to be aware of what your soul is ready for.
To attract these things, your energy and your vibrations have to be ready for them to come to you.
For example, if you want to meet your soulmate but you know you are not ready to be with them just yet, maybe it's not the right time to prioritize that manifestation right now. Instead, maybe a career-based manifestation may be more fitting.
You get the point.
Prioritize based on importance and your current reality.
Step 4: Build Out Your Dreams
Let's get specific!
So you've made your grand manifestation list, prioritized them, and now it's time to really get to work.
If you want your manifestation list to work for you, you must be very clear and specific about what you want.
Let's work with an example to clear this up.
We'll continue with the soulmate example. Say your dream is to "meet your soulmate".
That's great. But it's really, really vague. How could we make that more specific?
Build out that soulmate. Maybe you want to meet someone that is:
kind
compassionate
funny
driven
motivated
understanding
willing to make you coffee in the morning 😉
The list could go on and on… But you get the point.
If you want to buy your dream house, describe exactly what that looks like for you. Does it have a backyard? One story or two? City or country? How many bedrooms? Is it on a lot of property?
Go as specific as you can with these. You're just setting yourself up for manifestation success.
Step 5: Write Your Manifestations as Reality
This is something I struggled with when I first learned how to write a manifestation list.
It felt a bit awkward to me to make these present tense statements that weren't true, but you have to trust the process.
Instead of saying "I want to buy my dream house", say things like "I am living an abundant life in my two-story farmhouse in Nashville".
Instead of "I want to meet my soulmate", say something like "I am loved by someone that sets my soul on fire".
See that shift to the present tense? It can feel a bit awkward and takes some practice, but it is incredibly powerful.
Writing your dreams as if they are already your life is part of a process called scripting which can be of great help when learning how to start a manifestation list.
Step 6: Believe in Your Manifestations
This is the most important step of how to write manifestations.
You have to believe in the power of manifestation. Truly, sincerely, and wholeheartedly.
Manifestation and the Law of Attraction rely on the energy and vibrations you are giving off. These cannot be faked.
If you need to boost your confidence in the process, try reading about manifestation success stories. Envision that happening to you. Know that it CAN with a little trust and a whole lot of good vibrations.
Step 7: Practice Gratitude
Gratitude is an important part of manifestation. Practicing gratitude creates a state of bliss and abundance within our souls.
To go back to the frequencies we discussed earlier, practicing gratitude helps you tune your frequency to attract more positive things into your life.
If you are focused on negativity, you will attract more of it. However, if you are focused on gratitude and abundance, more positivity will come to you.
Gratitude signals that you are ready to receive the good things coming to you.
Step 8: Reflect and Receive
The final step in making your manifestation list work for you is to reflect often and be ready to receive.
Reflecting on your manifestation list multiple times a day helps the process. Two visualization sessions a day are ideal for manifestation. Reflect deeply, often, and openly on manifesting your dreams.
Most of all, you need to be open to receiving your dreams when they come to you.
Many people get freaked out when their manifestations start to work for them. They think it feels too good to be true.
Don't let your brain trick you!
Your dreams are becoming reality. Your manifestations have worked. Don't let yourself ruin the continued good things that are on their way to you by stopping now.
Be open to receiving. Know you are worthy. Continue your journey confidently.
How do you plan to write your manifestation list?
What got you started in the world of manifestation? Where will you go now that you know how to were a manifestation list? What are your goals, dreams, and desires?
I hope that after reading this post, you have a better understanding of how to write manifestations in a way that benefits you and your goals.
Leave a comment below sharing anything about your manifestation journey with me! I reply to all!
Happy manifesting!
---