This post contains affiliate links meaning that, at no additional cost to you, I make a small commission if you purchase through my links. For additional information, visit my affiliate disclosure. 
Use these journal prompts for goal setting to brainstorm, plan, and kickstart your journey toward achieving your goals!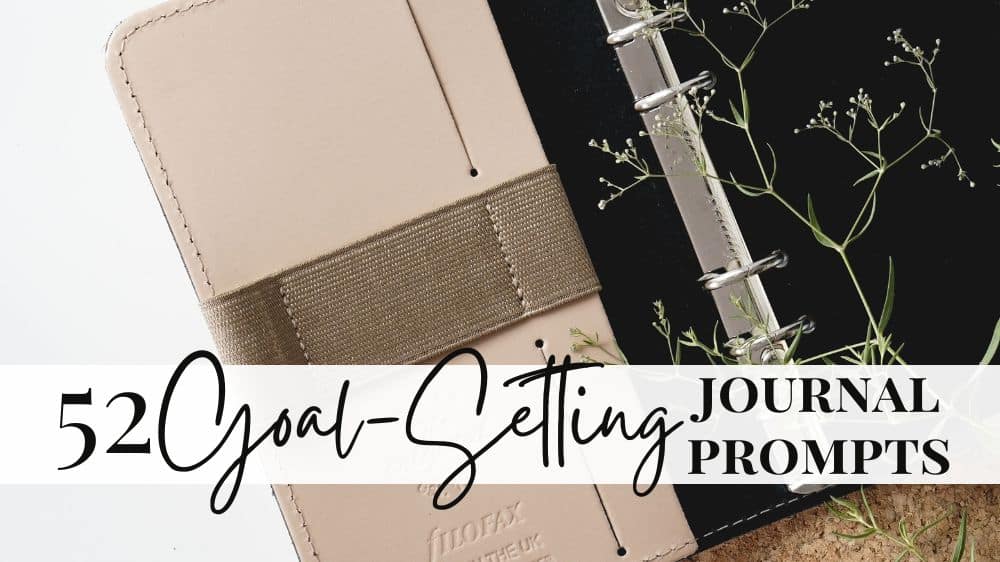 Setting goals is a critical part of pursuing any form of self-improvement, positive lifestyle changes, or personal growth. On one level or another, most of us have some sort of goals set for ourselves and our lives.
Goals can help guide us to better all areas of life, but it can be hard to know where to start.
These goal-setting journal prompts are here to help guide you through brainstorming, setting, planning, and achieving all the goals you have for your life.
Why Journal for Goal Setting?
It may be easy for you to think of goal ideas for your life… but, without any action, how likely are you to plan them out, stick to them, and actually achieve them?
Journaling your goals is a great way to get the ball rolling to make action happen.
There is real science backing why writing things down makes you more successful. The benefits of writing down your goals are all of the reasons why utilizing goal-setting journal prompts can make you more likely to achieve them.
5 Key Benefits of Writing Things Down:
(source: paper and plan co)
Writing things down clears your mind. When you take time to intentionally put pen to paper and write about your goals, the other distractions and mental barriers lessen and allow you to clearly focus on the goal.
Writing things down helps with focus. This forces you to take it one thing at a time and not get overwhelmed with a million different ideas at once. By journaling, you can hone in on specific goals, rather than get caught up in a mental spiral of ideas.
Writing things down increases motivation. If you are struggling to put action behind your goals, try journaling on your goals. This also allows for tracking progress, holding check-ins, reflecting, and identifying what's working/what's not.
Writing things down improves self-reflection and self-discovery. Feeling stuck on where you want to focus your goal-setting? Sit down with a pen and paper and start writing on these goal journal prompts and watch it unfold before you. You'll be surprised at what comes out on paper.
Writing things down helps with clarification and specificity. Goals that are too vague simply do not work. Journaling can help you get super specific about your goals. This sets you up for success!
Do I have you convinced of the benefits of journaling for your goals?
Yes? Great!
Let's jump into the prompts.
52 Journal Prompts for Goal Setting
These journal prompts are all about goal setting, planning, strategizing, and achieving! Let's dive in.
Brainstorming & Goal Setting Prompts
What areas of life do you feel need the most attention/work? Why?
What is something that is bothering you in your day-to-day life? How can that change?
What goals have you previously set and forgotten about or let go of? Do these goals still resonate with you?
Write about someone who inspires you or motivates you. What about them do you find appealing?
When do you feel the happiest? How can you recreate this emotion more in your daily life?
What areas of your health do you feel need the most attention? (Mental, physical, rest, exercise, nutrition, hydration, etc.)
What are your top priorities in your life right now? Why do these matter to you?
Create a "life pie" for your current life balance. Then, create an "ideal life pie" for how you want your life to be balanced. What is different between the two?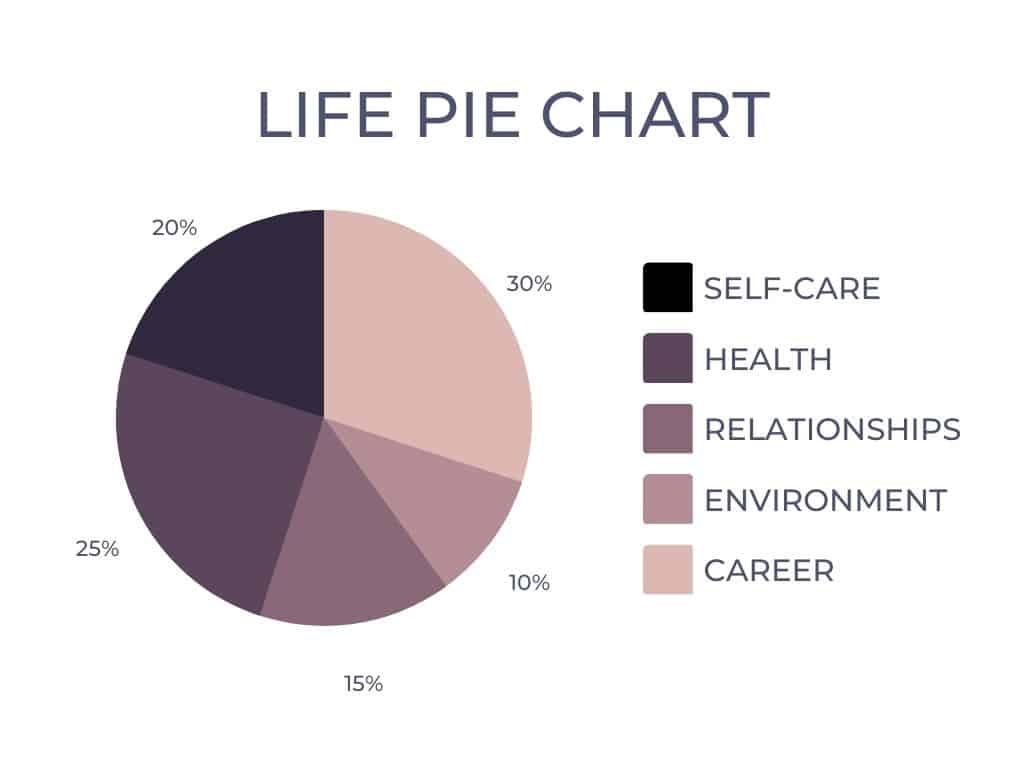 What do you value the most in life? Why?
When did you last feel deeply proud of yourself? Why?
What does success mean to you? Get descriptive!
What does happiness look like to you? Get descriptive!
Describe an ideal/dream day in your life. What elements of that can you try to incorporate into everyday life?
What is something you'd like to learn more about?
READ: 20 Creative Things to Learn When Bored
What parts of your life make you excited? Which parts do you dread?
What makes you feel confident? Make a list or describe it in detail.
Write out a day-in-the-life 5 years from now. What do you want it to look like?
In 5 years from now, what do you want to be different in your life?
Reflect on the past year, what do you wish was different? Why?
What are you proud of/happy with from the past year? How can you continue this?
What do you consider your strongest qualities as a person?
What qualities do you admire in other people? Describe who embodies this and why you admire it.
Which people, environments, things, etc. are currently impacting your daily happiness or health – negatively or positively?
Write a letter of encouragement to yourself. Cheer yourself on as you start to take steps toward achieving your goals!
Goal Planning Prompts
What are your top 3 long-term goals? (Think 2+ years in the future!)
What are your top 3 short-term goals? (Think within the next couple of months/year!)
Brainstorm daily habits or weekly goals that align with your bigger goals. How will you incorporate them?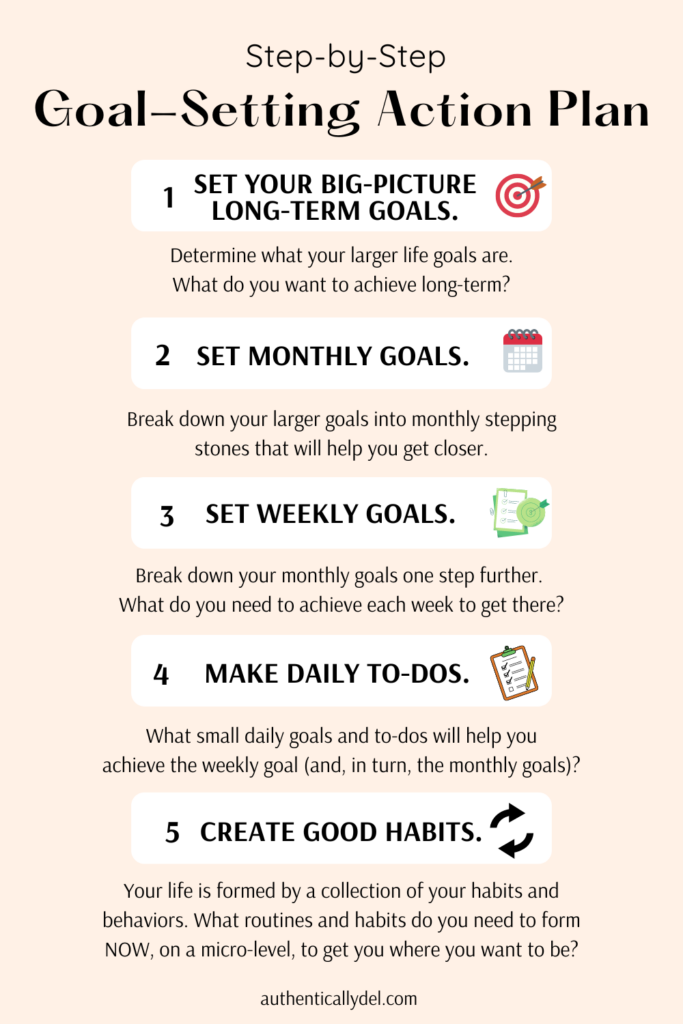 What are the barriers to achieving your goals? How can you overcome them?
What good daily habits do you want to pick up?
What bad habits do you want to drop?
How will you maintain motivation when you feel tired or burnt out?
Organize your goals by timeframe. What can you achieve this week? Month? Year? In the next 5 years?
Which goal means the most to you? Why?
What can you do in the next month to get closer to your long-term goals?
How will you track your progress on your goals?
Do your goals feel SMART? (Specific, measurable, achievable, realistic, time-bound)
What self-confidence barriers do you have to overcome to achieve this goal?
What is your 'WHY' motivating you for this goal?
Make a list of your favorite mindset or motivational quotes to keep you going!
Goal Reflection Prompts
What are some recent wins you have had?
How do you celebrate your wins?
What obstacles have you overcome? How?
What has changed since you first set these goals? Reflect on the progress you've made.
How can you push yourself to step out of your comfort zone more?
How can you be kinder to others?
What are the next steps for achieving your goal?
How will you know when this goal has been achieved?
In what ways do you feel better since pursuing your goals?
How can you incorporate more self-love or self-compassion in this journey?
How can you balance rest and motivation while achieving your goals?
Write an "I'm Proud of You!" letter to yourself.
Best Journals for Goal Setting
Now that you have over 50 journal prompts for goal setting, let's explore some of my very favorite journals for goal setting, planning, and reflecting!
1. Erin Condren Goal Setting Bundle
Erin Condren is my FAVORITE stationery brand of all time. The goal-setting bundle is such a great resource for planning goals and helping guide you to execute them!
3. Minimalist Goal-Setting Journal
This goal-setting journal and planner is not only GORGEOUS but is super well-thought-out and in-depth too.
(Not to mention, I always prefer shopping small and supporting on Etsy!)
More Goal-Setting Journals
Here are even more wonderful journals, notepads, and resources for goal-setting!

Time to Start Journaling for Your Goals
It's time to take these journal prompts for goal setting and put them into action!
Remember – with the right tools, mindset, and determination, there's nothing you can't do.
Remain confident in yourself and your abilities. You totally got this!
Go get 'em, goal-digger!