This post may contain affiliate links meaning that, I may make commission if you purchase through my links. Learn More. 
Wanting to develop some good daily habits? These 100 habit tracker ideas are the perfect habits to keep track of in your habit tracker.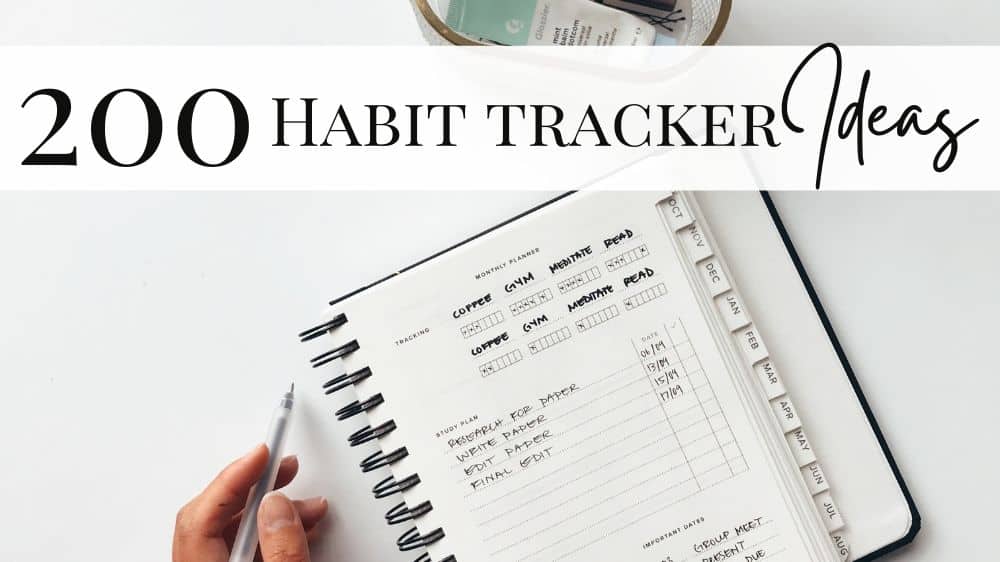 Whether you keep a habit tracker in your bullet journal, on a sticky note, in your planner, or have a specific habit tracker page, using a habit tracker is a great way to stay on track when adopting new habits.
As we all know, strengthening new habits (and breaking old ones) is hard work!
It's super easy to start a new habit, be on track for a few days, and then fall off before the habit gets a chance to stick.
Healthline suggested that it can take anywhere from 18-254 days to form a new habit. With that information, we can understand the importance of persistence and dedication when first picking up a new habit.
Habit trackers are the best tool for helping you with this.
---
"We are what we repeatedly do. Excellence, then, is not an act, but a habit."

— Aristotle
---
The Importance of Good Habits
Habits are the foundation of your life. Consistent good habits are what make up the way you act and interact in this world.
With so much of life outside of our control, habits give us a way to take control of the parts that we can.
In fact, a lot of our lives are a direct result of the habits we possess.
For example, if you have the daily habits of waking up early, having a motivating morning routine, and calmly starting a productive workday, you will be much more likely to have career/financial success than someone that often oversleeps, rushes out the door, and begins work in a frenzy.
Luck plays a role in life, for sure. But habits do too.
Good daily habits that are in alignment with your goals and priorities can set you up for a life of success, happiness, and fulfillment.
Why Use a Habit Tracker?
If we're honest, motivation only carries us so far.
When first beginning a new habit, it's common to start out super motivated. This motivation can carry you for a few days or even weeks. However, when the motivation drops, it's easy to let the habit drop with it.
A habit tracker is a key tool for staying consistent with a habit, regardless of your motivation levels.
If motivation drops, a habit tracker is there to remind you to keep going. Not only does the habit tracker visually display the progress you've already made, but it allows you a sense of gratification to continue going.
Each day you complete a habit, you get the gratification of checking off another day on your habit tracker.
Additionally, habit trackers can help give you learn more about yourself.
Being such a visual tool, habit trackers directly display your daily actions in front of you. This makes it easy to identify the things you do (or don't do) daily that you may not otherwise recognize.
This realization can be a game-changer when pursuing self-improvement or setting new goals for a specific area of life.
All in all, habit trackers are a must-try tool for anyone pursuing habit changes.
Whether you are looking to ditch bad habits, pick up good habits, or a little bit of both, a habit tracker can help you track your progress and keep you on course with your goals.
200 Helpful Habit Tracker Ideas
To help make this grand list of habits to track in your habit tracker more convenient, I have divided them into multiple categories for different areas of life. If you are focused on one specific category, this should help you navigate this list a bit easier and find exactly the habit tracker ideas you are looking for!
< LEARN MORE ABOUT THE 7 AREAS OF LIFE HERE >
Physical Health Habits to Track
One of the most common uses of a habit tracker is to track physical health habits. Here are some habit track ideas for physical health.
30 minutes of movement
Ate breakfast
Drank 'X' amount of water
Did a workout class
No alcohol
No smoking
Ate all meals at home
Honored my fullness (did not eat to discomfort)
Stretched
Got 'X' hours of sleep
Ate all my veggies for the day
Ate all my fruits for the day
Took collagen supplement
Felt no food guilt
Honored my cravings
Tried a new form of movement
Took the stairs
No binge-eating tendencies
Practiced Intuitive Eating
Ate at a restaurant
Took vitamins
Took medication
Parked car far away
Went to the gym
Made a healthy recipe
Period/cycle tracker
No/limited caffeine
Took a walk
Did a workout
Stretched
Mental Health Habits to Track
We all know mental health is just as important as physical health – if not more! Here are some mental health habit tracker ideas.
Journaled
Meditated
Went to therapy
Expressed my emotions
Practiced coping skills
Got outside
Practiced positive affirmations
Gratitude
Practiced self-care
Took a screentime break
Laughed
Practiced mindfulness
Did a least one "joy activity"/hobby
Mood tracker
Felt confident
Work Habits to Track
Work can take up a huge portion of our lives. It's important to have good work habits in place. Here are some ideas of work habits to track.
At work on time
Clocked out on time
Accomplished all to-dos
Finished a big project
Met with boss
Used time effectively (no distractions)
Bonded with a co-worker
Brought my own lunch
Tidied up my workspace
Replied to all emails
Returned all phone calls
Put phone away while working
Learned something new

Did not take work home

(kept work/life balance)
Gave praise/uplifted a co-worked
Finance Habits to Track
It's important to be proactive in tracking your financial habits and routines. Stay on track of your finances with these habit tracker ideas.
No unnecessary spending
Shopped coupons
Grocery restock tracker
Did not buy coffee out (learn how to make coffee at home)
Put 'X' amount in savings

Bill tracker

Savings tracker
Spent $0
Cut back on an expense
Paid down debt
Track daily amount spent
Worked on side hustle
READ: 10 Secret Tips for a Money-Making Blog
Income tracker

Payday tracker
Household/Cleaning Habits to Track
Whether it be cleaning, home maintenance, or running errands, there are lots of household habits to keep track of. Here are some household habit tracker ideas to consider.
Cleaned toilet
Cleaned bathroom sink
Organized fridge
Cleaned fridge
Clean out the pantry (check dates)
Grocery restock
Fridge inventory
Pantry inventory
Cleaned shower
Tidied up clutter
Washed the dishes
Made the bed
Did laundry
Took the trash out
Mowed the lawn
Watered plants/garden
Vacuumed
Dusted
Cleaned the kitchen sink
Changed sheets
Changed towels
Wiped down/Swiffer the hardwoods
Cleaned the windows
Cleaned the microwave/stove
Organized the desk/office
Cleaned out the bedroom closet
Organized the garage
Cleaned out the car
Got a carwash
Wiped down the counters
Prepped/washed produce
Put laundry away
Tidied the living space
Redecorated for a season/holiday
Unloaded the dishwasher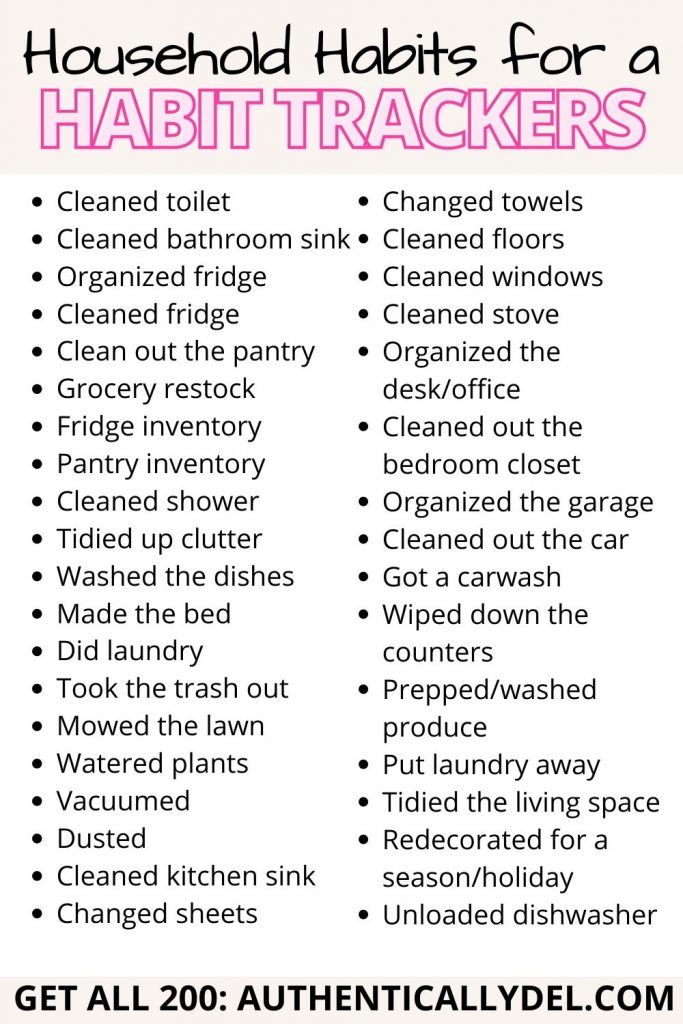 Social Habits to Track
Social interaction and relationships are a key part of a healthy and happy life. Here are some social habits for your habit tracker.
Called a friend
Replied to texts
Checked in with an old friend
Complimented a stranger
Called a family member
Date night
Hung out with a friend
Planned a social activity
Family dinner
No phone while with others
Intimacy tracker
Told a loved one you love them
Gave a gift
Received a meaningful compliment
Made someone smile
Social Media Habits to Track
Social media takes up a chunk of most of our days. Healthy social media habits are a must. Here are some social media habit tracker ideas to be aware of.
No scrolling first thing in the morning
No scrolling right before bed
Unfollowed anyone that makes you feel negative
Followed uplifting accounts
READ: 10 Ways to Make Your Instagram More Positive Right Now
Did not exceed screentime limit
Posted on social media
No mindless scrolling
Left a kind comment on someone's post/page
Connected with someone on social media
Did not scroll at work
Replied to messages
Used social media for good (news, entertainment, inspiration)
Did not compare myself to others on social media
No social media day

Found inspiration from social media

(Pinterest is the best for this!)
Self-Care Habits to Track
Self-care is ESSENTIAL! Keeping on your self-care habits can be hard. Habit tracking can help. From basic self-care to luxurious self-care, are some top self-care habits to track.
Brushed teeth 2x/day
Flossed teeth
Showered
Shaved
Hair mask
Face mask
Washed face
Washed hair
Took a self-care bath
Wore sunscreen
Did makeup
Moisturized
Manicure
Pedicure
Took beauty vitamins
Read for fun
Enjoyed the fresh air
Had a self-care night
Colored/cut hair
Used gua sha/face roller
Took a nap
Spent time with myself
Did something creative
Journaled/did a brain dump
Did at least one self-care activity
Personal Development Habits to Track
If you are on a self-improvement or personal development journey, it's important to have habits that align with that. Here are some of the best personal development habit tracker ideas.
Read a self-improvement book
Listen to a motivational podcast
Practice daily gratitude
Make a manifestation list
Get up earlier
Spent time outdoors
Did your morning routine
Did not snooze alarm

Did your

night routine
Checked off your daily to-dos
Prepared for tomorrow
Tidied up your space
No screens before bed
Tried something new
Used a day planner
Meditated
Spent time on a hobby
Journaled before bed (try these night journal prompts)
Did a day-in-review/daily reflection
Pet Habits to Track
If you're a pet owner, you know that some of your daily routine will be taken up by your furry friend's needs! Here are some pet-related habit tracker ideas.
Feed pet 2x/day (or other feeding schedule)
Fresh water in the bowl
Walked the dog
Spent time training
Socialized the pet
Cleaned the litter box
Trimmed pets nails

No accidents (great for puppies!)

Cleaned the crate
No chewing furniture/human items (again… puppies!)
Washed the dog blankets
Washed the food/water bowls
Mental exercise for the pet (puzzle toys are a MUST for pups!)
Bathed/brushed/groomed the dog
Pet bonding time – cuddles!!
Other Habit Tracker Ideas
Habit trackers are, of course, meant to track habits and behaviors. However, you can utilize the concept of a habit tracker layout for many other things.
Consider tracking other things in a habit-tracker-like format.
For example, you may want to track:
Books read
TV episodes/seasons/series watched
Podcasts listened to
Doctors appointments
Hair/salon/beauty appointments
Grocery shopping schedule
Dinner plan/schedule
Household projects/progress
Bank account amounts (Watch as they go up! Woohoo!)
Medication refill schedule
Screentime
Craft projects done
Movies watched
Bucket list goals completed
Travel days
There are so many fun options of things you can track in a habit tracker, planner, journal, or bullet journal. For more ideas, visit this list of 100 Things to Track in Your Planner.
Tracking Habits to Quit
Of course, habit trackers can be used for tracking new habits and your progress with them. However, they can also be utilized if you are trying to BREAK a bad habit.
Simply use your habit tracker to track every day you DON'T give in to the habit you're hoping to quit. This is a great way to see and track your progress of breaking a negative habit.
Some habit tracker ideas for habits to break:
Smoking
Drinking
Oversleeping
Snoozing alarm
Being late to work
Spending money
Buying a mid-day coffee
Binge-eating
Overexercising
Screens before bed
Screens first thing in the morning
Negative self-talk
Best Habit Trackers to Use
Over time, I've tested multiple different habit trackers – in all formats. Some digital, some printable, and some physical! All have their own unique benefits.
Here I've compiled the top habit trackers I know of. There are multiple different formats of habit trackers on this list so you can find the best one for you!

What Habits Do You Track?
What are your top 3 habit tracker habits that you track?
Do you use a habit tracker? A planner? A bullet journal? A digital tracker?
I'd love to know more about your habit tracker routine and what helps you be successful! Leave a comment below letting me know what works for you!