This post may contain affiliate links meaning that, I may make commission if you purchase through my links. Learn More. 
Swap the New Year's resolutions for some journaling this year. Here are 50 New Year journal prompts for an intentional, thoughtful, and successful 2024!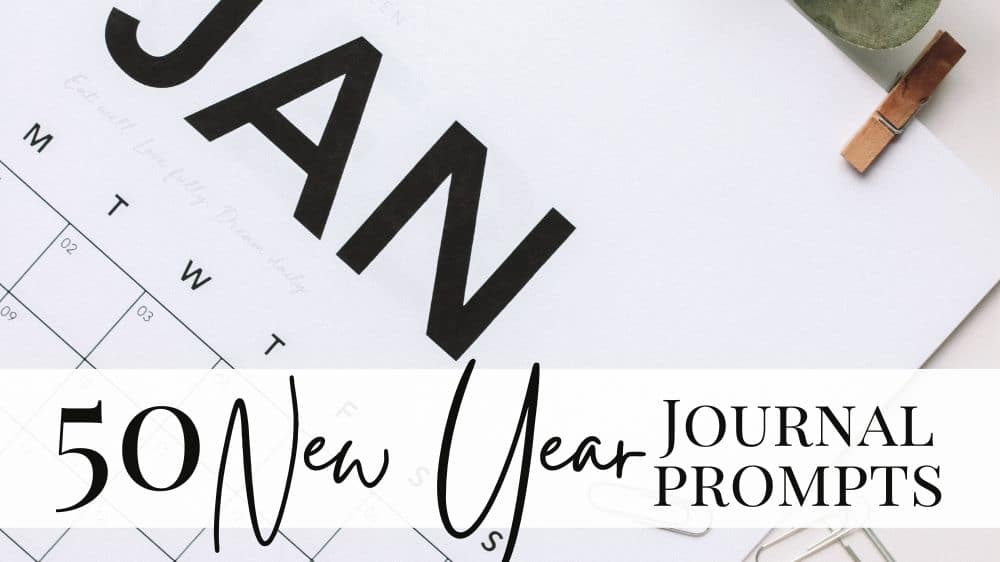 The change of the year is a super exciting time.
It's a great opportunity to reflect on the previous year while looking forward and planning for a successful approaching new year.
Goal setting, New Year's resolutions, planning, prepping, habit tracking, introspective self-reflection… this time of year can bring up a lot of different thoughts!
If your mind is running wild around this time of year, you aren't alone.
This is one of the main reasons I love New Year's journal prompts. Journal prompts for the New Year are a helpful guide to navigating all the thoughts that come with a fresh year.
Even though I'm someone who believes you can "start fresh" at any time of the year, the New Year is a really clear shift into a fresh chapter.
It's exciting! It's motivating! And, if we're honest, it can be a bit overwhelming too!
These journal prompts help break that all down so it feels a bit more manageable.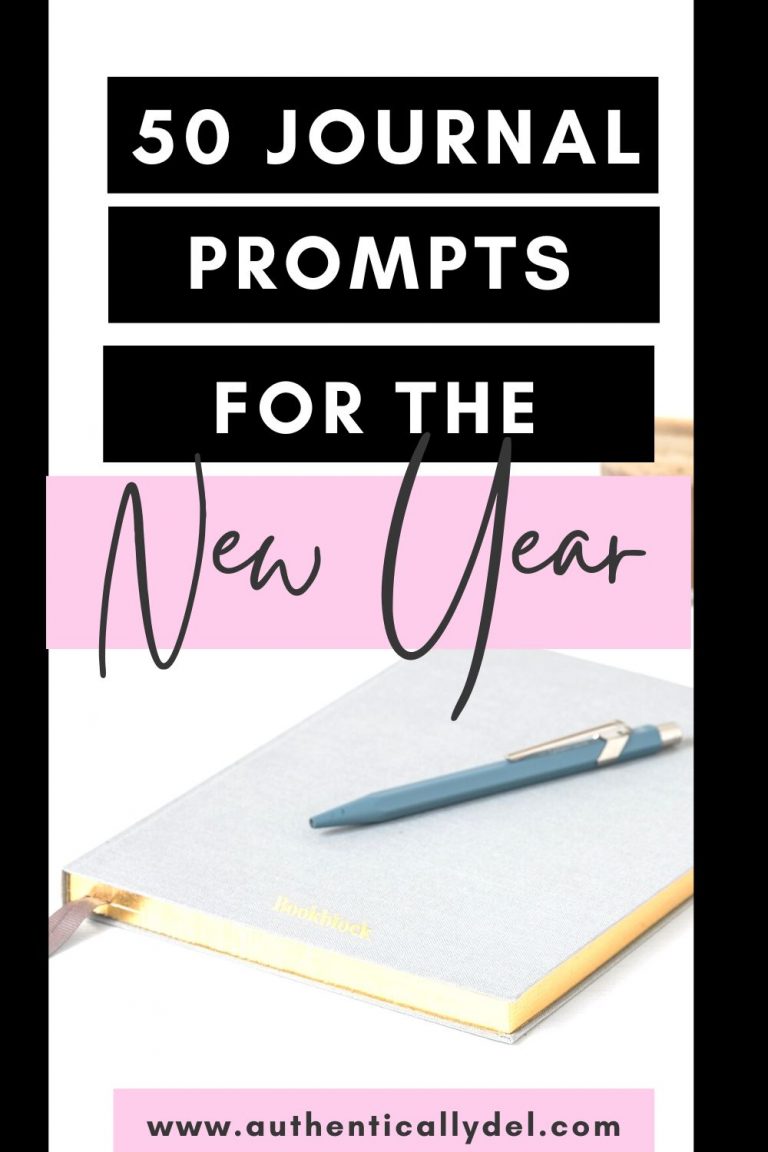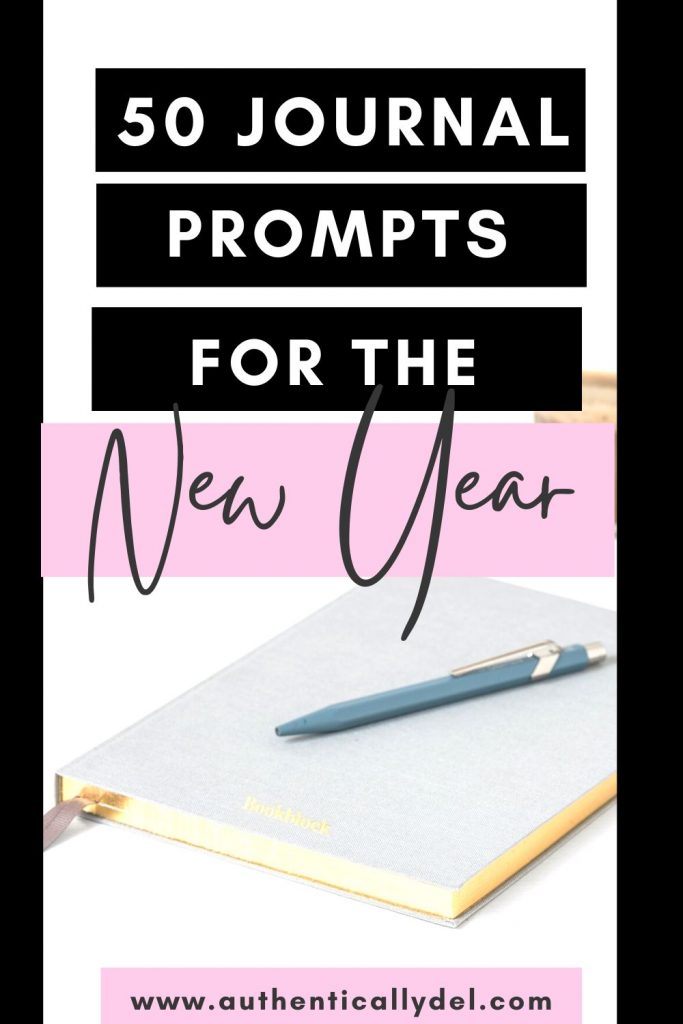 Types of New Year Journaling Prompts
These journaling prompts for the New Year are going to be split into 3 main categories.
These 3 categories are:
Year in Review – What did you do this year? Let's explore the moments you won't want to forget!
Self-Reflection – What have you learned about yourself this year? Some deep self-reflection can help us learn ourselves better and, in turn, can help us prepare for a great new year!
Goal Setting – Everyone's favorite part of a new year: goal setting! Let's set some goals and intentions that you can stick to in the new year.
By using a combination of these three categories, you get a well-rounded approach to the new year.
Looking at your year in review allows you to remember and appreciate the past year for all the things you experienced – good and bad!
Exploring deep self-reflection allows you to gain a better understanding of who you are at this point in time. This also helps to give you an appreciation for the ways you've grown and the things you've overcome in the past year!
Setting New Year's goals is a no-brainer! We all want to enter a fresh year with motivation, goals, and incentives to become the best versions of ourselves.
Now (before it's 2025) let's jump into those New Year journaling prompts for 2024!
50 New Year Journaling Prompts for 2024
Use these journal prompts to close out the past year with grace and enter the new year with a fresh mindset!
Year in Review Prompts
If you could describe the past year in three words, what would they be and why?
What are the top 3 best memories you have from the last year?
Who was your go-to person through this past year? (There can be more than one!)
What trips did you take this year? Write about them.
What was the best holiday you celebrated this year? Why? What did you do?
How did you celebrate your birthday this year? Who was there? What did you do?
I could not have gone through 2023 without… (list the people who made this year possible!)
What new things did you try last year?
What was your biggest accomplishment this past year?
List 10 fun activities you did this year.
Write about a memory from this year that makes you laugh just to think about.
What TV shows/movies did you watch this year?
What books did you read this year?
Did you attend any concerts/sporting events/festivals/fairs/etc.? Describe the memory.
Who came into your life this year that you appreciate?
Yearly Self-Reflection Prompts
What have you learned about yourself this past year?
Make a list of your current strengths. How do they help you in life?
Make a list of your current weaknesses. Do you wish to change these things?
Write about a time you failed this past year. What did it teach you?
How healthy are the relationships in your life right now?
Refer to your New Year's resolutions from this past year. Did you accomplish them? Why or why not?
How do you currently practice self-care?
If you could describe yourself in only 3 words, what would they be?
What limiting beliefs do you have about yourself? Where do they stem from?
How do you feel about your current mental health state?

How do you feel about your current physical health state?

What is already going well for you?
What do you feel is limiting your potential in life?
Make a list of gratitude. What are you thankful for in life?
What bad habits do you wish to change?
Rate your happiness in your areas of life on a scale of 1-10.
How have you grown over the past year?
Reflect on your successes from the last year. What made you successful?
Write yourself a letter of forgiveness for anything you need to let go of.
Write yourself a letter of admiration/love.
New Year Goal Setting Journal Prompts
What area of your life do you feel needs the most focus?
What physical health goals do you have for yourself? Why?
What mental health goals do you have for yourself? Why?
In what ways can you improve your relationships?
What good daily habits do you want to pick up this year?
GET YOUR PRINTABLE HABIT TRACKERS HERE
What career goals do you have for yourself? Why?
Make a list of your top 5 goals for the year. Then, list 5 small habits that will help you achieve each one.
What is something new you want to experience in 2024?
Where do you want to be in 1 month? 3 months? 6 months? 1 year?
What does health mean to you? In what ways can you achieve health and wellness this year?
How will you face and overcome burnout/lack of motivation with your New Year goals?
What daily non-negotiables will you set for yourself?
My positive affirmation/mantra for the next year will be…
How do you define success? In what ways will you know you have achieved success?

Write out your ideal day-in-the-life for one year from now in detail.
How Are You Journaling for 2024?
Do you prefer reflective New Year journaling prompts? Or are you all about the goals and New Year's resolutions?
I, personally, think a healthy mix of both is where the magic happens!
Leave a comment below telling me your #1 goal for 2024! I'd love to hear all about your plans and motivation for the coming year.
Your potential is endless! Let's crush those New Year goals together.
Get More Journaling Prompts in This Self-Care Bundle
(on sale NOW!)