This post may contain affiliate links meaning that, I may make commission if you purchase through my links. Learn More. 
The 7 areas of life are guiding factors for goal setting and pursuing self-improvement.
Developed by Dr. John F. Demartini, the seven areas of life are essential to be understood and fulfilled.
Dr. Demartini notes that any area of life that is not purposefully tended to and actively empowered can become overpowered. This imbalance in the areas of our lives can present us with a problem.
With this, we can understand that it is important for our well-being to be attentive and in touch with all 7 areas of life.
This post is intended to:
help you understand and develop the 7 areas of life
recognize these areas in your own life
evaluate the 7 areas of your own life
offer inspiration for goals for each of the 7 areas of life
With these key steps, we can utilize Dr. Demartini's 7 areas to better our own lives and create a life of balance, fulfillment, and happiness.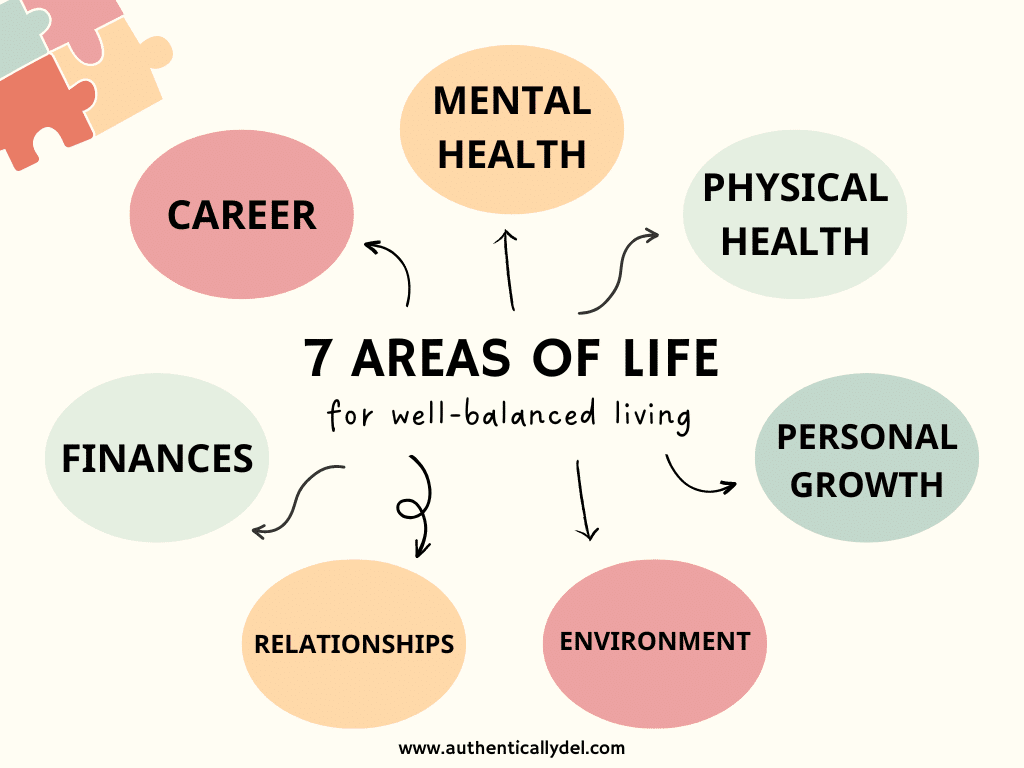 What are the 7 Areas of Life?
These areas of life are based on Dr. Demartini's 7 areas of life and slightly shifted to be more applicable to goal-setting.
1. Environment
Your environment plays a major role in your life. Your mood, health, productivity, motivation, mindset, and happiness are all factors influenced by your environment.
This area of your life includes all the things around you – your home, your desk, your workspace, your bedroom, your car, your organization, etc.
Creating an uplifting, motivating, calming, or inspiring environment is the goal.
We simply cannot thrive if we are in a place that does not foster and encourage growth.
If you notice yourself feeling lethargic or uninspired, check your environment.
Is it organized? Decorated? Warm? Inviting? Cozy? Is it catered to your specific needs and wants?
2. Career
Your career is also likely a major part of your life. If you have a career, chances are good you spend over half your days at work. Because of that, your career holds a lot of power in your everyday life.
A recent survey found that 50% of people hate their job.
If that is you, it's important to know that you are not stuck there. There are things you can do to help make your work life more positive.
If you hate your job, consider:
job searching
advance in your current field
switch your career field entirely
start your own business
improve your current work environment
These are just a few options that you can pursue if you are unhappy in your career.
We will get into specific goals you can set for the career area of your life later.
3. Finances
Similar to the career area of life, there's no denying that money plays a large role in our lives.
Whether you feel like you're not making enough, spending too much, or somewhere in between, nearly 75% of Americans report feeling stressed about finances.
There is a ton of talk about finances and, to be honest, a lot of it is very intimidating.
Financial talk can be highly technical and difficult to understand. But, it doesn't have to be.
Finances shouldn't be hard.
We will explore some specific goals you can see for the financial area of your life later on in this post.
4. Relationships
Dr. Demartini breaks up relationships into two categories: family and social.
I feel that these can be combined quite nicely to make our goals more all-encompassing.
Regardless of how you break this area of life up, it is a fact that your relationships are a critical part of your life.
Relationships improve our emotional well-being, give us a sense of belonging, and allow us to experience love.
Each relationship in your life is unique and, with that, each relationship may serve a slightly different purpose in your life.
For example, a romantic relationship may teach you what you value in a partner. A close sibling relationship may teach you the meaning of unconditional love and companionship.
Every relationship has its own purpose and value, but, as a whole, there are ways for you to improve relationships in order to better your life as a whole.
Again, we will get into those specific goals later.
5. Personal Growth
The one relationship that should be pulled out of the group is your relationship with yourself.
That relationship is one of the most important – if not the most important – ones in your life.
Your relationship with yourself is the longest one you will ever have.
There is no escaping yourself. Every moment that you are alive is spent with yourself.
This is one of the reasons why it's so important to foster and tend to that relationship.
Through consistent self-care, goal-setting, self-improvement, and positive routines, you can forever be improving yourself.
Personal growth is the only way to become your best, happiest self.
6. Mental Health
This ties in nicely with the previous area of your life.
Your mental health plays a huge role in your life. If your mind isn't healthy, nearly every area of your life will be negatively impacted.
Your mental health involves all areas of self-growth and personal development.
Your emotional, spiritual, and mental health are all directly linked. When you are making your mental health a consistent priority in your life, all areas of your internal health can thrive.
Mentally, emotionally, and spiritually you can be your best self.
There are some specific tools, routines, and resources that you can utilize to improve your mental health area of life. We will cover those goals later.
7. Physical Health
Much like mental health, physical health is crucial. In fact, your mental and physical health are directly linked.
Those with poor mental health are more likely to experience chronic physical health issues and those with poor physical health are more likely to develop poor mental health.
They really go hand and hand.
With that, it is incredibly important to pay deep attention to mental and physical health.
It can be tempting to fall into the societal trap of believing a certain physical appearance is representative of physical health.
That could not be further from the truth.
When focusing on your physical health, focus on how you feel.
Are you energized? Well-fueled? Clear-minded? Well-rested?
All of these are components of physical health that are WAY more important than how you look.
We will set goals around those feelings in this post.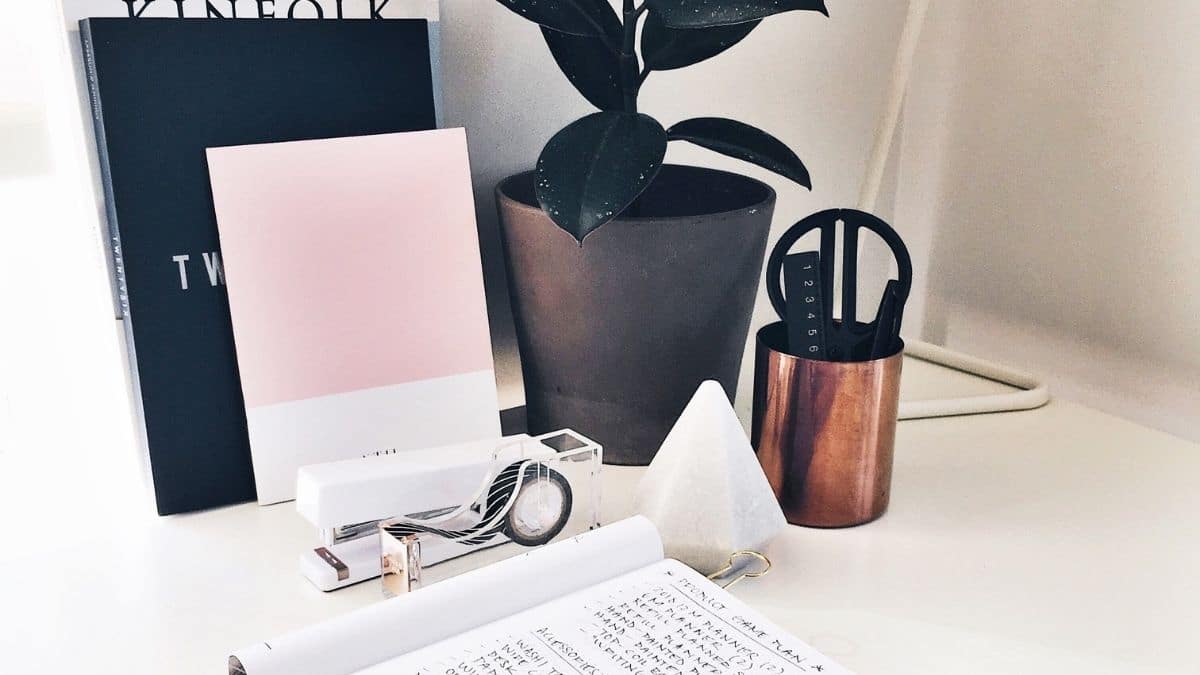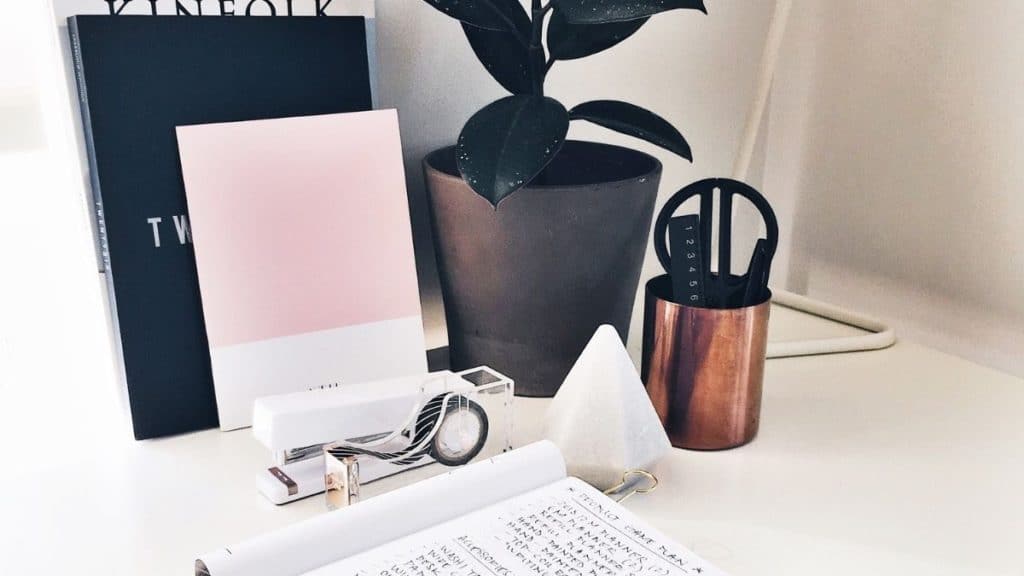 70 Goals for the 7 Areas of Life
Now that we know the 7 areas of life and what they represent in our own lives, we can start setting goals around them. These really are the best areas of life for goal setting if you want to see major improvements to your overall health, happiness, and well-being.
Let's go ahead and set 10 unique and powerful goals for each of the 7 areas of life.
Environmental Goals
Keep your desk organized and tidy.
Develop a routine for house chores.
Get outside for at least 15 minutes a day.
Clean out your car weekly.
Change your sheets weekly.
Take your work to a new location – this may only be possible for those who work from home.
Go through your closets. Get rid of old things and organize.
Finish up any outstanding household projects.
Decorate your house for the seasons/holidays.
Have a relaxation station in your house. (I love my cozy corner.)
Career Goals
Get a promotion.
Learn a new skill in your field.
Start your own business.
Build stronger relationships with your boss/coworkers.
Develop a good work/life balance.
Start up a new side hustle.
Expand your connections and network.
Become better at time management.
Find a new job.
Work from the comfort of your home.
Financial Goals
Have X amount in your savings account.
Get a raise.
Go from hourly to salary.
Save 10% of your income.
Budget plan every week/month.
Pay off your debt.
Have one no-spend day every week.
Start a retirement fund.
Save up for a trip/purchase/event/etc.
Build a second source of income.
Relationship Goals
Connect with an old friend.
Meet up with someone once a week.
Call a grandparent/parent/family member weekly.
Make one person smile every day.
Leave everyone happier than you met them.
Fall in love.
Be trustworthy.
Develop better communication skills.
Learn your and your loved one's love language.
Be honest and open in your relationships.
Personal Growth Goals
Push yourself out of your comfort zone.
Challenge yourself to pursue self-development.
RELATED POST: 70 Best 30-Day Challenges for Personal Growth
Buy and utilize a planner to stay organized.
Make bucket lists for things you want to accomplish/experience.
Build consistent morning and night routines.
Develop good habits in your everyday life.
Reflect often. Be honest with yourself.
Surround yourself with people who encourage you to be better.
Set new monthly goals for yourself every month.
Mental Health Goals
Schedule one self-care night every week.
Take yourself on dates.
Journal daily – or at least try to!
Develop a list of self-care ideas that you love.
Start going to therapy – TalkSpace is a great option. Use my link with the code APPLY65 for $65 off your first month!
Practice self-compassion and give yourself grace.
Allow yourself time to rest.
Set boundaries – with relationships, work, responsibilities, time, etc.
Prioritize yourself over others – This means saying 'no' when you want to!
Allow yourself to feel your emotions. Cry when you need to! Be happy when you feel it!
Physical Health Goals
Nourish your body with enough food.
Drink enough water every day.
Get enough sleep every night.
Move your body in ways that are enjoyable.
Incorporate Intuitive Eating for your health.
Stay up-to-date on health appointments (doctor, dentist, etc.).
Limit alcohol/nicotine/caffeine/etc.
Reduce your stress levels.
Take vitamins.
Eat your daily fruits/veggies.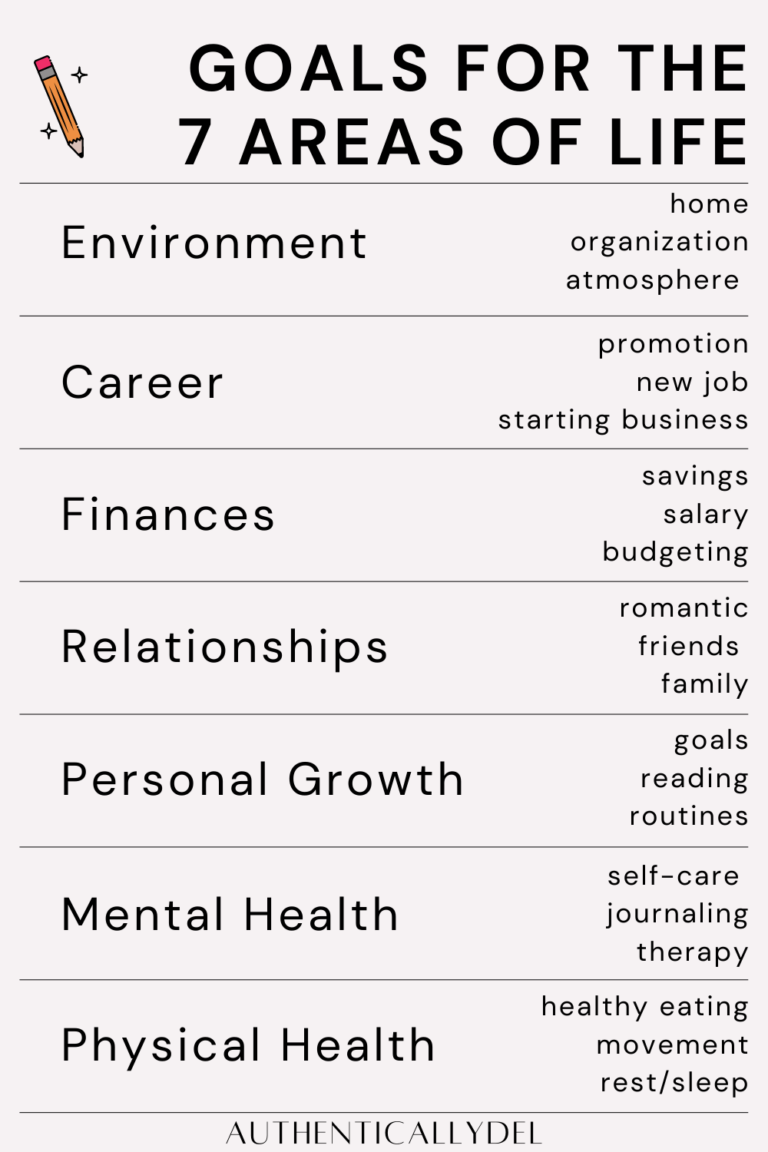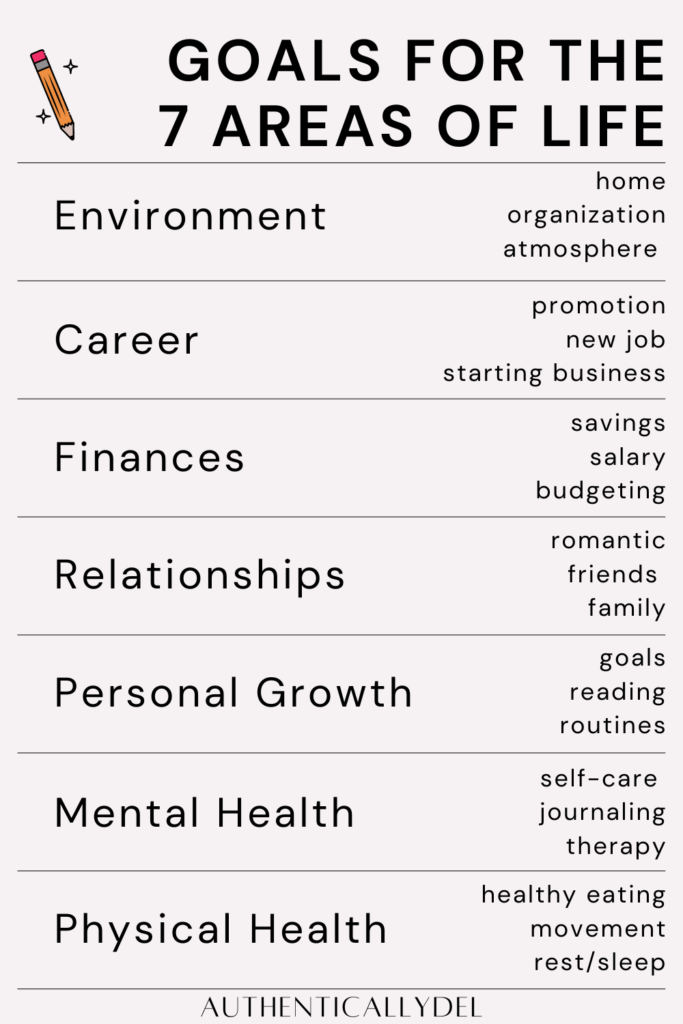 There you have 70 goals for the 7 areas of life.
When you are wanting to evoke a change in your life, you should be focusing on these areas of life for goal setting.
The 7 areas of life are where you will see the most benefit when you make positive changes.
Whether it be improved physical health, better finances, or anything in-between, goals related to the main areas of life are the ones that are going to give you the most noticeable improvements.
Never stop striving for better. You deserve to live a life of health, happiness, and fulfillment. These goals can hopefully help you get there.
Free Good Daily Habit List
Printable Goal Setting Worksheets
---
More Posts for Improving the 7 Areas of Life
200 Best Habit Tracker Ideas for All Areas of Life
12 Surprising Things That Are Holding You Back in Life