This post may contain affiliate links meaning that, I may make commission if you purchase through my links. Learn More. 
Looking to improve your life with some good daily habits? You're off to the right start.
Your daily habits are what ultimately build your life. If you have good daily habits, your life will improve drastically – and fast!
It is common to have mindless habits that you may not even know you are partaking in.
These seemingly small and insignificant habits (whether good or bad) can impact the quality of your life in really extreme ways.
With this list, the goal is to, first, help you become more conscious of your everyday habits and, then, ultimately shift any negative habits into GOOD daily habits that can improve your life.
Forming new habits can take some time, energy, and dedication, but thankfully, it is totally doable.
Let's jump into these 100 good daily habits to start!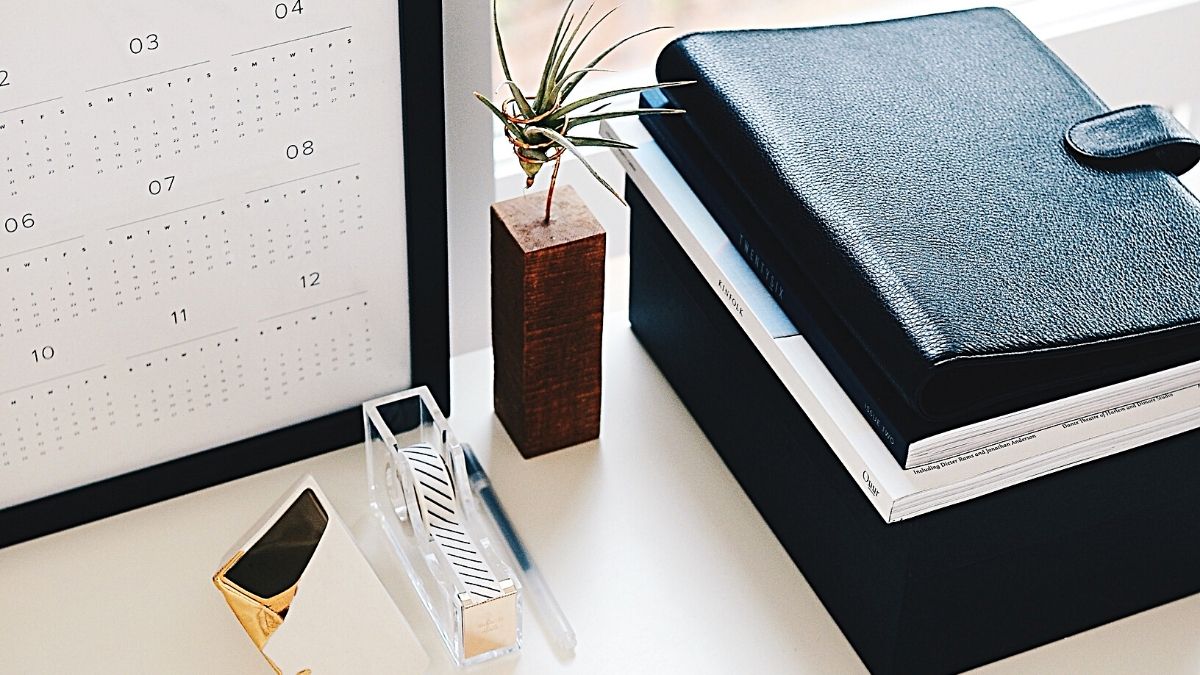 100 Daily Habits to Improve Your Life
For the sake of easy reading and organization, this huge list of daily habits is broken down into a few categories for the main areas of life.
Health

Mental Health
Physical Health

Productivity
Social
Financial
50 Good Daily Habits for Health
Our health is quite complex. There are many factors that go into our overall health and well-being. Two main aspects of our health are our mental and physical health.
Let's look at the good daily habits we can incorporate to improve our health.
25 Good Daily Habits for Mental Health
1. Start Each Day with Gratitude. Getting a 5-minute gratitude journal is one of the best daily habits I've picked up.
2. Get at least 10 minutes of fresh air every day.
3. Have a mid-day screen-free hour. Limiting screen time and mindless scrolling is a habit that can drastically improve your mental health.
4. Shift your social media following. ONLY follow accounts that uplift you and make you feel positive. Unfollow or mute the others.
5. Practice one act of self-care every day. You can take part in my 30-day self-care challenge to get started!
6. Practice positive affirmations in the mirror every morning.
7. Listen to an uplifting podcast daily. Even if it's just a few minutes as you get ready or are driving somewhere. Get inspired with a positive Podcast you love.
8. Eat one meal a day that REALLY makes you happy. Food can be such an excellent source of joy.
9. Only wear clothes that make you feel confident. You look amazing. You should feel amazing too.
10. Laugh every single day. Laughing is actually a great way to reduce stress.
11. Set work limits. This is especially important if you work from home or tend to take work home. Set boundaries. You need time away from work.
12. Set boundaries with friends/family. If you feel exhausted, taken advantage of, etc., it's time to set a boundary. Relationships should fulfill you, not drain you.
13. Learn to say 'no'. This may be part of your boundaries. Say 'no' when you really don't want to do something. It's okay.
14. Connect with one person a day. Whether it be meeting for coffee or just a quick text, maintaining healthy relationships is a daily habit that will improve your life for sure.
15. List 5 things you love about yourself. Self-confidence is not cocky or arrogant. It's necessary.
16. No electronics at least one hour before bed. Phone on 'Do Not Disturb' and computer off. It's time to unwind and your devices are just keeping you up.
17. Read 10 pages of a self-improvement book every day. It doesn't have to be exactly 10 pages, but getting into the routine of reading every day is a great daily habit to improve your life.
18. Have a dance party. Turn on your favorite song and dance it out once a day. Dancing reduces cortisol, your stress hormone!
19. Spend time with a pet. If you have a pet, make it a daily habit to spend some quality time with them. Playing with or petting your pet has many health benefits.
20. Get in the sunshine whenever you can. If the sun is out, you should be too! Soak up a few minutes of the sun whenever you can!
21. Find a hobby you enjoy. Research shows that people with a hobby are less likely to struggle with stress, low moods, and depression.
22. Practice deep breathing. Even just a few deep breaths can improve focus and reduce stress.
23. Incorporate mindfulness. Mindfulness is a powerful practice that helps center and calm you.
24. Set daily goals. Goals can help you stay motivated and grant you a sense of accomplishment. Even setting small, achievable goals can make a great daily habit to improve your life.
25. Talk it out. Try to make it a daily habit to discuss your day with someone you love and trust. We all feel better after talking it out.
25 Good Daily Habits for Physical Health
26. Take a walk every day. Even just a few minutes can benefit your health!
27. Get enough sleep. Meet your own specific sleep requirements every night.
28. Limit alcohol consumption.
29. Leave a full glass of water by your bed to drink in the morning.
30. Drink tea. Utilize the health benefits of a cup of tea.
31. Limit artificial sweeteners. Remember that "low calorie" does not mean healthier. Artificial sweeteners have many negative effects on your health.
32. Cook at home *almost* every day. Some occasional takeout never hurt anybody, but try to cook nutritious meals at home whenever possible.
33. Eat the proper amount of fruits and veggies. Most adults don't eat the proper amount of fruits and veggies for their health.
34. Pack healthy lunches. Again, the occasional lunch out is okay, but make it a healthy daily habit to pack nutritious lunches at home for work or school.
35. Meal Plan. Meal planning is one of the best daily habits to improve your life because it helps keep you organized, allows you to save money (not wasting groceries), saves time, and keeps you healthy!
36. Take vitamins. Vitamins are so important for your health. I always prep my vitamin holder as part of my Sunday night routine so it's super easy to stay on track through the week.
37. Practice Intuitive Eating. Intuitive eating is a valuable skill that you may have to re-learn if you've been dieting or relying on outside rules for food. Intuitive eating has many benefits and is a powerful daily habit that will improve your life and health. Reading this book changed my life.
38. Drink enough water throughout the day. Find out just how much you need here.
39. Break a sweat every day. This doesn't have to be anything too intense, but there are benefits to making it a daily habit to break a sweat.
40. Reduce your intake of processed meats.
41. Eat breakfast.
42. Eat consistently throughout the day.
43. Be prepared with healthy snacks.
44. Practice yoga.
45. Stand more during your workday. If you work a desk job, it may be worth it to consider investing in an adjustable standing desk.
46. Track your cycle. Being aware of your hormonal cycle is important for being in touch with your health and your body.
47. Find a green smoothie recipe you love. This is a GREAT way to pack in those greens and nutrients.
48. Take work on a walk. If your phone calls or meetings can be done on the move, get walking while you work!
49. Floss. We all know it's important. I'm working on this one myself.
50. Be aware of your posture. No more slumping around. Use those core muscles!
20 Good Daily Habits for Productivity
These daily habits to improve your life will also drastically improve your productivity. Developing productive habits is a great step in improving your life.
51. Make your bed when you first wake up. Cross something off the to-do list right away.
52. Try time-blocking. Schedule your day out by the hour to ensure you are on track with all your responsibilities. (I have a post – and printable – all about how to plan your day with time-blocking.)
53. Have a daily 10-minute tidy. Keep your space clean.
54. Set daily goals. Having daily goals that align with your larger monthly goals can really keep you on track.
55. Use a planner. I cannot stress this enough. My planner is my whole life.
56. Prepare for each day the night before. Set good nighttime habits that set you up for success the next day.
57. Eliminate distractions. Phone, notifications, etc. Put them away when working.
58. Keep your inbox tidy. Much like a cluttered room, a cluttered inbox is NOT productive.
59. Stop multitasking. Multitasking doesn't work.
60. Get an early start. Early risers have more time to get things done! (But don't compromise your sleep!)
61. Set small goals. Don't take it all on at once. Small steps lead to big results.
62. Get on a set house-cleaning schedule. When you break down the chores into days, it doesn't feel so bad.
63. Keep your desk organized.
64. Take breaks. Refresh, relax, reset, and get back to it!
65. Make a morning routine. Routines keep us productive even when motivation falls.
66. Make a night routine. See above.
67. No mindless scrolling during the day. If you want social media time, save it for later when the responsibilities are done.
68. Dress well. When you feel better about yourself, you perform better.
69. Stay well-fueled. Energizing afternoon snacks are a must.
70. Set rewards for yourself. Treat yourself – and use it as motivation to be productive. 😉
15 Good Daily Habits for Social Life
Our social life is an important part of our overall well-being. These social activities are some super simple daily habits to improve your life!
71. Smile at a stranger. It just feels good to spread positivity.
72. Give a compliment. See above.
73. Talk to one friend a day. It can be easy to get caught up in busyness and forget to foster relationships. Talk to at least one friend every day.
74. Be a positive person. Stop complaining. Be a positive light. People are drawn to that.
75. Practice good eye contact. This shows the person you are talking to that you are listening and caring.
76. Stand with confidence. Learn how to carry yourself with confidence and grace in social settings.
77. Leave the house every day. If you're prioritizing your social life, leaving the house is a great daily habit to improve your life in this area.
78. Say 'yes'! Say yes to more opportunities with loved ones.
79. Have a family dinner. This doesn't have to be daily but get in habit of having a family get-together.
80. Smile more. This makes you way more approachable.
81. Be a conversation starter. If you want to build a better social life, practice starting a conversation daily.
82. Look up. Stop spending your time out looking down at your phone. Look up and interact with people.
83. Make recurring dates with loved ones. Friends, sisters, significant other, etc… routinely schedule out your dates, and don't let them fall through!
84. Give back. Donate, volunteer, pay it forward, etc. Help out others!
85. Check up on loved ones. Be the one to reach out.
15 Good Daily Habits for Money
Finances are so important! These good financial daily habits will improve your life and your wallet.
86. Track your spending. Check out the budget planner in my adulting bundle for guidance!
87. Make coffee instead of buying it. $5 coffee every day is $1,825 a year. Wow. Making coffee at home is a FRACTION of that… and can taste even better when made correctly.
88. Make a budget plan.
89. Work on a side hustle for extra money.
90. Shop coupons and sales. Hello, Target circle.
91. Practice the 30-day rule. For any big "want" purchases, wait 30 days. If you still want it after 30 days, proceed.
92. Shop discount stores. TJMaxx and Nordstrom Rack are the stores I shop the most at. They have crazy good deals.
93. Find a different outlet. If you're an emotional spender, try finding another way to deal with tough days or emotions. You'd be shocked at how much you spend on an emotional shopping spree.
94. Shop store brands. There is nothing wrong with Great Value (Walmart) or Market Pantry (Target) groceries. These store brands are just as good as the "real deal" for a fraction of the price. Little swaps add up.
95. Eat at home. There's no denying that eating out will cost you more than eating at home.
96. Do your own grooming. Hair cuts, manicures, pedicures, waxing, etc. can ALL be done at home for CHEAP!
97. Borrow, don't buy. When possible, borrow something rather than buy it. Some examples of this may be renting a book from Amazon rentals or from the library instead of buying it.
98. Quit the gym. Working out at home can be just as effective (if not more) for a tiny portion of the price. Even if you are going all out and buying gym equipment (weights, squat racks, smith machines, etc.), the equipment will pay itself off over time with the money you save from your membership. #TeamHomeWorkout
99. Sell things online. If you are looking for a quick way to make some extra cash, consider selling old clothes and houseware items online instead of just getting rid of them. I've made over $1,000 doing this.
100. Make frequent savings deposits. Make it a habit to deposit extra money into your savings account. Once this money is in there, try your best to not touch it unless you REALLY need it.
Get Your Free Daily Habits Printable
Get a printable 6-page book of all these good daily habits to refer back to whenever you need it!
How to Start These Life-Changing Habits
These are 100 of the best daily habits to start. Whether you are focusing on health, productivity, relationships, or finances, these good daily habits are some of the best habits to have.
But, when taking in all these examples of good habits, it can feel overwhelming. You may be thinking… "Where do I even begin?"
5 Tips for Developing Good Daily Habits
1. Evaluate Your Current Daily Habits
It's probable that you already have some really great daily habits! That's awesome!
You probably also have some areas that could use some work. Let's focus there. Ask yourself these questions:
What current daily habits are working well?
Where do I need to improve?
How is my health? What healthy habits do I have? What unhealthy habits do I have?
How are my work/productivity/financial habits? Where am I succeeding? What needs work?
How are my relationships?
Where am I now? Where do I want to be one year from now?
These questions can help you figure out what daily habits you need to improve your life. Solidify where you want to focus your attention.
2. Find the Top 5 Daily Habits
All 100 of these examples of good habits may not apply to your life. That's okay!
I'm willing to bet that there are plenty that do apply.
After evaluating your current daily habits, you will have a better idea of the habits that need work. Pick just 5 of the good daily habits from this list to focus on at first.
3. Read Atomic Habits
Atomic Habits is one of the most popular books for transforming your life through daily habits. It is truly incredible. I recommend you read it if you are trying to adopt better habits.
4. Start Small
Small actionable steps in the right direction… that's how you achieve any goal.
Say your goal is to make working out for 45 minutes a daily habit. If you jump right into it, you may burn out or get discouraged.
Maybe you start with three 30-minute workouts a week. That is a huge step in the right direction.
Don't feel like you have to do it all at once. The most lasting habits are the ones that are built and reinforced over time.
5. Set Yourself Up for Success
Your environment can make or break your habits. The people, things, places, and energy you surround yourself with affect your habits.
For example, if you are trying to limit your alcohol consumption, it may not be the best thing to hang out with your friend that goes to the bar every night.
Or if you are trying to get more sleep every night, it may not be the best idea to start a movie at 10 pm.
You know what aligns with your goals. Be smart about what you allow into your life and the choices you make.
6. Track Your Progress
Tracking your progress with a habit tracker can help you visually see the changes you're making. This progress helps to keep you motivated when you feel discouraged, tired, or like giving up.
Sometimes progress is hard to recognize unless it is blatantly in front of you. Habit trackers help showcase the progress.
7. Be Patient
Habits take time to develop into consistent daily habits. Be patient with yourself and give yourself some grace. Being too strict or too impatient will only hinder your progress.
8. Reward Yourself
Be proud of yourself! When you make great strides and see progress in your daily habits, reward yourself for it! Do something that makes you feel great to celebrate your victories along the way!
---
More Habit Posts:
50 Good Habits to Start in Your 20s