This post contains affiliate links meaning that, at no additional cost to you, I make a small commission if you purchase through my links. For additional information, visit my affiliate disclosure. 
Here is a simple list of 100 things that make me happy. These small, everyday things never fail to boost my mood and make me appreciate life a little bit more.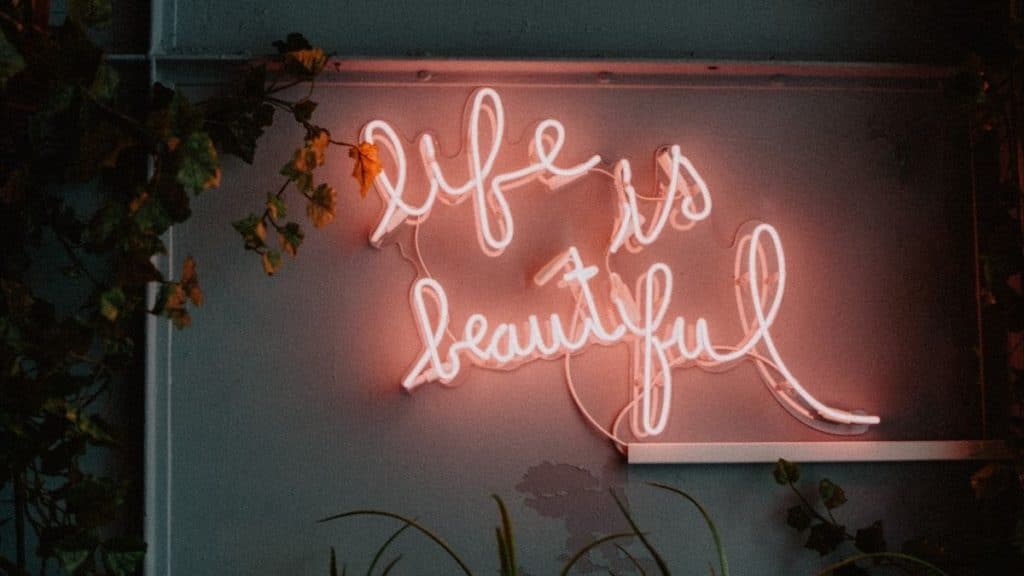 You may have heard the phrase "life's about the little things". I believe that this is true. There are so many beautiful, simple joys in life that we often look over and underestimate.
However, I've found that it's these little things that keep me going and keep me motivated on days that feel difficult. So, maybe it's true… that life really is about the little things that make you happy.
100 Things That Make Me Happy
This list is filled with 100 simple reasons to be happy. These are the things that I didn't use to appreciate enough, but that I have grown to be extremely grateful for.
A good night of sleep
Sunday brunch
When a dog wags their tail when they see me
Hugs from my mom
A fresh vase of flowers
Sunday grocery shopping
Waking up to the sun coming through my windows
Getting lost in a book
Having a package on my doorstep
Smiling at a stranger and they smile back
Falling asleep to the rain
Christmas decorations
Pumpkin patches
Rewatching a favorite TV show/movie
Microwave popcorn
Feeling motivated on a Monday
Yoga
Outdoor runs when the temperature is just right
Candles (specifically fall or winter scents)
A warm shower before bed
Baking
New office supplies
Kind social media/blog comments
Seeing a little kid happy and carefree
Getting good news
Cancelled college classes (especially early morning ones!)
Listening to a great new song for the first time
Driving at night in the summer with the sunroof open
Going through the carwash
Chick-fil-A
Hitting all the green lights when I'm driving
Waking up in the middle of the night when I can go back to sleep for hours
Any foreign language
Setting new goals for a new month
The first cup of coffee in the morning
When someone says I smell nice
Kind strangers
Puppy cuddles
Fall decor
Target's dollar section
Reaching a goal
Hearing "I'm proud of you"
Soup in the fall/winter
Online shopping
Poetry books (Rupi Kaur especially!)
Good sales/discounts
Laughing so hard I cry
Sister dates
Watching The Bachelor/Bachelorette
Babies laughing
Fridays
Pajamas after a long day
Seeing someone I miss after a long time
Traveling and exploring a new city
Tacos
A sandwich from my mom (they always taste better… don't ask why)
Seeing someone love themselves and their body unconditionally
Helping people through something
Deep conversations
When my eyeliner turns out perfect
Fresh sheets with freshly shaved legs
Matching pajama sets
Seasonal grocery store treats
Art
Givng random gifts for no reason
Puzzles
Chocolate
Getting told I'm appreciated
Discovering a new hobby/skill/passion/talent
Family traditions
Christmas lights
Writng stories
Playing sudoku
Paydays
Sunsets
Cute AirBNBs
Breakfast in bed
Having the house to myself
When someone lets me over in traffic
Seeing old couples on dates
The first bite when you're really hungry

A freshly cleaned room

Cancelled plans that I didn't want to go to (LOL!)
Good Podcasts
Outdoor walks
The smell of my dog's paws
Getting a good grade
Planners
A freshly unloaded dishwasher
A good workout
Sunflowers!
Ice cream dates
Meeting someone new
The first sleep in your own bed after vacation

Taking photos

Phone-free days
Giving and recieving love
Why I Made a List of 100 Things That Make Me Happy
Making a list of the 100 things that make me happy was an act of self-care for me. As someone who has struggled with mental health, having a solid, tangible list of reasons to feel happy has helped me in moments of sadness or struggle.
I keep this list of things that make me happy in my desk drawer. That way I know exactly where it is and how I can find it when I need it. Oftentimes, I'll refer to this list on a hard day as inspiration. When I'm struggling, this is a super simple and quick way to generate ideas of how I can make my day feel a little bit brighter.
Looking at this list is like a quick refresher of small ways I can shift my mood. Sometimes in the middle of a workday, I'll look at these things that make me happy and go seek one of the items out. Whether it be opening the blinds, lighting a candle, or just listening to a good song, this list helps give me "quick-fix" solutions for a mood boost.
Why You Should Make a List of Things That Make YOU Happy
Much as I was saying above, this list is perfect for cheering you up or giving you a reason to smile.
I think that a "things that make me happy" list is perfect for those who struggle with a bit of mental illness as I do. When we fall into anxious, depressive, or other mental illness episodes, it can be a struggle to find things to pull ourselves out of it. Having a list like this can help.
What is Something That Makes You Happy?
Let's start your list together. Whether you take inspiration from my list of 100 things that make me happy or generate your own ideas entirely, leave a comment telling me something that makes YOU feel happy.