This post contains affiliate links meaning that, at no additional cost to you, I make a small commission if you purchase through my links. For additional information, visit my affiliate disclosure. 
This list of 100 things to love about yourself is meant to inspire more self-love and appreciation. There is so much to love about yourself – don't forget to!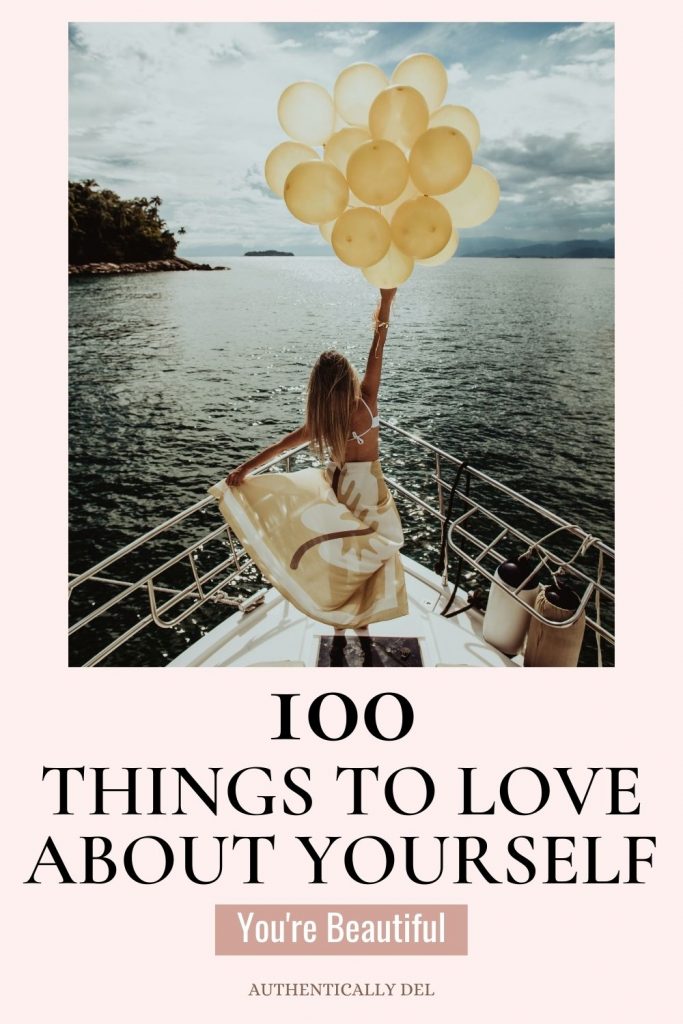 Self-love is not always easy. In fact, self-love can be one of the hardest forms of love to cultivate.
If you struggle with confidence, body image, self-love, or self-worth, know that you're not alone. Also, know that it can get better for you!
It's okay if loving yourself doesn't come naturally to you. It may take some extra work to get there – and that's what this list of things to love about yourself is for.
By giving you a list of 100 things to love about yourself, I'm hoping to spark some thought and inspire you to continue and personalize this list for your own self-love journey.
Don't feel like you have to magically find self-love overnight.
This can take work, practice, and persistence. There will likely be some days where self-love feels very hard, especially if you are at the beginning of your journey.
On those days, be gentle with yourself and consider opting for simple self-acceptance or self-respect instead.
There are so many things to love about yourself (or even things to like about yourself if love feels too extreme right now).
Let's dive into this list of 100 beautiful and unique things to love about yourself.
100 Things to Love About Yourself
Whether physical, mental, or emotional, there are so many amazing things to love and appreciate about yourself. You have amazing qualities and you are beautiful – inside and out.
Internal Things to Love About Yourself
Let's dive deep into all the inner beauty that you hold. After all, that's the most important!
Start with the simple phrase "I love my…" and continue with any variation of the things below.
I Love My…
Kind-hearted nature
Sense of humor
Passion for my work
Infectious laugh
Empathy
Creativity
Unique skills and abilities
Dedication
Loyalty
Open-mindedness
Ability to make someone smile
Willingness to try new things
Conversation skills
Drive
Motivation to improve my life
Grateful attitude
Generosity
Little things that make me who I am
Love of books
Daily routine
Laugh
Easy-going nature
Ability to look on the bright side
Deep love for those around me
Compassion for others
Intelligence
Commitment to self-improvement
Ability to overcome my fears
Punctuality
RELATED POST: 55 Self-Love Journal Prompts
Respect for other people
Ability to see things from all points of view
Humility
Zest for life
Organization skills
Type-A personality
Quirks and kinks that make me unique
Confidence
Cooking skills
Social skills
Artistic ability
Love for nature
Ability to dream big
Connection with animals
Memories
Priorities
Love of traveling
Commitment to my relationships
Love of trying new things
Big heart
Collections of meaningful things
Self-care practice
Independence
Goal-oriented attitude
Ability to set boundaries
RELATED POST: 121 Positive Affirmations for Self-Confidence
Sensitivity
Individuality
Intuition
Ability to follow my heart
Ability to trust my mind
Growth
Willingness to admit when I'm wrong
Comfortability with my uniqueness
Insecurities
Attention to detail
Commitment to learning to love myself

External Things to Love About Yourself
Although the inside is what matters most, it's wonderful to love physical things about yourself too! Here are some external things to appreciate and love about yourself.
I Love My…
Eye color
Smile
Legs
Natural hair
Freckles
Dimples
Body shape
Skin
Hair color
Long eyelashes
Makeup-free face
Nose shape
Strong thighs
Painted toenails
Stretch marks
Bellybutton
RELATED POST: 55 Powerful Body Image Journal Prompts
Mole(s)
Tan lines
Booty in my favorite pair of jeans
Big/small breasts
Hip dips
Long fingernails
Arms
Hair when it's curled
Waist
Eyebrows
Cheekbones
Shape of my body from the side
Belly pooch
Voice
Teeth
Shape in a bikini
Silhouette
Muscle tone
Body
What do you love about yourself?
The beauty of asking this question is that there is NO wrong answer. There are endless things you can love about yourself – big, small, physical, or internal.
Feel free to start small when building your list of things you love about yourself.
It doesn't have to be a grand list of "100 things I love about myself". Instead, start by brainstorming just a few.
What are 5 Things You Love About Yourself?
Start there. Think about it. Journal on it. We all start somewhere on our self-love journey.
I hope this list inspired you to get thinking about all the amazing things to love about yourself.
MORE POSTS FOR YOU
25 Self-Care Ideas for the 5 Senses
How to Build Your Own Affordable DIY Self-Care Kit
50 Deep Questions for Improved Self-Confidence