This post may contain affiliate links meaning that, I may make commission if you purchase through my links. Learn More. 
If you struggle with anxiety, you know how hard it can be to ease an anxious mind. These positive affirmations for anxiety are here to help you calm your mind and find peace.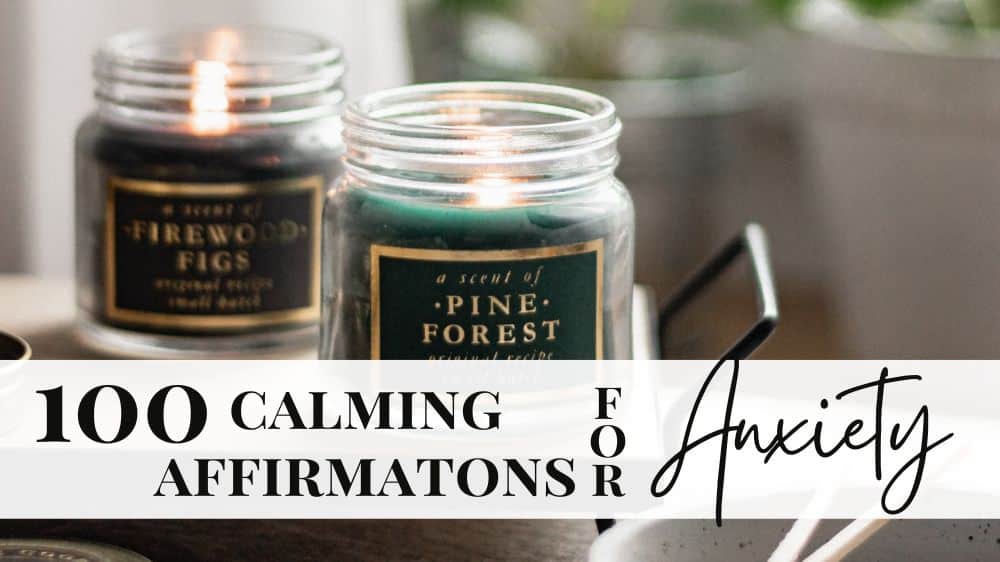 Anxiety can take over our minds and send us spiraling into a whirlwind of anxious thoughts. When caught up in this, it can be a challenge to break the thought cycle.
Using positive affirmations for anxiety is a great way to help settle your mind and calm your thoughts.
Affirmations are short, simple phrases that you can repeat to yourself to help reframe thoughts.
In the short-term, positive affirmations are the perfect way to calm your mind down in the moment. In the long term, continual use of positive affirmations for anxiety can help reframe your thought patterns and behaviors to lessen anxiety symptoms overall.
The mind is a powerful thing.
Let's feed it with helpful, calming thoughts.
100 Positive Affirmations for Anxiety
Anxiety can hit at all different times. No matter when your anxiety comes on, be prepared with the proper affirmations for that moment.
Here is an assortment of different anxiety affirmations for all types of situations.
15 Short Affirmations for Anxiety
These affirmations are short and sweet – perfect for when you need that quick anxiety relief.
I am safe.
I trust myself.
I am strong.
I am in control.
I am brave.
I am calm.
I am peaceful.
This will pass.
Thoughts are not facts.
I am capable.
I am okay.
I am relaxed.
This is okay.
I can handle this.
I will breathe.
15 Affirmations for Anxiety and Depression
These are perfect affirmations for anyone battling both anxiety and depression.
I am more than my thoughts.
My mind cannot control me.
I am worthy.
I am enough.
My feelings are not facts.
I am valid.
I am deserving of love.
My worth is constant.
READ: 50 Therapeutic Journal Prompts for Mental Health
I am lovable.
I love myself.
My loved ones value me.
I make the world a better place.
I am capable of more than I can see.
My goodness is needed on this earth.
I deserve good things.
10 Affrmations for Panic Attacks
Caught in a panic or anxiety attack? Use these affirmations to help calm yourself down.
I can breathe.
I am safe.
I trust my body.
My mind is clear.
This moment will pass.
I have done this before, I can do it again.
I will survive this anxiety.
My breathing is relaxing me.
I can focus on the present moment.
I can feel my body relaxing.
15 Morning Affirmations for Anxiety
These morning affirmations can help set you up for a great day.
I am refreshed.
I am ready for a great day.
Today will be a good day.
I am taking charge of today.
I am capable.
My anxious thoughts will not control my day.
I am prepared for today.
I am accomplishing great things today.
Everything is working in my favor today.
READ: 50 Good Daily Habits for Mental Health
I can show up as my best self today.
I am excited about the beauty of today.
Today is a beautiful, clean slate.
I choose to see the good things in life.
The universe is on my side.
I can handle anything that comes to me.
15 Nighttime Affirmations for Anxiety
Calm your brain before bed with these nighttime affirmations.
I let go of today.
I allow my mind to rest.
Today is over and I let it go.
I can release the weight of today.
Tomorrow is a fresh day.
I allow my body to rest.
I am worthy of deep rest.
Tomorrow, I am waking up rested and refreshed.
I trust myself to take control of my life.
I know that I will be okay, no matter what.
My thoughts cannot control me.
I am relaxing and preparing for sleep.
I can feel the weight of today falling off of me.
My dreams are happy and peaceful.
I am ready for a restful sleep.
15 Affirmations for Social Anxiety
Struggle with social anxiety? Remind yourself that you are capable and you belong with these affirmations.
I am likable.
I make a great first impression.
I have value to add to the conversation.
I am unique and that is wonderful.
I am confident.
I am loved by others and by myself.
I will show up authentically as me.
I am at ease when I talk to others.
Conversations flow naturally to me.
I trust my ability to form connections.
Other people are lucky to know me.
I am safe around others.
I attract quality people into my life.
I know what I am doing.
I belong here.
15 Affirmations for Work & Performance Anxiety
You are capable. Remind yourself of that with these affirmations for work and performance anxiety.
I am capable.
I know how to get the job done.
My skills are valuable.
I have talents that are unique to me.
I trust my abilities.
I love what I do.
My work is high quality.
I am learning every day.
I am doing the best I can.
My passion is reflected in my great work.
I am always producing new ideas.
I am inspired.
My work does not define my worth.
I am creative.
I am a valuable asset to the lives of others.
How to Use These Anxiety Affirmations
If you're new to affirmations, it can feel overwhelming knowing how to begin. But I have good news.
Using affirmations is actually quite simple.
Here are some different ways you can use these anxiety affirmations in your everyday life.
Write them out. We know that the physical act of writing things down is powerful. This can help with memory, focus, motivation, and clarification. When it comes to affirmations, writing them down is also very grounding and calming. This helps to solidify the affirmation and make it feel more authentic.
Repeat them in the mirror. Look yourself in the eyes and repeat these affirmations. By forming that face-to-face connection with yourself, you can really increase the positive impact of these affirmations on your mind.
Use them to ground yourself. Grounding is going to be crucial when battling anxiety. Utilizing grounding techniques alongside your anxiety affirmations will help get your brain into the proper place to consume them.
Listen to them on audio. Consider recording your own anxiety affirmation meditation or finding one you love online. There are great apps, podcasts, and YouTube videos for this!
Recite them mentally. Not in a space where you feel comfortable vocalizing these affirmations? Take some deep breaths and repeat them to yourself internally. Your mind will still absorb all the goodness of the affirmations!
Leave them around your space. Grab some sticky notes or affirmation cards to leave as positive, calming reminders around your space! You can stick these in your car, your house, your mirror, or even your phone case for little reminders throughout the day.
There are many ways to utilize positive affirmations for anxiety. Don't get too caught up in doing it "right" that you fail to start altogether.
Find what works for you and stick with it! No strict rules here.
Grab Your Free Positive Affirmation Cards
I have put together a collection of 100 positive affirmation cards to get you started. Use this free printable to kickstart your affirmation journey.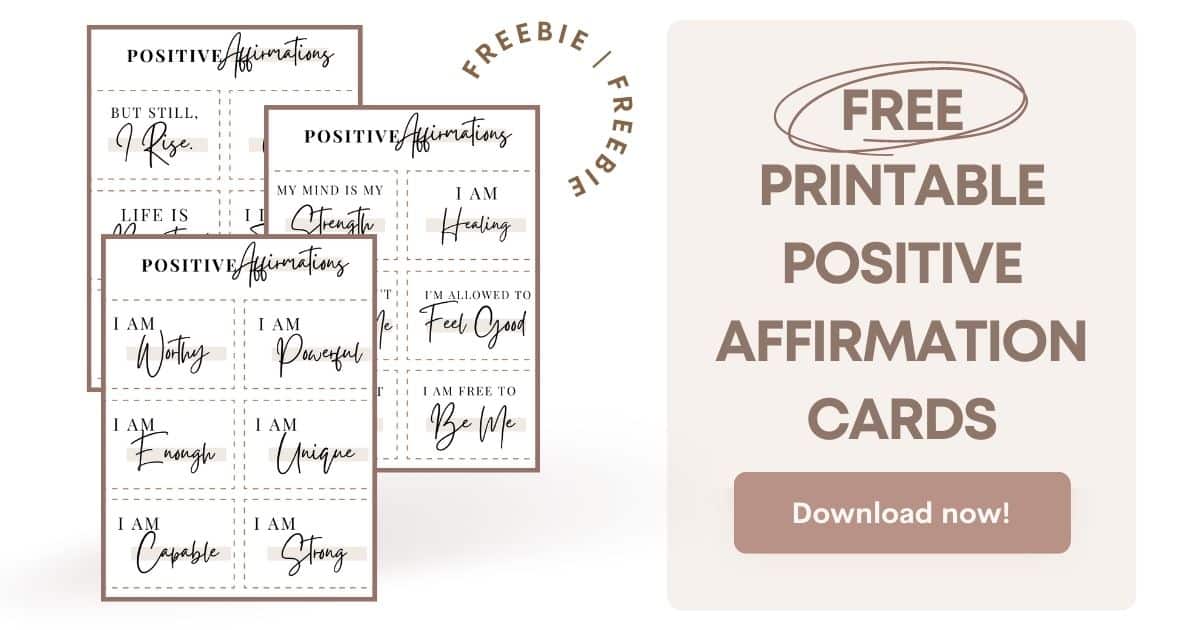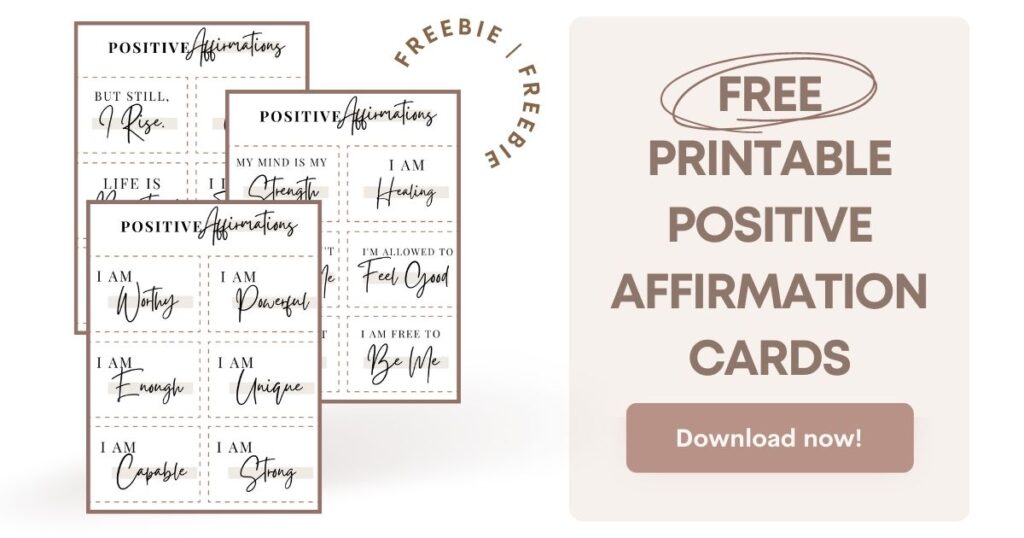 (There is even a full, customizable page included for you to pick your personal favorite anxiety affirmations from this list and add them!)
3 Effective Tools for Calming Anxiety
Affirmations help, but affirmations are not the only tool you can use to combat your anxiety. These tools for calming anxiety are perfect for adding to your routine to help calm, manage, and work through anxiety.
1. Meditation
Meditation and mindfulness are incredibly powerful tools for anxiety. The Mayo Clinic specifically notes that meditation can help ease symptoms of anxiety (as well as other major illnesses – even some symptoms of cancer!).
Some benefits of meditation include:
Gaining a new perspective on stressful situations
Building skills to manage your stress
Increasing self-awareness
Focusing on the present
Reducing negative emotions
Increasing imagination and creativity
Increasing patience and tolerance
Lowering resting heart rate
Lowering resting blood pressure
Improving sleep quality
All of these benefits are SO helpful when calming anxiety.
Adding meditation to your life can have major positive impacts on your health – physical and mental.
Investing in a mediation app is one of the best things I've ever done. Headspace is my absolute favorite app on the market. I use it every single day in the morning and before bed.
START YOUR FREE TRIAL OF HEADSPACE HERE
YouTube also has free guided meditation videos for you to follow.
Incorporating mediation into your life is one of my #1 tips for calming and managing day-to-day anxiety.
2. Therapy
Seeking professional support for your anxiety if possible is going to be a game-changer.
Therapists are an incredibly valuable tool and asset to helping ease anxiety and navigate everyday life with anxiety.
Therapy has shifted over the past few years to become so much more accessible. This is so valuable and exciting.
Online therapy has changed my life.
Being able to show up from the comfort of my home has allowed me to express myself in more open, honest, and authentic ways – which has made therapy even more impactful.
GET $100 OFF ONLINE THERAPY HERE WITH CODE 'SPACE'
TalkSpace offers 24/7 access to support and is the BEST online therapy platform. I cannot say enough great things about it.
3. Journaling
Journaling is one of the most accessible and effective tools for managing anxiety. Truly all you need is a pen and some paper!
Whether you follow specific journal prompts for anxiety or opt to just brain dump/free-write, journaling is an amazing tool.
When your mind gets bombarded by anxious thoughts, take a moment to pause and let your thoughts pour out on paper.
Get Your Specialized Mental Health Journal:
I have designed a self-care journal bundle specifically for mental health and anxiety. I actually use this journal every day for myself.
You get unlimited access to all 35+ pages, so you can print out as many copies as necessary. (I use the "How Are You Really?" sheet daily!)
If you want a less-guided journal, simply grabbing an empty notebook is enough!
Like the anxiety affirmations, make your journaling practice your own! Tailor and customize it to work for you.
Let's Recap
Positive affirmations for anxiety are a great way to help calm the brain and center yourself.
Positive affirmations are especially powerful for easing anxiety when coupled with other coping strategies, such as therapy, meditation, mindfulness, and journaling.
When your thoughts start to spiral to a place of stress or anxiety, using calming affirmations can help you slow down and reframe those thoughts before they take hold.
Shift your inner dialogue and internal voice to a place of more confidence, ease, and steadiness with these calming anxiety affirmations.
How will YOU use these affirmations to calm anxiety in your own life?
Comment below!