This post may contain affiliate links meaning that, I may make commission if you purchase through my links. Learn More. 
Positive affirmations are a great tool for building self-love, confidence, positivity, and shifting your perspective on life. Use these free printable affirmation cards to practice mood-boosting positive affirmations.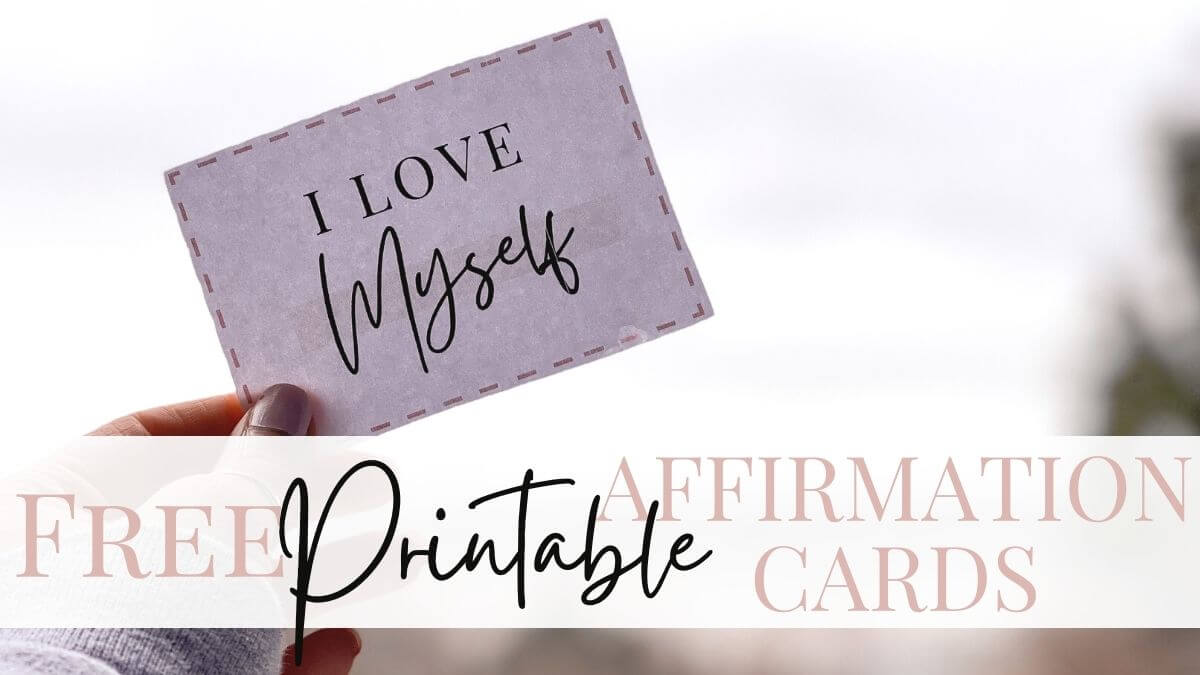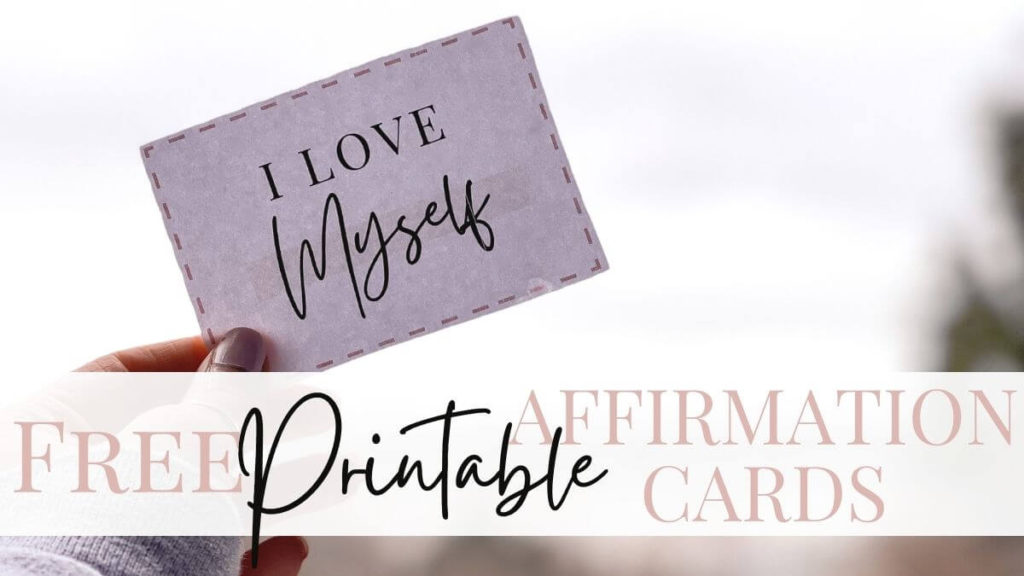 What are Positive Affirmations?
Positive affirmations are a powerful resource for overcoming negative or limiting beliefs. Oftentimes, positive affirmations are incredibly simple statements, yet they hold a lot of meaning.
Positive affirmations can be based on a variety of different topics or areas of life. Essentially, wherever you feel the biggest need to overcome limiting beliefs is where you should focus your positive affirmations.
Some common areas for positive affirmations include:
self-love
career
wealth
abundance
health
relationships
self-confidence/self-trust
Do Positive Affirmations Work?
The idea behind positive affirmations is that, with repetition, you train your brain to believe the words it is absorbing. There is some scientific research backing the efficacy of positive affirmations.
Affirmations are scientifically-backed, but they are not magic.
If you want your positive affirmations to manifest in your life, you need to practice them frequently.
Oftentimes, adding positive affirmations to your morning routine and night routine can help build this daily habit.
Repetition is key. This is where the use of printable affirmations cards can come in really handy!
Why Use Printable Affirmation Cards?
The hardest part of starting a successful affirmation routine is exactly that – making it a routine.
Affirmation cards can be that gentle nudge that reminds you to keep up the practice throughout your day.
Some choose to leave their affirmation cards in one place in a deck. From the deck, they can easily pull an affirmation and, without thinking, they are ready to go.
Others prefer to stash affirmation cards around their house as little daily reminders – on the bathroom mirror, coffee maker, car dashboard, etc. This can be a great way to remind you to practice your positive affirmations throughout your daily routine.
I, personally, enjoy doing a mix of both. As part of my relaxing morning routine, I like to meditate and follow up with my positive affirmation card deck. (Yes, I use these free printable positive affirmations in my own life!)
I also like to strategically place some around my house. For example, there's a positive affirmation on my bathroom mirror that I read when I brush my teeth in the morning and at night.
Essentially, affirmation cards are a great way to incorporate your positive affirmations into your everyday life as seamlessly and effortlessly as possible.
Where to Put Affirmation Cards
If you're unsure how to use these affirmation cards in your everyday life, here are some ideas that I love and do myself.
Keep a stack in your room to flip over and recite every morning
Take an aesthetic photo of your affirmation cards for your phone background
Keep a card in the back of a clear phone case (so you see it!)
Use your affirmation cards to make a computer wallpaper
Place an affirmation card in your wallet
Keep a card in your daily planner
Place them on your mirrors (works extra well for appearance-based affirmations)
Put one on your card dashboard
100 Positive Affirmation Examples
These examples are perfect for you to incorporate into your own deck. In the printable positive affirmation card PDF towards the end of the post, you will find a page that has blank cards. You can print as many copies of that page as needed and add your own affirmations!
These are some examples of positive affirmations you might choose to add to your affirmation deck.
"I Am" Affirmations
I am strong.
I am brave.
I am doing enough.
I am loved.
I am worthy.
I am powerful.
I am unique.
I am perfectly made.
I am talented.
I am capable.
I am grateful.
I am proud of myself.
I am enough.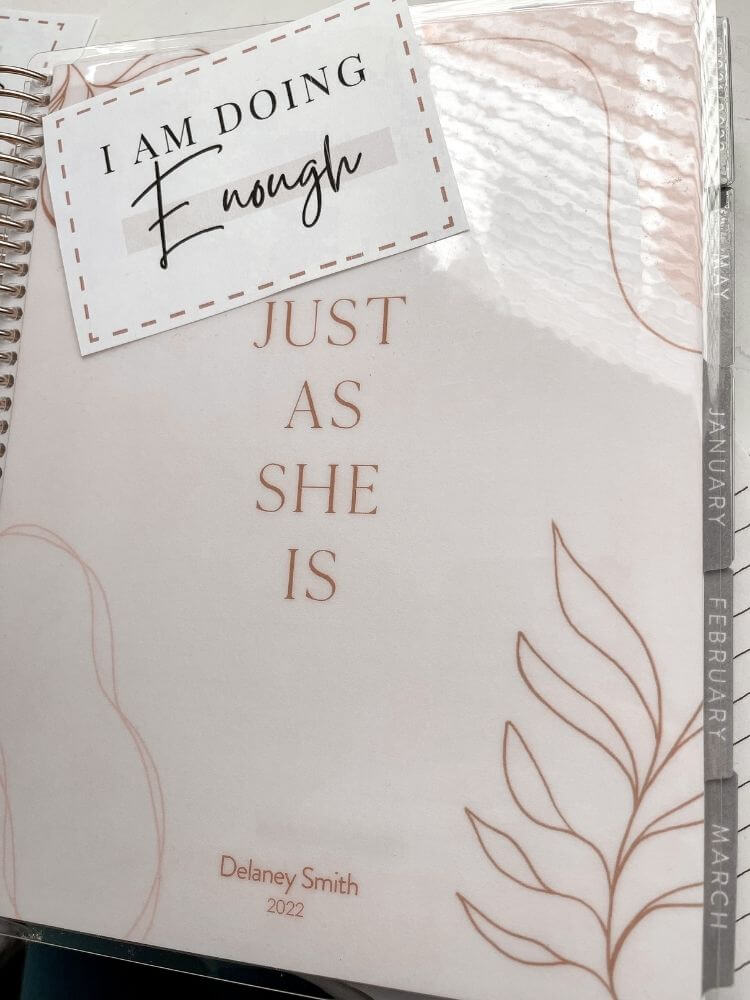 I am brave.
I am beautiful.
I am happy.
I am in control of my own life.
I am fulfilled.
I am valued.
I am lovable.
I am living my dreams.
I am abundant.
I am content.
I am growing.
I am smart.
I am learning.
I am free of worry.
I am healing.
I am allowed to change.
I am worthy of bliss.
I am joyful.
I am free to be me.
I am full of unique talents.
I am safe.
I am surrounded by support.
I am a good friend.
I am well-rested.
I am cared for.
I am optimistic.
I am getting better every day.
"I Can" Affirmations
I can be firm in my boundaries.
I can stand up for myself.
I can be independent.
I can take my life in any direction.
I can build my own business.
I can be financially independent.
I can be beautiful in my own way.
I can learn new things.
I can do hard things.
I can be whatever I choose to be.
"I Deserve" Affirmations
I deserve to feel loved.
I deserve happiness.
I deserve wealth.
I deserve career success.
I deserve self-respect.
I deserve to be respected by others.
I deserve health.
I deserve to be heard.
I deserve to be understood.
I deserve acceptance.
Other Positive Affirmations
My lived experiences are valid and important.
My voice matters.
Life is a beautiful journey.
I will use my power for good.
My life is not a race.
My life is not a competition.
My life is moving at the right pace for me.
I uplift others.
I know how to be a good friend.
I live my life in alignment with my values.
I let go of things that no longer serve me.
My body does not define me.
My value is not in my appearance.
My soul is beautiful.
My intentions are pure.
Life rocks!
I command respect.
I look forward to the future.
My life is filled with promise and hope.
I love myself.
I love my life.
I love my body.
Yes, I can.
Everything is just as it should be right now.
My future is in my hands.
I trust myself.
I have many talents.
I bring value to others' lives.
I will rise above.
I will overcome.
My mind is my strength.
My mind, body, and soul are in alignment.
I hold great knowledge, wisdom, and power.
My existence is valuable.
Life is a journey.
There is no rush.
My goals will come to me.
My worthiness is not in a number.
The future is bright.

Life is beautiful.
Free Printable Affirmation Cards
To help get you started on your positive affirmation journey, I've created 6 pages of guided affirmation cards and one page of blank cards for you to add in your own affirmations!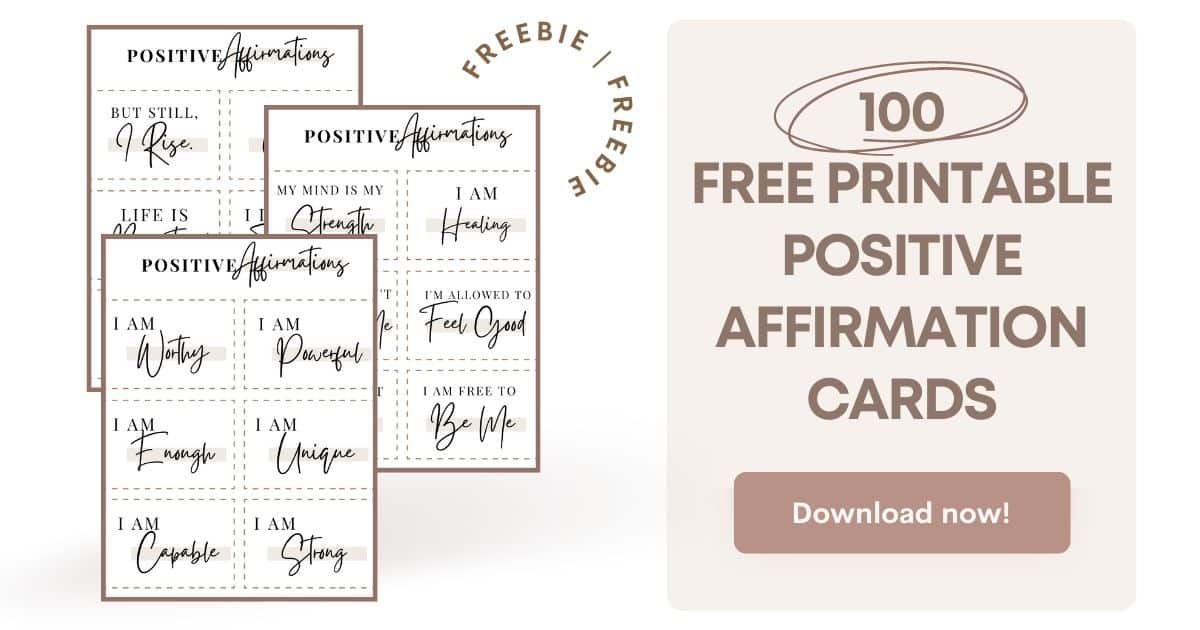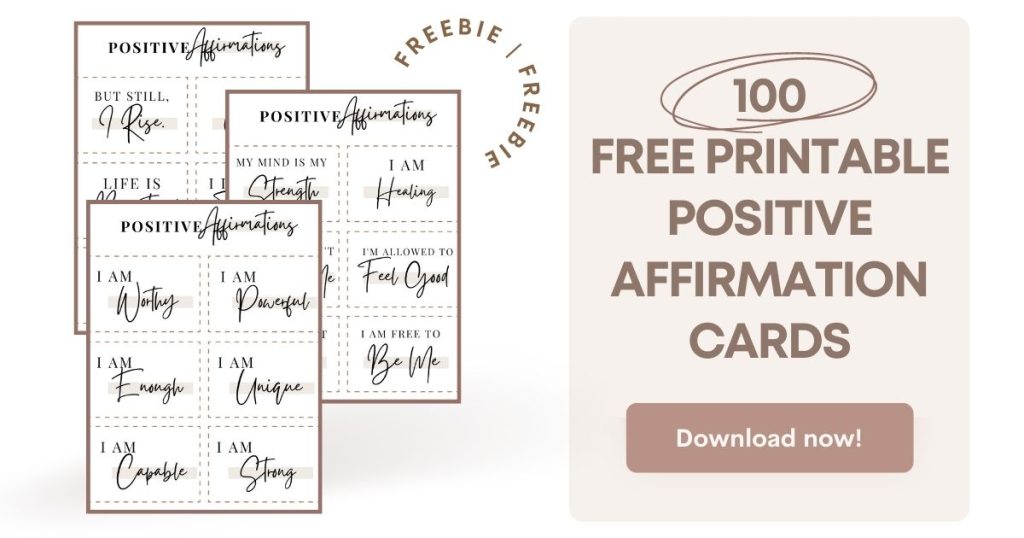 Get access to the free printable affirmation cards PDF here!
Use these cards to guide your daily affirmation practice. Remember, results don't happen overnight! But use these cards daily and you will start to see your mindset shift drastically!
How to Get Your Free Affirmation Card PDF
By entering your email in the box above, you will receive a confirmation email from me within a minute or two! Be sure to find that email (make sure it doesn't get booted to spam) and confirm your email!
After confirmation, another email will be sent to you with the PDF printable affirmation cards. Woohoo!!
Download this PDF to your device.
Print your free affirmation cards on whatever paper you choose! (I recommend using cardstock paper (feel free to choose fun colors!) and a paper cutter to get them sturdy and crisp!
Cut out your affirmation cards (they will print 6/sheet) and start using them!
A Special Offer for You
Since you're here, actively seeking out positive affirmations that will help you better yourself and your life, I wanted to offer you a special discount on my self-care workbook bundle!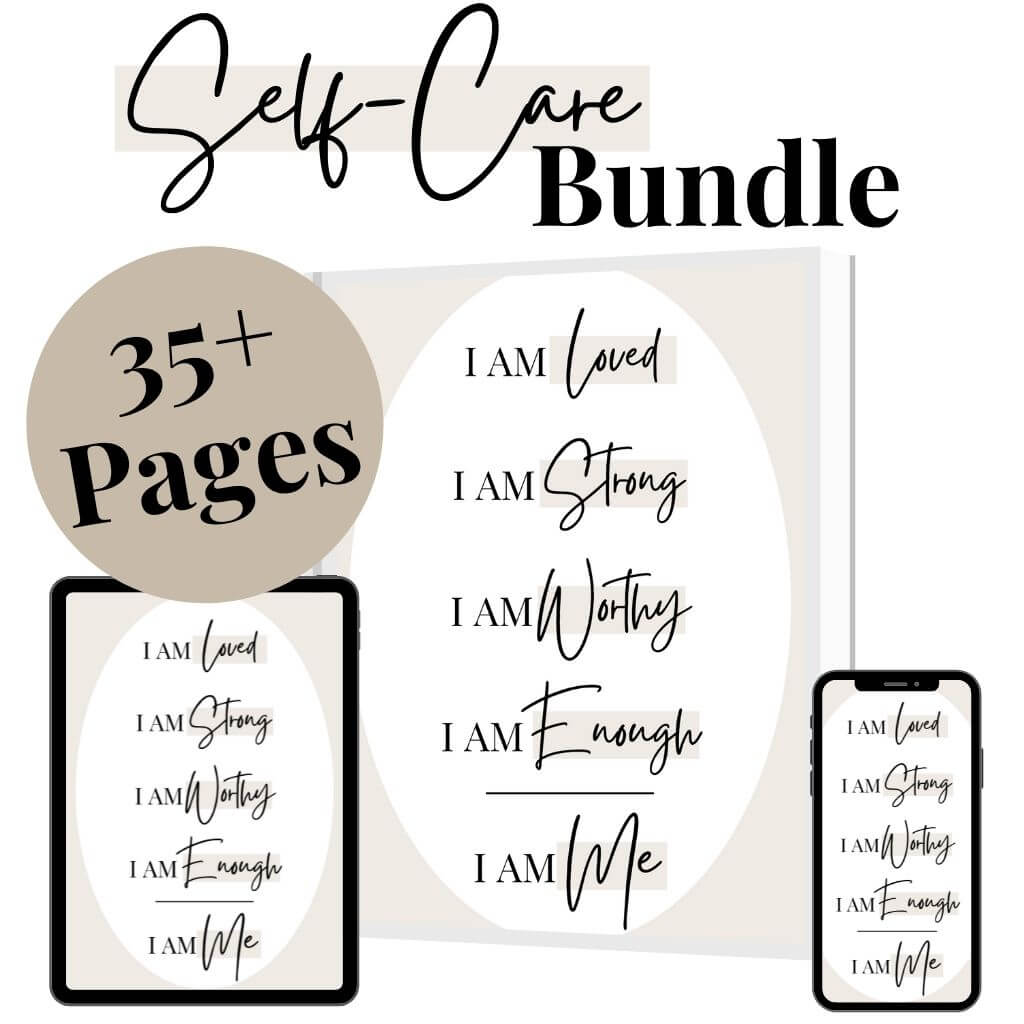 Use the code "BLOGSQUAD20" for an additional 20% off of this bundle!
In this bundle, you receive:
Self-Love Letter Sheet
Mental Health Check-In
6 Types of Self-Care Sheet (+Self-Care Ideas)
Self-Care Brainstorm Sheet
Monthly Self-Care Calendar
Monthly Self-Care Planner
Weekly Gratitude Page
Daily Gratitude Journal
Comfort TV Show List
Reading List
Self-Compliments Sheet
Self-Care Goals
Positive Affirmation Cards
Customizable Affirmation Cards (Blank)
5-Minute (or less) Self-Care Ideas List
30 Days of Self-Care Challenge
Self-Love Journal Prompts (3 Pages!)
Self-Love Journal Prompt Response Sheet
Simple Joys List
Self-Care Habit Tracker
Day in Review Sheet
Identifying Negative Thoughts
Challenge Negative Thoughts
Replacement Thoughts
Mood Tracker
Sleep Tracker
Favorite Quotes Fill-In Sheet
Lined Journal Page
Blank Journal Page
This is only for YOU – the person reading this right now. I want to help make your self-improvement and personal growth journey as successful as possible!
Writing Your Own Positive Affirmation Cards
You'll notice that the 7th page of the PDF file has BLANK CARDS! This is for you to get creative. Draw inspiration from the 100 affirmation ideas above or come up with your own affirmations. This is personal and unique to you, your life, and your goals.
Write down affirmations that will challenge your negative thought patterns.
Ask yourself "what is holding me back right now?". Then, create your positive affirmation cards to counter that limiting belief. You've got this!
More Affirmation Card Decks
If you're wanting to expand and explore more decks of affirmation cards, here are some great options!

---
---
MORE POSTS I KNOW YOU'LL LOVE
How to Write a Manifestation List to Attract Your Dreams
50 Self-Confidence Questions to Ask Yourself
10 Reasons It's Okay to Have a Bad Day (+ What to Do on a Bad Day)