This post contains affiliate links meaning that, at no additional cost to you, I make a small commission if you purchase through my links. For additional information, visit my affiliate disclosure. 
When those anxious thoughts overwhelm your mind, these 50 journal prompts for anxiety can help ground you and calm your mind.
Updated: January 25, 2023
If you're someone who struggles with anxiety or anxious thoughts, you know how overwhelming it can be. Feeling anxiety start to creep into your day can leave you feeling panicked and stuck.
My fellow anxious friends, you know the vicious spiral of anxious thoughts.
All it takes is one tiny thought to pop up and suddenly your anxiety takes you down the rabbit hole of overthinking, overanalyzing, and worrying.
The key is to interrupt those thoughts and stop the spiral from getting out of control.
Journaling is an amazing tool for anxiety and stopping the anxious thought cycle.
How Does Journaling for Anxiety Help?
Journaling is a powerful tool for many things – one of which is its ability to calm an anxious mind.
According to VeryWellMind, journaling is known to aid in stress relief, calming anxiety, and shifting thoughts from anxious to empowered.
Journaling about your anxious thoughts and emotions can help decrease the power they have over you. This helps to shift your mindset from feeling helpless and controlled by your thoughts to being empowered to take control of your thoughts.
Many studies have found that journaling significantly improves mental well-being and emotional regulation.
(With all of this said, it's important to note that diagnosed anxiety can be severe in some cases. If you're struggling with an anxiety disorder, these journaling prompts for anxiety may HELP, but please check in with a medical professional as additional support can be provided.)
How Do You Journal for Anxiety?
Journaling for anxiety can be catered to your own individual and specific needs. However, there is a certain process of journaling that can be really helpful if you're struggling to overcome those anxious thoughts.
Step 1. Identify the Anxious Thoughts
Identifying the anxious thoughts first can help you work through them, unpack them, and move forward. Without identifying the source of the anxiety, it's harder to work through it, overcome it, and move forward.
Step 2. Ground Yourself
When anxiety takes hold, your brain shifts into fight or flight mode. (Sounds cliche, but it's a real biological process that happens.)
Anxiety causes your amygdala to be activated in your brain. When this happens, your thought process moves from logical thinking to "panic mode".
In order to calm your mind, get out of your amygdala, and settle back into your prefrontal cortex (your logical mind), you must ground yourself.
There are many grounding techniques, but within these journal prompts for anxiety, I offer journal-specific ways to ground yourself.
Step 3. Logical Thinking
Once grounded, you can revisit your anxious thoughts with a more logical approach. At this time, it's likely that they will feel less overwhelming and daunting.
There are specific "logical thinking" anxiety journal prompts below to help guide you in this process.
Step 4. Positive Thinking & Reframing
Sometimes what we need to calm down our anxious thoughts is some positive thinking and thought reframing. This can be really helpful in rewiring our minds and retraining our neural pathways.
Studies surrounding neural plasticity indicate that we can have some say in our thought processes and how we view situations.
By practicing positive thinking and thought reframing through these journal prompts for anxiety, you can help build strong positive neural pathways for the future.
Step 5. Distraction
Sometimes the best way to cope with anxiety is to distract your mind. A key component of journaling for anxiety is the mental distraction it can offer you.
Whether it be a free write or writing on one of the distraction journal prompts for anxiety below, getting your mind on something other than your anxious thoughts can help you feel much better.
50 Calming Journal Prompts for Anxiety
These prompts will be listed in the order mentioned in the section above: identify, ground, logically think, reframe, and distract.
That said, feel free to skip around these prompts and choose whatever best serves YOU in the moment.
Thought-Identifying Journal Prompts for Anxiety
Identify the anxious thoughts that are causing you to feel anxiety right now.
What are you anxious about right now?
Pinpoint as precisely as possible exactly what anxious thoughts are clouding your mind at this very moment. Write them out in as much detail as you can.
Can you identify any cognitive distortions happening at this moment?
Review the main cognitive distortions (magnification, overgeneralizing, future-telling, personalization, blaming, all-or-nothing thinking, etc.) and identify any that are showing up in your current thoughts.
Rate your anxiety on a scale of 1-10.
Give your anxiety a rating from 1-10. Give some context as to why you're rating it that number.
What physical effects of anxiety are you experiencing?
Call attention to the physical symptoms of your anxiety. Does your stomach hurt? Are you jittery? Tired? Headachy?
What is your anxiety telling you to be afraid of?
What exactly are you fearing with your anxiety right now? What is your mind telling you might go wrong?
What are your biggest fears in life?
Write down some things that scare you the most. Do they have any connection to your current anxious thoughts? How might they be intertwined?
What triggers your anxiety?
Make a list of your anxiety triggers. Can you pinpoint specific things that set off your spiral of anxious thoughts?
What is stressing you out right now?
Sometimes anxiety can be brought on by small everyday stressors that we may be overlooking. Take a moment to reflect and write down anything that is causing you stress in your life right now.
Describe your current emotion in one word. Then, explain.
WITHOUT using the word "anxious", describe your current emotion with one word. Then, elaborate. Explain how you can identify that emotion and how it is manifesting in your mind and body.
Write down the "what if"s that are going through your head.
By just writing down the "what if" questions in your mind, you are taking some power back from your anxiety. If you want to go one step further, answer the "what if" questions logically. (More on logical journaling prompts for anxiety later on!)
Grounding Journal Prompts for Anxiety
Ground yourself to get out of your anxious brain and back into logical thinking.
Do a full-body scan. What physical sensations do you feel?
Start in your toes and work your way all the way up to the crown of your head. Feel the physical sensations in your body. Describe them. Write them out.
Try the 5-4-3-2-1 method.
The 5-4-3-2-1 method is a grounding technique that's really helpful for anxiety. Write out 5 things you see, 4 things you feel, 3 things you hear, 2 things you smell, and 1 thing you can taste.
Describe your happy place.
Describe, in detail, a place that makes you feel safe or comforted. For example, write out every detail of a beach scene. Picture yourself there. Describe the physical sensations around you.
Play the categories game.
Write a category at the top of your page. (This can be anything! Fruits, animals, places, cities, baby names, etc.) Then make a bulleted list of everything you can think of in that category.
Write down something you've memorized.
We all have things memorized. Song lyrics, a poem, the Pledge of Allegiance… it can be anything! Write down these memorized words on paper until you feel a bit more grounded and mentally clear.
Sketch an object near you.
This isn't a writing prompt, but it is a great tool to ground yourself (get out of your amygdala and into your prefrontal cortex)!
Choose an object near you and sketch it in as much detail as you can. You don't have to be an artist for this. Just do what you can!
Draw a box with your breath.
Box breathing is a breathing technique to help ground and calm you. To do this, breathe in for 4 seconds, hold for 4, breathe out for 4, hold for 4, and repeat.
This can be paired with drawing a box with pen and paper. Each 4-second interval makes up one line on your box.
Do some math.
Sounds weird, I know… but math can help shift your brain back into logical and rational thinking. Write down a big multiplication or addition problem and solve it. No calculator – just pen and paper.
Make a to-do list.
Rid your mind of the anxious to-dos that are clouding your brain. Make an actionable list of to-dos. Get them out of your mind and onto paper.
Play the color game.
Choose a color and write down as many things as you can that remind you of that color. These can be literal or more abstract. (ie. the color red could be "apple" or "anger")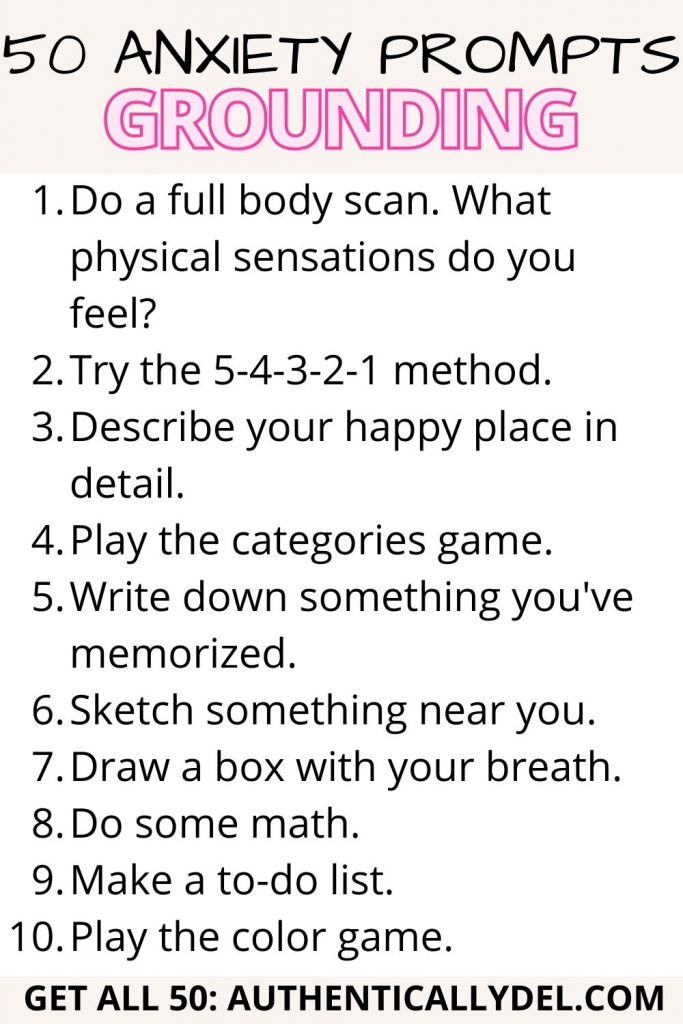 Logical Journal Prompts for Anxiety
Break down the anxious thoughts with some reasonable and logical thinking.
What is the actual worst-case scenario?
Let's play a game of "worst-case scenario". What is logically the worst thing that can happen?
How would you handle the worst-case scenario?
If the worst-case scenario DID come true (it likely won't!), how could you handle it? Sometimes having a logical plan takes the power away from anxious thought spirals.
What lessons has your anxiety taught you?
Anxiety changes us. Write about all the ways your anxiety has helped you grow and learn.
What is your anxiety trying to tell you?
Your anxious thoughts may be signaling a larger issue. Maybe you're feeling out of control in an area of life. Maybe you're overworked and need more self-care time. Try to uncover what your anxiety can tell you about your life.
What would you say to a friend in this situation?
Oftentimes, we give great advice to loved ones and struggle to show ourselves the same love. Treat yourself like you would a friend or family member. What advice would you give them in your situation?
What is in your control?
When we feel anxious, having a sense of control can be really helpful. Make a list of all the things that are logically in your control. What do you have power over?
What's not in your control?
On the other hand, some things are NOT in our control. List the things that are out of your hands. Acknowledging that there is literally nothing you can do to change some circumstances can help you let them go and relieve yourself of the burden of them.
Which of your thoughts are logical?
There is usually SOME truth underneath anxious thoughts. Recognize what's the true problem causing your anxiety at this time.
Which of your thoughts are irrational?
This is not to shame yourself – simply to recognize that anxiety has a way of blowing things out of proportion and tricking your brain into thinking that's reality. Just acknowledging the irrational thoughts take some of their power away.
Make a list of actionable things that help you calm your anxiety.
If anxiety is something you've struggled with before, chances are good you have some skill for coping with anxiety. Make a list of everything that can help make you feel better in anxious moments. This can be kept as your anxiety cheatsheet for future anxious moments.
Positive Journal Prompts for Anxiety
Redirect your thoughts with some positive thinking and thought reframing.
Make a list of people in your support system.
Acknowledge the people in your life who love you, care for you, and are there for you. Your anxious thoughts are no match for you and your loved ones! List all the people that are a positive influence in your life.
List small everyday things that bring you joy.
Joy is a great way to tackle anxiety. By listing small, everyday things to appreciate, you can become more aware of the daily joys and, in turn, live a more joy-filled life.
What is something you've accomplished and are proud of?
Your anxiety can try to convince you that you are unworthy, invalid, or incapable. Remind yourself that none of these thoughts are true.
Reflect on some of your many great accomplishments. Brag about yourself! You deserve the credit.
Write down all anxious thoughts and actively reframe them.
I have this exact worksheet for thought reframing in my printable self-care journal. Identifying anxious thoughts and actively reframing them to a more positive mindset is a super powerful strategy for combating anxiety.

Write yourself a love letter.
Sound cheesy? I get it. But it is really helpful.
Taking time to recognize all the beautiful things to love about yourself can help you build up your self-confidence and feel more equipt to tackle anxious thoughts.
Write positive quotes that inspire you.
We all have those quotes that we read and they just make us feel more positive about life. Keep a page of these positive, uplifting quotes in your journal.
What are your favorite qualities about yourself?
List all the amazing, beautiful things about yourself. Physical, mental, emotional, relational – there are so many things that make you special. List them out here.
It's a total confidence boost and can really help combat anxiety.
What positive habits do you have?
What do you do on a daily basis that makes you feel good? Do you make your bed every morning? Make time for self-care nights? Make a list of all these habits that make you feel your best… and be sure to prioritize them extra on anxious days!
What positive habits do you want to pick up?
Good daily habits can really help you battle anxiety and overwhelming thoughts. You set yourself up for success when you make positive daily habits a priority in your life.
Our small everyday habits make up so much of our life… List some good new habits you want to pick up.
What goals do you have for yourself? What have you already accomplished?
By listing out the goals you have, you can realign with your true passions and values. Anxious thoughts often surface around small things that are insignificant in the long term.
Reminding yourself of your deeper goals and what's really important can help alleviate some of the small daily stressors that anxiety is building up in your mind.
Distraction Journal Prompts for Anxiety
When all else fails, distracting yourself from your anxiety can help stop the anxious thought spiral.
Make a memory book.
Brainstorm happy memories from your life. You can list these in a bulleted list or go a bit deeper and do a full journal entry for each memory.
You can even add photos or mementos! Make this as fun and creative as you'd like.
List TV shows you have watched/want to watch.
You can make a "must watch" list of upcoming shows to watch OR list some previous shows you've watched. You can even have fun and pretend you're a critic and rate them!
Write a short story.
Get creative! Here are some short story prompts to get you started:
There she was…
"Don't leave!"
There was nothing in the darkness besides one flickering light, growing brighter by the second.
I hadn't seen him for years…
"I'm sorry. So, so sorry…"
Make a travel bucket list.
Dream big here! List out all the places you'd like to visit. You can even take it further and list some things you'd like to do there.
Write out your dream love story.
As cheesy as it may sound, there's something exciting about letting your imagination run wild with love stories and fantasies. Write about your dream love story. Do you rekindle an old flame? Meet someone new on an airplane? Get creative!
What books do you want to read?
In addition to writing about journal prompts for anxiety, books are an incredible tool to calm the mind. Make a list of all the books that you want to read in the coming weeks/months/years.
Write letters to your biggest supporters.
Whether you give them the letter or not, writing a letter to a loved one is a great way to distract from anxiety and focus on something positive and uplifting.
Make a bucket list.
This doesn't have to be a lifelong bucket list. Maybe it's a holiday bucket list, a summer bucket list, or even just a bucket list for the next 10 years.
Make a list of some things you want to do, see, explore, and experience.
Brain dump/free-write.
Nothing is off-limits with this anxiety journaling prompt. Anything and everything that is clogging your mind can be put down on paper under this prompt.
List positive affirmations.
Write down 5-10 positive affirmations that you want to really focus on in the coming weeks.
READ: 121 Positive Affirmations for Self-Confidence and Self-Worth

My Favorite Journals for Anxiety
Having a cute journal is important to me! If I love how it looks, I'm way more likely to use it. Below are some of my favorite journals that are functional and have beautiful covers. Simply click on the journal to shop!

What's Your Favorite Anxiety Journal Prompt?
There they are – 50 calming journal prompts for anxiety.
If you have experience journaling for anxiety, I'd love to know what prompts work best for your own journey. Everyone's anxiety journey is so personal, so it's always cool to hear how different individuals cope!
Are you more of a logical thinker? Or do you prefer to take the distraction route?
Do you find calm in grounding prompts? Or do you prefer to work on thought reframing right away?
No matter what, find what works for you and stick with it!
I hope these anxiety journal prompts help give you some calm and some relief from the overwhelming anxious thoughts. You got this!