This post contains affiliate links meaning that, at no additional cost to you, I make a small commission if you purchase through my links. For additional information, visit my affiliate disclosure. 
Your mental health is a crucial part of your overall health and wellbeing. Establishing daily good habits for your mental health is essential for a happy and healthy life.
Your mental health is a hugely important aspect of your life. When looking at the main areas of life, the importance of mental health is undeniably a huge factor in our overall wellness.
Caring for our mental health properly should always be a priority. Without our mental health, the other areas of our life simply cannot thrive. It all starts in our minds.
Establishing good daily habits for mental health is one of the best things you can do for yourself. As James Clear, author of the (incredible) book Atomic Habits, says, "success is the product of daily habits, not once-in-a-lifetime transformations".
The small, everyday habits that you maintain make up the person you are and the life you live. That can either feel daunting or incredibly liberating – a large part of your life is within your own control!
With that, establishing positive mental health habits within your everyday life is crucial. These habits do not have to be huge, earth-shattering, or time-consuming.
In fact, the majority of the good mental health habits that I mention here are quite simple. Once established, these habits can help you live a life of improved health, mental wellness, and overall happiness.
Let's jump into these good mental habits!
50 Daily Good Habits for Improved Mental Health
Here is my list of 50 simple daily habits to improve your mental health and wellbeing. Feel free to make these habits your own – alter them to fit your lifestyle and what makes you feel the best!
1. Get Enough Sleep
Sleep is a fundamental aspect of all parts of your health. If you want to be healthy and feel your best, mentally and physically, sleep has to be a priority.
Sleep and mental health are directly correlated. A lack of sleep negatively impacts your cognitive function, mindset, and mental state. Challenge yourself to get at least 8 hours of sleep every night and see if you notice mental health improvements. (I'm willing to bet you will!!)
2. Daily Alone Time
Making time for yourself is an incredibly good habit for your mental health. Whether introverted or extroverted, alone time is important for personal exploration, creativity, and rejuvenated social energy.
Even if you have to physically schedule it into your planner, make daily alone time a part of your routine. Take time to sit with yourself – no distractions, no interactions, no stressors… just you!
3. Get Outside Daily
Don't underestimate the power of fresh air and time in nature. Fresh air has been linked to improved "improved attention, lower stress, better mood, reduced risk of psychiatric disorders and even upticks in empathy and cooperation" (APA, 2020).
This doesn't have to be anything extreme or time-consuming. Getting outside for a few minutes a day is an incredibly simple and easy habit for improved mental health.
4. Practice Gratitude
I love gratitude!
Gratitude journaling can be such a powerful tool for improving your mindset and mental health. A daily gratitude journal is a simple way to start incorporating daily gratitude into your life.
It takes less than 5 minutes and can totally change your perspective on the day. I love to gratitude journal as part of my morning routine because it helps set a positive tone for the rest of my day.
5. Eat More "Brain Foods"
Yes, there are foods that are specifically good for your mental health!
Fruits, vegetables, dark leafy greens, nuts, seeds, beans, lentils, and omega-3 fatty acid-rich foods are all great for your mental health and brain function.
RELATED POST: 10 Best Afternoon Snacks for Energy
Try to add some more of these "brain foods" into your everyday diet to help aid in good mental health!
6. Find a Hobby
When my mental health was at its lowest, I was spending my days doing things I felt I "HAD" to do. There was nothing that I was overly passionate about or WANTED to spend my time on.
That's when I started my blog.
Starting a blog gave me a hobby outside of my day-to-day "wake, work, eat, sleep, repeat" cycle. Even though my blog has now become more of a business, it's still a passion of mine – because I LOVE TO WRITE.
Find a hobby that fulfills you, as writing does for me. Maybe it's drawing, reading, hiking, or designing – find what makes YOU feel fulfilled and make it a habit to make time for that every day.
7. Limit Caffeine
Trust me, this pains me to say. If I could drink coffee all day long, I WOULD.
But, if we're honest, too much caffeine can have some negative effects.
In moderate amounts, caffeine can be fine for you (some even say GOOD for you!!). But, if you consume too much, you risk negative mental effects such as agitation, anxiety, restlessness, and impaired sleep.
Find a happy medium – even if that means limiting your coffee consumption.
8. Limit Screentime
No matter who you are, it's likely that in today's world you spend at least SOME of your day looking at a screen. By itself, this isn't necessarily a bad thing. As someone that works in social media and online marketing, my screentime is often productive!
But, if we cross the line into TOO much screen time, we risk negative mental health effects.
RELATED POST: 10 Negative Effects of TikTok
Your own screentime limits will look personal to you. Maybe it's setting boundaries on social media consumption. Or maybe you need to limit your TV time. Maybe it's a mix of both.
Formulate personal goals for your own screentime that make you feel the healthiest – both mentally and physically. Aim to spend less time looking at a screen and more time looking at the world.
Get up, get out, and look around more. It's beautiful out there!
9. Move Your Body
While movement is obviously a good habit for physical health, movement is such a good habit for your mental health too! Movement doesn't have to mean intense exercise. Simply stretching, yoga, or a relaxing walk outside is a perfect way to move your body to boost your mental health.
Movement has even been proven to reduce symptoms of mental disorders such as anxiety and depression. The power of the body is incredible – get some blood flowing and release some endorphins (happy hormones!).
10. Hydrate
Did you know that dehydration has been linked to increased anxiety and depression?
Yes, that's right. Simply being dehydrated can have a significant harmful impact on your mental health. Try adding more water into your everyday routine. For me, having a big water jug helps me stay on top of my water consumption throughout the day.
I am currently obsessed with my Reduce water cup (it's 40 oz!!). Find it on Amazon here!
11. Have a Morning Routine
Having a consistent and fulfilling morning routine is a commonly overlooked good mental health habit. So many of us press snooze one (or two) too many times and find ourselves rushed and in a panic in the morning.
That's no way to start your day.
Commit to setting aside time for a morning routine – even if it means waking up 30 minutes earlier. I have come up with my ideal one-hour morning routine that I try to do every weekday.
Having some time to center myself and start my day on a positive note has been transformational for my mental health and happiness throughout the day. Kiss rushed and panicked mornings goodbye and develop a morning routine that feels good for your mental health.
12. Have a Night Routine
Much like starting your day off on the right foot, it's also important to end your day well. Having a wind-down routine every night not only helps me sleep better but gives me some set time to prioritize my happiness and my self-care.
For an ideal night routine, I will combine some productive night habits to prepare for the next day AND some self-care night habits.
This balance of productivity and self-care leaves me feeling well-prepared for the morning and also relaxed enough to get some good rest. It's the perfect end to my day and has done wonders for my mental health.
13. Stop Multitasking
Do you ever try to multitask and end up feeling like your brain is scattered in a million different pieces? You're not alone!
Not only does multitasking harm your efficiency and task performance, but it can also leave your brain feeling overwhelmed and disorganized. This stress is not good for your mental health.
Break the habit of multitasking and, instead, replace it with a good habit for mental health… (see below)
14. Practice Mindfulness
Practicing just a few minutes of mindfulness every single day can benefit your mental, physical, and emotional health drastically. Daily mindfulness can help us better regulate our emotions, decrease anxiety and stress, improve focus, and get in touch with our emotions.
Mindfulness is even starting to be used in the treatment and prevention of cancer. Super powerful stuff!
My favorite way to practice mindfulness is through box breathing, guided meditations, yoga, and journaling.
I have tons of journal prompts with different focuses on the blog. Check them out here.
15. Limit Alcohol
Much like caffeine, alcohol has an effect on our mental health. Any outside stimulants should be taken in moderation and with consideration for the potential effects.
Too much of anything can be harmful. Be especially mindful when consuming anything that alters your mental state!
16. Make One Person Smile Every Day
At a minimum!
A Berkley study found that those who did something nice for someone else felt significantly more happiness in their own lives.
And it's true! I tested it!
A few months ago, I made this a goal of mine and I couldn't believe the impact it had on my life. It makes sense when you think about it. Knowing that you made someone's life better, even just for a few moments, feels good.
Do more of that! Go make someone smile today… and every day!
17. Stop People Pleasing
On the other hand… you cannot make everyone happy. By this, I mean you have got to let go of the habit of people-pleasing.
One of the best daily habits for mental health that I've adopted is letting go of people-pleasing and, instead, focusing on self-pleasing.
This isn't always easy. It can feel really hard to disappoint people, let people down, and feel judged by others. But, at the end of the day, only you can know what's best for you.
As long as you are not blatantly hurting someone else, follow your heart and trust your gut. Do what you need to do for yourself. Those who truly love and support you will respect that!
18. No Phone in the Morning
Yes, I'm looking at you.
Is reaching for your phone the first thing you do in the morning? Do you find yourself opening social media apps before your feet have even touched the ground for the day?
If this is you, there's no shame. This was a habit of mind for a long time too.
It wasn't until I stopped doing this that I realized just how much it was affecting me. Our minds need time to wake and prepare for the day and early-morning scrolling can hinder that.
Try to create a morning routine that does not include phone time and challenge yourself to not pick up your phone until after your morning routine is complete.
19. Practice Good Hygiene
This might go without saying, but hear me out.
Your hygiene has an impact on your mental health in addition to your physical health. Think of how you feel when you haven't been taking good care of yourself.
My guess is probably not great.
RELATED POST: 20-Step Self-Care Shower Routine
Getting on a consistent hygiene routine can be a really good habit for mental health. Take routine (relaxing) showers, keep your nails groomed, brush your teeth, wash your face in the morning, and take off your makeup before bed.
These small habits make a big difference in your mental health, self-perception, self-respect, and overall wellbeing.
20. Journal Daily
As we touched on the importance of mindfulness, journaling daily is such a good mental health habit.
Journaling encourages self-reflection and promotes emotional growth and regulation. Additionally, journaling can reduce feelings of anxiety, overwhelm, and negativity.
I have tons of free journaling prompts here on the blog. If you need some guidance or support on what to journal about, prompts are a really helpful tool.
21. Read Daily
Even if it's only 5 or 10 pages, reading is such a great habit for mental health. Some studies have found that as little as 6 minutes of reading per day can improve your quality of sleep, reduce stress, and sharpen your mind.
Some additional benefits of reading include:
lowered heart rate
increased empathy
greater sense of human connection
increased imagination
lowered blood pressure
relaxation
enjoyment
Reading is a great use of your time and something that I highly recommend making a daily habit for mental health. Plus, it's just plain fun!
RELATED POST: 10 Best Books for Self-Discovery
22. Daily Positive Affirmations
Practicing positive affirmations daily can be a really good habit to have for mental health. Daily positive affirmations can help retrain your mind for positivity and improve your sense of self.
Affirmation cards are a tool that I use personally. I like to place affirmation cards around my home, in my car, and in other places I will see them as a quick reminder to add some positive thoughts to my day.
23. Foster Healthy Relationships
Your relationships play an important role in your everyday life and your mental health. The relationships that you allow for yourself are reflective of the energy that exists in your life.
Healthy relationships are key to a happy life. Surround yourself with people that uplift you and distance yourself from those that don't. This leads me to my next good habit for mental health…
24. Set Boundaries
Healthy relationships are often defined by healthy boundaries. In fact, I believe that having boundaries is the key to a solid relationship foundation.
Boundaries get a bad reputation as being selfish or harsh, but they are actually quite the opposite. If you want a relationship to thrive (friendship, romantic, familial, etc.), both parties should have some boundaries in place. That helps build trust and mutual respect – both key to a healthy and happy relationship.
25. Stay Organized
For me, organization is the key to a healthy and happy mind. You know I love my planner, habit trackers, lists, and all things organization. I highly recommend making organization a priority for improved mental health.
When your mind feels cluttered, it's easy to feel overwhelmed. When this happens, your mental state takes a hit.
I have printable habit trackers, planner pages, meal planners, to-do lists, grocery lists, and more in my shop and on Etsy. They are the exact pages I use to stay organized in my own life.
26. Learn Something New
Imagine how much you could learn in a year if you committed to learning something new every day? That's 365 things that you didn't know the year before.
Keep your mind fresh and active by making it a goal to be continually learning. There are so many fun things to learn.
They don't have to be huge, extravagant things either! Maybe it's the definition of a word or the use of a kitchen tool. Just learning one small thing a day is a great habit for your mental health!
27. Laugh
Make it a daily habit to laugh. Yes, it's that simple.
Laughter aids in stress management and can help ignite feelings of joy and happiness. A laugh a day keeps the doctor away, right? 😉
28. Smile
Can't muster up a laugh? Crack a smile.
Smiling is such a beautiful form of human emotion. Smiling, even if you don't feel like it, can signal happiness to your brain that, in turn, boosts your mood. Fake it till you make it!
29. Set Work Limits
This is especially important for my fellow work-from-home workers or any fellow workaholics that tend to take work after hours.
It's so important to set boundaries on your work time.
For me, as someone that works from home, it's been a struggle to find this boundary. There were often nights when I was working at 9 or 10 pm. I felt the negative impacts of this on my mental health.
Set a time constraint on your work. For example, I do not work my day job after 5 pm. Once 5:00 hits, I close my computer and "clock out" for the day. No exceptions.
Your mind needs that break. We aren't meant to work 24/7. Allow for rest.
30. Practice Self-Care Every Day
You read that right. Every single day.
Before you make excuses, hear me out. Self-care doesn't have to be time-consuming. Check out this list of 80 self-care ideas that take 5 minutes or less! I know you have an extra 5 minutes in your day that you can dedicate to yourself.
31. Create a Self-Care Kit
Having a self-care kit can make your daily self-care practice easier. Essentially, a self-care kit is a box or basket that holds some self-care essentials.
I have an entire post dedicated to how to build a DIY self-care box and some great ideas for what to put in it. This can really help you in developing the daily self-care habit for good mental health.
32. Have a Daily Look-Forward-To
Having something fun or exciting to look forward to every day can be a great habit for mental health and happiness. This can be something simple! For me, sometimes it's getting Chick-fil-A for dinner or watching The Bachelor at night.
Focus on the simple joys in life and incorporate them into your daily routine.
You deserve to have a little joy every day. What's something that you can look forward to today? Comment it below!
33. Set Goals
Setting realistic and meaningful goals for yourself can be a great way to stay motivated and feel accomplished. When working towards the life you want, setting small goals along the way can be a great guidance tool.
RELATED POST: 100 Goal Ideas to Inspire You
This New Month Success Pack has lots of pages focused on goal-setting and goal-achieving. It can be a great tool to get you started with some realistic, achievable, and meaningful goals.
34. Practice Positive Thinking
As someone who tends to be a bit pessimistic naturally, I had to really practice shifting that mindset. This is one of the most important good habits for mental health, in my opinion.
Our mindset determines so much of how we experience life. Actively working on developing a more positive mindset can drastically improve your mental health and happiness.
After time, a more optimistic mindset becomes second nature as it becomes a habit in your life. It may take some work actively challenging negative thought patterns, but it does pay off.
Check out this self-care bundle for worksheets on identifying and challenging negative thoughts and limiting beliefs.
35. Plan Ahead
This ties into #25 on this list of good habits for mental health ("stay organized"). Planning ahead can save you stress and make you feel more in control of your life.
I highly recommend investing in a quality planner that works for your lifestyle and committing to using it daily.
The Erin Condren LifePlanner is the planner I use and swear by. Erin Condren often runs deals and promotions that make their planners really affordable too!
36. Establish Work/Life Balance
Having a work/life balance in your life is hugely important for mental health. Too much work is bound to take its toll on your mental wellbeing. As humans, we are not meant to be "productive" 24/7.
Life is more than work.
Rest, time off, and joy are important aspects of our life. Find a good balance between work and life for you and make sure you maintain that balance on a daily basis.
37. Make Your Bed
I know, I know. You hear this all the time. But, really. It can be a game-changing good habit for your mental health.
If you read my post on my 10 daily non-negotiable habits, you know that I aim to make my bed every single day. Most days, I make my bed first thing in the morning.
This makes my space feel tidier, my mind feel clearer, and gives me the feeling of accomplishment first thing in the morning.
The book "Make Your Bed" is what first inspired this habit and I have kept it up ever since. Definitely recommend you do too!
38. Keep Your Space Tidy
Have you ever experienced a drop in your mental health when your space is cluttered, messy, or things are out of place? Me too.
When my room is a mess, my mindset is too.
A clean space has been linked to lower levels of anxiety, as clutter has been connected to feelings of depression, decreased focus, confusion, and tension. We are all products of our environment. Having an environment that feels controlled and safe can do wonders for our mental state.
Keeping your living space clean is a good habit for mental health that is often overlooked. If you find yourself feeling unusually stressed, survey your environment and make sure it's neat and tidy.
39. Go to Therapy
This mental health habit is a no-brainer. Therapy is an incredible tool for bettering your mental health. I, personally, LOVE online therapy. It feels much more comfortable to me and I really love the chat support option for in-between sessions.
Use the code SPACE for $100 off your first month of online therapy with TalkSpace here:
40. Get Ready for the Day
When I first started working from home, I developed a bad habit of staying in my comfy clothes all day, not doing my hair or makeup, and never fully getting up and ready for the day. Little did I know that this was not a good habit for my mental health.
This is not to say that you have to get dolled up and glamorous every day (I most definitely do not), but make the effort to change out of your PJs, comb your hair, and make yourself feel presentable and "ready" for the day.
Without you even realizing it, this shifts your mindset into a more motivated and confident state. This is a really underrated good mental health habit.
41. Revamp Your Feed
Yes, I'm talking about social media.
Be sure you are following people that inspire you and lift you up. Social media as a whole isn't necessarily bad, but it can be.
RELATED POST: 10 Steps to Make Your Instagram More Positive
It's important to be intentional about what you're consuming to make sure that social media is a positive force and a good habit for your mental health.
42. Color
Coloring isn't just for kids! Adult coloring books exist for a reason! 😉
Coloring is one of the most relaxing good habits for mental health that I've developed. I started coloring more this past year and it is a GREAT tool for unwinding and de-stressing. (Plus, I got this cuss word coloring book which makes me laugh – haha!)
43. Play Uplifting Music
Music can have a big impact on our mood. The kind of music we listen to reflects in our mindset, mood, and mental health. Because of this, it's important to be mindful of what you press play on.
Develop a playlist of uplifting, inspiring, calming, or mood-boosting songs that you can tune into to better your mental health!
44. Eat More Produce
Did you know increasing your produce intake is a good habit for your mental health?
In addition to obvious physical health benefits, studies have found a link between more fruits and veggies and improved mental health. Add some more delicious whole foods into your diet and see if you notice a mental health boost!
45. Stop Comparing Yourself
One of the best good habits for mental health that you can develop is consistent self-assurance and confidence.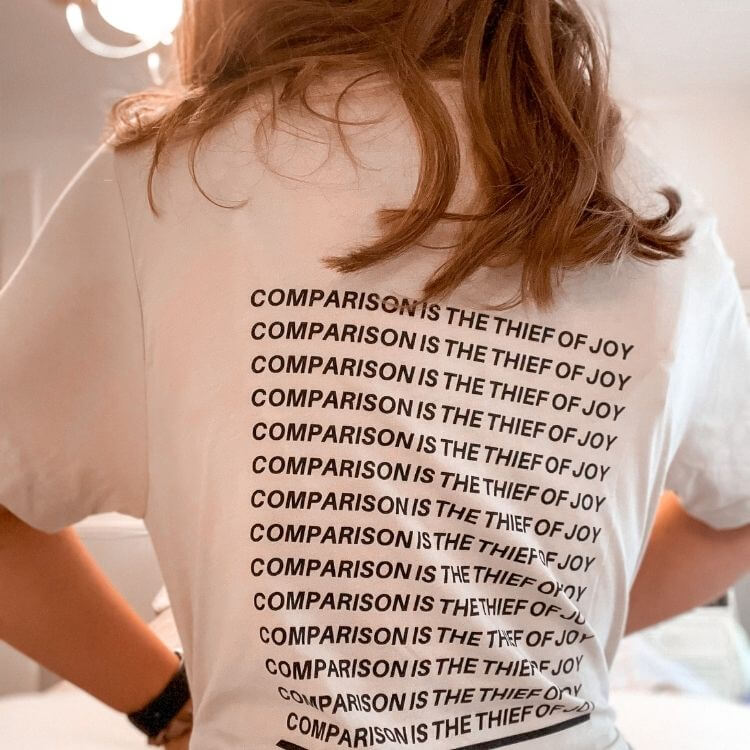 Comparison truly is the thief of joy. In order to truly find happiness and confidence within yourself, you need to let go of the need for comparison to others. You are enough as you are and your journey is unique and beautiful in its own way.
46. Trust Your Instincts
Let go of that inner voice of self-doubt that is holding you back. Release any external forces or judgments that make you doubt yourself. Turning to external forces for your decisions can lead to an unfulfilling existence.
Rely on your instincts and trust yourself. Only you can know what's best for you.
47. No Screens Before Bed
Scrolling on your phone before bed interrupts your brain's ability to wind down and prepare for sleep. Instead, consider replacing your screen time with one of the good habits for mental health above. Reading, meditating, and journaling are all great replacements for nighttime screen time.
48. Have Routine Self-Care Nights
I aim for 2 self-care nights per week. Full self-care nights.
We're talking the full deal: self-care shower, skin care, candles, reading, meditation, etc. You are worthy of beautiful and luxurious self-care nights.
RELATED POST: How to Build the Best Self-Care Night Routine
Treat yourself to at least one a week. Make it one of your good mental health habits for the week.
49. Socialize
As an introvert, it's easy for me to isolate myself from other people. However, I notice that when I go too long without joyful social interaction, my mental health takes a hit.
Socializing with people you love and enjoy being around is a great tool for improving mental health and happiness. As humans, we naturally desire connection. Be sure you are allowing yourself that!
50. Check In with Yourself
Above all, checking in with yourself is arguably the most important of these good habits for mental health. Without a self-check-in, it's incredibly hard to know where you are mentally.
I make it a daily habit to check in with myself. This way, I can see issues arising before they become too big, I am in touch with my emotions, and I am able to show myself the love and care I need.
Make time to check in on yourself as you would a loved one. Then, you can act accordingly.
What are your favorite good habits for mental health?
Did I miss any mental health habits that you'd like to add to the list?
Leave a comment below telling me what daily habits you stick to as a way to care for your own mental health. I'm always looking for new habits to add to my own mental health toolkit.
Take care of yourself!
Del