This post may contain affiliate links meaning that, I may make commission if you purchase through my links. Learn More. 
Looking to spice up your self-care habits? Creating a DIY self-care jar is the perfect way to add a new element of excitement to your routine.
Have you ever felt like self-care is something you have to do rather than get to do?
If we fall into the habit of making self-care activities just another thing on our to-do list, they start to lose their appeal.
This is what I call self-care burnout.
Instead of refreshing you and making you feel happier, your self-care routine feels stagnant, boring, and ineffective. Don't worry… we're going to solve that today.
If you're in need of spicing up your self-care life, making a DIY self-care jar is the perfect idea for you.
What is a Self-Care Jar?
A self-care jar is a solo take on the popular date jars we see for couples.
Essentially, a self-care jar is a collection of fun, relaxing, or refreshing self-care ideas that you can pick from whenever you need a pick-me-up.
This is similar to creating a self-care kit, but requires fewer supplies, time, and effort.
A self-care jar can be put together using supplies you likely already have around your home.
It's a simple, quick, and easy way to add a new spin to your self-care activities!
Why Make a Self-Care Jar?
As mentioned above, a self-care jar is a fun addition to your existing self-care routine. Additionally, creating this jar of self-care ideas can be a really helpful tool in starting a self-care practice.
Whether you routinely engage in self-care actions or not, this can be a great way to ignite refreshed passion and motivation.
This jar adds an element of excitement. In a way, selecting an activity from the jar feels like a little surprise. This game-like element may make you feel more inclined to actually follow through on caring for yourself often and consistently.
How to Make a DIY Self-Care Jar
This is such a fun and simple DIY project. Creating a self-care jar is quick and uses supplies you already have laying around your house. If you're ready to get started, gather the items listed below and get ready to start creating!
Supplies List
Clean Mason Jar
Paper (Colorful for Fun/Color-Coding!)
Self-Care Brainstorm List
Pen/Pencil
Stickers, Washi Tape, or Other Decorative Add-Ons
Optional Substitutions:
Instead of a Mason Jar, feel free to use any container you'd like. This can be a bowl, mug, box, vase, old candle jar, etc. Anything works!
Instead of using paper, you can write your self-care ideas on popsicle sticks.
Instead of using a pen to write your own ideas down, you can print out or type up your self-care acts.
Instead of creating a physical jar, you can create a digital list and use a random number generator to select an activity when the time comes.
5-Step DIY Self-Care Jar
Have your supplies ready? That's the very first step.
Now, let's dive into the 5-step process for creating your own customizable self-care jar.
Step 1. Create Your List of Self-Care Ideas
Below is a list of 100 self-care jar ideas for you to use, adapt, or make your own. This list can be copied directly or customized to your own desires! Get as creative as you want… this is YOUR self-care.
Step 2. Categorize Your Self-Care
If you choose to, you can color code and categories the ideas you put in the jar. Using different colored papers for different categories.
Color-code category ideas:
Time – divide your ideas into how long they will take (10-min, 20-min, 30-min, 1-hour)
Self-Love Language – categorize based on the 5 self-love languages (see this list of self-care ideas for each love language)
5 Senses – dedicate a color based on different self-care ideas for the 5 senses
At-Home or Out-and-About – Divide your ideas into at-home activities or ones that get you out of the house
Time of Day – Separate self-care ideas by the time of day they'll take place (morning, day, or night)
Free or Paid – Split the self-care acts into activities that are free and ones that will cost some money
Solo or Social – Distinguish the solo self-care from the ones that involve socializing with others (there's a time and place for both, but they're very different moods!)
Step 3. Write Out the Ideas
Now it's time to put those ideas into your jar!
Decide how (or if) you want to categorize/color-code your ideas. Choose if you'll use paper, popsicle sticks, or something else to write your ideas on.
Then, get to writing them out. Feel free to get creative with some fun pens, a fancy font, or additional doodles/artwork.
Make this your own and have fun with it!
Step 4: Decorate and Customize
This is my personal favorite step. Really DIY-it-up here!
You can decorate your mason jar in any way you choose. Add stickers, washi tape, paper cutouts, paint, name tags, or any other crafty decor add-ons you can dream up!
(If you're not into decorating your own, you can purchase a pre-made self-care jar and add your own ideas into it as desired!)
Congratulations! You have just completed your DIY self-care jar… and now it's time to use it.
Select your first activity from your new DIY self-care jar and DO IT!
Set your jar somewhere you will see it and remember to utilize it. Refer back to this jar as much as possible or any time you need a little pick-me-up.
Remember, self-care is essential! Do it often.
100 Self-Care Jar Ideas
Read through this list of 100 ideas for your self-care jar to get inspiration for filling your own jar!
These activities are sorted into 5 different categories of self-care to better help you navigate this master list of ideas: free, quick, solo, social, and "treat yourself" self-care ideas!
Free Self-Care Ideas
Free is my favorite number. Let's explore these self-care ideas that won't cost you a thing.
Take a walk
Listen to an uplifting podcast
Write a letter to a loved one
Plan for the upcoming week
Make a list of life goals
Take a nap
Turn off your phone for the day
Write something creative in your empty notebooks
Play with your pet
Get inspired on Pinterest
Make a manifestation list
Follow a yoga YouTube video
Rearrange your room
Binge-watch your favorite TV show
Detox your Instagram (see my positive Instagram tips)
Tidy up your space
Cuddle your significant other
Take a self-care bath or self-care shower
Listen to a happy song and dance around
Call a loved one
Quick Self-Care Ideas
Only have a few minutes? These ideas are quick, easy, and effective!
Step outside and breathe fresh air
Stretch your body
State positive affirmations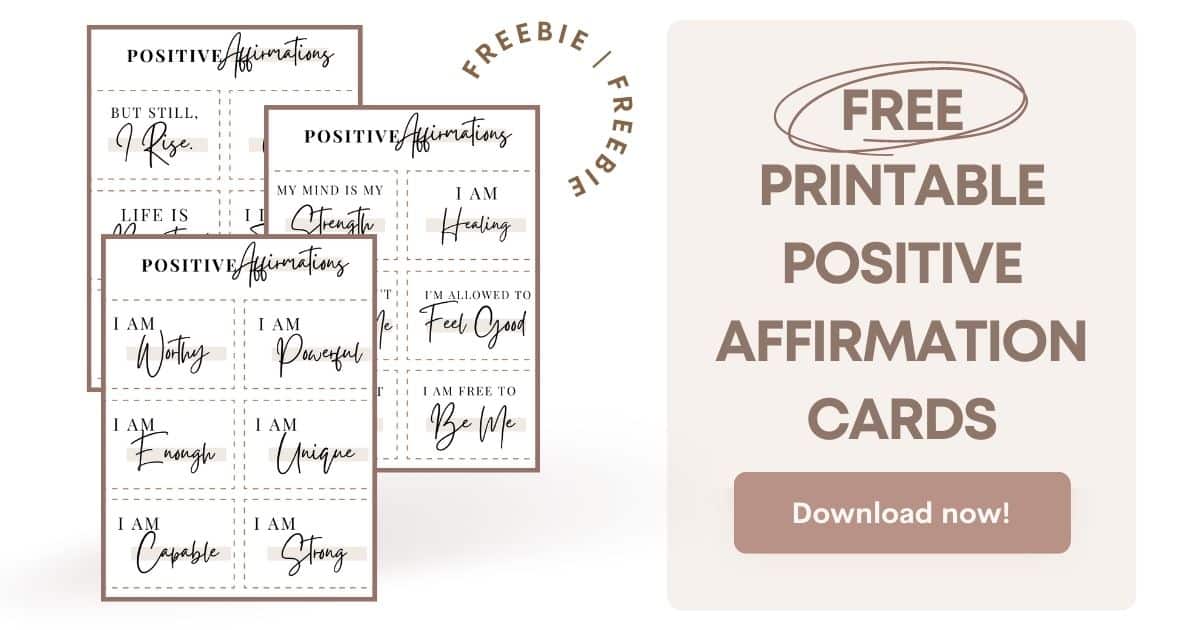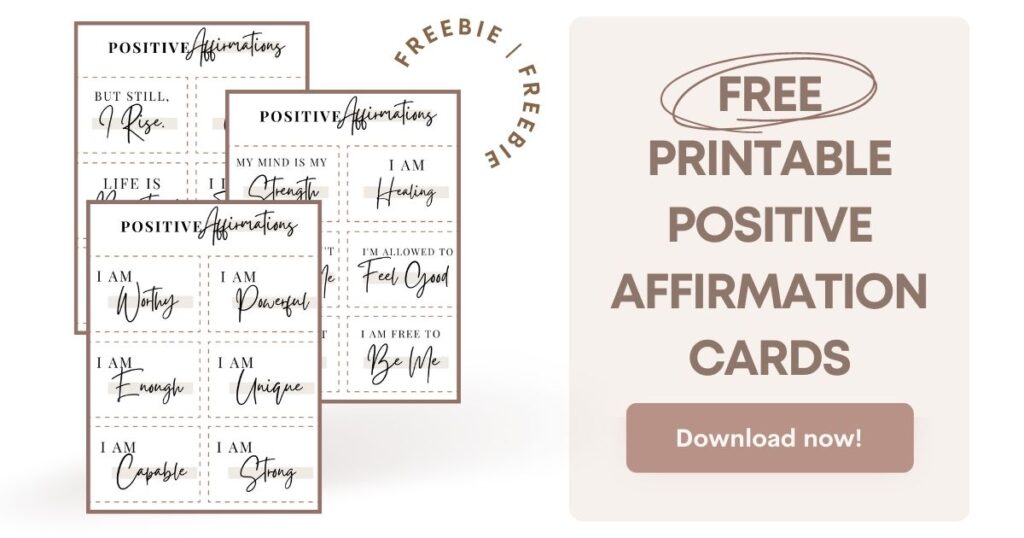 Wash your face
Put on your favorite pair of comfy pants (I LIVE in my Old Navy loungewear)
Take a short walk
Do some quick yoga
Practice deep breathing
Tidy up your space, wherever you may be
Make a list of things you love about yourself
Look up inspirational quotes
Shut your eyes and rest for 5 minutes
Send someone you love a quick, kind message
Practice some mindfulness (Headspace is the best app for this)
Grab a snack
Journal in a quick 5-minute journal
Consciously unclench and relax your body (from the top down – eyes, lips, jaw…)
Have a mental check-in with your mind and body
Put on a happy song
Drink a glass of water
Solo Self-Care Ideas
In need of some alone time? These solo self-care ideas are going to be perfect for you!
Have a baking day
Do a guided Headspace meditation
Get into nature
Take yourself on a lunch date
Clean your house
Do a puzzle
Order your favorite dinner
Meal-prep some time-saving breakfasts or healthy snacks
Have a solo dance party
Go for a drive
Brainstorm your dream vacation
Go through your closet and get rid of old clothes
Decorate your home for the season/holiday/etc.
Do some gardening
Cross something off of your to-do list
Play a game (board game, phone game, computer game)
Color in a coloring book
Start a new book
Write a short story
Self-care doesn't have to be done by yourself! Include some loved ones for some social self-care.
Call a family member
Make plans with a friend for the upcoming week
Go out and give someone a compliment
Take your work to a public place (coffee shop, etc.)
Write a handwritten letter to someone
Have a date night with your partner
Go to dinner with a friend
Send someone a kind text
Leave a positive comment on someone's Facebook/Instagram
Reconnect with an old friend
Pay it forward at a store/coffee shop
Do a partner workout
Make time to see your grandparent/parent/family member
FaceTime someone who lives far away
Go for a walk and talk on the phone
Call your best girlfriends for a "girls' night"
Grab coffee with someone you haven't seen in a while
Hangout with your sibling
Learn your partner's love language
Give a big hug
Treat Yourself Self-Care Ideas
You deserve to splurge on yourself from time to time. Here are some self-care jar ideas for when you want to treat yourself.
Take yourself on a shopping spree
Get yourself a self-care journal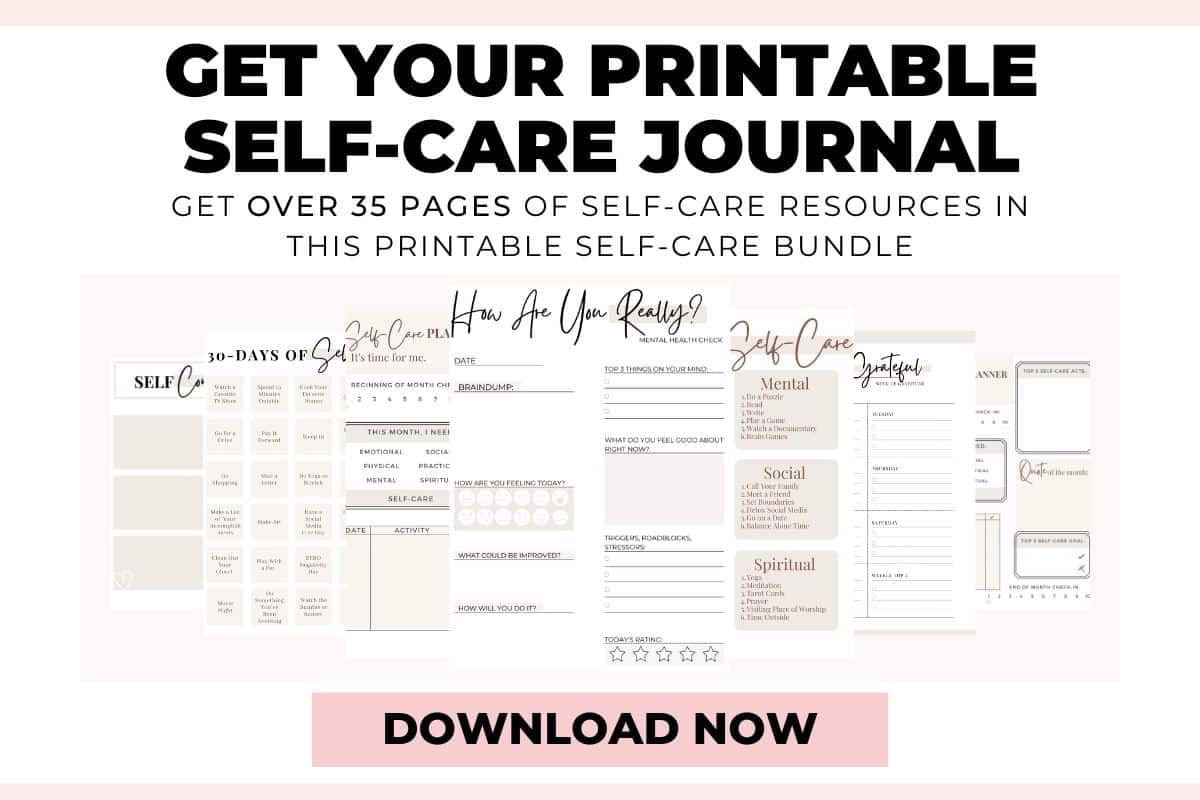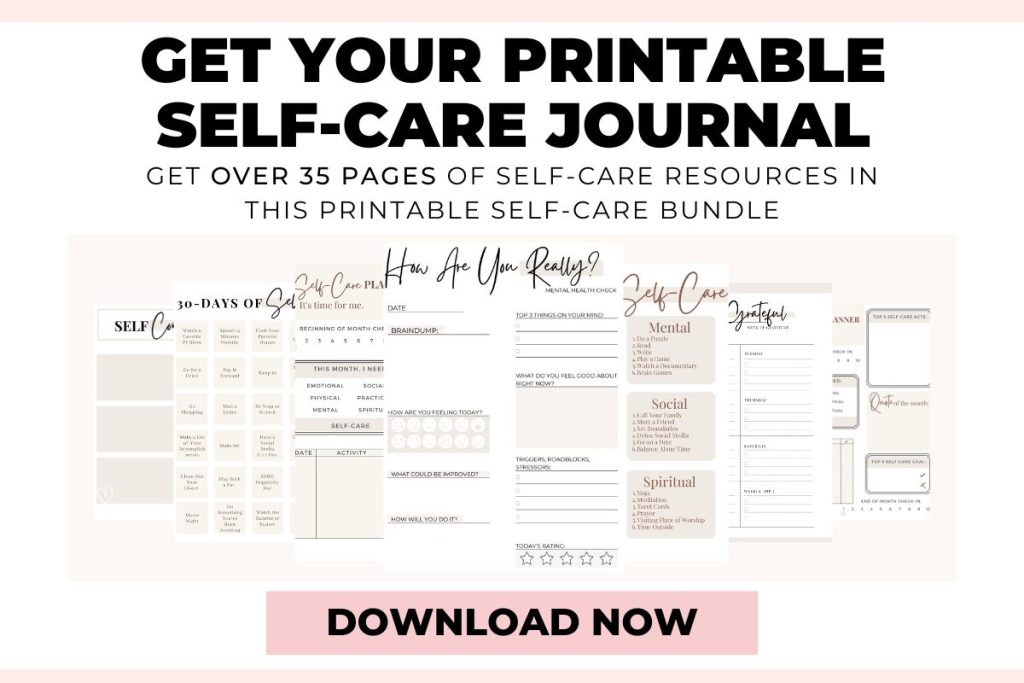 Grab yourself your favorite coffee and treat from Starbucks
Sign up for online therapy (I highly recommend TalkSpace)
Buy yourself your dinner from your favorite restaurant
Plan a weekend getaway
Put together a self-care kit
Online shop at your favorite stores
Splurge on something you've been wanting
READ: 15 Expensive Things Actually Worth Buying
Pick up your favorite dessert
Take a virtual workout class on AloMoves
Rent a movie and have an at-home movie night
Have a couple's date night with your partner
Buy yourself supplies to start a new hobby
Get your nails done
Go to Target and mindlessly wander
Get yourself a gift for your love language
Book a massage
Have a spa day
Get yourself at-home self-care supplies (face mask, hair care, nails, etc.)