This post contains affiliate links meaning that, at no additional cost to you, I make a small commission if you purchase through my links. For additional information, visit my affiliate disclosure. 
Looking to prepare for summer? It doesn't have to be all about working out and dieting. These are the best fun, healthy, and productive ways to prepare for an incredible summer you'll never forget!
Summer days are coming! That means sunshine on your skin, open sunroofs, long nights, and beach days! Don't you smile just thinking about it?
As far as I'm concerned, it's never too early to get ready for summer. Heck, I dream about summer days all year long.
Unfortunately, it seems like the top advice for how to prepare for summer is all about weight loss, dieting, and getting "bikini ready". Blah. How negative. (BTW… your body is ALREADY a bikini body!)
Instead of giving in to those summer preparation activities, I have a list of things you can do to prepare for summer that won't leave you dieting and feeling bad about yourself. Summer is supposed to be fun! Let's get excited!
This post is all about FUN, HEALTHY, and PRODUCTIVE ways to prepare for summer.
10 Best Ways to Prepare for Summer
1. Go Through Your Closet
Nothing quite like the changing of the seasons to make me feel like doing a major closet purge. I know that "Spring Cleaning" is the trend but I actually enjoy a good Summer Closet Clean-Out!
Chances are good it's been an entire year since you wore most of your summer clothes. Maybe your taste, style, or body has changed over the past year.
That's perfectly okay and 100% normal!
It just means it's time to go through your wardrobe.
I like to go through my shorts, tanks, blouses, bathing suits, dresses, and other summer clothes as summer approaches every year. Not only does it allow me to get rid of things I don't want anymore, but it also reminds me of what I have.
I find that when I do a total summer wardrobe clean-out, I'm much more in touch with everything I have and way more likely to wear my clothes throughout the season. Otherwise, I have some cute things that I totally forget I own!
When I clean out to prepare for summer, I ask myself:
First and foremost, does it fit? If it doesn't, pitch it. Don't try to alter your body to fit it. That's crazy talk. Our clothes are supposed to fit our bodies, not the other way around. Too tight, uncomfortable, or just don't feel BOMB in it? Toss that baby in the get-rid-of pile.
Would I buy this at the store today? This is one of my favorite questions to decide if I really like something. If I would still pick it up while out shopping, I keep it. If not, I don't (or I at least toss it into the "maybe" pile).
Do I feel good wearing this? Life is WAY too short to wear clothes that we don't feel confident in. You are hot, girl. Wear things that make you remember that.
Do I have something similar that I like more? This is actually a big one for me. Somehow I ended up with like 8 little black dresses in my closet last summer. I narrowed it down to my 2 favorites and donated the rest!
After sorting through your clothes, you can choose to donate, give to a friend, or sell them! I've been selling my clothes on Poshmark and I've made almost $600 in just a couple of months! (Update – I've made over $1,200!)
2. Go Through Your Sunscreen
Girl, if you're anything like me, I know you have some sunscreen hiding in the back of your cabinet that is practically ancient. At this point, it's just lotion. Once sunscreen is past its prime, it cannot do its job to protect you from the sun.
Sunburns are the LAST thing we want this summer.
Take it from me… as a girl that gets BURNT within 15 minutes of sun exposure, it's really just not worth it. You'll be paying the price with every hot shower for the next month. OUCH!
Not to mention, sunburns are so harmful to your skin and can actually be really dangerous for your skin health.
Long story short, check your sunscreen expiration and get yourself some fresh bottles if you need to!
3. Exfoliate and Moisturize
Get your skin ready to be blessed by that beautiful summer sunshine!! My favorite way to treat my skin is to exfoliate really well in the shower and then follow up with my favorite moisturizer. I've been trying out so many different combos over the past year and think I've found my favorite so far.
As for exfoliators, I switch between two different exfoliating body washes. I alternate every shower! OGX has my favorite scent by far!
For moisturizers, I'm less set on one product.
I've been experimenting with a lot of different lotions. Right now, I'm using the OGX Coconut moisturizer. I'm really liking it. This is definitely my winner so far but I'll update you if I find a new one that takes the cake.
I use OGX shampoo, conditioner, the body wash I talked about above, and now this moisturizer. Needless to say, I'm a fan of that brand, hahaha!
(Check out my self-care shower routine to see all my favorite body essentials.)
4. Hair Care
While we're on the topic, I just wanted to quickly mention hair care. This is something I always am extra adamant about leading up to summer.
I hardly ever do my hair in the summer. Like, it's bedhead almost every day. It's the best, hahaha!
But because of that, I want to make my hair as healthy, shiny, and naturally beautiful as possible to prepare for summer!
I've been doing some research and lots of trial and error to find the best hair care for me. I have naturally curly/wavy hair and sometimes the frizz is just uncontrollable! I asked you guys on Instagram for some suggestions and one of you said to try out Shea Moisture Curl Milk.
Not surprisingly, I was at Target that day and decided to pick it up. I FELL IN LOVE. It smells heavenly and it brings out my curls while controlling the frizz.
I went back to Target the next day and got the shampoo and conditioner to go with it. I love this stuff!
5. Have a Shopping Spree
This is your sign to go treat yourself to a summer shopping spree, girlfriend. I told you in tip #1 to go through your closet and get rid of things… now it's time to replenish. That's how it works right? 😉
Go shopping for some new shorts, skirts, dresses, bathing suits, summer tops, etc. to prepare for summer!
Make sure you buy things that make you feel as fabulous as you are! We are thriving and having confident energy only all summer!
6. Make an Outfit Journal
Now, when I say "journal", I really mean a photo folder on your phone. Get with the times, people. 😉
After doing my summer shopping, I like to go through all my clothes again and take pictures in outfits that I feel amazing in! That way, when I'm feeling unmotivated, uninspired, or in need of a confidence booster, I have outfits prepared and planned that I know make me feel good!
This has been so helpful for my body image.
When I'm having a bad body image day, the last thing I want to do is try on a bunch of outfits that I potentially don't feel good in. Having some solid outfits already picked is the best. I can just throw on one of those and not have to put too much focus or energy into my appearance.
RELATED POST: How to Feel More Confident in Your Body
7. At-Home Mani/Pedi
Or a salon Mani/Pedi works too! I'm just trying to save you some money, girl! 😉
I always feel like I really have my life together when my nails look good. Maybe that's just me, but I feel like it really makes a difference.
Especially in the summertime, I try to keep my toes painted. It's the season for flip-flops, sandals, and bare feet, you might as well make them look cute!
(As cute as feet can ever be… Yuck! Hahaha!)
Extra bonus: Nails at home can save you lots of money!!
8. Drink More Water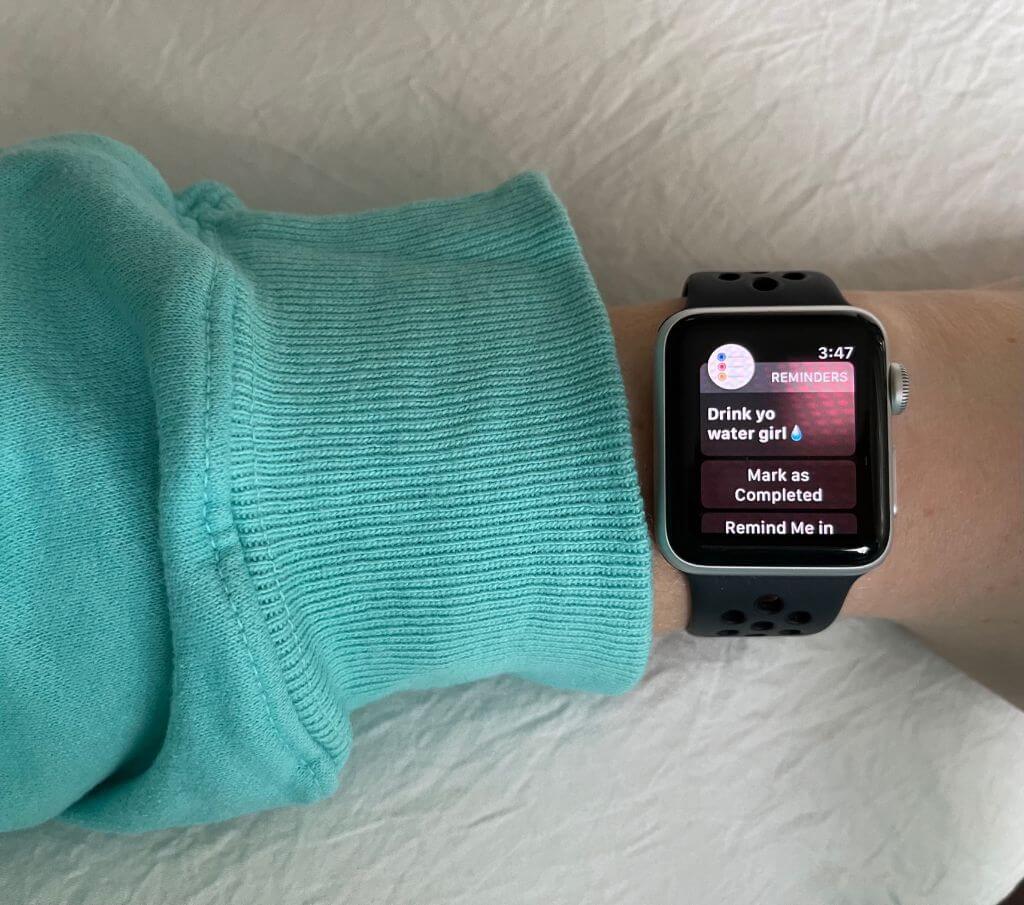 This is something I could be better about all year long, not just when I'm trying to prepare for summer. Whoops!
But this is extra important around this time of year. When the weather gets warmer, we NEED more water naturally.
But even just basic human functions aside, I know that I feel so much better when I am well hydrated.
My mind feels happier, my digestion is better, my skin is clearer… it literally can affect everything. It's crazy!
I've made it my mission to drink at least half a gallon of water every day. That's 64 ounces. Totally doable!
The biggest help in this has been getting a water glass that I take with me everywhere and setting water reminders on my phone.
Right now, my Hydro Flask is my go-to for water. I have the 32 oz one so just two full Hydros and I've reached my goal!
I'm also someone that can't drink room temp water even though I've heard there are some health benefits. It just tastes so bad to me so I love that my Hyrdo keeps my water SUPER cold.
9. Minimize Makeup
This is one of my favorite tips. I've actually adopted this into my life year-round. Honestly, I just can't be bothered by makeup anymore.
To prepare for summer, I always try to minimize my makeup use – especially face makeup.
I'm someone that used to wear a full face of makeup every single day. We're talking primer, foundation, concealer, powder, bronzer, highlight… you name it, I had it on my face somewhere.
Not only was this a total hassle in the morning, but it was also making my skin feel so… BLAH.
I love the feeling of having a fresh face with only moisturizer on my skin. (My skin loves this too!)
I feel like this is extra important in the summer when it's hot and you're getting sweaty. No one has time to be fixing a sweaty face of foundation and feel sticky and cakey.
Minimizing my makeup for summer is a major must! It also helps me learn to embrace my natural self more and increase my self-love.
That leads me right into my next and final tip for how to prepare for summer…
10. Tackle Your Insecurities
For so many years, I let my insecurities get the best of me and take the joy out of my summers.
I'd wear a t-shirt at the beach cause I didn't like my stomach.
I would wear jeans instead of shorts cause I was embarrassed by my cellulite.
I'd skip the late-night ice cream runs because I was dieting.
My body insecurities ran my life, especially in the summer.
But, you know what? The thing that ruined my summer was not my body… it was stressing about my body. I missed out on memories and fun times because I was so hyperfocused on my insecurities.
If I could go back, I'd wear that bikini, run around in short shorts, and go on that McDonald's McFlurry run. Heck, that's what summer is all about!
That's why when you get ready to prepare for summer, I want you to focus on all the things that hinder your fun and enjoyment in the summer months.
Are you stressed? Do you feel insecure? Are you too harsh on yourself? Do you try to hide your body? Are you focused on trying to be a different version of yourself?
These are all questions I want you to ask yourself. And then I want you to work on them.
We all have insecurities and things that hold us back from just truly living, being, and loving who we are, 100% authentically.
I am working on things of my own… We are in this together.
But do not let another summer come and go where you let your insecurities rule your life. Start now, start early. That way when summer rolls around, you will be ahead of the game.
And, remember, you're enough as you are. You're perfect as you are. Your body is already a bikini body. You are beautiful, incredible, fierce, and worthy of love (and an unforgettable summer!)
How Do You Like to Prepare for Summer?
I absolutely love summer. The warm weather, the long nights, the good memories… ahh! It's all so incredible!
I always try to set myself up for the best summer possible with a little bit of summer preparation. These are my top 10 things that I always keep in the back of my mind leading up to summer. They help me get prepared and in the right summer state of mind!
More Posts I Think You'll LOVE:
12 Time-Wasting Habits You Need to Quit
New Month, New Goals | Monthly Goal Ideas
We're so close! Happy (almost) Summer!
XOXO!