This post may contain affiliate links meaning that, I may make commission if you purchase through my links. Learn More. 
Learning to notice and appreciate the simple pleasures in life is a simple way to ignite happiness and positivity. Here are over 150 small, simple pleasures to appreciate in your everyday life.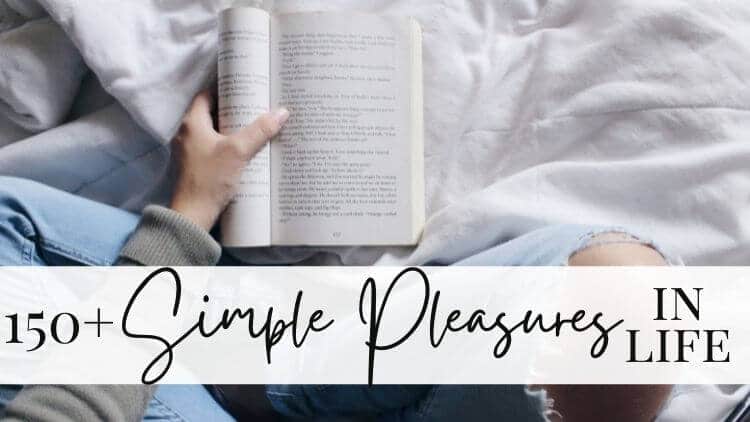 What is a Simple Pleasure?
A simple pleasure is anything that brings you joy on a day-to-day basis. Oftentimes, simple pleasures feel small and, unless you actively look for them, they can go unnoticed.
Some common areas of simple pleasures include:
a favorite food/drink
moments of laughter
feel-good habits
kind gestures
positive human interaction
More often than not, simple pleasures come naturally and freely. Part of what makes them feel so magical is the unexpected way in which they happen and brighten your life.
Simple pleasures are everywhere.
When I first began gratitude journaling, I was shocked at the small things that would come up that I had never consciously taken time to appreciate.
We often think of the greatest pleasures as the most extravagant: big vacations, luxury items, new cars, beautiful homes…
In reality, some of the happiest parts of life are the small everyday things that make us smile. (Oftentimes these are 100% free, too!)
At the end of the day, it's the little things that make up a happy life.
Money, status, material items, and big purchases only go so far. When you learn to appreciate the simple pleasures in life, the opportunity for joy and bliss opens up entirely.
Learn to look for the little things. Notice the small joys. Appreciate the simple pleasures.
Here are a few of them.
150+ Beautifully Simple Pleasures in Life
Simple Pleasures in Everyday Life
Waking up to the sun.
The smell of freshly brewed coffee.
A smile from a stranger.
Seeing a dog get excited to see you.
The first sip of water in the morning.
Hitting all green lights on the way to work.
Fresh sheets.
Getting off work.
Snow days.
Breakfast in bed.

A meal that reminds you of childhood.

What was your childhood go-to meal?
The sound of a baby laughing.
Finding a penny.
Waking up feeling fully rested.
Sunday night relaxation. Check out these self-care Sunday ideas.
Long weekends.
Blooming flowers.
The feel of sunshine on your skin.
A relaxing self-care shower.
A checked-off to-do list.
Starting a new book.
A good podcast.
The sound of rain on your window.
A pair of jeans that fits just right.
Cuddles with a pet.
When your favorite TV show comes back after a break.
The beat drop in your favorite song.
Laughing so hard your stomach hurts.
Cooking a new recipe (and it turns out good!). Check out my favorite dinner recipes!
Having a package arrive for you.
The first bite when you're hungry.
Seeing a plant sprout up.
The smell of freshly cut grass.
A freshly organized fridge.
New stationery supplies. Do you have my printable stationery supply list?
When you stop the fast-forward at exactly the right second.
Being told you did a good job.
Hugs from someone taller than you. So comforting!
Hugs from someone you love. Even better!
Hugs. Give me all the hugs.
New PJs.
Freshly shaved legs.
A good skincare routine.
When there's a good Target Circle deal. I live for this – LOL!
Going to the library.
First kisses.
Feeling butterflies in your stomach when you like someone new.
Family dinners.
Getting ice cream. Or froyo! Or anything yummy!
Making new friends.
Giving a compliment.
Recieving a compliment.
Buying someone a "just because" gift.
Binge-watching a new TV show.
When your coffee order tastes perfect.
Getting text from a loved one.
A freshly made bed.
When the clouds form cool shapes.
Rainbows.
A good workout.
Christmas cookies.
Sunrises. Perfection.
Sunsets. Also, perfection.
The smell of a bakery.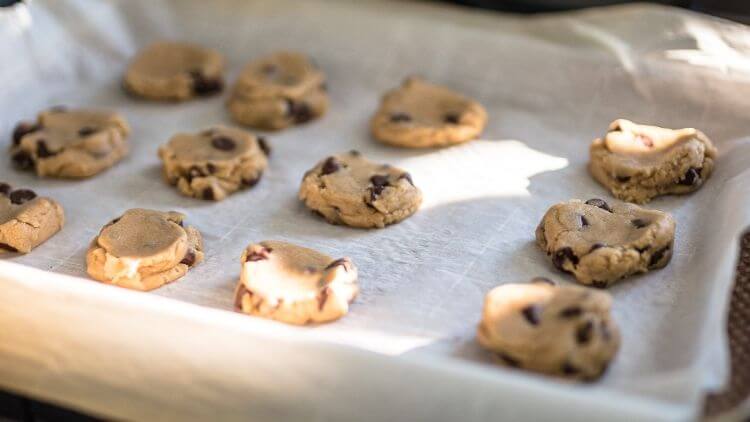 Cute coffee shops.
Feeling confident. Nothing better than feeling confident in yourself!
Sitting after being on your feet too long.
Peaceful mornings. Check out this aesthetic morning routine.
Peanut butter and jelly sandwiches.
The sound of waves on the shore.
When you see your food coming at a restaurant.
Disney movies.
Cute mom & pop shops.
The smell of rain.
An organized planner. You know how much I love my planner.
Journaling.
Air conditioning after being out in the sun.
Heat after being out in the cold.
Feeling hopeful for the future.
Setting goals for yourself.
Popcorn and a movie.
When your "shuffle" playlist is playing all good music.
Driving with the sunroof open.
Being greeted by a pet when you get home.
Sleeping in when you have nowhere to be.
Greasy, delicious pizza.
Walking into a freshly cleaned room.
Crossing off a to-do you've been dreading. The simple pleasure of relief!
Hot chocolate with marshmallows.
Good hair days.
Comfortable high heels.
Rewatching a comfort show. FRIENDS is mine! What's yours?
Essential oils in a diffuser.
Yoga, meditation, mindfullness.
Having beach hair. Salty, sandy, and full of memories!
Sharing a knowing glance with a loved one.
Inside jokes.
Feeling inspired with great new ideas.
Getting good feedback on a work/school project.
Trying a new restaurant. Especially when it's good. 😉
Going to bed after a long day.
Seasonal snacks in the grocery store.
Airport people watching.
Laughing so hard you can't speak.
A new video from your favorite YouTuber.
Connecting with like-minded people on social media. One of the biggest positives of Instagram.
Coming home after being away for a while.
Crunchy leaves.
Girl scout cookie season.
Scented candles.
Showering after a long day. Or a day at the beach. Perfection.
The smell of your pup's paws. Surely this isn't just me?
Taking a nap.
Finishing a big project. And feeling proud of it!
Soup when you're sick.
Making a bucket list. Check out my winter bucket list and 20-something bucket list.
Achieving goals.
Fast wifi.
A clear, empty email inbox.
The fresh-start-feeling of a new month. New month, new goals!
Finding something you thought you lost.
Taking a walk.
Getting a 7/11 Slurpee on a hot day.
Holiday traditions.
Small towns.
A full tank of gas.
The first sip of morning coffee. Best part of my morning routine.
Sandwiches on the beach.
Opening a new tub of ice cream.
Funny dog videos online.
Finding money in your pocket.
Board games with friends.
Having a night to yourself.
A perfect high-five.
Traveling somewhere new. New experiences everywhere you turn!
Traveling somewhere familar. When it just feels like home!
When the grocery store has everything on your list.
Dancing for fun.
The smell of a bookstore.
Seeing someone singing in their car.
Freshly baked cookies.
Cuddling someone you love.
Putting in the last piece of a puzzle.
A freshly cleaned shower.
Walking barefoot in the sand.
Going through old pictures. Can be totally bittersweet too!
Cozy blankets/socks/etc.
A good stretch first thing in the morning.
Stepping into a hot tub when it's cold out.
Feeling proud of yourself.
Good chocolate.
Making friends with the server at a restaurant.
Making someone smile.
Sleeping with the windows open.
Rewatching a favorite childhood movie. High School Musical, anyone?
Fresh, in-season produce.
A healthy body.
Goldfish crackers. Or Cheez-Its. I can't decide what's better.
Feeling safe with someone.
Giving and recieving love. If you are reading this, I hope you're feeling loved – because you are. By me. Thank you for being here!
It's the simple pleasures in life.
Sometimes the smallest things make the biggest impact.
When I sit down to reflect on happiness or express gratitude, it's often the seemingly small, mindless day-to-day things that I appreciate the most. Maybe my parents were right when they told me "it's the little things in life."
Maybe the small things are the big things.
Everyday moments are lasting memories.
Simple pleasures are life's treasures.
What Simple Pleasures in Life Bring You the Most Joy?
Comment your additions to this list down below! I can't wait to hear what makes you smile.