This post may contain affiliate links meaning that, I may make commission if you purchase through my links. Learn More. 
Learn how to practice self-love and kindness with these 100 self-compassion affirmations to be nicer to yourself.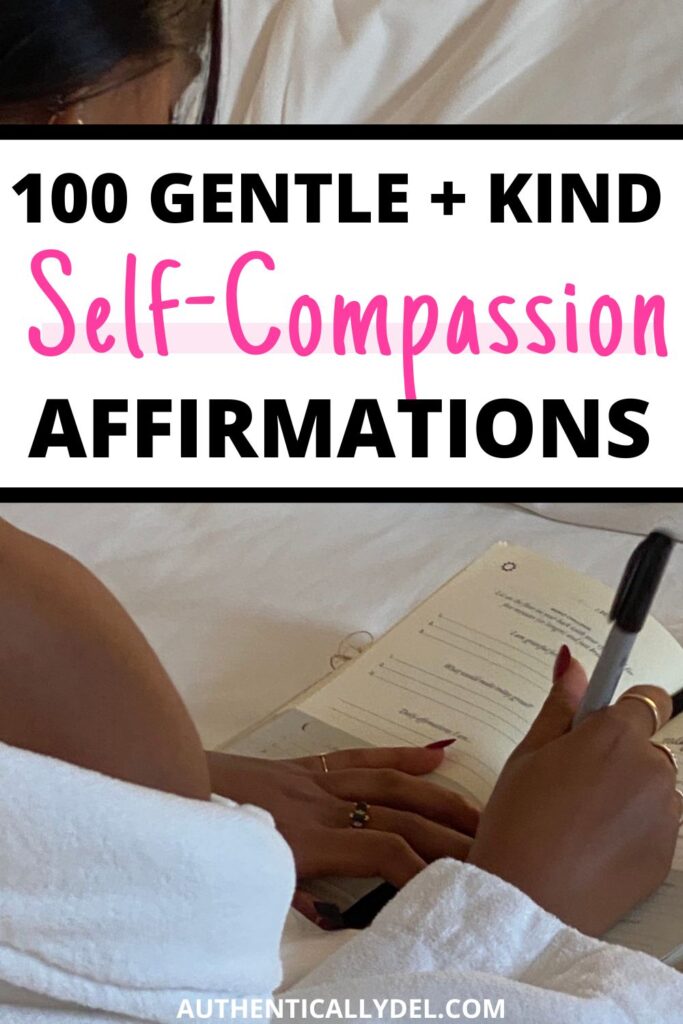 Let's be real. Self-compassion can be challenging.
We are our own worst critic. It can be tough to not judge, shame, criticize, or critique ourselves. Most often, we are way harder on ourselves than we ever would be on other people.
While having high standards for yourself can be a good thing, constantly holding yourself to an unrealistic standard of perfection will take a toll on your mental health.
This is where self-compassion comes in – and it's essential.
What is Self-Compassion?
Self-compassion is a term most commonly connected to professor and psychology researcher Dr. Kristin Neff.
Dr. Neff is known most widely for her research, TED talk, and (incredible) book on self-compassion.
Dr. Kristin Neff's work on self-compassion lays the foundation for this essential concept in psychology.
She notes that "having compassion for oneself is really no different than having compassion for others". Compassion for others may come more naturally to us. We can utilize that familiar experience when implementing self-compassion into our lives.
Neff lays out 3 main elements of self-compassion to help guide our journey toward self-kindness and acceptance.
3 Main Elements of Self-Compassion by Dr. Neff
1. Self-Kindness vs. Self-Judgment
When we mess up, fail, feel pain, or otherwise struggle in life, approaching from a place of understanding and compassion is key.
Rather than judging, shaming, or criticizing yourself, making a conscious effort to give yourself grace is the first step to self-compassion.
You are human. Life doesn't always go according to plan.
Placing pressure or being unreasonably hard on yourself only makes things worse through stress, frustration, shame, and self-criticism.
Instead, approaching with understanding, love, and compassion brings peace and lessens distress.
2. Common Humanity vs. Isolation
This principle recognizes that imperfection, mistakes, and suffering are all part of a collective shared human experience.
Without self-compassion, we may experience thoughts of "I am the only one". This perpetuates further shame and self-judgment.
Instead, with a self-compassion approach, we can recognize imperfect is a part of being human that we all experience. (Yes, every single one of us.)
This allows you to offer yourself understanding and practice kindness rather than feeling isolated in your imperfection.
3. Mindfulness vs. Over-Identification
Dr. Kristin Neff explains this one best when she writes:
"Mindfulness is a non-judgmental, receptive mind state in which one observes thoughts and feelings as they are, without trying to suppress or deny them.
We cannot ignore our pain and feel compassion for it at the same time.
At the same time, mindfulness requires that we not be "over-identified" with thoughts and feelings, so that we are caught up and swept away by negative reactivity." (SelfCompassion.org)
100 Gentle & Kind Affirmations for Self-Compassion
Use these self-kindness and compassion affirmations to begin speaking to yourself more kindly.
I give myself grace.
I am free to make mistakes.
My imperfections are what make me human.
I forgive myself for my mistakes.
I can handle discomfort.
Nobody is perfect all the time.
I will offer myself the same grace I would give others.
I am doing the best I can.
It is okay to have bad days.
I am worthy of forgiveness and understanding.
I trust myself.
It is okay to feel my feelings.
I am patient with myself.
I am learning and growing every day.
My feelings are not facts.
I am a work in progress.
I am doing my best
Mistakes are not moral failures.
I give myself permission to fail.
I know that mistakes are a part of being human.
My feelings are valid.
I am not alone in my emotions.
I am enough – no matter what.
Trusting myself comes naturally.
I am committed to showing myself compassion and kindness.
I can treat myself like I would treat others.
My worth is not tied to my achievements.
I don't have to do it all.
I can take time to rest.
My quirks are what make me special.
I accept all parts of myself.
I can learn to love all parts of myself.
Mistakes happen and I can handle them without self-judgment.
I know that I am safe to make mistakes.
I am lovable, no matter what.
Self-care is essential to my health, not selfish.
I can speak to myself like I'd speak to a child – with love and compassion.
I know that life is hard sometimes and I will give myself grace when it is.
Struggle is a natural human experience – I know I will be okay.
I can get comfortable being uncomfortable.
I trust myself to make the best decisions I can.
Self-compassion is a muscle I am strengthening.
I am a work in progress – and I am lovable at every stage.
I am capable of making good decisions.
My humanness is not something to feel ashamed of.
I can do hard things.
I have faith in my skills and abilities.
Even when I slip up, I know I did my best.
I trust myself to handle the challenges life throws at me.
I know my intentions are pure and good.
Accidents happen and I will make it through.
I am a wonderful person.
I am great at my job.
My personality is unique and valuable.
I love my body for all it does for me.
I love my brain for the way it works for me.
My soul is beautiful and special.
I enrich the lives of everyone I meet.
I have a purpose here.
Self-compassion affirmations are helping me grow.
I listen and honor the needs of my mind, body, and soul.
I prioritize myself and my needs.
My presence is needed in this world.
I have the power to change my life.
I can be a good person and still prioritize myself.
My friends and family love me for me.
I am a good friend/spouse/parent/sibling/employee/etc.
I can set a good example of self-compassion for those around me.
My weaknesses are part of what makes me special.
I can be a work-in-progress and love myself simultaneously.
I listen to my body and care for it in the way it needs.
Mental health is my priority.
I understand I cannot pour from an empty cup. Self-care is essential.
I trust the wisdom of my body.
It is okay for me to make mistakes.
I can see my mistakes as lessons, not failures.
I am learning, growing, and developing every single day.
My mistakes do not define my character.
I move through the world with compassion – for myself and for others.
I respect myself.
Self-love empowers me to show up as my best self.
I am worthy of love, respect, and care.
I am capable of setting boundaries to protect my peace.
Believing in myself will pay off.
I can take risks because I trust my own abilities.
I have unconditional permission to take breaks.
It's time for me to show up for myself the same way I show up for loved ones.
I get to decide the path for my own life.
I release critical and judgmental thoughts.
Self-compassion is my default response to any problem.
I let go of the false idea of perfection.
Perfection does not exist. I am free to be human.
I am messy and imperfect – and that is what makes me special.
The approval of others does not determine my worth.
I give myself permission to grow at my own pace.
There is no one right timeline for life.
My worth is not determined by my work, productivity, wealth, or status.
I release the pressures placed on me by unrealistic expectations.
My life is mine to live and enjoy.
I am free to be me.
Free Printable Self-Compassion Affirmation Cards
How to Begin Practicing Self-Compassion?
For many of us, our default when we mess up or experience something going wrong is to shame, blame, and judge ourselves.
This can be a tough cycle to break.
How do we shift from self-judgment and shame to self-compassion and self-kindness?
Here are a few tips for integrating self-compassion into your own life:
Recognize the cycle – Identify when you are speaking to yourself with shame or judgment. Bring awareness to the inner-dialogue habits you'd like to break.
Get curious – When your first instinct is to meet yourself with judgment, get curious about other approaches. How could you handle this situation more gently?
Speak to yourself like you would a friend – This is one of the most effective tools for reworking inner dialogue. If you wouldn't say it to someone you love, why are you saying it to yourself?
Do guided self-compassion exercises – Dr. Kristin Neff has free guided exercises on her website as well as in her book on self-compassion.
Practice self-compassion affirmations – Self-compassion is rooted in how we speak to ourselves, which is why positive affirmations for self-compassion are such a powerful tool! It's time to rework those automatic thought responses.
3 Tips for Self-Compassion Affirmations
1. Practice Makes Progress
Like anything in life, developing self-compassion will take practice. These self-compassion affirmations are a tool to help you get there.
Think of your self-compassion as a muscle you have to build and these self-compassion affirmations are the weights you lift.
Repeat these affirmations as much as possible. Through repetition, practice, and continued action, you can retrain your brain to a more kind and compassionate place for yourself.
2. Speak, Write, and Believe
There are many different ways to use possible affirmations. I recommend speaking these self-compassion affirmations out loud to yourself or writing them down in a notebook or a journal.
You can also add positive affirmation cards to really level up your practice.
This is the key to truly believing the words in your affirmations.
Reciting affirmations can feel silly or forced at first. This is part of the retraining of the mind.
Keep at it. Continue reinforcing these positive, kind, compassionate words. Trust this process.
3. Give Yourself Grace
Give yourself some grace when your self-compassion doesn't show up like you'd want it to.
In other words, practice self-compassion when you fail to practice self-compassion.
You are not going to go from self-doubt, shame, or judgment to self-compassion and self-kindness overnight. As much as we'd like for it to be quick, simple, and easy, this process takes time.
Don't judge yourself for it – simply notice the areas in life where you default back to self-deprecation or shame. These are the spaces where there is lots of room for growth and improvement.
Don't let that discourage you, let it encourage you! There's room to grow.
Pin These Self-Compassion Affirmations