This post may contain affiliate links meaning that, I may make commission if you purchase through my links. Learn More. 
Taking some time after a busy week to dedicate to a full self-care Saturday can be super beneficial for your health and overall wellness. Use these 100 self-care Saturday ideas to plan your own personal ideal day of self-care.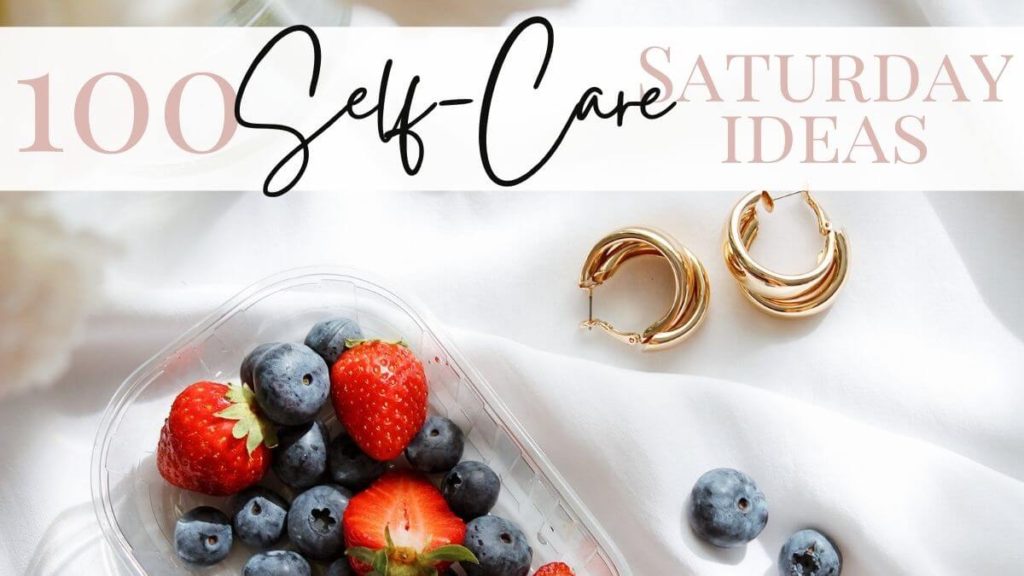 What is Self-Care Saturday?
Self-care Saturday is just a fun way to refer to a special day of self-care. The phrase "self-care Sunday" tends to be more trendy on social media. However, I believe that the entire weekend should be dedicated to showing yourself some extra love and care.
Self-care as a whole is greatly misunderstood. The misconceptions about self-care can be really damaging. Let's break down a few of them.
Self-Care Misconceptions
Self-Care has to Be Glamorous. Believe it or not, self-care is NOT all face masks, spa days, and bubble baths (although it can be!). In fact, sometimes self-care isn't glamorous at all. Sometimes it's changing your sheets or cleaning your bathroom. Check out the 6 different types of self-care here to get a better idea of how self-care can look different every time.
Self-Care is Expensive. Nope, nope, nope. Self-care can be incredibly affordable – or even free! I will offer tons of totally free self-care options later on in this post.
Self-Care is Earned. Heck, no! Self-care isn't earned through productivity or exhaustion. Rather, self-care is an essential part of life. Without it, you will likely experience some burnout, exhaustion, and major negative mental/physical health effects.
Now that we've touched on what exactly a self-care Saturday is, we can move into the HOW. These 100 self-care Saturday ideas are PERFECT for your upcoming weekend refresh.
If you find yourself wanting a specific type of self-care (solo, free, with a friend, etc.), feel free to jump through these different categories and find what feels best.
It's okay if your self-care needs are different than someone else's. AND it's okay if your self-care desires change day-to-day. Listen to what your mind, body, and soul need and go with that choice. There's no "right way" to have a self-care Saturday.
100 Relaxing Self-Care Saturday Ideas
50 Completely Free Self-Care Saturday Activities
Take a walk
Step outside and take 10 deep breaths
Rearrange your room
Binge-watch your favorite TV show
Make your favorite dinner
Tidy up your space
Read a blog that inspires you
Listen to an uplifting podcast
Plan for the upcoming week
Make a list of life goals
Learn about manifestation (lots of good podcasts/blogs for this!)
Take a nap
Turn off your phone
Get inspired on Pinterest
Have a baking day
Meal-prep some time-saving breakfasts or healthy snacks
Follow a yoga YouTube video
Do a guided manifestation (Insight Timer is the best free meditation app!)
Take a bath or shower
Call a loved one
Cuddle a pet
Cuddle your significant other
Put on comfy clothes – or even stay in you PJs!
Draw something
Sit in the sunshine
Take photos of something you love
Watch cute/funny TikToks – only positive TikToks allowed!
Read some happy news
Write a self-love letter
Go for a drive
Make a manifestation list
Clear your to-do list (it'll feel so good! Promise!)
Organize your closet – list anything you don't want on Poshmark

Write and practice positive affirmations

Ask yourself questions to improve your self-confidence
Put together a cozy corner
Educate yourself on the 6 types of self-care
Brainstorm future self-care ideas
Light some candles and/or diffuse essential oils
Learn a new DIY craft
Put together a self-care jar
Eat some fresh foods
Make a self-care schedule (get my self-care planner to help!)
Drink enough water (check how much you need here)
Have a movie night – popcorn, snacks, PJs, and all!
Catch up with a friend
Stretch your body
Listen to a happy song
Wash your face
Spread positivity! Leave a kind social media comment, send a nice text, etc.
30 Solo Self-Care Saturday Activities
Feeling like some alone time is just what you need this weekend? Solo acts of self-care are a great way to refill your tank and rejuvenate yourself. Here are some ideas for your alone-time.
Read a self-discovery book
Journal on some journal prompts
Take a fun local class – poetry, yoga, painting, etc.

Sign up for an at-home workout class (

Alo Moves

is my FAVORITE!)

Do a DIY at-home craft
Take yourself out to lunch
Take yourself shopping
Order in your favorite meal for dinner
Invest in an online course to learn something new
Treat yourself to an online shopping spree
Have a DIY at-home spa night
Buy yourself new journals for self-care
Sign up for online therapy (TalkSpace is what I use!)
Redecorate your room
Wander your favorite store
Take an online yoga or meditation class
Read your tarot cards – or get them read!
Color in a coloring book – Check out this cuss word coloring book for adults. It's my favorite!
Do a puzzle
Have a relaxing self-care shower
Treat yourself to a delicious coffee
Take yourself out to brunch
Pick up your favorite snacks at the grocery store
Start refreshing your wardrobe – buy some new pieces you love!
Build a vision board
Buy yourself flowers
Book a massage/spa appointment
Buy some high-quality skin care and have your own spa night
Get yourself a self-care kit (for future self-care Saturdays 😉 )
Take yourself out for ice cream
For More Ideas: 30 Solo Introvert Self-Care Ideas
20 Social Self-Care Saturday Activities
If you're more extroverted or feeling a bit more social, these may be appealing activities for your self-care Saturday! Connecting with others can be a great way to make ourselves feel happier and healthier!
Meet a friend for coffee
Compliment a stranger – making someone else smile always feels good!
Go on a "walk and talk" with a loved one
Reach out to someone you miss
Have a movie night with your significant other
Call your best girl friends for a "girls night"
Meet up with a sibling or close childhood friend
Call a grandparent/aunt/uncle/etc.
Pay it forward at the store/coffee shop – again, making someone else smile can make you feel good too!
Learn your partner's love langauge – use this quiz
Have a deep conversation
Set boundaries with someone that drains you (we all know them!)
Go on a date
Do a partner workout
Go out to dinner with a loved one
Take a romantic walk with your significant other
Have a no-phone day with someone. Talk to each other!
Make dinner with someone fun
FaceTime or Zoom someone far away that you miss
Give a big hug!
Why Have a Self-Care Saturday?
Now that you have 100 self-care Saturday ideas, you may want to know when and why a self-care Saturday is necessary.
The weekends are a really common and natural time to practice some self-care. So many of us spend our weeks busy, stressed, and overworked. During these moments, it may feel more difficult to practice self-care. (Check out these 5-minute self-care ideas for those busy days!)
However, on the weekends, many of us take a moment to breathe. It's beautiful.
Maybe you have the weekends off work or you are just in a mindset that is more self-care-ready. Because of this, self-care Saturdays can be a really valuable habit to build.
Why Choose Saturdays?
The phrase "self-care Sunday" is super popular. To be honest, self-care Sundays are great too. (Heck, self-care on any day is great!)
But, self-care Saturdays are a great option for a few reasons:
No Sunday Scaries. Sunday's can be a really relaxing day, but, if you work Monday-Friday, you may be hit by the "Sunday scaries" on Sunday night. Essentially, this is a feeling of dread and/or stress for the upcoming week. This isn't the best way to end a self-care day, so you may be better off with a self-care Saturday.
Sundays are for Resets. Sundays are commonly a "reset day". Many people choose to organize, tidy, grocery shop, meal prep/plan, etc. on Sundays. While this is a form of self-care, it's not alwyays the relaxing self-care we're looking for. Self-care Saturdays can be pure fun and relaxation – no pressure!
Saturdays are Yours. I love Saturdays most of all… here's why. Saturday mornings are great for sleep-ins. Saturday nights are also great for staying up and making memories. It's the only day of the week (if you work M-F) that you can sleep in AND stay up. The whole day is yours. That's a lot of opportunity for self-care!
Why is Self-Care Important?
If you are a loyal reader of my blog, you've heard me say this many times… but I'm going to say it again.
Self-Care is Productive.
Self-care is not "earned" through burnout, exhaustion, or productivity fatigue. Instead, self-care is essential to your overall wellbeing.
Everyone should develop a routine that allows them to practice self-care regularly. When we care for ourselves on a regular basis, we are more productive, healthy, and happy.
People that are hyper-focused on productivity and work tend to forget the important of slowing down. Ironically, rest, relaxation, and other forms of self-care are a huge part of remaining productive. You need to slow down and care for yourself on a routine basis.
Prioritize self-care and personal wellness – mentally, physically, and emotionally.
Not because you "earned it", but because you deserve it and need it regardless of what you have/have not accomplished.
Now go have that self-care Saturday!