This post may contain affiliate links meaning that, I may make commission if you purchase through my links. Learn More. 
Get in the right mindset for your best year yet with these 100 New Year affirmations for 2024!
As we enter a new year, it's really common to feel a wave of motivation and encouragement. Oftentimes, we set huge, ambitious goals and New Year's resolutions.
This is great. The feeling of a "fresh start" that comes with the change of the year is my favorite part!
But, all too often, this intense rush of motivation quickly dwindles. As the days go on, we fall back into old habits, routines, and behaviors that may not align with our New Year's goals.
This is where positive New Year affirmations can be an incredible tool. By shifting your mindset to a more positive place, you can improve your chances of success and help manifest your dreams into reality!
Why Use Positive Affirmations for the New Year?
Research shows that only about 8% of people keep their New Year's resolutions for the entire year. However, this study gave us some really important insight into why those people were more successful.
One important distinguishing factor between those who are "successful" at their resolutions and those who are not is the pursuit of self-improvement in other ways.
Those who remain committed to their resolutions most often are actively pursuing various avenues of self-improvement.
One great way to shift your mindset to a place of self-improvement and growth is by practicing positive affirmations.
Positive affirmations are not a magic fix to grant all your wishes (although I wish it was that simple!).
However, they are a scientifically-backed tool to help reframe your brain to a place of positivity, abundance, confidence, and success.
Here are some of the main benefits of positive affirmations:
improved self-confidence
overcome fear
decrease self-doubt
lessen self-sabotage behaviors
disrupt negative thought patterns
reconnect you to core values
decrease stress
improve overall well-being
boost academic/career performance
become more open to behavior change
See the link between New Year's goals/resolutions and positive affirmations?
Setting some positive New Year affirmations may be just what you need to cultivate those goals and make your dream life become a reality in 2024.
How to Use New Year Affirmations to Manifest a Good Year
So how do affirmations actually work? How can you utilize positive affirmations for the New Year as a way to attract your dreams, goals, and desires?
Simply put, what you say to yourself matters.
The messages you tell yourself matter.
The way you speak to yourself and the internal beliefs you hold about yourself matter.
Your perception of yourself and the world around you plays an essential role in how your life plays out.
The use of positive affirmations helps to shift your internal dialogue and outlook to a more positive place so you, in turn, receive more positive things in your life.
Tips for Successful New Year's Affirmations:
Avoid Toxic Positivity.
The purpose of affirmations is not to make it so nothing in your life ever goes wrong.
Life still happens.
It's okay to still feel sad, angry, overwhelmed, etc. Negative emotions are part of being human. Allow yourself to feel all the things, but don't allow them to be catastrophized in your mind.
Practice Real Positivity.
Positive affirmations are not magic.
You cannot say one positive affirmation and expect your world to shift overnight. Like anything, affirmations are a consistent practice.
You are working to retrain your mind and establish new, more positive neural pathways. Just like building muscle, retraining your brain takes time, consistency, and practice too!
Action Matters.
Again, affirmations are not the magic wand to grant you all your life's desires.
There is still an element of work that needs to be done on your part.
To have successful positive affirmations and manifest a great year, you also need to work for it.
Establish good daily habits, set goals, and utilize your positive affirmation mindset as you work towards them.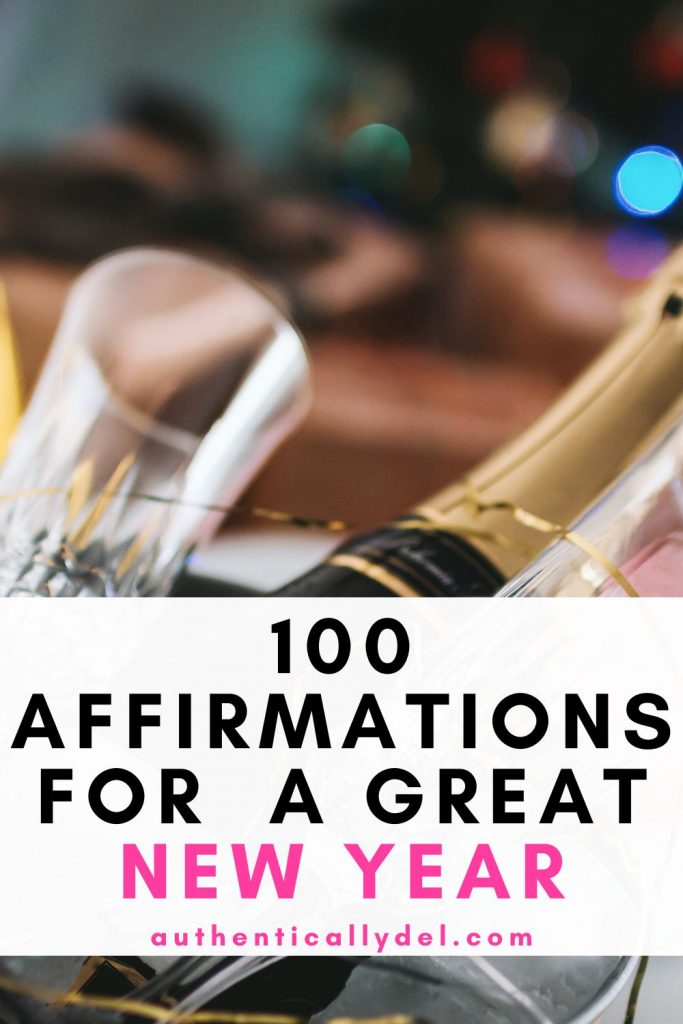 100 Positive New Year Affirmations for 2024
End-of-the-Year Affirmations
Before we jump into positive affirmations for 2024, let's close out 2023 with some positive end-of-the-year affirmations.
Because of this year, I can enter the new year prepared.
I have grown this year.
I am grateful for all the blessings of the past year.
My future is brighter because of all I did this year.
I will remember and cherish the memories of this past year.
I trust that the universe led me exactly where I was supposed to go this year.
This year has shown me where I can improve and I am grateful for that.
I let go of any resentment or negativity from the past year.
I am stronger because of the obstacles I overcame this year.
When I reflect on 2023, I know that I did the best I could.
I am proud of myself for how I handled this year.
I feel blessed to have lived another year.
Because of this year, I feel more aligned with my priorities moving forward.
I have clear goals in mind for the new year thanks to what I've learned.
I am grateful for all the new people brought into my life this year.
Good memories from this past year will stay with me for my lifetime.
I survived 100% of my hardest days this year.
I have done my best.

Leaving behind 2023 brings forth gratitude for another year lived.

Looking ahead to a new year makes me excited for the new experiences to come.
Positive New Year Affirmations for 2024
These New Year affirmations are great for overall positivity and improving your mindset in the New Year.
I feel motivated for the fresh year ahead.

2024 is going to be

my

year.

I have the potential to thrive.

The new year makes me excited for all it will hold.

I will make the most of every day of 2024.
This year is filled with opportunities.
I enter 2024 refreshed and ready for a new start.
This is the year my dreams come true.

There is no time like the present – I am making my dreams a reality NOW.
I can handle anything thrown at me this year.

My potential is endless.
I will remain open to growth and new opportunities.

My strength is unwavering.

I will remain present in 2024.

Each day is a gift that I am grateful for.

I commit to becoming the best version of myself this year.
I welcome the unknown.
My relationships will thrive this year.
I will remain committed to self-care this year.
MORE NEW YEAR POSTS FOR YOU
50 Motivating New Year Journal Prompts
70 Goal Ideas for the 7 Areas of Life
100 Simple Daily Habits to Improve Your Life
I recognize my potential.

My mental health will improve this year.

I will not settle for anything less than I deserve.
Abundance flows towards me effortlessly.
I deserve all the happiness coming to me this year.
This is the year I make myself a priority.
I can set boundaries when they are needed.
I release my fear.
My trust in the universe is strong.
Positivity is coming my way.
I take responsibility for what I can control and will let go of what I cannot.
The unknown does not scare me, it excites me.
I forgive myself for past mistakes.
I forgive others for past mistakes.
Goodness is all around me.
Big things are coming my way.
I love the person am right now.
I love who I am becoming.
My happiness is my priority.
I trust myself.
2024 is going to be incredible.
"I Am…" New Year Affirmations
Let's boost that self-esteem and improve your confidence in your abilities. Use these "I am" affirmations for a positive self-perception as you enter the new year.
I am powerful.
I am open-minded.
I am prepared for new challenges.
I am open to embracing change in this new year.
I am excited by the potential of this new year.
I am worthy of the life I want to live.
I am strong.
I am independent.
I am capable.
I am deserving the life I want to live.
I am learning and growing every day.
I am lovable just as I am.
I am willing to accept constructive criticism.
I am thankful for a fresh start.
I am inspired by those ahead of me.
I am proud of myself.
I am a beautiful person, inside and out.
I am grateful for the many blessings in my life.
I am committed to making myself proud.
I am in full control of my own life.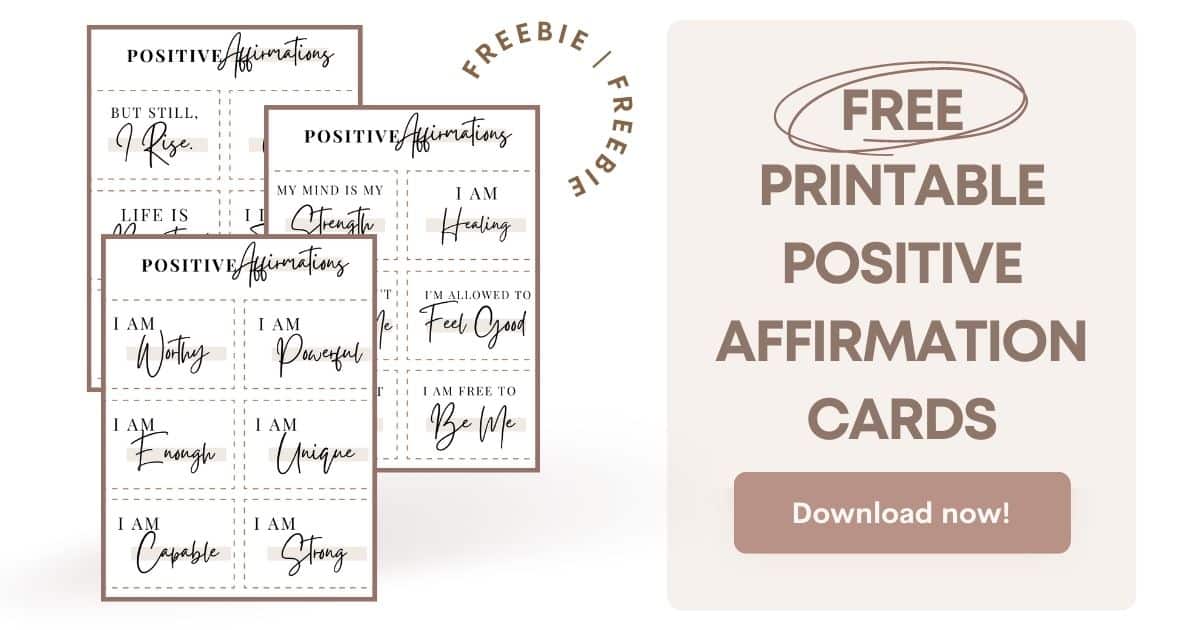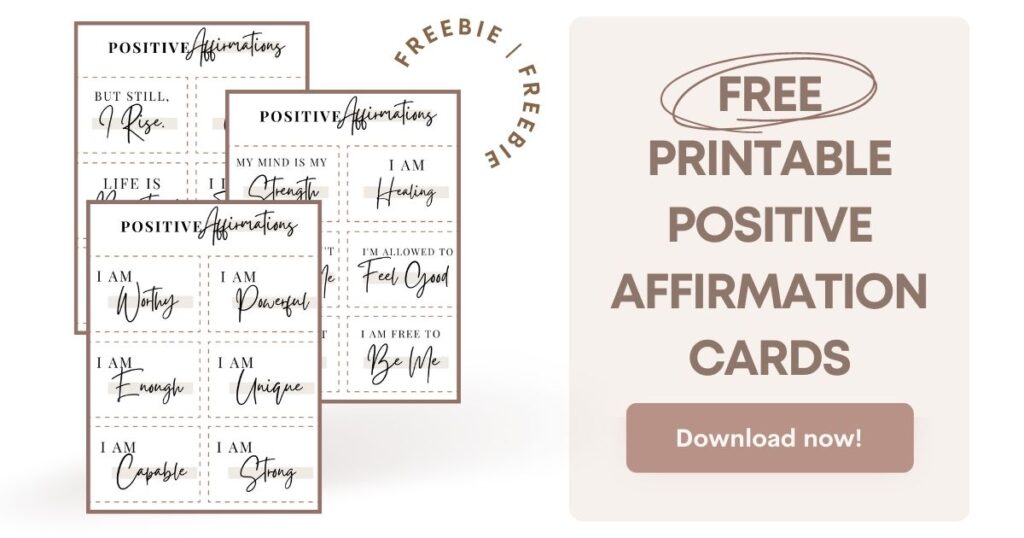 New Year Resolution Affirmations
When you hear New Year, you think of resolutions, right? These New Year affirmations are all about helping you stick to and achieve those big New Year goals!
My dreams are becoming my reality.
No goal is too large for me to achieve.
This year is dedicated to becoming my best self.
My mindset is in line with the life I want to live.
I will remain committed to good habits that help me achieve my goals.
Discomfort will not deter me from growth opportunities.
I can recognize my strengths and use them for growth.
There is nothing I can't do when I set my mind to it.
I know I will accomplish my big goals this year.
Every day I am one step closer to my dreams.
I will politely decline anything that is not in alignment with my goals.
Lasting gratification is better than temporary satisfaction.
I can remain dedicated even when it gets hard.
When I am tired, I will rest – not quit.
I am allowed to change my mind.
When motivation is low, I will remain committed.
Success is coming to me.
My definition of success doesn't have to match anyone else's.

I can rest without giving up.

This year is for me.
Final Thoughts on 2024 New Year Affirmations
The New Year is always an exciting time. With the closing of one year and the opening of the next, the feeling of a "fresh start" is so very present. It's motivating and exciting!
As we enter 2024, I hope you feel inspired by these New Year affirmations.
Know that your mindset determines a huge portion of your reality. While you cannot always control life's circumstances, you can control how you think and react to them.
You have the power!
Here's to a 2024 filled with success, health, happiness, and joy! (… and affirmations!)
Go get 'em!