This post may contain affiliate links meaning that, I may make commission if you purchase through my links. Learn More. 
Finding the best planners for entrepreneurs has been a mission of mine for this past year. Through research, trial and error, and LOTS of shopping, I've compiled this list of the top 20 entrepreneur planners for 2023.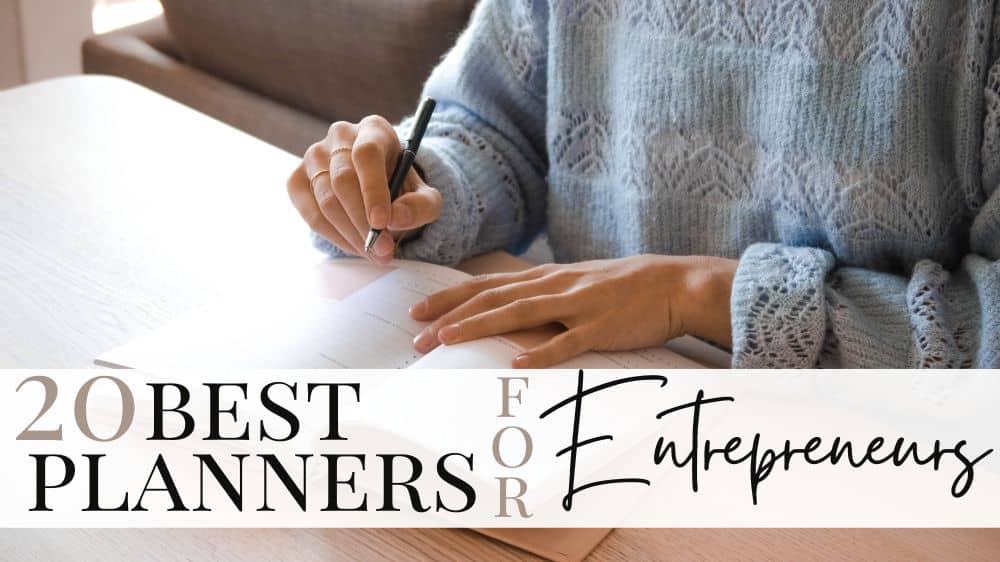 If you're an entrepreneur, staying organized is key. With so much on your plate, it's easy to start to feel overwhelmed keeping track of it all.
We have a lot to remember – from deadlines and due dates to meetings and marketing. Having one clear, concise place to keep it all is essential.
My weekly planner is my entire life. I carry it with me everywhere I go. it helps keep me on track and ensures I never miss an important event or deadline. Because of my reliance on my planner, it is absolutely critical to me that I find one that fits my busy lifestyle.
As a busy business owner, I'm sure you can relate to the struggle of finding the best entrepreneur planner. I've spent countless hours flipping through pages of planners in Target trying to find the perfect fit.
To help make this easier for you, I've created this list of the absolute best planners for entrepreneurs.
No matter your needs, lifestyle, and planner preferences, you are bound to find the perfect business planner for you here.
Let's jump into this list of the top 20 best business planners for entrepreneurs.
5 Types of Planners for Entrepreneurs
We are so lucky that there are so many different options for entrepreneurship planners. There are countless planner variations now all showcasing different features, styles, and layouts. This can be both helpful and overwhelming.
To help break this down a bit, I've categorized these planners for entrepreneurs into 5 main categories:
Daily Planners: These planners are super micro! They break down the day-to-day of your life as a busy entrepreneur. A lot of daily planners have hourly breakdowns of your work day, making them a great option if you have lots of appointments, meetings, or calls scheduled in your weeks.
Weekly Planners: Weekly planners still have space for each individual day, but often don't offer a full-page spread just for one day. Instead, you will get a week-at-a-glace breakdown with rows or columns for each day.
Goal Planners: Specific goal planners are great for entrepreneurs and business owners that are goal-oriented. (One major benefit of a planner is achieving goals!) Goal planners often have extra features such as goal-setting sheets, goal trackers, habit trackers, or other goal-related planning resources.
Digital Planners: Not a pen-and-paper type of person? Digital planners are kept on your computer, iPad, tablet, or phone. This is really convenient for anyone that doesn't want to carry around a physical planner or doesn't enjoy spending time physically writing in a planner.
FREE Planners: Yes, there are free planners for entrepreneurs. I will be honest, oftentimes these lack some of the great features of paid planners… but they're FREE! Who can complain about that?!
Features to Look for in Your Business Planner
As we know by now, there are many different options when it comes to planners. Each planner has different features making it special and unique. I've made a list of some of the top features I consider when looking for the best planner for entrepreneurs.
I encourage you to make a list of your planner feature priorities.
What do you like in a planner? What do you not like in a planner? Is there anything that is an absolute must-have? What is a total NO-GO?
Comment below: What's a planner feature you can't live without?
Here are some features to note when looking for the best business planner:
Month divider tabs
Monthly overview spread
Month-at-a-glance page
Weekly overview spread
Week-at-a-glance page

To-Do
To Call/Email
Reminders
Etc.
Notes pages
Habit trackers
Goal-setting pages
Quotes/Inspiration/details
Contacts page
Yearly important dates page
Stickers
Ruler
Folder pocket
These are some of the many features I've paid close attention to when picking the best planners for entrepreneurs.
Now… let's finally jump into this list of the best business planners for entrepreneurs!
Top 20 Planners for Entrepreneurs & Business Owners
Daily Planners for Entrepreneurs
Want a day planner that allows you to plan your day down to the hour? These day planners for entrepreneurs are perfect for you!
1. Erin Condren Daily LifePlanner Duo
FEATURES:
12-month planner (split in two 6-month books for convenient size)
Monthly quotes
Monthly notes and productivity pages
Dated monthly, daily spreads
Sticker sheets
Pocket folder
Daily hourly breakdown
Daily to-do list
Goal-setting page
Monthly overview page
Completely customizable
Erin Condren is my go-to brand for ALL things planning, organization, and stationery. Not only are her products cute, but they are very customizable, super practical, and user-friendly.
This Daily Planner Duo is perfect for the busy entrepreneurs that want an hour-by-hour breakdown of their day. This planner has all the bells and whistles that I look for in a planner, which is exactly why I wanted to make it #1 on my list of best planners for entrepreneurs.
2. Day Designer Daily Planner
FEATURES:
12-month planner
Full-page daily planning pages
Hourly breakdown (6am-8pm)
Daily to-do list
"Today's Top 3" list
Daily gratitude
Monthly overview pages
Storage pocket
Snap-in bookmark
Stickers
Day Designer is an incredibly popular brand of daily planners. I used these planners when I was in college and working a part-time job. This is the perfect solution to juggling multiple things – as we entrepreneurs do. I especially love the "today's top 3" list to mark the top priorities of the day and ensure they get done!
3. Ivory Paper Co. Daily Planner
FEATURES:
12-month planner
Full-page daily planning pages
Hourly breakdown
Daily "priorities" list
"Important" daily note section
Daily gratitude
Monthly overview pages
Storage pocket
Snap-in bookmark
Stickers
This planner feels like the sister planner to the Day Designer planner above. They are incredibly similar in layout, features, and design. This is a great option if you like this style but want some more cover or aesthetic options. You can never have too many planner cover options, right?
4. Undated Daily Planner
FEATURES:
Undated
Daily gratitude
Hourly daily breakdown
To-do list
Meal planner
Water tracker
Daily notes
Pen holder
Interior storage pocket
Super affordable!
If you love the flexibility of an undated planner, this is the perfect choice for you! Undated planners are great if you have an unusual schedule (not M-F) or only want to use your planner on days you specifically need it. This helps prolong your planner lifespan too! No wasted days.
This is an amazing and affordable option for a daily planner for entrepreneurs!
Weekly Planners for Entrepreneurs
Want to stay organized throughout your week without planning yourself on an hour-by-hour schedule? A weekly planner is going to be perfect for you! Here are some of the best ones!
5. Erin Condren LifePlanner
FEATURES:
Monthly overview
Weekly spread
Day-by-day breakdown
Vertical planner: 3 divided sections for each day
Monthly overview page
Completely customizable & personalizable
Notes pages
Ruler
Stickers
Pocket folder
This is my current planner! I absolutely adore it. I have the vertical LifePlanner layout. With this layout, each individual day has 3 separate sections. To me, this is super helpful for dividing up my different areas of entrepreneurship. For example, I will have a section for my blog, another for my day job or for my other business, and a third for daily life activities.
See this video for an in-depth explanation of how I use my Erin Condren Weekly LifePlanner as an entrepreneur.
6. Sugar Paper Weekly Planner
FEATURES:
Monthly overview
Weekly spreads
Lots of options/varieties
Spiral and stitch-bound option
Monthly tabs/markers
Yearly holiday cheatsheet
Monthly goals page
Weekly goals page
Stickers
Back folder pocket
Hardcover
Corner cover protection
Cute font/aesthetically pleasing
User friendly
The Sugar Paper weekly planner was my favorite planner for YEARS. I had this planner all through high school and into college. The Sugar Paper brand as a whole is one of my favorites. I find them to be great quality, user-friendly, affordable, and super cute.
READ MY ENTIRE SUGAR PAPER PLANNER REVIEW HERE
7. Ban.Do Weekly Planner
FEATURES:
Monthly overview
Weekly spreads
Weekly overview planning page

Goals
To-dos
Gratitude
Notes
Misc. Prompt

Monthly tabs
Sticker page
Elastic band closure
Many size options
Many cover options
Inspirational quotes/images
ban.do planners really go the extra mile in all ways. The details in these planners are unlike any other planner I've ever seen. I always find myself picking up ban.do planners when I see them at TJMaxx or Marshall's without even realizing they're ban.do. They are just attention-grabbers. I adore them!
8. Kate Spade Weekly Planner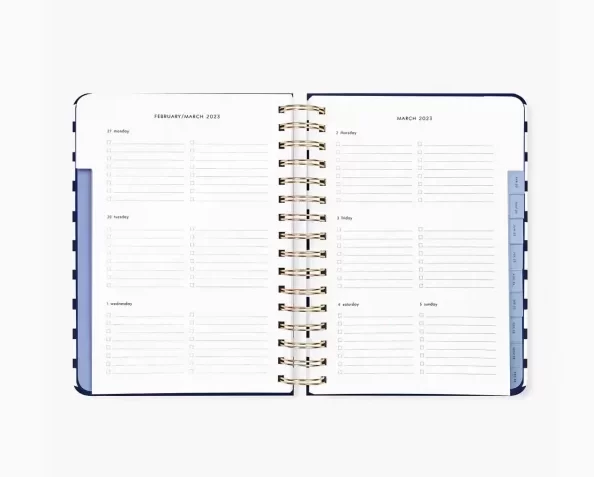 FEATURES:
Monthly overview
Weekly spreads
Bullet point lists for daily to-dos
Gold foil sticker sheet
Metal spiral
Laminated tabs
Holidays & celebrations list
Notes pages
Interior pocket
Elastic closure
I've had two Kate Spade planners in the past and I loved them! To be honest, I was pleasantly surprised by the price of these too – the quality and functionality of these planners are so good!
This is a very basic planner – not a ton of extras here. That may make it the perfect planner for entrepreneurs that love a to-the-point planning strategy and can't be bothered with the extra fluff.
9. Simplified Weekly Planner
FEATURES:
Intentionally simple design
Monthly overviews
Monthly Simplicity Tips
Weekly spread (1 week/2 pages)
Weekly schedule
To-do list and notes/meal ideas space

Simple color throughout

NEW colorful sticker designs
Protective gold corners
Front cover pocket
Notes
Ribbon bookmark
Colorful tabs
Navy + gold keepsake box
The Simplified Planner is the best planner for entrepreneurs and busy business owners that crave order and simplicity. This planner has a minimalist design that helps keep you neat, tidy, and well-organized. I love the sleek and simple yet cheerful design of this high-quality planner.
10. The Happy Planner (Dashboard Layout)
FEATURES:
Monthly overview
Weekly spreads
Disc binding (for snap-in add-ons or page removal)
Weekly space to list:

errands
grocery lists
bills
to-dos
priorities

Option for add-in pages
Multiple size options
Many cover options
Colored tabs
The Happy Planners are always a good option for a business planner. Happy Planner is one of the most popular planner brands – and for good reason.
This brand is most commonly known for its disc binding that allows you to snap in extra inserts and add-ons. This is why it is one of the best planners for entrepreneurs. It is incredibly customizable and, with the add-in options, you can make it fulfill all your planner needs.
Goal Planners for Entrepreneurs
Planners specifically geared towards goal-setting are PERFECT for ambitious, goal-oriented entrepreneurs and business owners. Here are some of my favorites!
11. Erin Condren Goal Planner
FEATURES:
Goal-setting brainstorm pages
Goal breakdown pages
Daily habit breakdown
Goal-setting tips and advice
6 big goal action plan spreads
Undated goal-tracking spreads
To-do lists for action steps
Lessons learned reflection pages
Journaling spreads
The Erin Condren goal planner strays from the traditional planner layout (day/week planning) and focuses specifically on goals. If you're looking for a planner that is strictly about setting and achieving goals, this is for you! This would also make an excellent addition to a traditional daily or weekly planner as it allows you to really break down your goals into small, daily actionable steps and habits.
12. Planberry Weekly Planner
FEATURES:
Monthly spreads (undated)
Weekly spreads (undated)
Weekly overview page

priorities
habit tracker
weekly activities
work & personal to-dos
notes

Monthly review/reflection
Monthly budget planning
Bucket list
Ideal routine planning page
Yearly goals and to-dos
Monthly goal-planning pages
Password keeper
Contacts page
This is one of the BEST affordable planners for entrepreneurs out there. It really has everything. The weekly overview page of this planner is my personal favorite feature. It allows you to plan your week at a glance with space to note important dates, activities, to-dos, and goals. This Amazon planner is packed with extras and special features. (I've bookmarked this for my own next planner!)
13. Bossy Girl Journey Weekly Goal Planner
FEATURES:
Monthly spreads (undated)
Weekly spreads (undated)
Weekly overview planning page
Self-awareness, gratitude, introspection section
Vision board building
Book, audiobook, + podcast tracker
Password keeper
Monthly goal breakdown planning sheet
Monthly expenses + budget sheet
Stickers
Motivation quote pages
Notes
Bossy Girl Journey planners are literally MADE for boss babes, business owners, and entrepreneurs. There is a ton of extra pages, but they don't feel like unnecessary fluff. The extras in this planner are plentiful and so very useful. This is definitely one of the best planners for entrepreneurs. It really has it all.
14. Bloom Weekly Planner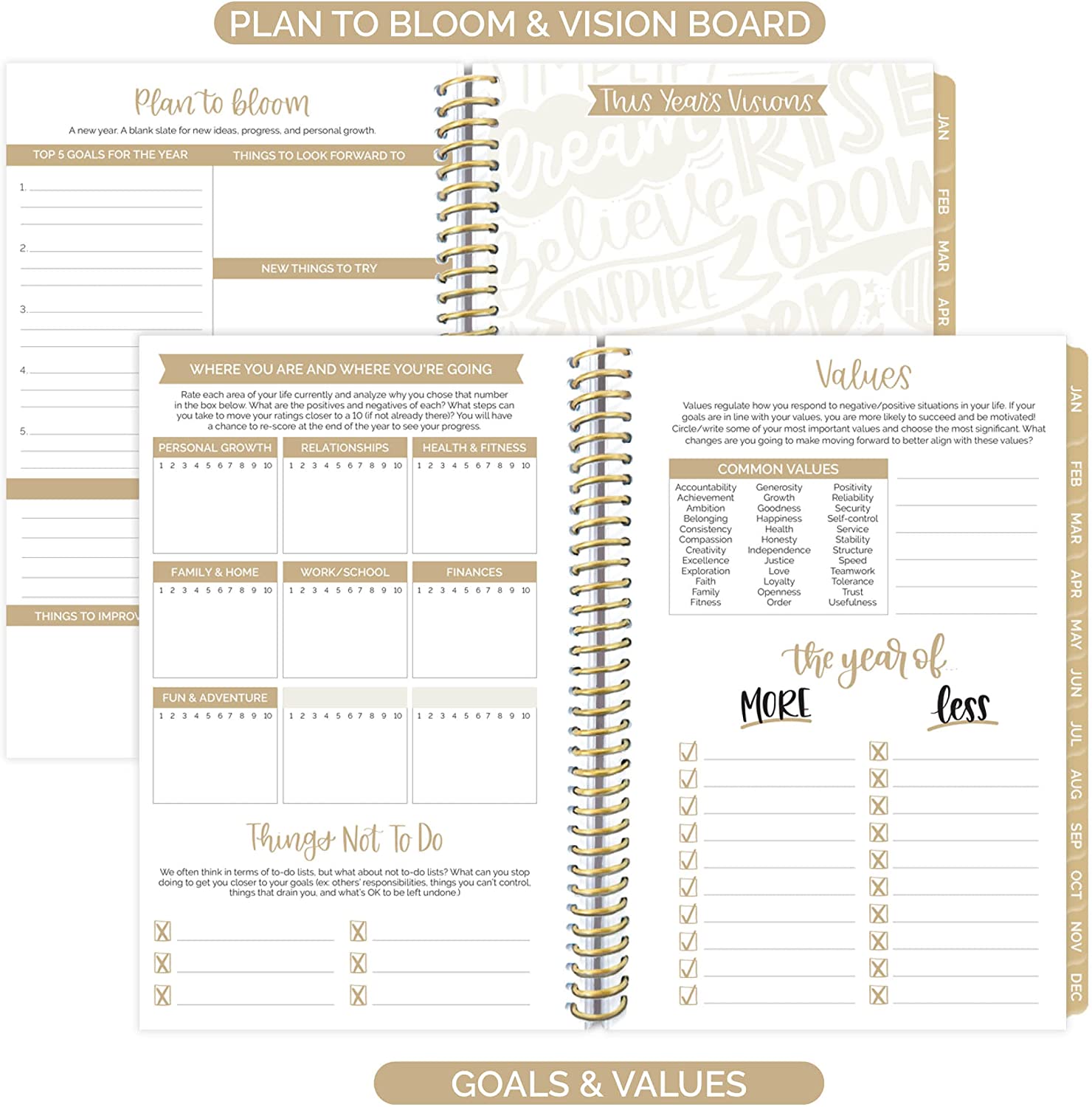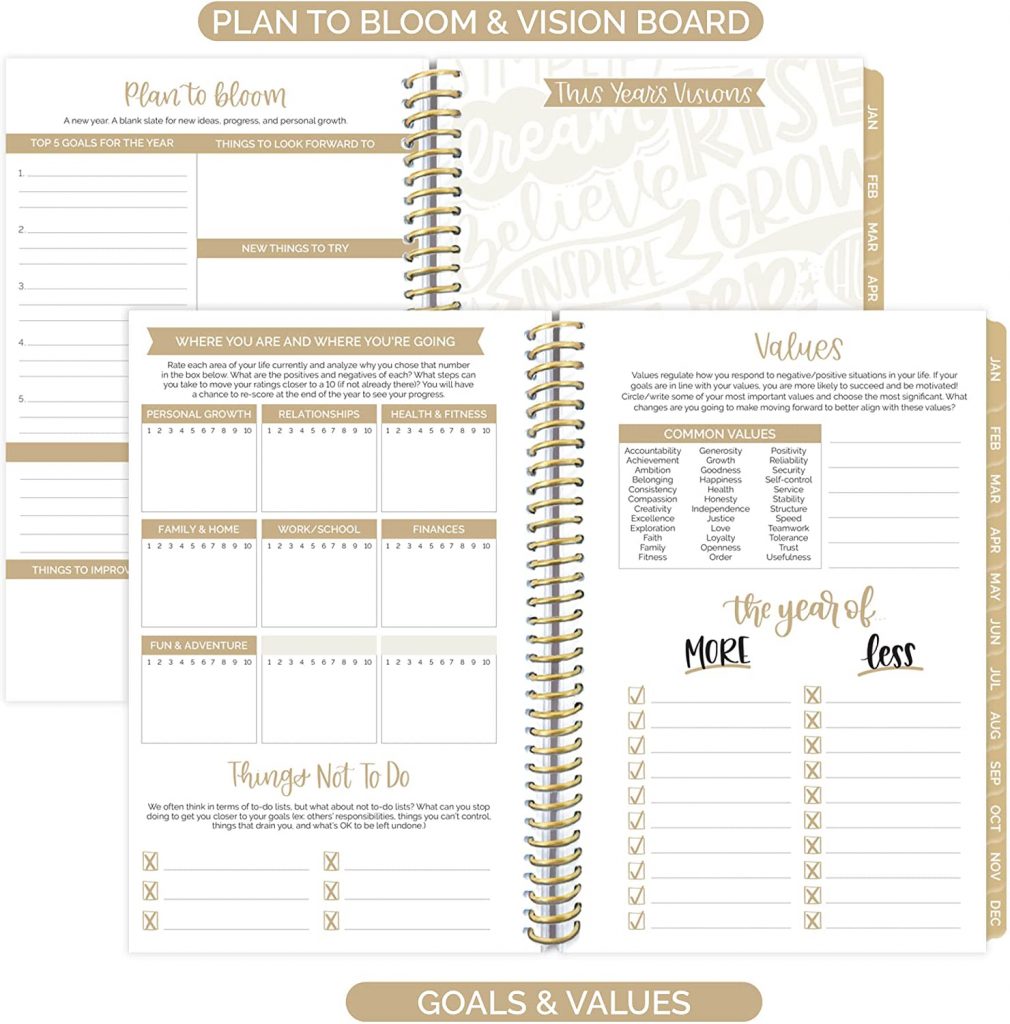 FEATURES:
Monthly spreads
Weekly spreads
Weekly priorities
Yearly goal planning
Vision board
Goal-setting for all areas of life
Core values reflection
Goal tracker
Habit tracker
Monthly expenses/bill tracker
Ideal week schedule planner
Joy list & self-love list
Stickers
Inspirational quotes
Inside pockets
Bloom weekly planners are the perfect balance of a traditional planner and a goal-setting planner. It maintains the layout of a standard, functional weekly planner while also including all the extras of a goal planner. It has so many great features for business owners – goal tracking, weekly to-do lists, self-care planning, vision board creation, bill/expense tracking, etc.
15. EllaIconic Weekly or Daily Life Planner
FEATURES:
Weekly or daily options
Monthly & weekly spreads (daily optional)
Yearly vision board
Yearly goal planning
Monthly goal planning
Progress tracker pages
Daily schedule pages
Daily priorities checklist
Gratitude reflection daily
Daily goals & to-dos
Areas of life goals/to-do breakdown
"Books to read" page
Christmas planning
Quotes & inspiration
Customizable options
Wow. Talk about a jam-packed business planner for entrepreneurs! From daily hourly planning to "books to read" to Christmas planning and everything in between, this Etsy planner has it all! I especially love the emphasis on goals and daily habits in this planner. A bit more pricey, but you definitely get what you pay for! (Plus, it always feels good to shop small on Etsy!)
16. OhSoBello Goal-Setting Weekly Planner
FEATURES:
Monthly spread
Weekly spread
Daily checklist boxes for to-dos
50 pages of "extra" inserts
CHOICE OF EXTRA PAGE BUNDLES

Habit trackers
Lined pages
Goal planner
Gratitude
Workout plan
Saving tracker
Financial overview
Project planning

Velvet protector bag
Stickers
Customizable options
This is a great planner for entrepreneurs, largely due to its extremely customizable options. The Etsy OhSoBello planner includes 50 bonus pages (in addition to the standard weekly planner) of your choosing. The add-on packages include habit trackers, workout plans, savings trackers, goal planners, and more. This is perfect for anyone who wants more say in the design and layout of their planner!
Digital Planners for Entrepreneurs
Digital planners are perfect for anyone who doesn't enjoy the pen-and-paper planner format. Here are some of the best digital planner options for entrepreneurs.
17. EverythingPrintables Digital Business Planner
FEATURES:
Monthly spread
Weekly spread
Daily planning sheets (hourly breakdown)
Business planner pages
Finance planner pages
Social media planner pages
Links with any PDF annotation app
Budget planning
Goal setting
Monthly trackers
Hyperlinks for easy navigation
I was blown away by the number of pages in this digital business planner – especially for the price! Holy cow! There are hundreds of incredible pages of business resources included here – I can't even begin to list them all. Check out the listing for more info.
18. LaurelStudioDesign Digital Planner for Business Owners
FEATURES:
Monthly spread
Weekly spread
Daily dated pages
Guided goal setting
Habit trackers
Health trackers
Goal progress trackers
Financial planning
Budget trackers
Business template pages
Business growth trackers
900+ pages
26,000+ hyperlinks
This is another jam-packed digital business planner. With over 900 pages, this planner has literally everything you could ever need. From goal setting to business growth to daily planning and more, this planner has it ALL!
19. TheBlessedBoss Small Buisness Planner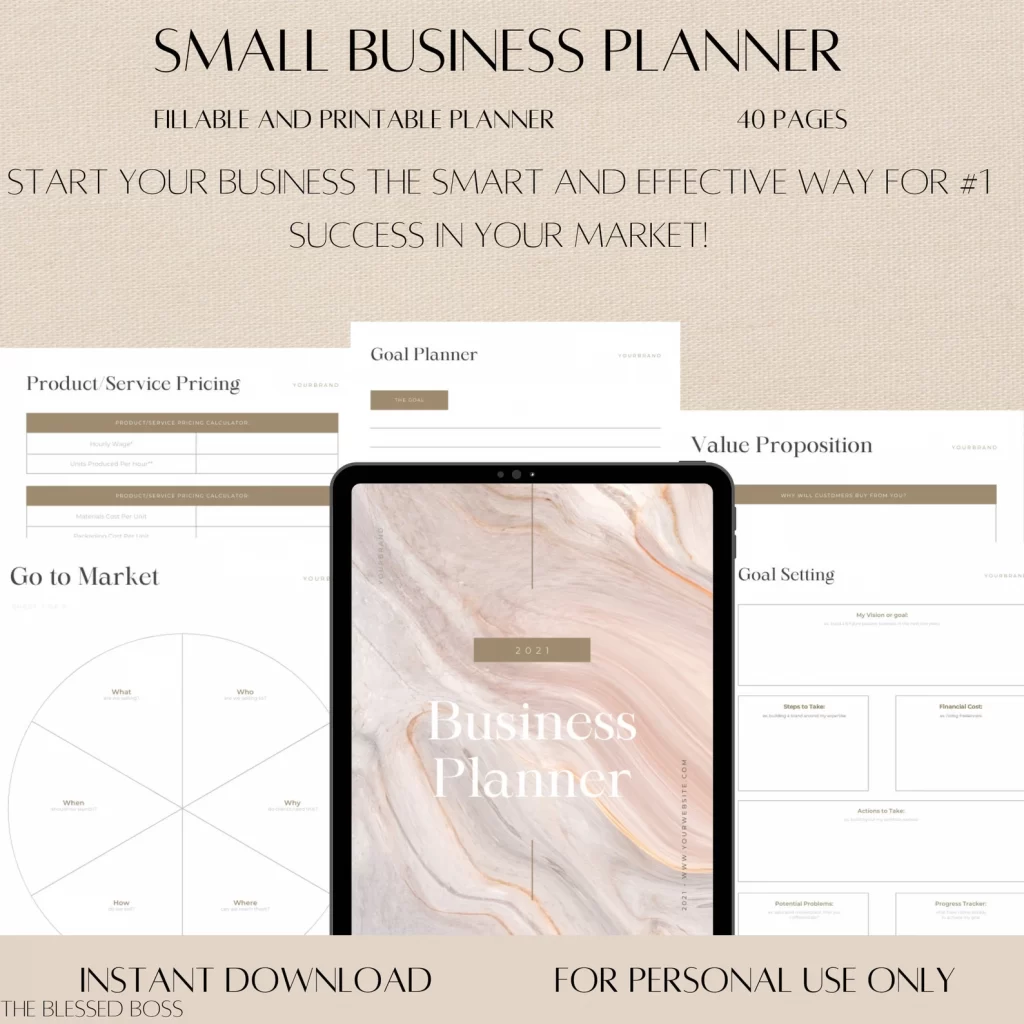 FEATURES:
Monthly spread
Weekly spread
Daily planner
Yearly Goals
Goal Setting
Goal Planner
Business Name Worksheet
Mission statement and target audience
Brand voice planning
Competitor analysis
Product research
Product planning/pricing
Marketing Plan
Cost overview
To-Do List
Notes
This is the perfect planner for small business owners or anyone looking to get started as an entrepreneur. TheBlessedBoss digital planner for entrepreneurs has a TON of brand planning sheets, helping you establish your goals, plans, mission, marketing, finances, and more!
20. The Everything Digital Planner
FEATURES:
Monthly spread
Weekly spread
Daily planner
Daily focus, to-dos, priorities, meals, and more
Daily reflection
65+ bonus collections

finance
productivity
health/wellness
nutrition
goal setting
mental health
more!

Many cover options
The Everything Digital Planner by ThrivingPlanners really is an "everything" planner. It truly feels like it has it all. In addition to the monthly, weekly, and daily planner pages, this planner has over 65 extra collections filled with bonus resources and pages. All of this in addition to being super functional and user-friendly with lots of hyperlinks – it's a yes from me!
Picking the Best Planner for You
As you now know, there are tons of planners for entrepreneurs. How are we supposed to narrow it down to pick just one?!
There are a few key decisions to make when finding the perfect business planner for you. Here are some major factors to take into consideration.
Physical or Digital?
Before anything else, you're going to want to decide if you want a physical business planner or a digital planner. This is the most fundamental element of your planner picking. Decide whether you want a pen-and-paper physical planner or a stylus-and-iPad digital planner.
RELATED POST: Top Planner Accessories + Essentials
Weekly or Daily?
Do you want to look at your plan from a week-at-a-glance perspective? Or do you prefer getting more micro with it and breaking down each individual day? Deciding between a weekly or daily planner is highly personal and depends on your preferences, lifestyle, needs, and planning style.
Dated or Undated?
Do you like the structure of a dated planner already filled in for you? Or do you prefer the flexibility of writing in the dates by yourself? Again, an entirely personal preference. You just have to choose what works best for you!
(Tip: consider — do you often miss weeks at a time in your planner? If so, undated may prevent waste! However, if you are a committed daily planner, dated may be best!)
Spiral or Bound?
Do you like a spiral-bound planner or a traditionally bound planner (like a composition notebook)? This makes a big difference in the functionality of your planner. We all have our own preferences!
Layout
Layout plays a key role not only in the aesthetics of your planner but in the functionality too! You absolutely have to have a planner layout that jives with your organization and planning strategy.
RELATED POST: 100 Useful Things to Track in Your Planner
Do you like a vertical layout? Or are you a horizontal planner person? Do you like to-do checklists or hour-by-hour breakdowns? Do you need monthly tabs or do you prefer to bookmark where you are at?
These are all layout options to consider when picking the best planner for you.
Sections & Features
A good planner is more than simply a calendar. The additional sections and features in a planner are important! Goal setting, budget planning, habit tracking, meal planning, gratitude journaling, etc. are all examples of additional sections you may want in your planner. Get clear about the sections that really matter to you and find a planner that offers that.
Refillable Add-On Inserts
Some planners (most famously The Happy Planner) have the option for snap-in inserts for customizing your planner's features. This is awesome for hand-picking exactly what you'd like in your planner. Is this an important feature for you?
Size
If you are a busy on-the-go entrepreneur, you may need a planner that is a bit smaller and more portable. However, if you work from home, you may want a larger planner for your WFH desk. Decide what size you need your planner to be in order for it to best suit your lifestyle.
Add-Ons & Extras
Do you need an interior pocket? Planner stickers? A bookmark? All of these are planner extras that you should seek out when shopping for your perfect planner.
---
Now you have all the best planners for entrepreneurs.
Whether you're a blogger, small business owner, corporate entrepreneur, or anything in-between, these 20 planners for entrepreneurs will have incredibly helpful features for you!
A good planner makes a world of difference in your organization, productivity, and business success.
Comment Below: Which planner is your favorite as a business owner?
More Posts for Entrepreneurs
10 Secrets to Starting a Money-Making Blog
150+ Monthly Goals for Success