This post may contain affiliate links meaning that, I may make commission if you purchase through my links. Learn More. 
Are you an organized, type-A list-maker like me? These 50 list prompts are perfect for you. Use these creative list ideas to fill up your journal with ideas that will leave you feeling organized, productive, refreshed, and inspired!
Journaling, in any form, is a great way to practice self-reflection, self-care, and introspection.
When you think of journaling, you likely think of the most common paragraph-style format. But journaling doesn't always have to be full pages of deep introspective thoughts and insights.
There are multiple forms of journaling that can be equally as valuable.
List journaling is a quick, simple, and effective style of journaling while still providing you with the amazing benefits of a full journaling session.
What Are List Journaling Prompts?
List journaling is exactly what it sounds like – journaling in list format!
This style of journaling allows you to make organized and concise lists of things that are important to you. Journaling in lists is the perfect way to keep track of various things in your life and free your mind from that mental load.
You can find list prompts on a wide variety of topics depending on your needs. From productivity to introspection to recreation and more, there is a list prompt here for every mood!
Why Use List Journal Prompts?
Writing lists in your journal is a really great practice for multiple different reasons.
Here are some benefits of writing lists:
organization
mental clarity
productivity
introspection
self-reflection
increased gratitude
recreation/enjoyment
simple & manageable
busy-schedule friendly (quick & doable!)
reduced stress & anxiety
improved memory
provides a sense of accomplishment
refreshed motivation
Now that we know why making lists is so great, let's dive into some of the best list-writing prompts out there.
50 Satisfying Prompts for Making Lists
These list-making journal prompts are the perfect way to have fun, get creative, and satisfy your organizational needs.
1. Your To-Do List
Starting out with the most basic list – the to-do list.
Love it or hate it, this list is functional, practical, and helpful for getting stuff done.
2. Books You've Read
Keep track of all the books you've read in a list in your journal.
If you're a big reader like me, you may even consider getting a specific reading journal just for tracking your books, your ratings and reviews, and your thoughts.
3. Place You've Traveled
Make a list of all the places you've traveled.
If you want to get creative with this, you can follow up after your list-making by marking all your travel destinations on a big world map. This is a fun, unique, and creative way to mark all the cool adventures you've been on!
4. TV Shows You've Watched
There's something oddly satisfying about completing a TV series.
Make a list in your journal of all the TV shows you have watched and/or are watching. This is a fun way to keep track of your favorites.
5. Gratitude
Ahhh, the well-loved gratitude list. There is something so beautiful about taking the time to intentionally practice and express gratitude for your life.
READ: 300+ Things to Be Grateful For
You can either make this list multiple times or create one massive gratitude list that you revisit and add to routinely. Either way, make gratitude a priority often.
6. Grocery List
Is this the most exciting list? No.
Is it practical and necessary? Absolutely.
Keep a running grocery list in your journal to rip out and take on your next grocery run. This is a great way to ensure you don't forget any of the essentials while you're out!
7. Favorite Recipes
Keep track of your top recipes. Next time you are stuck on what to cook for dinner or want a comfort meal that will bring you joy, you know exactly where to look.
This list prompt is one that will come in handy time and time again. Trust me now, thank me later.
8. Date Ideas
Brainstorm some fun date ideas for you and a loved one. Make a list of activities that you'd like to do with someone close to you – friend, family member, partner, etc.
With this list, you can consider creating a date jar to pick from for future activities and excursions!
9. Seasonal Bucket Lists
With each turn of the season, there comes a whole new world of activities and opportunities. It is such a blast to make seasonal bucket lists and fun to-dos.
Check out this December bucket list, summer bucket list, and fall bucket list for some ideas!
10. Daily Delights
Making a list in your journal of small daily delights is a perfect way to feel more positive and start to notice more of the beautiful simple joys in life.
From a pretty flower to a kind stranger to a great coffee and everything in between – there is so much to appreciate in everyday life!
11. Things to Do When Bored
We all know the feeling of being bored and having no idea what to do with the extra time.
Use this list journal prompt to start creating a compilation of activities for when you're bored so you know just where to look next time you need something to do!
12. Favorite Quotes
As a huge word nerd myself, this is one of my favorite list prompts. Start compiling a collection of your favorite quotes.
READ: 120+ BEAUTIFUL SELF-CARE QUOTES (+ PRINTABLE ARTWORK)
These can be meaningful and deep or simple and silly. Any quote that resonates with you, take note of it in this list.
13. Favorite Songs
Calling all music lovers with this one!
Start a list in your journal of your favorite songs. This is fun to look back and reflect on as your music taste shifts and changes over time.
14. Baby Names
Whether you're actively trying for kids or not, it is so much fun to brainstorm a list of baby name ideas. Jot these down in your journal or even the notes app on your phone.
This is a quick, simple, and fun list prompt that anyone can do!
15. Pet Names
Not into the humans? Prefer planning for kids that have fur? I feel ya.
Start a list of names you love for your future dog, cat, or other pet!
16. Self-Care Ideas
Practicing self-care can be a challenge as it is. There's no need to make it even harder on yourself by having to come up with an idea in the moment.
Keep an ongoing list of self-care ideas that you can refer to for easy access whenever you feel you need some extra TLC.
READ: 100 RELAXING SELF-CARE IDEAS (+ PRINTABLE LIST)
17. Journaling Prompts
Similar to the prior list idea of self-care activities, keeping an ongoing list of journal prompts you love is a great way to stay on top of your mental health.
Journaling is such a valuable tool for mental health, stress management, self-discovery, and overall wellness.
Make it easier on yourself by keeping a list of your favorite journaling prompts in your journal for whenever you need them most.
18. Positive Affirmations
Yet another list prompt focused on your mental health and wellness. (You can never have too many!)
Keep a list in your journal of some positive affirmations that you resonate with.
Whether it be affirmations for self-love, money affirmations for attracting wealth, soulmate affirmations for finding love, affirmations for feeling beautiful, or other positive daily affirmations, you can never have too much positive self-talk.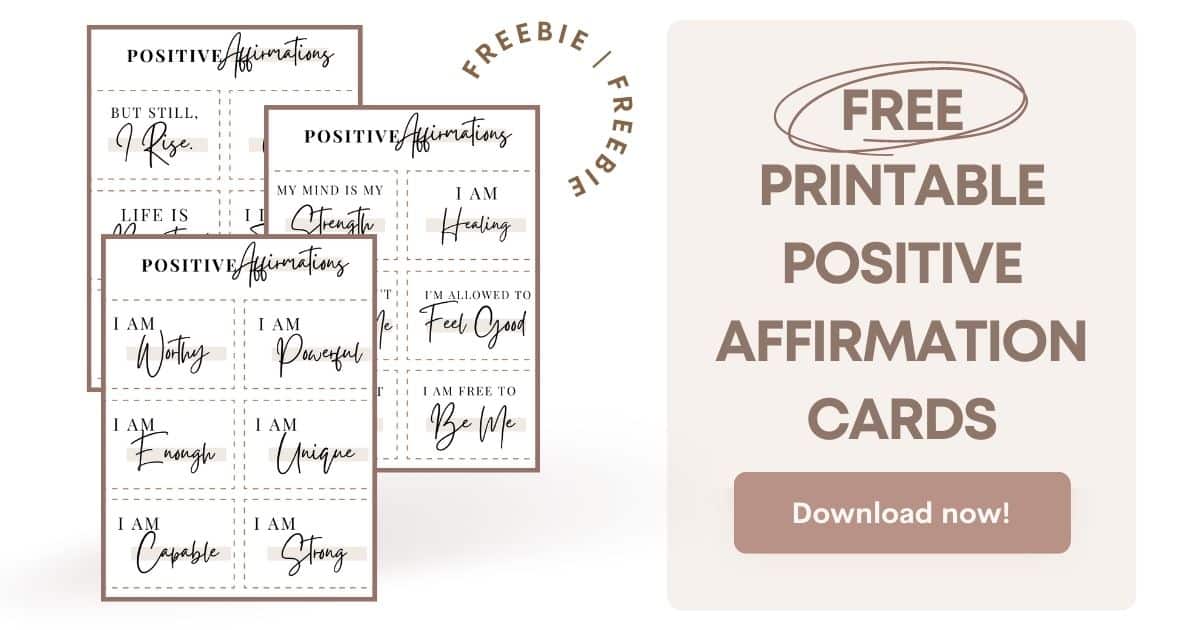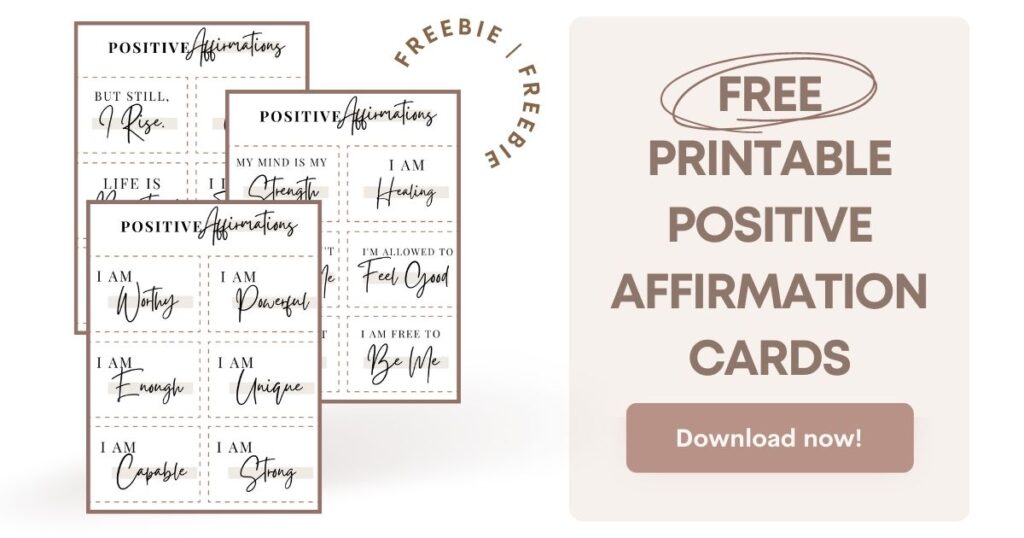 19. Personal Goals
What goals do you have for your personal life? This can be anything related to personal growth, relationships, self-care, home, health, etc.
Make a list of all your personal self-growth goals in your journal. Cross them off and celebrate yourself as you achieve them.
20. Career Goals
How about those goals related to career or finances? Let's set aside a page in your journal for this ambitious list of goals. Go get 'em!
21. Favorite Books
If you're a book lover like me, this list prompt is for you! Keep track of all your favorite reads by making a list.
Make this your own! You can add a rating and review to this or just keep it simple with the title and author.
CHECK OUT MY FAVORITE BOOKS HERE
22. Books to Read
Yet another fun book-ish list to make. Dedicate some space in your journal to your ongoing TBR (to be read) list.
23. Favorite TV Shows/Movies
Are you a TV/movie person? This is the list for you.
Keep track of all your favorite shows and/or movies by making a list in your journal. (And finally have an answer for the impossible "What's your favorite movie?" question.)
24. Movies/Shows to Watch
There's always something new to watch that everyone is talking about.
Keep track of all the popular movies and shows that you want to get to by making a "to be watched" list.
25. Recipes to Make
It's to do something with those endless Pinterest recipe pins. Take action towards finally tasting all those dreamy, mouth-watering recipes you've had your eye on.
Breakfast, lunch, dinner, snacks, or dessert – make a list of all the recipes you want to try out!
26. Travel Bucket List
Do you have the travel bug? It's time to lean into it. Make a list of all the amazing places you'd like to visit.
27. Life Lessons
The older you get, the more you learn and grow. Life has a way of constantly teaching us new lessons as we go along.
This list idea is the perfect way to document some of the valuable life lessons you've learned over the years. Take note of your wisdom and create a list of your top life lessons.
28. Funny Jokes
Knock knock.
Who's there?
Your joke journal.
Make a list of all your favorite LOL-worthy jokes!
29. Favorite Restaurants
There is nothing worse than trying to decide where you want to eat. Make life easier for yourself and your loved ones by keeping a running list of all your favorite restaurants.
Never have another "I don't know" moment when asked where you want to eat again.
30. Favorite Memories
A memory journal is one of my favorite journaling ideas. This list writing prompt is a twist on that.
Make a happy and cheerful list of all your favorite memories that bring a smile to your face.
31. Good Habits
The small daily habits you cultivate are truly the foundation of your entire life. It's important to ensure they're good ones.
Make a list of some positive daily habits you want to continue and/or pick up. This is a great way to level up your life and transform your reality.
CHECK OUT THESE POSTS ON HABITS:
32. Wish List
It's never too early to prepare your birthday or holiday wish list.
Keep a running list of all the items you see and want. Not only does this come in handy for your loved ones during the gift-giving season, but this can also help you cut down your own spending and limit any impulse buys.
READ: 15 SPLURGE ITEMS ACTUALLY WORTH THEIR PRICE
33. Things That Make You Sad
Being sad is a natural part of being human. Give yourself time and space to feel and express these emotions!
Make a list of anything weighing on your mind and making you feel down. Just the simple act of writing it down on paper can help relieve some of the burden on your mind.
34. DIY Projects & Crafts
Do you have an ever-growing Pinterest board of DIY projects and crafts you want to get to "someday"? (You're not alone.)
Make a tangible list of all the DIY projects you have on your mind. From there, you can get creative and start tackling them one by one.
35. People You Love
Similar to a gratitude list, make a list of all the wonderful people in your life that you love and feel thankful for. This is such a beautiful list idea that leaves you feeling happier, more grateful, and fulfilled.
36. Qualities You Love About Yourself
Self-love is not narcissistic, it's beautiful. You are freaking awesome – you deserve to acknowledge that.
Make a list of all your favorite qualities about yourself. These can be physical qualities, personality traits, special talents or abilities, or anything else that comes to mind!
READ: 100 THINGS TO LOVE ABOUT YOURSELF
There is so much that is special about you. Give yourself the credit you deserve.
37. Conversation Topics
Never get stuck in an awkward silence again. Make a list of fun icebreakers or conversation starters.
Write down some easy topics or open-ended questions to remember next time you need some help in a social setting.
38. Favorite Fictional Characters
Whether it be from TV, movies, a book, or some other form of pop culture, we all have some people we love deeply without ever even meeting them.
Make a list of your top favorite fictional characters that have stolen your heart.
39. Famous Figures You'd Like to Meet
Now it's time to list the people you love that DO exist in real life. What celebrities, famous figures, or icons would you most like to meet?
Fun Bonus List Prompt Idea: Build your dream dinner party! List everyone that would be invited.
40. New Words
Words are so powerful, meaningful, and compelling. There are few things I love more than learning a new word with a deep and beautiful definition.
Start a list of some new words with cool definitions that you love and want to remember. (You'll be a wordsmith in no time!)
41. Beautiful Things in Nature
Put down the phone, shut down the screens, and take some time to intentionally appreciate nature. There is so much beauty that surrounds us every day.
From snails to sunrises, start to take note of the beautiful things in nature – both big and small. Make a list of all the wonderful things you notice.
READ: 250 THINGS TO DO WITHOUT YOUR PHONE
42. Things You Are Excited For
We all deserve to have some "look-forward-to"s. Make time to prioritize the things that ignite a spark of excitement in you.
Use this list prompt to rediscover a zest for life. Plan some fun events, get excited about small daily things, and find some joy-filled activities to look forward to.
43. Daily Routines
Similar to habits, your small daily routines have a direct impact on the big picture of your life. Make some time to intentionally explore, plan, and cultivate some good daily routines.
List out your ideal morning routine and night routine in a step-by-step list. Take the first step to some major positive changes in your life.
44. Favorite Social Media Accounts
If you are a social media user in any capacity, you know firsthand how much your feed can impact your mood and mental health.
It is so important to follow positive accounts that uplift you, inform you, inspire you, or leave you feeling better than you were before.
READ: 10 WAYS TO MAKE YOUR INSTAGRAM MORE POSITIVE INSTANTLY
Make a list of your favorite positive social media accounts. Consider sharing this with your loved ones, too. We could all use some more positivity in our social media scrolling!
45. Things You Are Good At
You have so many gifts, talents, skills, and abilities that make you extra special. How often do you take the time to reflect on those and give yourself the hype you deserve? (I'm guessing not often enough…)
Make a list of all the things you excel at. Appreciate and celebrate your special gifts!
46. Favorite Qualities in a Person
What draws you to a person? Kindness? Compassion? A sense of humor? Generosity? Good looks?
Make a list of all your favorite qualities that you love in a person. Whether it be a friend, family member, or romantic partner, take note of the traits that draw you to another person.
47. Hobby Ideas
Hobbies, play, and having fun are three things we tend to not prioritize nearly as much as we should.
When was the last time you tried something new? Explored a hobby or did something just for fun? (If it's been a while, you're not alone… but it's time!)
Make a list of some fun hobby ideas that appeal to you. Start trying them out and checking them off.
Hobbies aren't just for young kids. You deserve to have lighthearted, unproductive fun in your daily life too.
READ: 100 FULFILLING HOBBY IDEAS FOR YOUR 20S | 25 CALMING HOBBIES TO RELAX
48. Relationship Questions
Deep relationships need deep connections. Some of the best connection-building conversations of my life have been prompted by asking thought-provoking questions.
There are tons of resources for brainstorming some relationship-building questions. Consider online resources or a question-and-answer game, such as We're Not Really Strangers (my personal favorite) or Couple Reconnect.
Make a list of your favorite questions to refer to when having those deep, connective conversations with a loved one.
49. People Who Have Touched Your Life
You are who you are because of the people who have touched your life. We all have those special people who have helped shape us into the humans we are today.
Make a list of all the people who have left an imprint on you and impacted your life – for better or for worse. It is all valuable because it has all led you to become the beautiful human you are today.
50. Life Bucket List
Saving the biggest list writing prompt for last… it's time to start building a life bucket list.
This bucket list is a compilation of all the things you want to live through in your lifetime.
From travel to relationships to life achievements and milestones and more, anything you want to experience belongs on your bucket list. This list prompt can be ever-growing, changing, and evolving as you progress through life.
Get creative and have fun with this! If you can dream it, you can do it. Add it to the list.
How to Use These List Prompts in Your Own Life
These list writing prompts are here to offer inspiration and fresh, creative ideas. Feel free to adapt, shift, and customize these prompts to fit your own individual wants and needs.
Take the inspiration from these list ideas and use them to propel your journaling habits and routines.
Some of these lists can be repeated over and over again (ie. daily gratitude lists). While others are ever-growing and continuous (ie. favorite books or happy memories).
There are no rules with these list prompts! Use them as a guiding tool for refreshed inspiration and a new style of journaling.
Happy list-making!
More Posts You'll Love