This post contains affiliate links meaning that, at no additional cost to you, I make a small commission if you purchase through my links. For additional information, visit my affiliate disclosure. 
These reading goals for adults are the perfect way to keep you motivated, inspired, and evolving in your reading journey. Here are 15 of the best reading goals for 2023.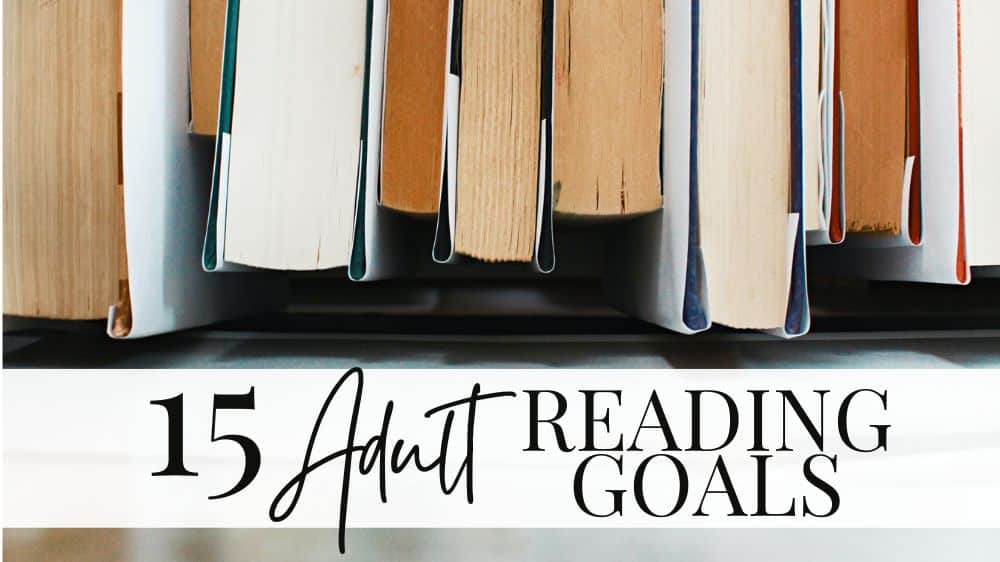 As a kid, I always loved the feeling of satisfaction from achieving a specific reading goal.
Do you remember back in elementary school when you'd get rewarded for a full reading log? Maybe you earned a toy, some candy, or even a full-blown class pizza party.
This sense of achievement put so much excitement and motivation into reading.
So when I recently fell into a bit of a reading slump, I figured it was time to revisit this concept.
These reading goals for adults are exactly what gave me that extra little push to get back on track with my reading routines and habits.
Why Set Reading Goals as an Adult?
We've all been there… the dreaded reading slump.
Whether you're running low on motivation, can't decide what book to read next, are looking to expand your reading horizons, or need a little extra push to check off your TBR, these reading goals are just what you need.
In all areas of life, there are major benefits to goal-setting. This applies to your reading life too!
If you're wondering if it's time to set some fresh reading goals for the year, here are some reasons you might want to consider it…
10 Benefits of Reading Goals:
Increase reading motivation
Introduce you to new authors/books
Build new reading habits
Challenge critical reading skills
Learn new things
Get out of a reading slump
Feel a sense of satisfaction in your reading
Cross off your TBR
Explore a new genre
Have FUN!
Overall, setting fresh goals for reading is a great way to reignite motivation and excitement in your reading life.
15 Best Reading Goals for Adults in 2023
Need some inspiration to get started? Here are 15 good reading goal ideas to set this year!
Beginner Reading Goals for Adults
1. Read More Books
Starting off with one of the most obvious reading goals: simply reading MORE!
If you are just starting off your reading journey, make this goal customized to YOU. Don't set unsustainable or unrealistic reading goals based on the long-time readers you see online.
Reading More Books Goal Ideas
Yearly (# of books)
Monthly (# of books)
Daily (# of pages)
Set goals tailored specifically to you and your lifestyle. All that matters is that you're READING!
2. Read a New Genre
Have you fallen into the "adult" slump of reading only "productive" things?
For so long, I fell into the habit of only reading two types of things:
Assigned reading for school
Productivity/personal growth books
There's a time and a place for these, of course! But feeling like my reading had to be "productive" in some way took all the joy out of it and put me in a reading slump.
3. Listen to Audiobooks
The main barrier I hear in regard to reading is: "I don't have enough time!".
With AudioBooks, this is not an excuse! Much like podcasts, I listen to audiobooks in the car, while I'm cleaning, on walks, or while I'm just lounging around.
AudioBooks are so convenient, especially if you have reading goals but limited time!
4. Read for 20 Minutes Each Day
This is another goal that can be customized and tailored to your own individual lifestyle and schedule.
However, 20 minutes feels like a good starting point for getting started reading. This was my very first reading goal when I first started reading more as an adult.
To me, 20 minutes was a super doable time commitment. I'd swap my nighttime social media scrolling for at least 20 minutes of reading. Oftentimes, this would turn into an hour or more of reading!
It's all about getting the ball rolling. This is a great way to pick up reading momentum.
5. Start a Reading Challenge
A reading challenge is such a fun way to kickstart a new reading journey. There are so many options too!
From genre-based challenges to unique 30-day reading challenges and everything in between… there is bound to be a reading challenge out there for you.
You can even create your very own!
This is a great motivator when first setting your new adult reading goals.
Intermediate Reading Goals for Adults
6. Diversify Your Reading Style
Used to reading romance? Try out some thrillers.
Typically stick to self-help? Why not explore some fantasy?
Step outside your reader comfort zone. I encourage you to try out a genre that you think you won't enjoy.
For example, I always thought I was a romance-only type of girl. Now, psychological thrillers are some of my favorite books to read. (I never thought I'd like them!)
Try something new and see if you discover a passion you didn't know existed!
7. Read a Full Series
This is one of my personal favorite reading goals for adults. I am a huge fan of binge-reading series.
There's nothing better than finding a book series you love.
Setting the goal to complete an entire series is a nice next step up for a more intermediate reading goal.
Some of the current top book series are:
8. Read 'X' Books in One Month
Setting a goal for how many books to read in a month is the perfect adult reading goal for intermediate readers.
Reading multiple books in one month is a big accomplishment!
Exactly how many books you want to read is completely up to you. I've had months where I've read 10+ books and months where I've read just one or two.
Your specific goal is entirely up to you!
9. Join a Book Club
Nothing beats connecting with people over a shared love of reading.
Having someone to discuss your latest read with makes reading SO much more enjoyable.
We live in such a wonderful time for this too! You can find book clubs for free online now (you don't even have to leave your house to attend!).
Consider using TikTok, Facebook, Instagram, or other social media platforms to find a book club. You can also join topic-specific book clubs on GoodReads!
(This is also a great way to make new friends as an adult – which can be tricky to do otherwise!)
10. Create Your TBR
If you are ready to get serious about reading, you NEED a TBR (to be read) list.
GoodReads is a great resource for crafting your TBR list. It allows you to add books to your virtual list that you can refer to any time you're looking for your next book!
You can also get creative and have a bit more fun with your TBR list.
Create your own list in an empty notebook, track it in planner, or in a specific reading journal.
You can also make a TBR jar to draw a book from whenever you need a new read. (This is my personal favorite option – it's just so fun!)
Advanced Reading Goals for Adults
11. Read All Books by an Author
This is the next step up from completing a series.
Setting the goal to read every book written by a specific author is a lofty reading goal, but a fun one indeed!
I have actually set this goal for myself with Colleen Hoover's books. Within 6 months, I have read all but one of her books.
(Sign up for my email book club for an update when I officially complete them all!)
12. Read 'X' Books in One Year
This is a longer-term commitment version of the monthly book goal above. If you are committed to maintaining consistent reading habits, this is a perfect reading goal idea for you.
If you are on GoodReads, you will be familiar with this exact reading goal.
Setting a set number of books to read in one year is a great way to keep yourself motivated to read consistently throughout the year.
I like this goal because it allows for wiggle room, too. Some months you'll read a lot and some months you'll read a little – but it's all okay because it balances out!
(Alternative reading goal option: you can set a goal for pages read in a year! This one is a bit more difficult to track, but also a great option!)
13. Clear Your TBR
This can potentially be a really big goal, depending on how intense your TBR list is. For me personally, my TBR is about 4 miles long… so this goal would be super intense for any short period of time!
That said, you can easily adapt this goal to your own life.
Tips for Achieving This Reading Goal:
Give yourself a realistic time frame
Prioritize your TBR by interest level
Schedule out your TBR list (don't allow for decision paralysis to creep in!)
Organize your TBR by series, book order, seasonal reads, etc.
Diversify your TBR (so you don't get bored of reading similar books over and over)
14. Read the Books You Own & Haven't Read
Don't act like you don't have forgotten books on your bookshelf.
Maybe you were really excited when you bought them, but then got distracted by other books.
Or maybe you got a REALLY great deal on the book, but haven't made time to read them yet.
Whatever the reasoning, make it a priority to finally get through those books that have been sitting on your shelves collecting dust.
Pause the book-buying for a moment and read the ones you already own instead. (Your wallet will thank you for this too!)
15. Organize Your Bookshelves
Anyone else have bookshelves that look like a bomb just went off?
Yeah, me too.
I think that's just a sign of a passionate reader. (At least that's what I tell myself…)
While this is completely fine, those aesthetically pleasing bookshelves on TikTok just look SO tempting. It's definitely a goal of mine to get my bookshelf more organized and decluttered.
We spend book money on our books – we might as well show them off, right?!
See these bookshelf organization tips by Apartment Therapy to get started!
How to Set Reading Goals as an Adult
When we were kids, we had reading logs and challenges throughout school. In high school or college, we had clear reading assignments and to-dos.
But, how do we set reading goals as adults?
Without any external guidelines, how do we set, track, stick to, and achieve our adult reading goals?
Here are some quick tips for setting adult goals for reading.
1. Be Realistic
Know yourself enough to set goals that are realistic and achievable for YOU.
If you haven't touched a book in years, you probably shouldn't set the goal to read 10 books/month. (At least not YET!)
Tune your goals to your own lifestyle.
Pay attention to the things that will impact your reading goals, such as:
The time you have to read
Availability of books
Your reading background/history
The length of books you're reading
Your budget/the cost of books
There are lots of factors that go into your goal-setting. Set goals that will push you to grow, but are achievable and realistic for you!
2. Make It SMART
The acronym SMART goal stands for:
Specific
Measurable
Achievable
Realistic
Time-Bound
We already touched on how to make it achievable and realistic, but do NOT forget the S, M, and T of SMART.
Setting a specific goal means including all the details that make it doable. This includes making it measurable and setting a timeframe.
Set a reading goal that you can track. This means that you can see your progress and have a clear way of knowing when you've achieved it!
3. Set Micro Goals
If you choose to set a big or long-term reading goal, break it down into smaller goals along the way.
Oftentimes, these smaller (often shorter) goals are called "micro-goals".
Think of these goals as the stepping stones on the way to your larger, long-term goal. These are a great way to track your progress AND give yourself a sense of satisfaction knowing you're taking the proper steps.
This helps keep you motivated and on track!
4. Track Your Progress
Keeping track of your progress is essential for any goal.
Get a habit tracker, reading journal, or book-tracking app to mark your reading goal progress!
Choose the tracking tool that will be helpful for your specific goal.
For example, if your goal is to read 20 min/day, a daily habit tracker will be best for you.
However, if your goal is to read 50 books in a year, a book tracker will be best for you.
Paying attention to your progress is a great way to stay motivated and on track with your reading goals.
5. Have Accountability
Whether this is finding a reading buddy, tracking your progress, or joining a book club, having something (or someone) to keep you accountable is a great tool for achieving any goal.
How will you hold yourself accountable to your goals?
6. Develop New Habits
Rather than white-knuckling your reading goals and making them feel like a to-do, develop new habits that align with your goals instead.
For example, instead of forcing yourself to wake up early to read every day to hit your goal of 20 min/day, consider shifting your daily habits to accommodate. This may mean revamping your nighttime routine and, instead of scrolling social media, you read for 20 minutes.
READ: 100 Simple Daily Habits to Improve Your Life Instantly
Develop new HABITS in alignment with your goals instead of making them feel like another dreaded to-do.
7. Challenge Yourself
Realistic? Yes.
Easy? No.
Set reading goals that will challenge you and push you to grow – as a reader and as a person.
Your goals should be doable, but uncomfortable.
You grow the most outside of your comfort zone. Push yourself! You can do more than you think.
8. Keep It FUN
At the end of the day, reading should be a joyful HOBBY.
Don't get so set on your reading goals that you forget to enjoy yourself. Be sure you are enjoying yourself, reading things you want to read, and having a good time!
Don't beat yourself up or get down on yourself for not reaching a goal. Never let your goals strip you from the true purpose of reading… to have fun!
It's not that serious. Loosen up and enjoy yourself!
Good Adult Reading Goal Ideas List
Looking for a little rapid-fire recap and a quick list of reading goals? Here is a list of all 15 good reading goals for adults for you to jot down and take away into your own reading life.
Read more books
Read a new genre
Listen to audiobooks
Read for 20 minutes each day
Start a reading challenge
Diversify your reading style
Read a full series
Read 'X' books in one month
Join a book club
Create your TBR
Read every book by an author
Read 'X' books in one year
Clear your TBR
Read every book you own and haven't read
Organize your bookshelves
What is your next reading goal?
Let's keep each other accountable. Tell me your next reading goal in the comments below!
Don't forget to join my Authentically Del book club for book emails sent straight to your inbox!